Lemon pasta tossed with arugula and prosciutto — a quick and easy meal perfect for busy evenings! Top each bowl of lemony pasta with parmesan crusted chicken pan-fried to crispy perfection to complete this incredibly comforting dish!
We've been making this lemon arugula pasta almost once a week for awhile now. The pasta might be the easiest recipe we have on regular rotation — just butter, garlic, lemon and parmesan along with a few handfuls of prosciutto and arugula (or spinach and bacon, maybe some kale — really whatever we have on hand)! And while that's an entire meal by itself, we generally take it the extra mile by serving it alongside easy parmesan crusted chicken. Still quick enough for busy weeknights, but so comforting after a long day!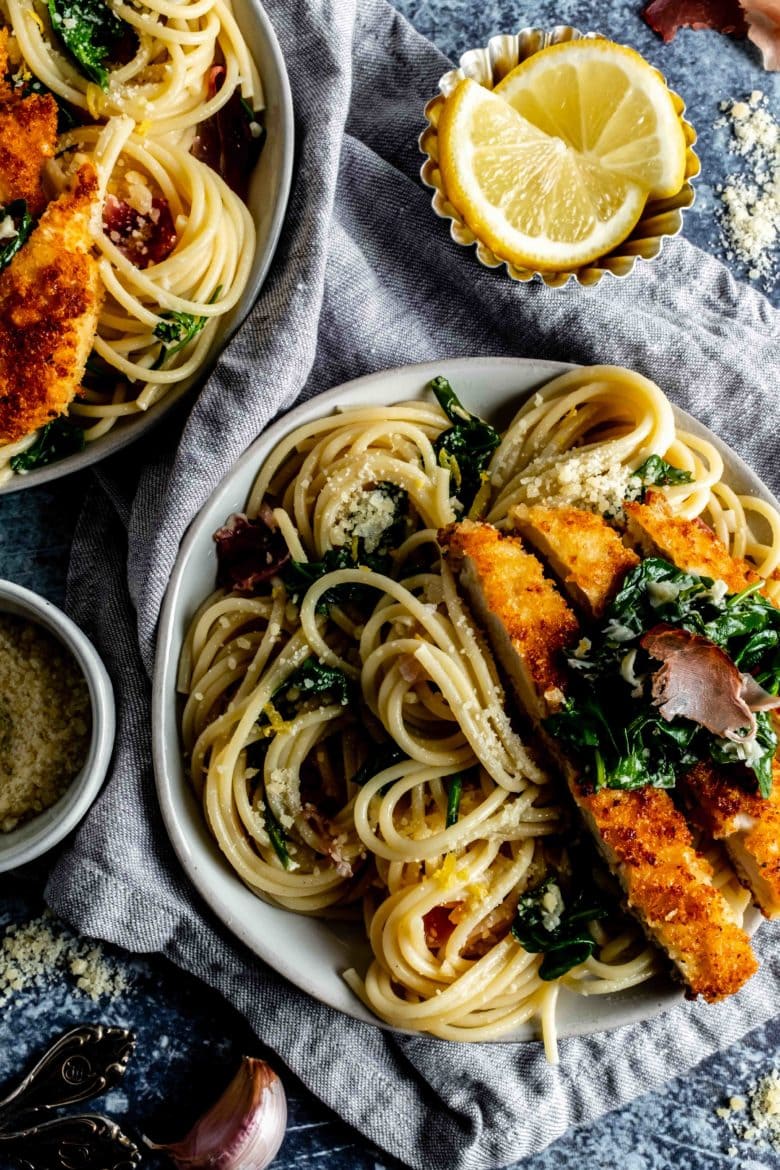 lemon arugula pasta with prosciutto
I'm not kidding when I say this pasta is easy to make. You can make the entire sauce in less time than it takes to cook your spaghetti!
To make the pasta sauce, start by sauteing garlic and lemon zest in a bit of butter for a few minutes. Then add the pasta and about ⅓ cup (80 ml) of the pasta cooking water. Next, stir in freshly squeezed lemon juice. I like to start with the juice of about half a lemon and then add more to taste. Now remove from heat and add a bit of grated parmesan and salt to taste. And the final step: toss with fresh arugula and prosciutto!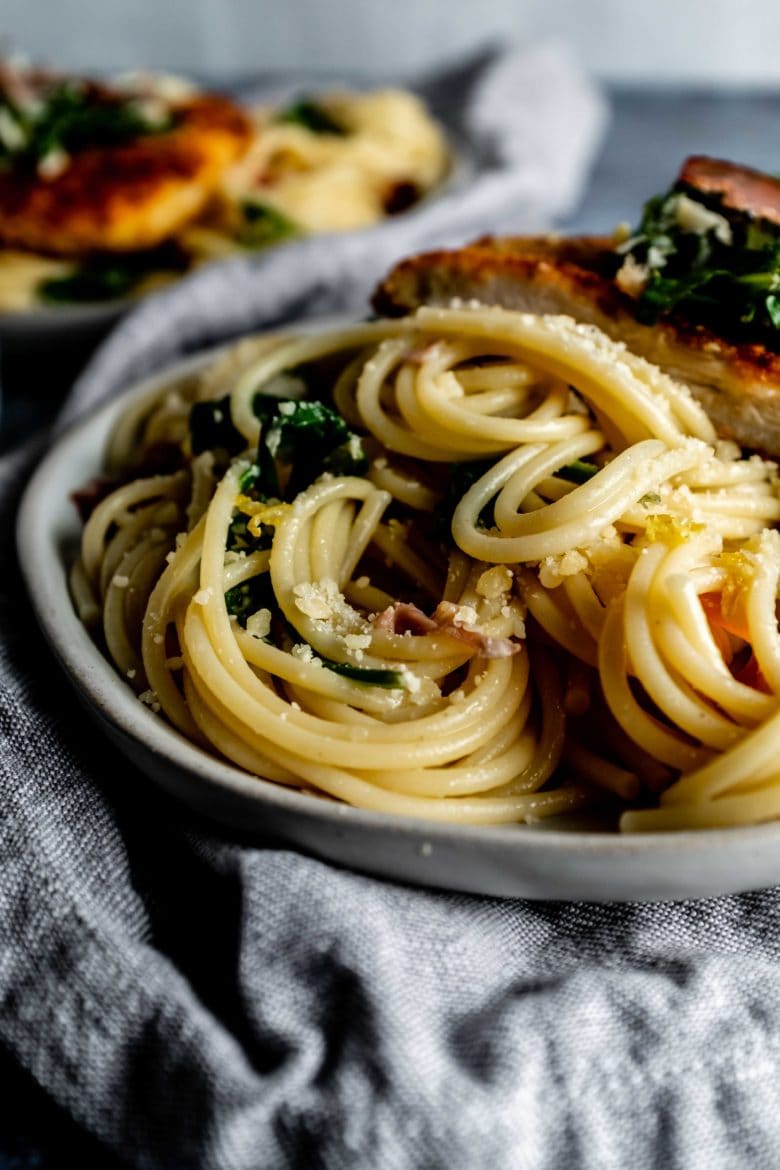 parmesan crusted chicken
And now onto the star of the show: parmesan crusted chicken! While we love a good crispy fried cutlet (hello jaegerschnitzel), this version is a bit of a healthier take with much less oil. In fact, you'll need just two tablespoons of olive oil to cook your chicken to golden perfection!
Start by slicing each chicken breast in half horizontally so that you get two thin cutlets from each breast. Then use the flat side of a meat tenderizer to pound each piece of chicken to about ¼ inch (6 mm) thickness. This will ensure that the chicken is fully cooked even though we'll only be frying it for a few minutes on each side!
To get that crunchy breading, you'll first dredge each cutlet in flour seasoned with garlic powder and oregano. Then dip into a dish with lightly beaten egg. And finally coat it with a mixture of panko and parmesan. Now heat your two tablespoons of olive oil in a skillet over medium heat. Once the skillet is hot, add the chicken (I generally fry two at a time) and cook for 2-3 minutes on each side or until golden brown and cooked through. 
One note: The chicken takes more time to prepare than the pasta so I like to prepare the chicken first and then start the pasta water when the first cutlet hits the skillet.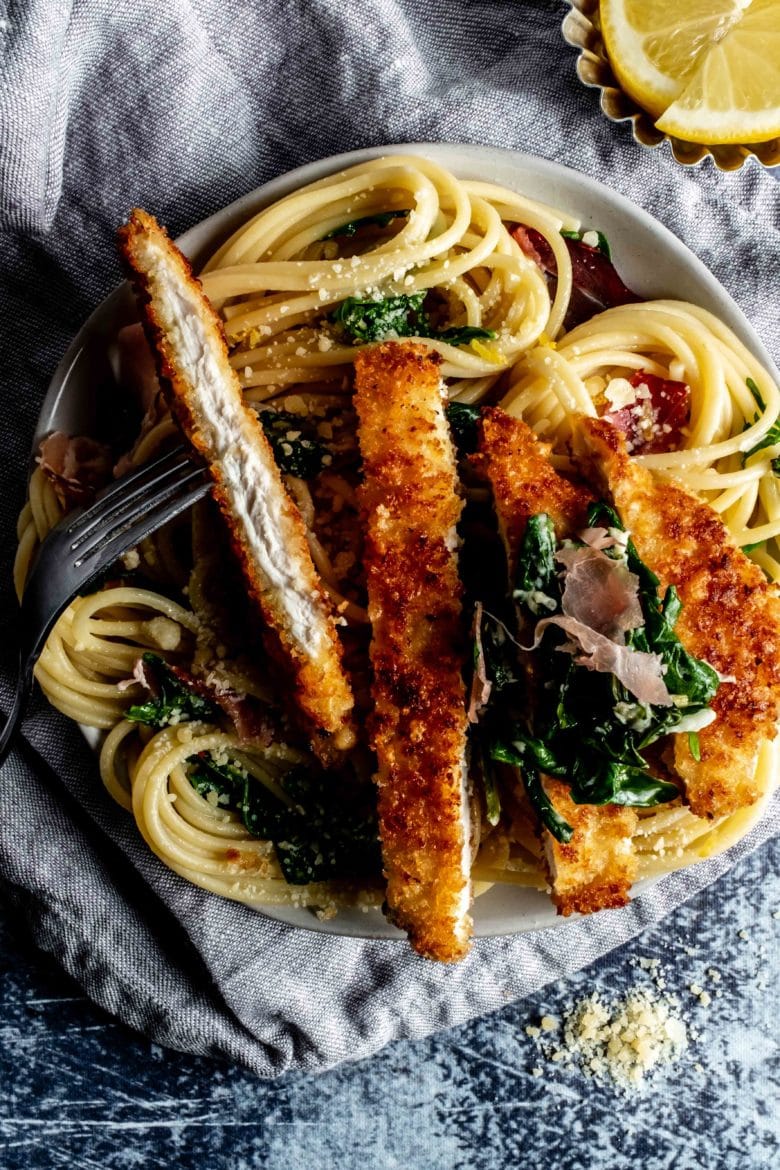 make it your own!
Lemon pasta is quick to make and super customizable, so feel free to experiment with the ingredients you have on hand. You can use cooked bacon in place of prosciutto or leave out the meat altogether for a vegetarian version! And if you're not up for breading and pan-frying the chicken, lemon arugula pasta is also wonderful with any type of seafood. I personally love it tossed with garlicky shrimp!
One of the great things about making this recipe is that you really don't need to serve it with anything — it's an entire meal by itself! Sometimes to add more veggies I like to toss more greens (usually kale or spinach) directly into the pasta or serve roasted broccoli or brussels sprouts on the side. And if you want to add a little something extra, garlic bread is always a great idea.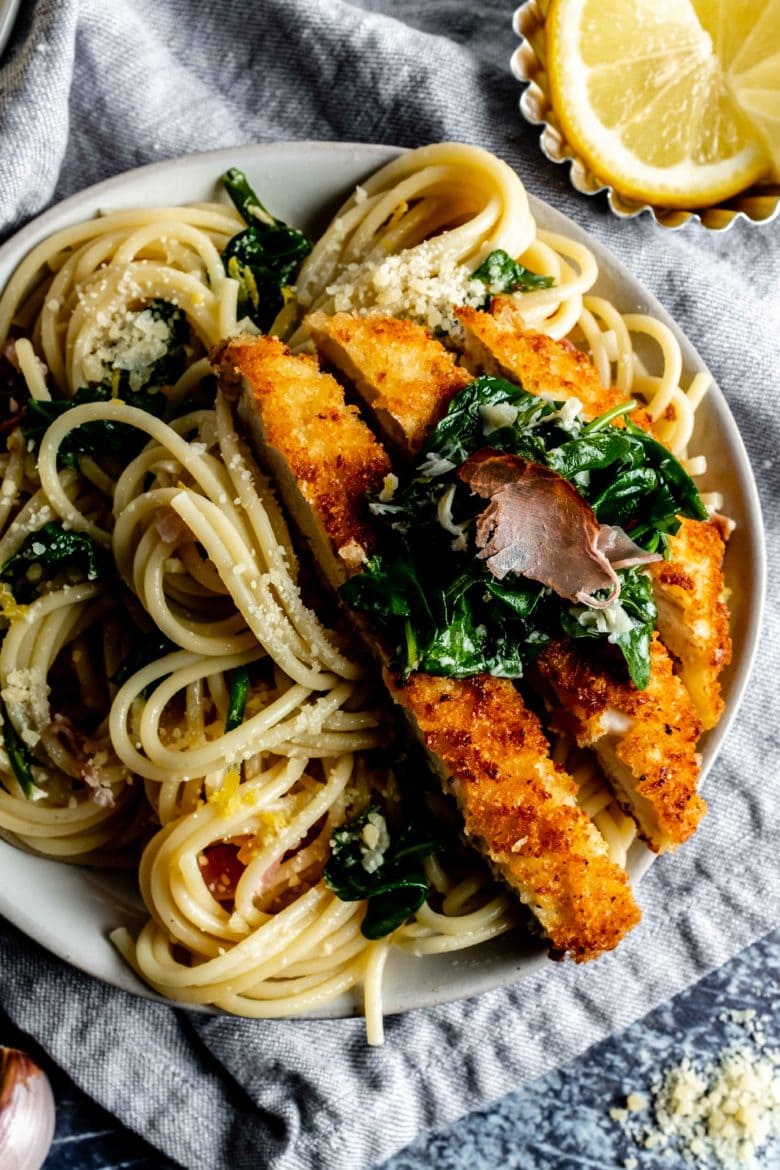 For more dinner inspiration, check out some of our favorite pasta recipes:
Print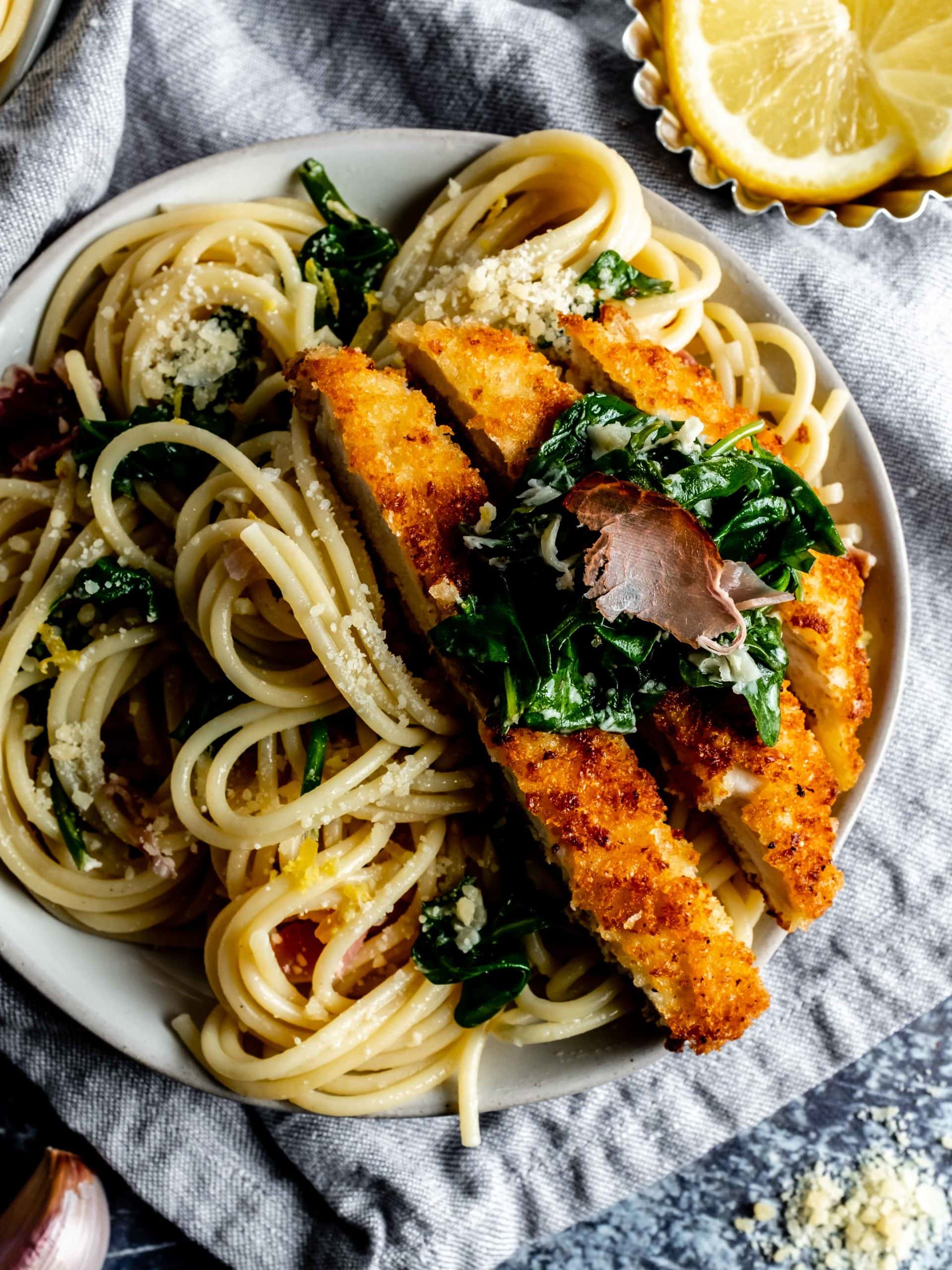 Lemon Arugula Pasta + Parmesan Crusted Chicken
---
Author:

Brit Kapustina

Total Time:

40 minutes

Yield:

4

Prep Time:

20 minutes

Cook Time:

20 minutes

Category:

Dinner

Method:

Stovetop

Cuisine:

Italian
Parmesan Crusted Chicken
1

pound (450 grams) chicken breasts
kosher salt to taste

½ cup

(60 grams) all purpose flour

½ teaspoon

garlic powder

½ teaspoon

dried oregano

2

large eggs

1 cup

(80 grams) panko bread crumbs

½ cup

(45 grams) parmesan, grated

2 tablespoons

olive oil
Lemon Arugula Pasta
8 ounces

(220 grams) spaghetti

3 tablespoons

(40 grams) unsalted butter

2

cloves garlic, minced

1

lemon, zest and juice

¼ cup

(20 grams) parmesan, grated

4

slices (50 grams) prosciutto

2

handfuls arugula
kosher salt

to taste
---
Instructions
Parmesan Crusted Chicken
Cut the chicken breasts in half horizontally to make two thin cutlets out of each breast. Place each cutlet between two layers of plastic wrap and pound with the flat side of a meat tenderizer or the bottom of a pan until about ¼ inch (6 mm) thick.
Generously season the chicken with salt and pepper on each side.
Mix together the flour, garlic powder and oregano in a shallow dish. In a separate dish, whisk the eggs until lightly beaten. In a third dish, mix together the panko and parmesan.
Dredge the cutlets in flour and shake off the excess. Next, coat in the egg mixture and then in the breadcrumb mixture, lightly pressing the breadcrumbs and parmesan into the chicken.
Heat two tablespoons of olive oil (or enough to coat the bottom of the pan) in a skillet over medium heat.
Working in batches, cook the chicken for approximately 3 minutes on each side or until golden brown and cooked through.
Lemon Arugula Pasta
Cook the spaghetti according to package instructions in salted water. Reserve the pasta water.
Melt the butter in a large skillet over medium heat. Add the garlic and lemon zest. Cook until fragrant (1-2 minutes).
Add the spaghetti and ⅓ cup (80 ml) of pasta water. Add lemon juice to taste. Stir to combine.
Remove from heat, stir in the grated parmesan and add salt to taste. Roughly tear the prosciutto and add to the pasta along with the arugula.
Keywords: lemon arugula pasta
This post may contain affiliate links through which we may earn a small commission at no additional cost to you. We only recommend products that we genuinely love and would use ourselves.