Marzipan fruit rolls are an indulgent and elegant treat bursting with summer flavors! This dessert sushi is perfect for date night or as a delicious ending to an afternoon picnic!
Many of my favorite desserts growing up featured fresh fruit, much like these fruit tartlets with mascarpone cream. Perhaps this was due to the general scarcity of fresh fruit in my hometown in the Arctic or maybe because they were a great antidote to cold, dark polar nights. One of my favorite desserts of this variety were the marzipan fruit rolls sold at a sushi restaurant near my home. After moving away, I often thought about the dessert sushi but never encountered them anywhere else. Recently I decided to try and replicate the amazing little treats at home and the results were even better than I imagined!
fresh fruit & marzipan rolls
These rolls are truly a celebration of summer! The fresh sweetness of strawberries and creamy smoothness of mascarpone give this dessert sushi an indulgent feel, while the marzipan provides a melt-in-your-mouth texture with added crunch from the apple. And to top it off, the kiwi lifts it all up with a little kick of tartness! Not to mention that these rolls look very festive and incredibly appetizing!
It took me quite a few attempts to figure out the recipe. I knew these rolls could be made, but I could not find anything similar that could serve as a reference so I had to recreate them from memory. The main obstacle was figuring out how to keep the marzipan intact. It can tear easily and if it soaks up the juices from the fruit it starts to turn into syrup. But after many tries and consuming over a pound of marzipan I finally found a method that works!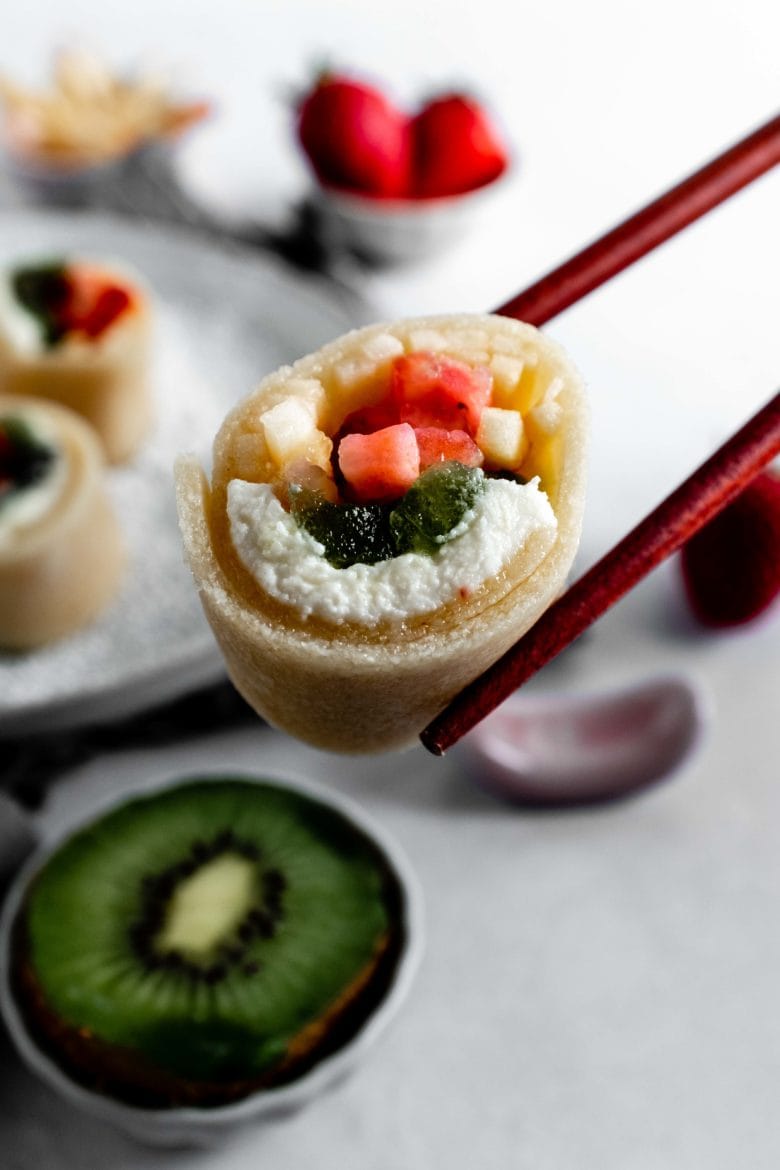 choosing marzipan
If you're not familiar with marzipan, it's a confection made of sugar and ground almonds. It's a rather common ingredient in Europe, especially Scandinavia and Germany, but I haven't encountered it as frequently in the States. Actually, in the US marzipan more commonly refers to a product with a higher sugar content, while products with a lower sugar content are called almond paste.
A higher sugar content helps with pliability and makes it easier to roll out marzipan like dough. On the flip side, sugar tends to draw out water from the fruit and when the marzipan comes into contact with excessive moisture it begins to liquefy and turn into syrup. A lower sugar content (and higher almond content) can slow down this process, but makes for a more crumbly texture that is difficult to roll out.
So which marzipan should you use? We usually have Odense marzipan on hand at home, which has an almond content of 28%. I tested this recipe with Odense marzipan and also with homemade marzipans with an almond content of 40% and 50%. Marzipan with a 40% almond content yielded the best results so I've included a recipe for it below, but you can also use a store bought version with a similar almond content. Odense also sells almond paste that has a 45% almond content, which might reasonably work for this recipe, but I haven't tested it myself.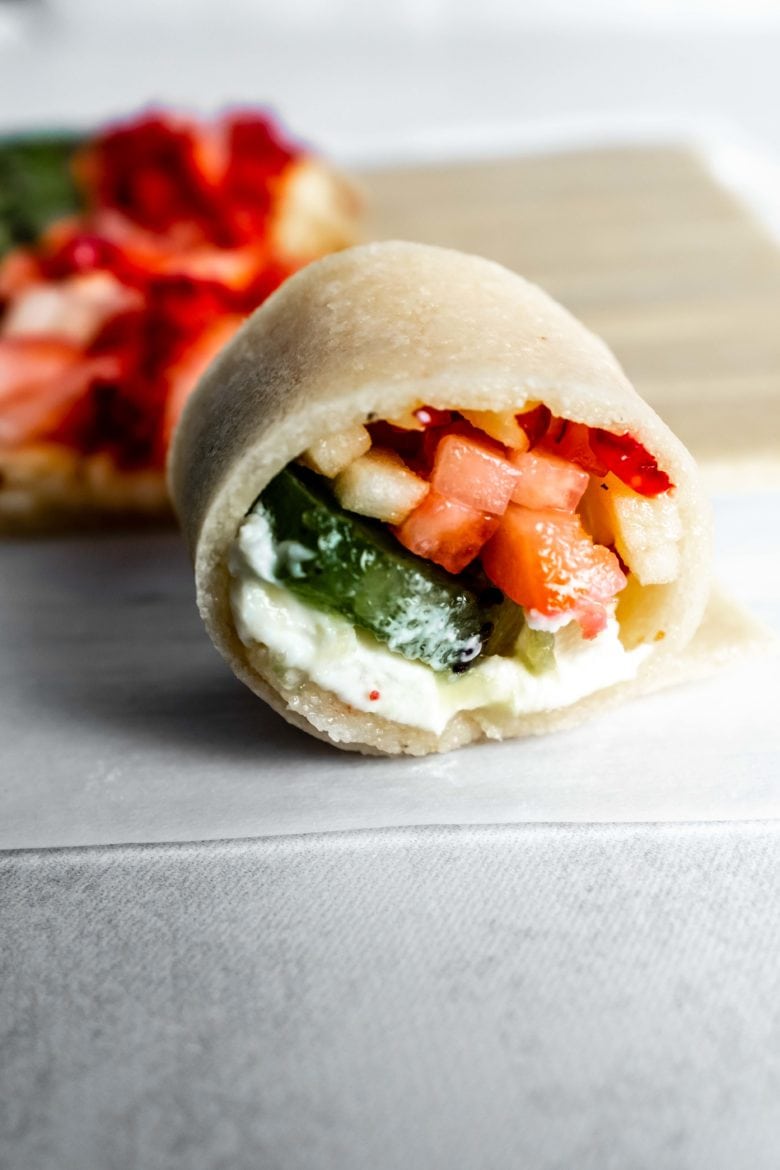 homemade marzipan
Luckily, making marzipan at home is actually quite easy! You just need blanched almond flour, sugar, powdered sugar, almond extract and a binding agent (I used light corn syrup). To make homemade marzipan, combine all of the ingredients in a food processor and mix until large crumbs begin to form. You may need to scrape down the sides of the bowl a few times during the process. And if your almond flour is coarse it might be a good idea to pulse it a few times before adding the rest of the ingredients. After coarse, sticky crumbs have formed, you can finish making the marzipan by pressing it together into a disc with your hands. Then just roll it tightly in plastic wrap and store it in a cool, dry place.
One quick note: the marzipan recipe I've included makes more than you'll need for the marzipan rolls. I find that sometimes the blades of the food processor don't catch the ingredients well when making smaller amounts. So if you're looking for marzipan recipes, make sure to check out these chocolate chip marzipan cookies!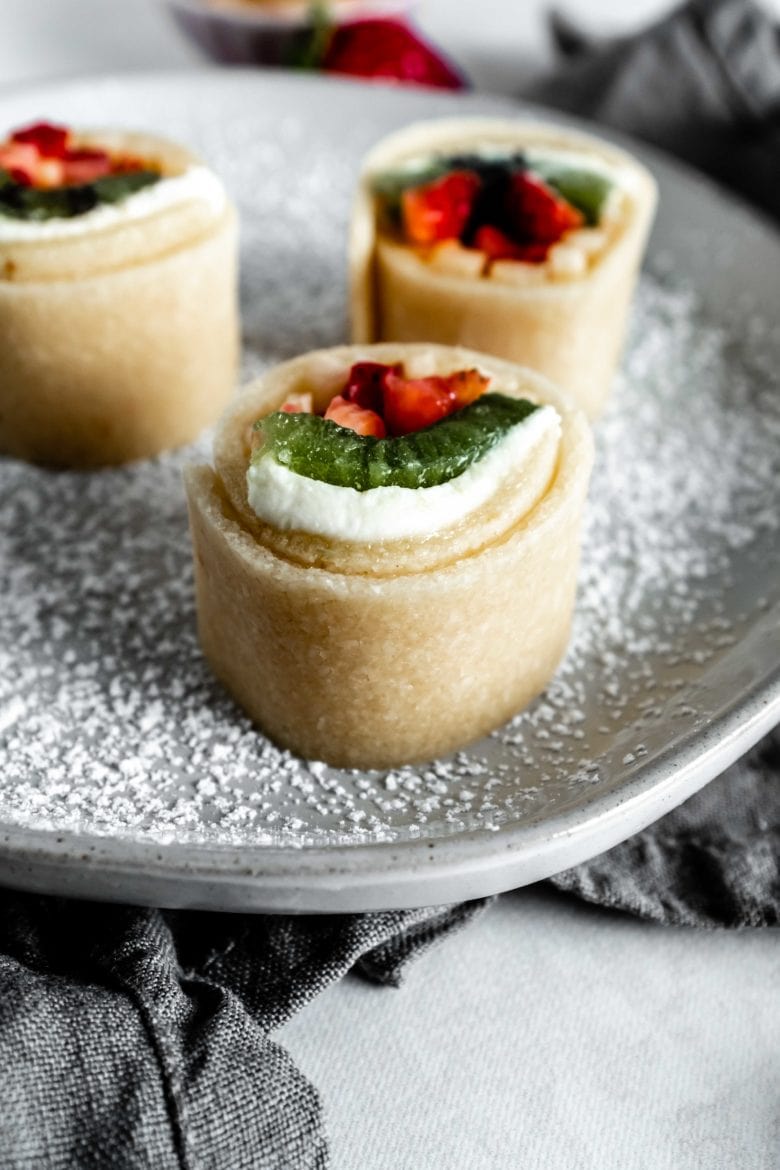 preparing the ingredients
Start making your rolls by preparing the fruit. Cut the strawberries into matchsticks, the apple into fine matchsticks and the kiwi into half circles.
Next, roll out the marzipan. If it's been stored in the fridge it will first need to come to room temperature. You can warm it up by kneading it a bit or by heating it for 5-10 seconds in the microwave. Generously sprinkle your working surface and rolling pin with powdered sugar. Roll out the marzipan into a rectangle a little over 6×10 inches (15×25 cm) and about ⅛ inch (3 mm) thick. Trim the edges with a knife to get a straight rectangle.
assembling marzipan rolls
Now it's time to start assembling your marzipan fruit rolls! The main challenge in making dessert sushi is keeping the marzipan intact. After some experimenting I found that preventing the strawberry and kiwi from touching the marzipan was essential to keeping the marzipan in one piece. This is easy enough to achieve: just layer the marzipan first with the mascarpone and apple and place the strawberry and kiwi on top!
Because marzipan tears easily, I like to first cut ribbons of marzipan and then roll them individually (as opposed to rolling the entire log and then chopping them as you would with sushi). I also cover only half of the marzipan with fruit, so that I can get two outer layers of marzipan which helps with structural integrity.
Start by slightly wetting the uncovered marzipan with a bit of water or strawberry slice. Then carefully cut the marzipan crosswise into 1 inch (2.5 cm) wide ribbons. Next gently roll the ribbon starting with the mascarpone-kiwi edge. Avoid pressing too hard when you roll. Once all rolls are done generously sprinkle a serving plate with powdered sugar and transfer the rolls to the plate!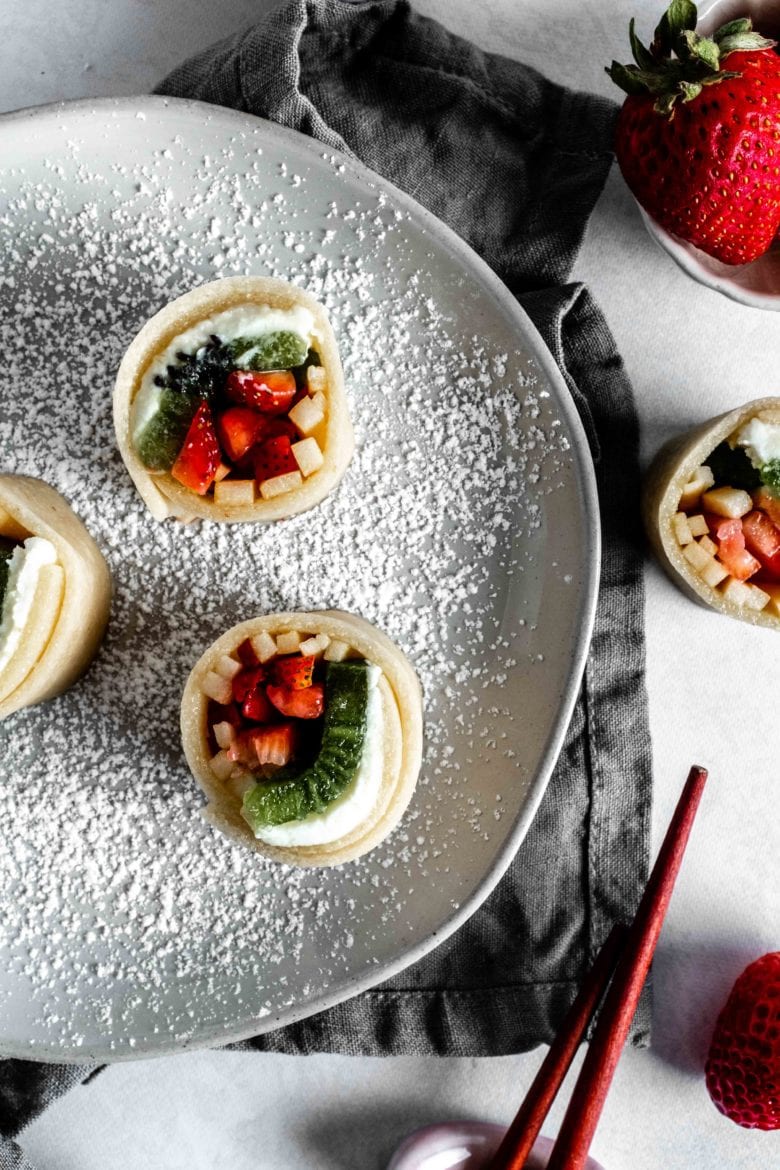 tips for making marzipan fruit rolls
These rolls are best enjoyed fresh! You can store them in the fridge until ready to serve, but I would recommend eating them within a few hours after they are made. My test rolls did survive overnight, but the marzipan started to stick to the plate.
Some additional tips:
You can prepare the ingredients ahead of time so that you can assemble the rolls just before you are ready to enjoy them. Pre-cut the fruit and store in an airtight container. You can also pre-roll the marzipan and store it between two sheets of plastic wrap.
If your marzipan tears when you roll it out, you can trim a little off the edge, patch the tear and roll over it a few times with a rolling pin.
If the marzipan is not very pliable and crumbles too easily you can warm it up in a microwave for 5-10 seconds.
If you want to take this treat even further you can try pairing it with a simple vanilla sauce for dipping!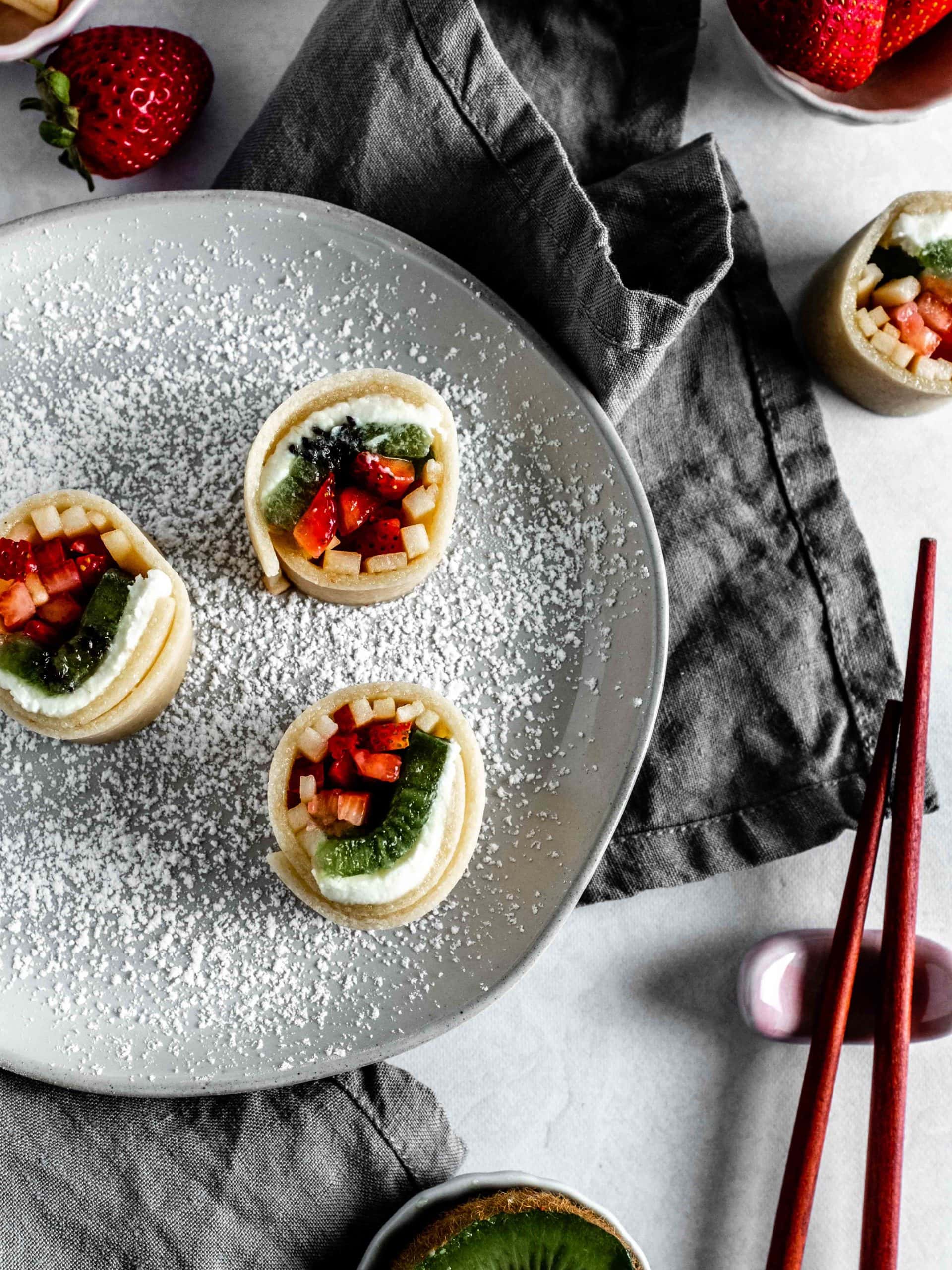 ingredients
marzipan
makes enough for 2 rolls
blanched almond flour

1.5 c (150 g)

sugar

¼ c (50 g)

powdered sugar

⅓ c + 1 tbsp (50 g)

almond extract

½ tsp

light corn syrup

3 tbsp (45 g)
marzipan fruit rolls
makes 1 roll with 10 pieces
strawberry

3 medium (50 g)

kiwi

1 medium (50 g)

apple

½ medium (50 g)

marzipan

5.5 oz (150 g)

(use the recipe below or use store bought with about 40% almond content)

mascarpone

¼ c (50 g)

powdered sugar

for working surface
instructions
marzipan
Combine almond flour*, sugar and powdered sugar in a food processor. Add almond extract and corn syrup. Mix until large, sticky crumbs form. Scrape the sides of the bowl as necessary.
Pour the mixture into a bowl and knead until a single mass forms. Wrap tightly in plastic and store in a cool, dry place.
marzipan fruit rolls
Start by preparing the fruit: hull the strawberries and cut into matchsticks, peel the kiwi and cut into half circles and cut the apple into fine matchsticks.
Generously sprinkle your working surface and rolling pin with powdered sugar. Roll out the marzipan* into a rectangle slightly larger than 6x10 inches (15x25 cm). Trim the edges.
Spread the mascarpone along the long edge. It should be about 1 inch (2.5 cm) wide and about ¼ inch (6 mm) thick. Evenly distribute the kiwi slices on top of the mascarpone*.
Place the apple matchsticks lengthwise next to the mascarpone in a 2 inch (5 cm) wide single layer. Place the strawberry next to the kiwi on top of the apple in a 1 inch (2.5 cm) single layer. Slightly wet the uncovered portion of marzipan with water or a slice of strawberry.
Cut the marzipan crosswise into 1 inch (2.5 cm) ribbons.
Gently roll each individual marzipan roll starting with the mascarpone-kiwi edge.
Generously sprinkle a serving plate with powdered sugar and transfer the rolls onto the plate.
notes
Almond flour: If your almond flour is coarse, pulse it a few times in the food processor before adding the rest of the ingredients to get a finer texture. Rolling out marzipan: If your marzipan is cold, warm it up by kneading it for a few minutes or by placing it in the microwave for 5-10 seconds. If the marzipan tears while you are rolling it out, trim excess marzipan off the edge and use it to patch any tears. Fruit filling: The amount of fruit is approximate - do not overfill your rolls.

Did You Make This Recipe?
This post may contain affiliate links through which we may earn a small commission at no additional cost to you. We only recommend products that we genuinely love and would use ourselves.