Thin layers of delicious honey cake separated by a slightly tart and super creamy frosting, our medovik is luxuriously rich and wonderfully decadent. While it takes a bit of time to prepare, the method is simple and this Russian honey cake is definitely worth the effort!
The only item on Viktor's birthday list this year was медовик (medovik or Russian honey cake): a delicious layer cake that could easily be found in every market in his hometown. To be fair, he talks about medovik more than one might think is reasonable so this request didn't really come as a surprise. What was a bit surprising, however, was the nostalgia-inspired recipes the medovik prompted — creamy salmon soup, grenki and almond cookies are just a few he currently has in the works! That's all to say: this medovik is pure magic. It's decadent, rich and may even inspire your husband to whip out his Soviet-era cookbook.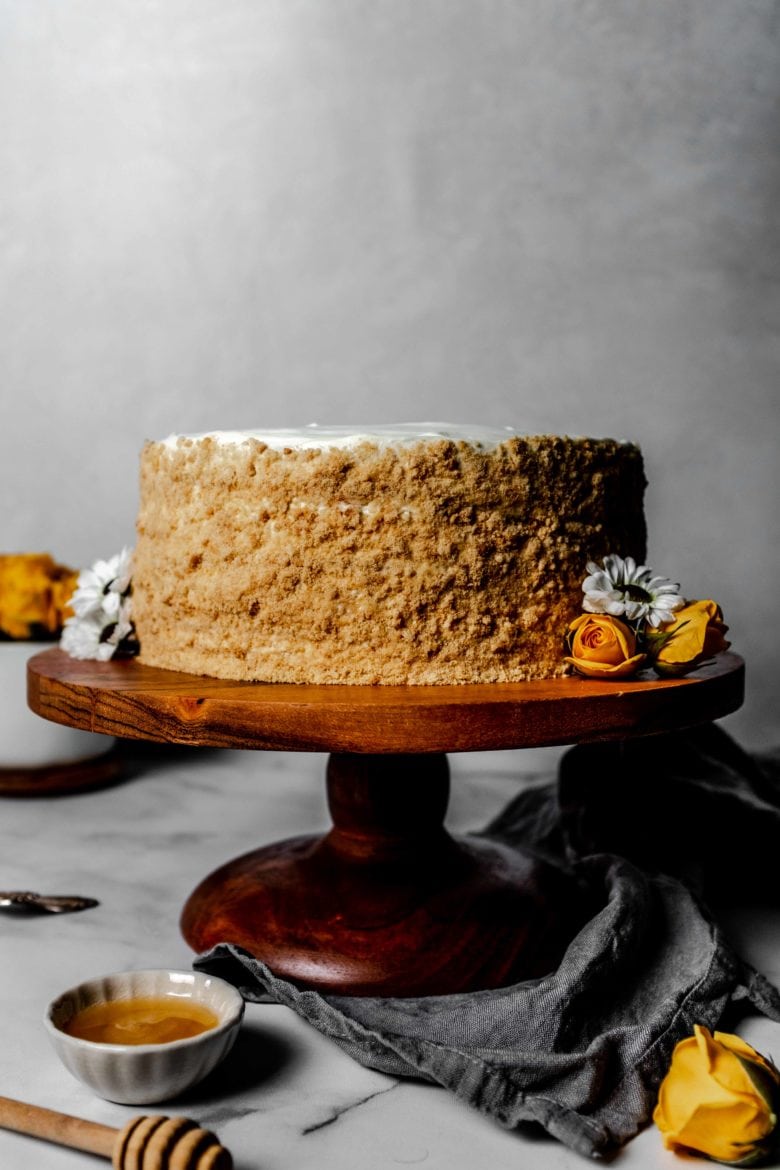 making the layers
The layers of medovik are thin honey-flavored cakes with an almost cookie-like texture. While it does take a bit of time to roll out and bake 10 layers, the dough is easy to work with and each round only needs about 5-6 minutes in the oven.
To make the dough, start by heating honey, sugar, butter and salt in a small saucepan just until the butter melts. Transfer the liquid mixture to a heatsafe bowl and add in the remaining ingredients: baking soda, eggs and flour. The dough should be quite soft, but not sticky so you can add a few more tablespoons of flour if needed. If you're still having trouble with the dough sticking to your hands it might just be too warm — let it rest for 10 minutes and come back to it.
Now divide the dough into 10 pieces. I always use a kitchen scale to make sure my pieces are mostly even, but if they're a little off it won't hurt the cake. In fact, to ensure the layers are the same in diameter even after baking I prefer to roll out each piece of dough, bake it and then cut out the circle post-baking (see photos below). You'll want to cut out the rounds right when they come out of the oven as the layers will harden a bit over time, which makes it more likely for them to crack.
And what should you do with the baked scraps? Toss them in a food processor and pulse until you have fine crumbs — we'll be using them to decorate the outside of our medovik!
Before we move onto the frosting, here are a few tips I've learned for making sure your medovik layers are perfection:
Roll out the dough on parchment paper so it can be easily transferred to a baking sheet. I don't usually need extra flour at all for this step, but you can dust your rolling pin if needed.
As for the size of your medovik, I cut out rounds 7.5 inches (19 cm) in diameter. You can use a lid, plate or really anything round to cut out your layers.
The dough will be very thin, but puff up a bit in the oven. To make sure it doesn't puff up too much in certain spots you can use a fork to poke holes all over the dough before baking.
Keep a close eye on the layers in the oven — they only need about 5-6 minutes and can go from golden-brown to burnt in seconds.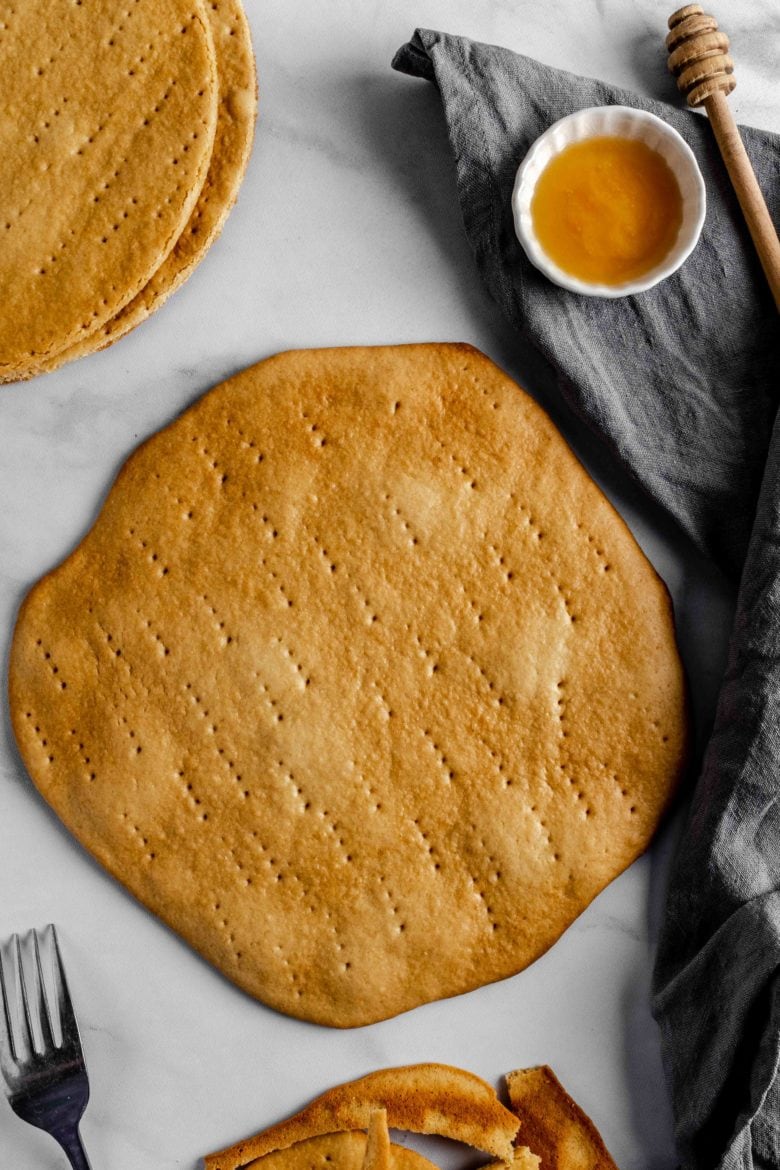 the frosting
While many russian recipes for medovik use just sour cream and sugar to create the frosting, I've made some adjustments as the sour cream (smetana) you'll find in Russia is a bit different than what we can get here in the US. To get that perfect combination of sweet and tangy, you'll need just four ingredients: sour cream, powdered sugar, vanilla extract and heavy cream.
Start by whisking the powdered sugar, sour cream and vanilla in a large bowl. Next whip the heavy cream until stiff peaks form — the cream will be glossy and have a texture that holds its shape. Then just fold the whipped cream into the sour cream mixture until fully incorporated — easy! Store the frosting in the refrigerator until you're ready to assemble your medovik.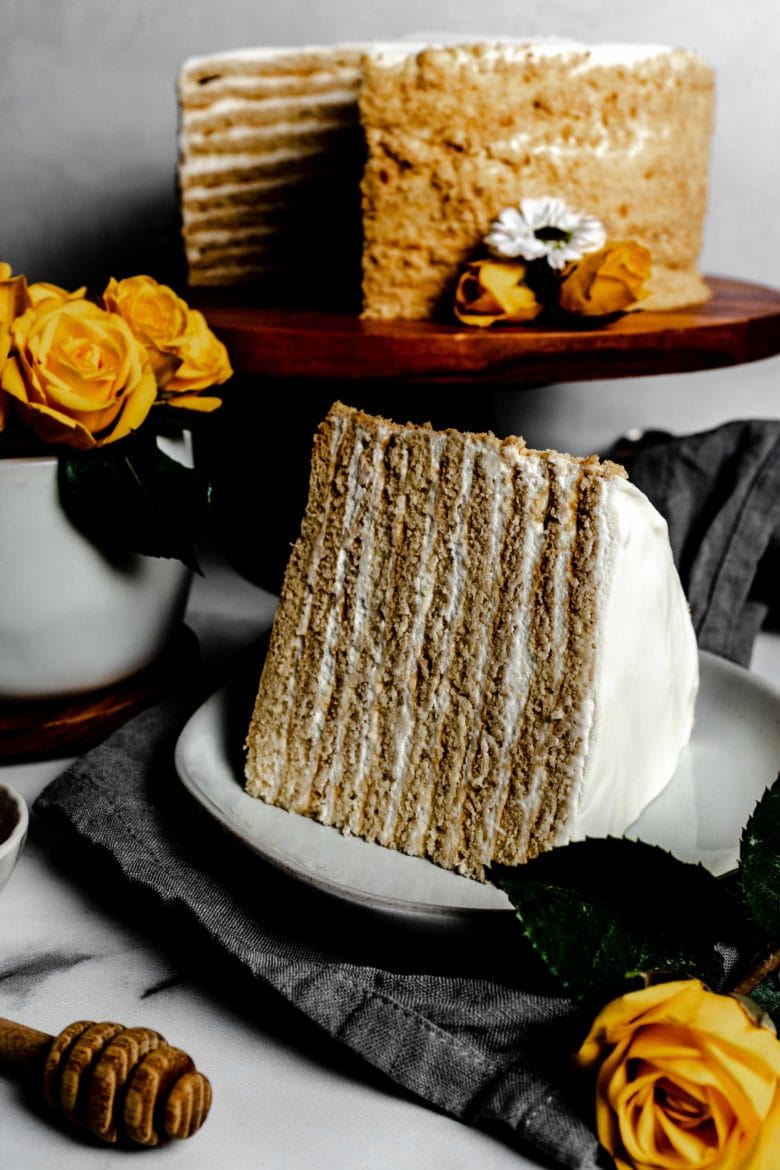 assembly
After all of that work we've made it to the final step: assembly! Start by placing a bit of frosting on your serving platter to hold the medovik in place. Add the first layer and plop a few heaping spoonfuls (more like one ladleful) of frosting on top. Spread it over the cake evenly (but you really don't need to be too careful) and repeat. After the final layer, spread the remaining frosting on the very top and sides of the cake.
At this point you could definitely call it good. You've been in the kitchen for hours — we wouldn't blame you! The other option is to remember all of those leftover cake layer scraps that you turned into crumbs and make one last decorative endeavour. You can sprinkle the crumbs all over the cake or just spoon them onto the sides (my personal preference). Either way your medovik is beautiful and ready to enjoy… almost.
We've now come to the most difficult part of making medovik: placing it in the refrigerator and waiting at least eight hours (preferably overnight) until we can dig in. Is this step necessary? Unfortunately, yes. The frosting needs time to soften the layers and form a cohesive cake. Trust me — it's definitely worth the wait!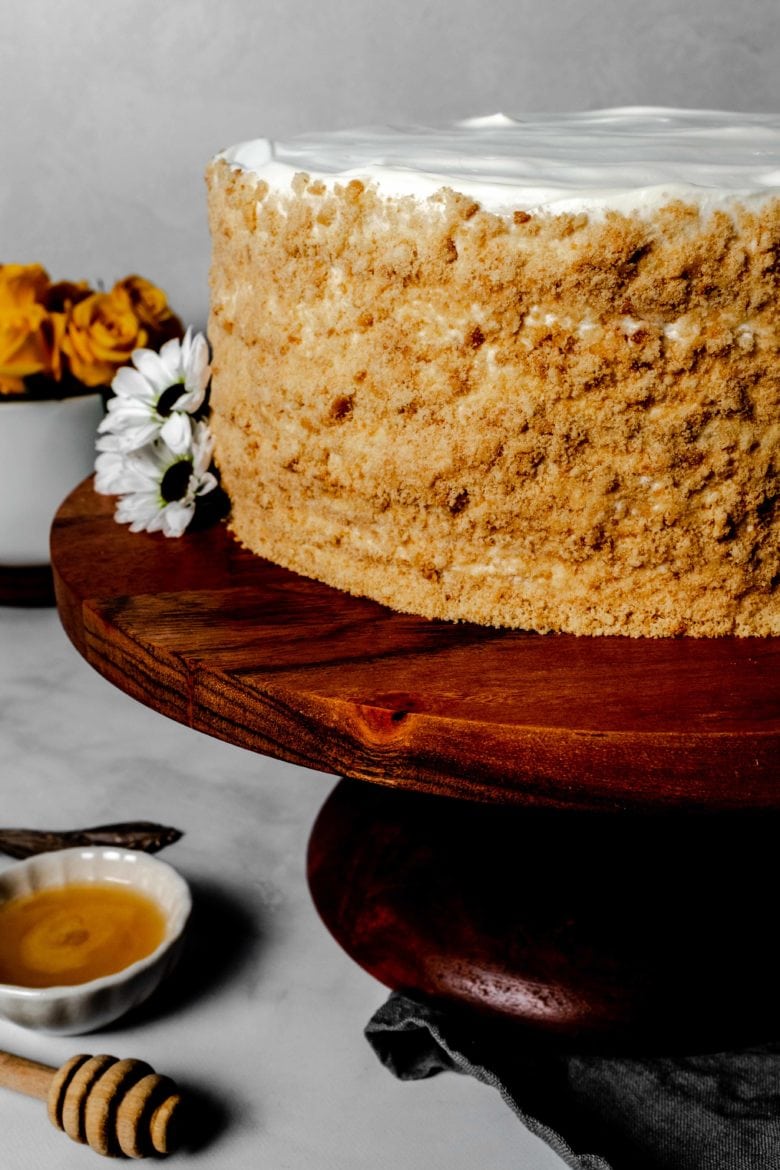 For more of our favorite Russian fare, check out these recipes!
Print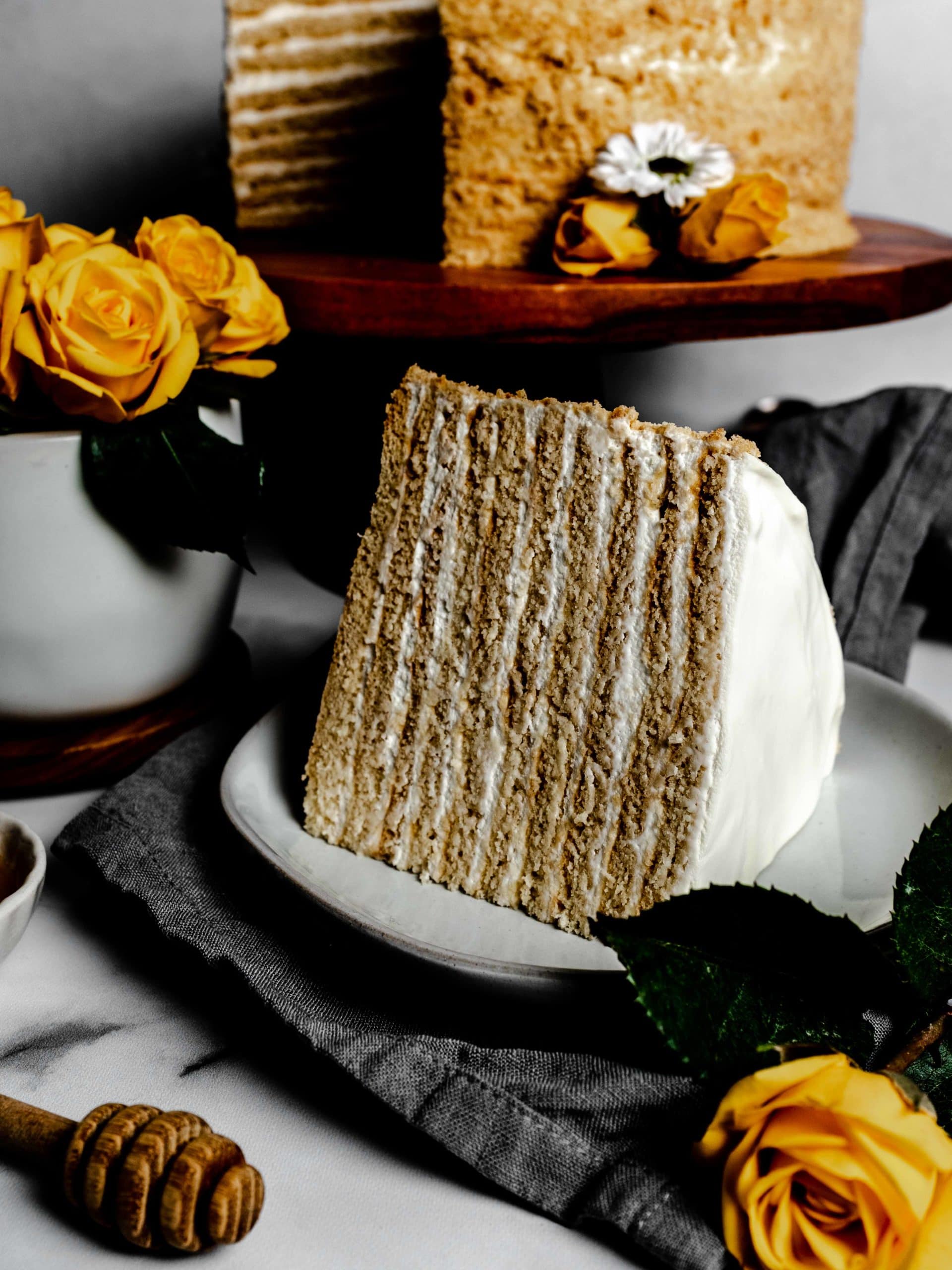 medovik – russian honey cake
---
Author:

Brit Kapustina

Total Time:

3 hours

Yield:

16

Prep Time:

2 hours

Cook Time:

1 hour

Category:

Dessert

Method:

Baking

Cuisine:

Russian
Medovik Layers
⅓ cup

(110 grams)

honey

1 cup

(200 grams) granulated sugar

½ cup

(110 grams) unsalted butter

¼ teaspoon

kosher salt

1 ¼ teaspoons

baking soda

3

large eggs

5 ¼ cups

(630 grams) all purpose flour, spooned and leveled*
Sour Cream Frosting
1 cup

(120 grams) powdered sugar

32 ounces

(900 grams) sour cream

1.5 teaspoons

vanilla extract

1 cup

(240 ml) heavy cream
---
Instructions
Medovik Layers
Combine the honey, sugar, butter and salt in a saucepan over medium-low heat. Whisk until the butter has melted and the sugar has dissolved.
Remove from heat and pour into a large heatproof bowl. Stir in the baking soda. Whisk until fully incorporated.
Let the mixture cool slightly (about 5 minutes) and then add the eggs, whisking between each addition.
Gradually add the flour, stirring between each cup (120 g). The dough should be quite soft, but shouldn't be sticking to your hands too much. You may need about ¼ cup more or less flour.
Divide the dough into 10 equal portions. Cover with a kitchen towel or plastic wrap so they don't dry out.
Preheat the oven to 350 F (180 C). 
On parchment paper, roll out the dough so that it will be large enough to cut out a 7-8 inch (18-20 cm) circle – the dough will be very thin. Use a fork to poke holes all over the dough. Transfer the parchment paper and dough to a baking sheet and bake for 5-6 minutes or until golden brown.
When the dough comes out of the oven, immediately use a plate or lid to cut out a 7-8 inch (18-20 cm) circle. Save the scraps – we'll need these for decorating the cake! Repeat with the remaining portions of dough.
Transfer the layers to a wire rack to cool completely before stacking.
Sour Cream Frosting
Whisk together the powdered sugar, sour cream and vanilla until combined.
In a separate bowl, beat the heavy cream until stiff peaks form. Fold the whipped cream into the sour cream mixture until fully incorporated. Store in the refrigerator until ready to use.
Assembly
Place a dollop of frosting on your serving platter to hold the medovik in place.
Add the first layer and spread about ¾ cup of frosting on top. Stack the second layer on top and repeat with the remaining layers.
Spread the remaining frosting on the top and sides of the cake.
Crush the cake layer scraps (using a food processor or by hand) and use them to decorate the sides (and top if desired) of the cake.
Refrigerate the cake for 8 hours or overnight before serving. This allows time for the frosting to soften the layers and the cake to set.
Notes
Spooned and leveled: Scooping a measuring cup into a flour container can result in much more flour than intended, which can affect the success of your dough. To get a more accurate measurement, use a spoon to lightly scoop flour into the measuring cup until it's completely full. Then run the back of a knife over the cup to gently scrape off any excess.
Keywords: medovik, russian honey cake
This post may contain affiliate links through which we may earn a small commission at no additional cost to you. We only recommend products that we genuinely love and would use ourselves.