Featuring a buttery graham cracker crust and toasted meringue topping, these individual lemon cheesecakes are pure bliss!
Mini lemon meringue cheesecakes are our favorite way to greet the coming warmer months! The lemon cheesecake is light and bursting with fresh citrusy flavor, making it the perfect complement to the creamy toasted meringue topping!
And if you're looking for more mini cheesecake inspiration make sure you check out our mini mocha cheesecakes + white chocolate kahlua ganache and chocolate hazelnut cheesecake cupcakes!
the best lemon cheesecake
This is my absolute favorite lemon cheesecake recipe. It's not one of those cheesecakes with just a hint of lemon. These mini cheesecakes get a double burst of citrus from both lemon juice and lemon zest! Here are a few tips to make your ultra lemony cheesecakes a success:
Full-fat cream cheese and sour cream are the only way to go for this cheesecake!
Make sure to add the eggs to the mixture last and beat them just until incorporated. Overbeating the eggs will add more air to your mixture which can cause cracks and affect the texture of the cheesecake.
These mini cheesecakes will probably be done sooner than you think! Take them out of the oven as soon as the edges seem mostly set. The center will still be a bit jiggly.
toasted meringue topping
There are several ways to make meringue, but for this topping I like to go with the swiss meringue method. It's not overly complicated and involves only two steps:
Cook the egg whites and sugar over a double boiler until the mixture reaches 160 F (71 C). This step makes for a more stable meringue and also brings the egg whites to a temperature that is safe for eating.
Whip the mixture at a high speed until stiff, glossy peaks form.
double boiler made easy
My version of a double boiler consists of a metal mixing bowl nested over a pot of simmering water. This method is perfect for swiss meringue as it gently heats the egg whites without cooking them.
To set up your double boiler, fill a saucepan with an inch or two of water and place it on your stove over low heat (we want it to remain at a simmer). Then place your mixing bowl (metal works best) over the saucepan, making sure it's not touching the water.
Whisk the egg white and sugar mixture continuously until it reaches 160 F (71 C) with an instant read thermometer. It should take about five minutes.
whipping and toasting the meringue
Once your meringue comes to temperature, remove the bowl from heat and use an electric mixer to beat the mixture until glossy, stiff peaks form. Transfer the mixture to a pastry bag and pipe the meringue onto your chilled cheesecakes.
And now the fun part — use a kitchen torch to lightly toast the edges of your meringue for a delicious caramelized finish!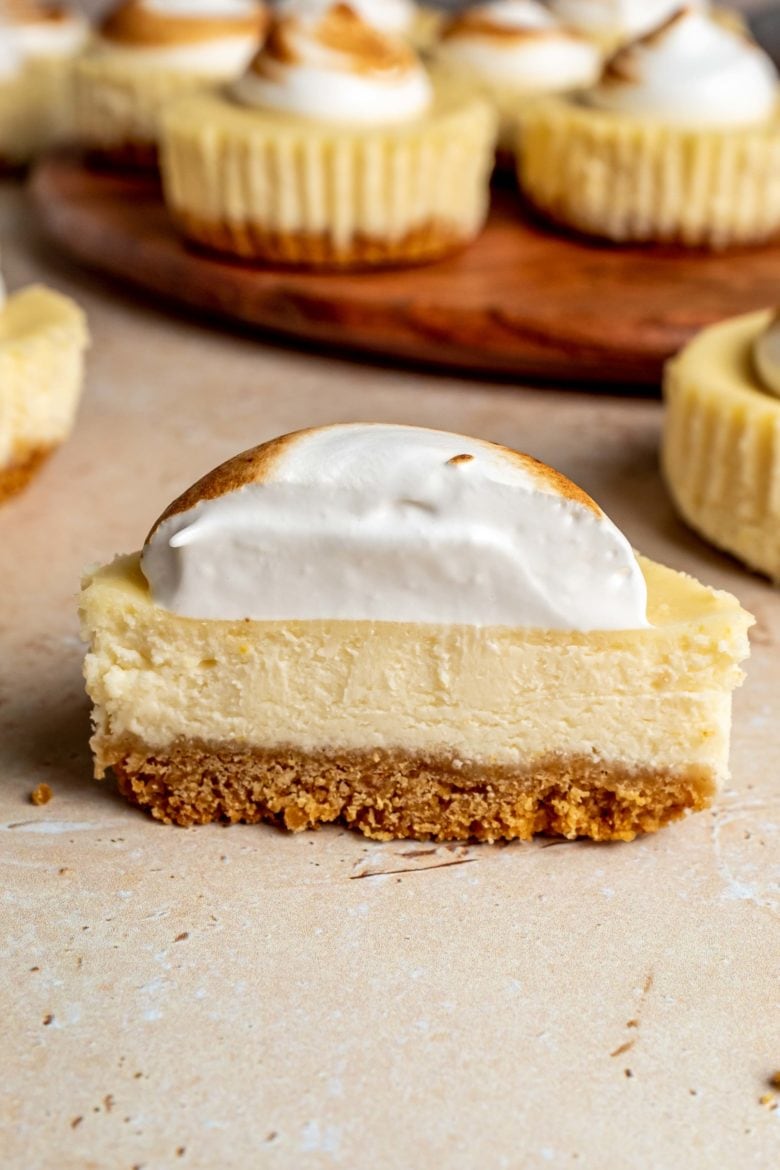 lemon meringue cheesecakes: FAQs
How do I know when the mini cheesecakes are done?
Taking your cheesecakes out at the right moment is key to not overcooking them, which can make the texture a bit dry. You'll know they're done when the edges look set, but the center is still jiggly. While we suggest 20-23 minutes for baking, don't hesitate to take them out right at the 20 minute mark if they look ready!
How can I make sure the lemon filling is smooth and creamy?
Using full-fat cream cheese in brick form (not from a tub) is the best way to ensure a creamy cheesecake! To avoid lumps in your cheesecake, make sure your cream cheese is at room temperature. If you forget to set your cream cheese out, you can place it in a bowl and microwave it on 50% power in ten second increments until softened.
I don't have a kitchen torch – is there another way to toast the meringue?
The meringue is delicious without toasting so you can definitely skip this step if you prefer! Alternatively, you can place the cheesecakes under your oven broiler very briefly, but you won't want to leave them in there for more than a minute. If you decide to try this method, I suggest testing it with one cheesecake before placing the whole batch under the broiler.
Can the meringue topping be frozen?
The lemon cheesecakes can be frozen, but I don't recommend freezing the meringue topping as it can sometimes deflate.
Print
mini lemon meringue cheesecakes
---
Author:

Prep Time:

30 minutes

Cook Time:

30 minutes

Total Time:

1 hour

Yield:

12
Description
Featuring a graham cracker crust and toasted meringue topping, these individual lemon cheesecakes are pure bliss!
---
graham cracker crust
graham cracker crumbs

¾ c (90 g)

melted butter

3 tbsp (40 g)
lemon cheesecake
cream cheese

12 oz (350 g)

(softened to room temperature)

granulated sugar

½ c (100 g)

flour

1 tbsp

sour cream

¼ c (60 g)

vanilla extract

1 tsp

lemon juice

¼ c (60 ml)

lemon zest

1 lemon

eggs

2 large
meringue topping
egg whites

3 large

granulated sugar

¾ c (150 g)

cream of tartar*

¼ tsp

salt

pinch
---
Instructions
lemon cheesecakes
Preheat oven to 320 F (160 C) and line a standard muffin tin with 12 liners.

Prepare graham cracker crust. In a small bowl combine the finely crushed graham crackers and melted butter until completely coated. Divide the mixture evenly among the liners, pressing down to form the crust.

Bake for 5 minutes, then remove and let cool.

Make the lemon cheesecake filling. Beat the room temperature cream cheese in a mixing bowl until smooth.

Add the sugar and flour. Continue beating until light and fluffy.

Mix in the sour cream and vanilla extract.

Add the lemon juice and lemon zest. Beat until fully incorporated.
Add the eggs one at a time, beating after each addition until just combined.

Divide the batter evenly into the prepared tin and bake for 20-23 minutes. The center of the cheesecake should still jiggle a bit.

Remove from the oven and let cool to room temperature. Transfer to the refrigerator for at least three hours before adding the meringue topping and serving.
meringue topping
Whisk together the egg whites, sugar, cream of tartar and salt in a metal mixing bowl.
Fill a small pot with several inches of water and heat on the stove so that it stays at a simmer.
Place your metal mixing bowl over the pot (making sure the bottom of the bowl doesn't touch the water). Whisk and scrape the mixture until it reaches 160 F (71 C), about 5-10 minutes.
Remove from heat and use an electric mixer to beat the mixture until glossy with stiff peaks (5-8 minutes).
Transfer to a pastry bag and pipe onto the chilled cheesecakes. Use a kitchen torch to toast the meringue.
Notes
Cream of tartar: Using cream of tartar is not essential, but will help stabilize the meringue. If you don't have it on hand you can leave it out.
Storing and freezing: Store in an airtight container in your fridge for up to three days. The lemon cheesecakes will also keep well in the freezer for several months, but I don't recommend freezing the meringue topping as it can sometimes deflate.
Category:

dessert

Method:

baked

Cuisine:

global
Keywords: mini lemon meringue cheesecakes, individual lemon meringue cheesecakes, lemon meringue cheesecake cupcakes
For more delicious dessert ideas, make sure you check out these recipes!
This post may contain affiliate links through which we may earn a small commission at no additional cost to you. We only recommend products that we genuinely love and would use ourselves.