Our mini mocha cheesecakes are decadently rich, creamy and topped with a luscious kahlua whipped ganache! Made in a standard muffin tin, these individual sized mocha cheesecakes are any coffee lover's dream!
Featuring a delicious oreo cookie crumb crust and incredibly smooth kahlua whipped ganache, these mini mocha cheesecakes are a decadent treat perfect for coffee lovers! Plus, they're easy to make and freezer friendly, which makes them a great make-ahead dessert for your next celebration!
oreo cookie crumb crust
For the oreo crust, you'll just need two ingredients:
12 oreos (make sure you get the regular version, not double stuff)
2 tbsp (30 g) melted butter
First, use a food processor to crush the oreos into crumbs. No need to remove the creamy filling — you can use the entire oreos here! And if you don't have a food processor, simply place the cookies in a ziplock bag and use a rolling pin or the smooth side of a meat mallet to crush the oreos.
Next, mix the oreos together with the melted butter and divide the mixture evenly into the cupcake liners. Use the back of a spoon to press the mixture down and form the crust, bake for five minutes and your crust is ready! Just make sure to let the crust cool to room temperature before adding the cheesecake filling.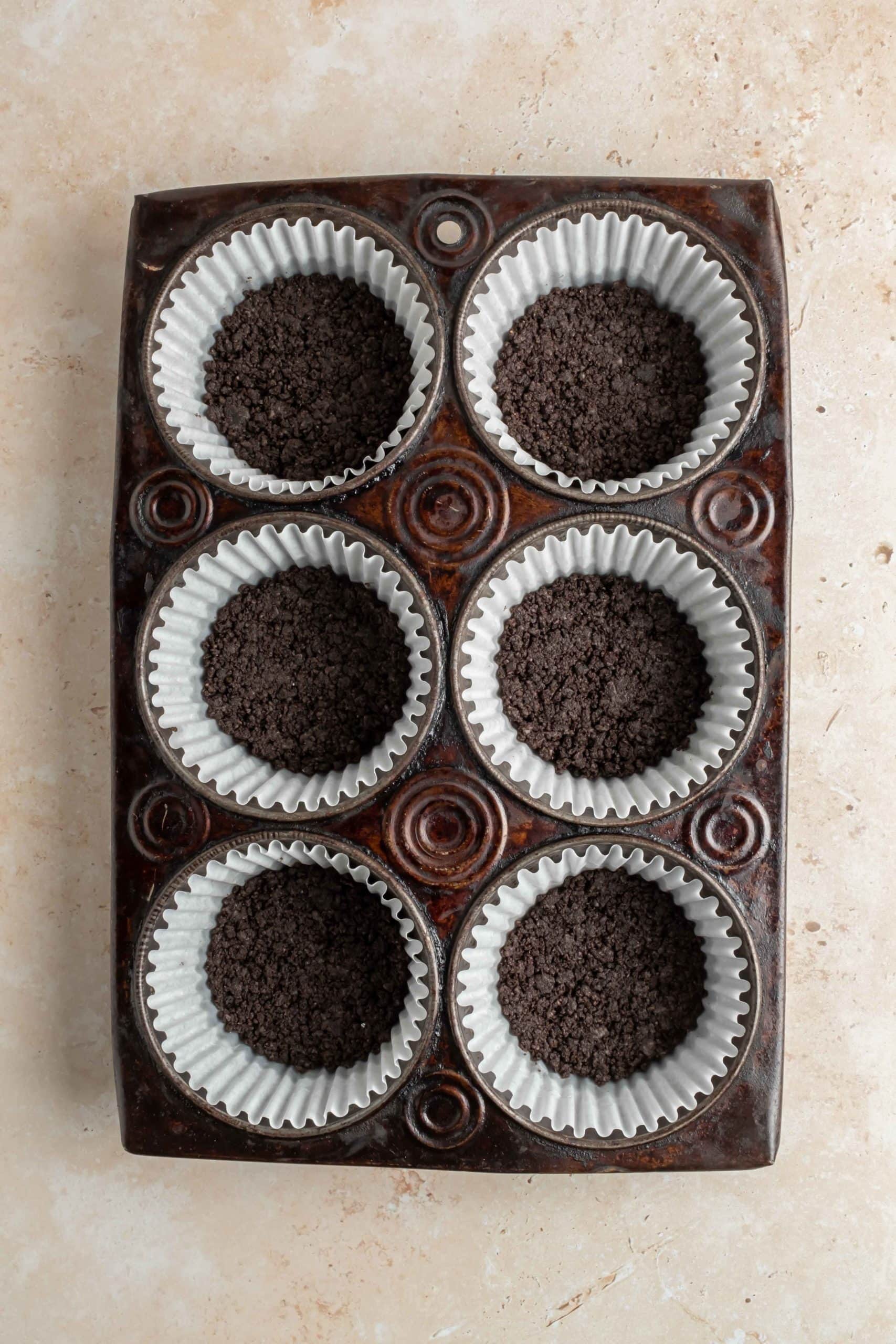 mocha cheesecake filling
Now onto the delicious coffee infused cheesecake filling! Here's our lineup of ingredients: 
Cream cheese: This is the base of the filling — full-fat is the only way to go for cheesecake!
Cocoa powder: No need to melt chocolate for this recipe! Opting for cocoa powder instead of mixing in melted chocolate gives this cheesecake a silky texture without being overly rich.
Sugar: A half cup (100 g) of sugar is just enough to give our filling the perfect amount of sweetness.
Sour cream: This softens the texture of our filling and adds a little tanginess to brighten up the rich cheesecake.
Vanilla extract: For a little flavor boost.
Instant espresso powder: You can't have mocha without a bit of espresso! Mix the instant espresso powder with equal parts hot water and add it straight to the cheesecake batter.
Eggs: The eggs provide structure and keep our mixture together. The eggs are added to the batter as the last ingredient to ensure we don't overmix them, which can incorporate air and cause your mini cheesecakes to crack.
To whip up the mocha cheesecake filling, start by beating the room temperature cream cheese until smooth. Next, add the cocoa powder and sugar, followed by the sour cream and vanilla extract. Then mix two tablespoons of espresso powder with two tablespoons of hot water until the espresso powder dissolves. Beat in the espresso until fully incorporated. And finally beat in the eggs until just combined!
Now distribute your coffee cheesecake filling evenly among the liners and bake for about 20-25 minutes!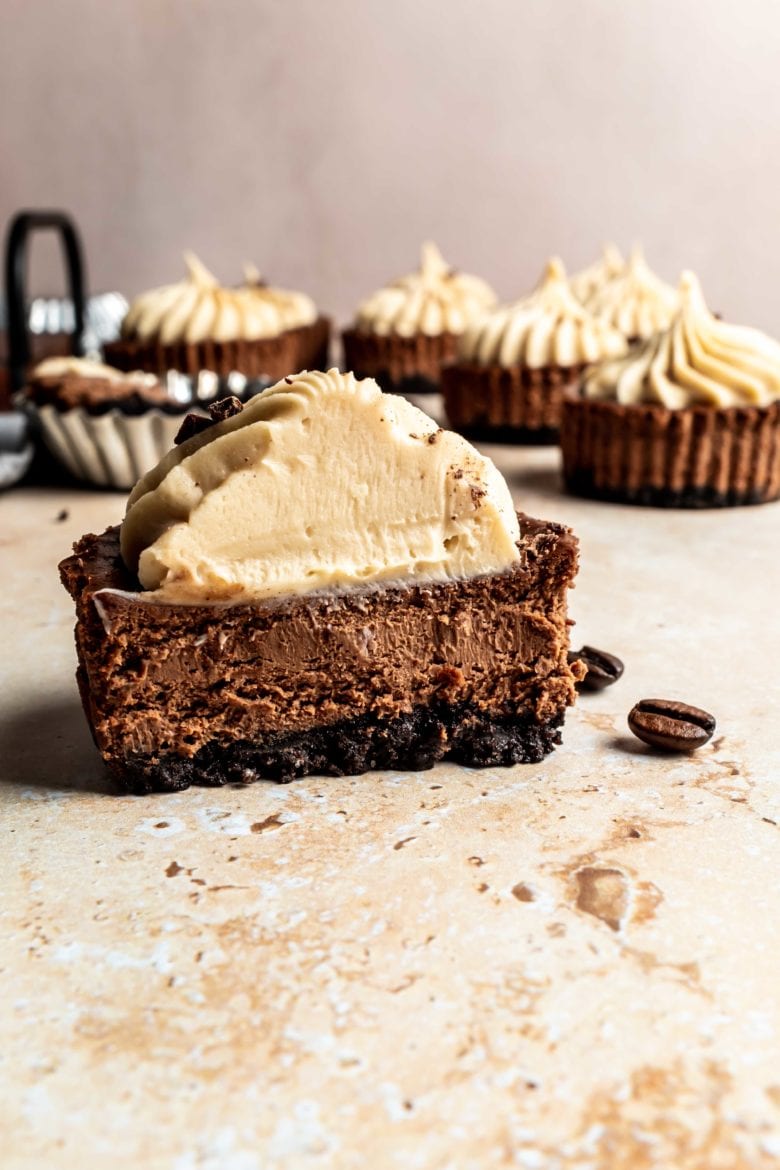 white chocolate kahlua whipped ganache
And now for one of the best parts: white chocolate whipped ganache infused with kahlua! First, gather the following ingredients:
White chocolate: Make sure to use high quality white chocolate for this recipe. Chopped white chocolate or white chocolate chips both work well.
Heavy cream: You'll only need 1/4 cup (60 ml) of heavy cream for this ganache.
Kahlua: Just two tablespoons is the perfect amount for a nice boozy flavor!
If you're familiar with making ganaches, you'll probably notice that we use less cream here than if we were to use milk or dark chocolate. That's because white chocolate contains more milk solids and therefore we don't need to add as much cream to reach the perfect consistency.
To make the white chocolate ganache, combine the white chocolate and heavy cream in a bowl and microwave for about one minute, stopping to whisk every 20 seconds. Once the mixture is smooth, whisk in the kahlua. Then cover and place the ganache in the refrigerator for two hours. Once your ganache has cooled and right before you're ready to add it to the mini cheesecakes, use an electric mixer to whip the ganache for several minutes. It will be light, fluffy and perfect for piping!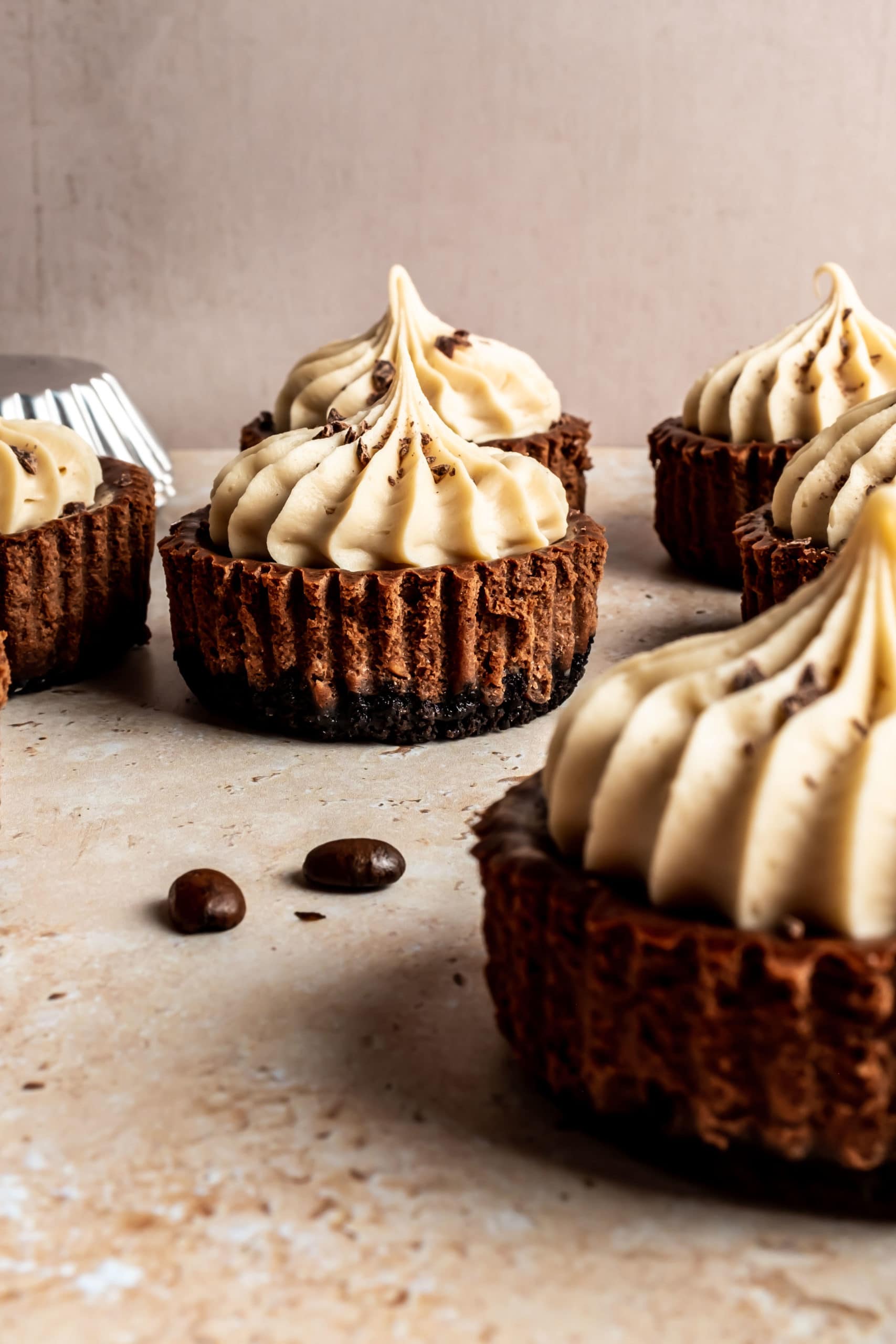 mini mocha cheesecake FAQ
Do I have to use room temperature cream cheese?
Yes! This is one of the most important factors to ensuring a super smooth and creamy cheesecake filling. Mixing cold cream cheese with the remaining filling ingredients can leave you with a very lumpy cheesecake. If you don't have time to let your cream cheese come to room temperature, I recommend microwaving it on 50% power just until soft.
How do I know when my cheesecake is done?
You'll know your cheesecake is ready when the outside looks set, but the center still jiggles a bit. Don't worry if they look a bit underdone — they'll set up nicely in the fridge. Overbaking your cheesecakes can leave them a bit too firm and dry.
What can I substitute for kahlua in the whipped ganache?
To make the whipped ganache alcohol free, you can definitely substitute kahlua for a few tablespoons of strong brewed coffee or espresso. You can also leave out the coffee flavor completely and just make a white chocolate whipped ganache!
Do mini mocha cheesecakes freeze well?
Mini mocha cheesecakes freeze wonderfully for up to several months! I've actually even frozen these cheesecakes complete with the whipped ganache and they held up extremely well. The ganache won't freeze completely, so you'll just need to make sure to place them in a pan with high sides so that the lid or covering won't squish the ganache.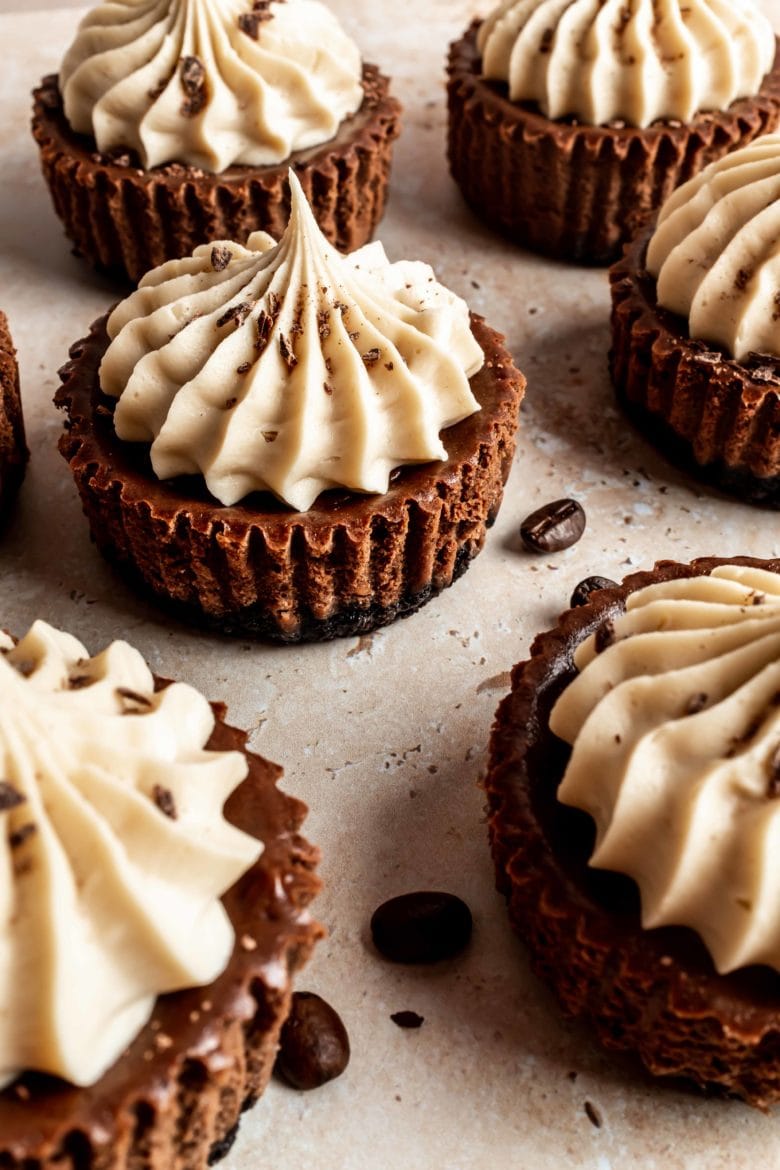 Loving these mocha cheesecakes? Check out these indulgent recipes for more cheesecake inspiration!
Print
mini mocha cheesecakes + white chocolate kahlua ganache
---
Author:

Brittney

Total Time:

3 hours 50 minutes

Yield:

12 mini cheesecakes

Prep Time:

30 minutes

Chill Time:

3 hours

Cook Time:

20 minutes
oreo cookie crumb crust
12 Oreo cookies, finely crushed

2 tablespoons (30 grams) unsalted butter, melted
mocha cheesecake filling
12 ounces (350 grams) full-fat cream cheese, room temperature

¼ cup (30 grams) unsweetened cocoa powder

½ cup (100 grams) granulated sugar

¼ cup (60 grams) sour cream

1 teaspoon vanilla extract

2 tablespoons hot water

2

large eggs
white chocolate kahlua ganache
6 ounces (170 grams) white chocolate, finely chopped

¼ cup (60 ml) heavy cream, room temperature

2 tablespoons Kahlua
---
Instructions
mini mocha cheesecakes
Preheat oven to 320 F (160 C) and line a standard muffin tin with 12 liners.

Prepare the oreo cookie crumb crust. In a small bowl combine the finely crushed oreos and melted butter until evenly coated. Divide the mixture evenly into the liners, pressing down to form the crust.

Bake for 5 minutes, then remove and let cool.

Make the mocha cheesecake filling. Beat the room temperature cream cheese in a mixing bowl until smooth.

Add the cocoa powder and sugar and continue beating until light and fluffy.

Mix in the sour cream and vanilla extract.

Mix together the espresso powder and hot water and then add to the cheesecake filling. Beat until full incorporated.
Add the eggs one at a time, beating after each addition until just combined.

Divide the batter evenly into the prepared tin and bake for 20-23 minutes. The center of the cheesecake should still jiggle a bit.

Remove from the oven and let cool to room temperature. Transfer to the refrigerator for at least three hours before adding ganache and serving.
white chocolate kahlua ganache
Place the white chocolate and heavy cream in a bowl and microwave in 20 second increments, whisking in between, until smooth.

Whisk in the kahlua until fully incorporated. Cover and refrigerate for 2 hours.

Use an electric mixer to beat the ganache on medium speed until light and fluffy (3-4 minutes). Transfer to a pastry bag and pipe onto the chilled cheesecakes.
Keywords: mocha cheesecake; whipped ganache; coffee cheesecake; mini mocha cheesecakes