These deliciously spiced linzer cookies are filled with a homemade mulled wine jelly and perfect for the holiday season! The recipe for spiced wine jelly will make about three jars — one for the cookies, one for you and one for a friend!
A hot mug of mulled wine was one of my favorite parts of visiting Germany's Christmas markets, but this year we're enjoying our glühwein in cookie form! We start by making a big batch of homemade mulled wine jelly (tip: any extra jars make great gifts!) and then we sandwich the festive jelly between spiced linzer cookies — the perfect holiday treat!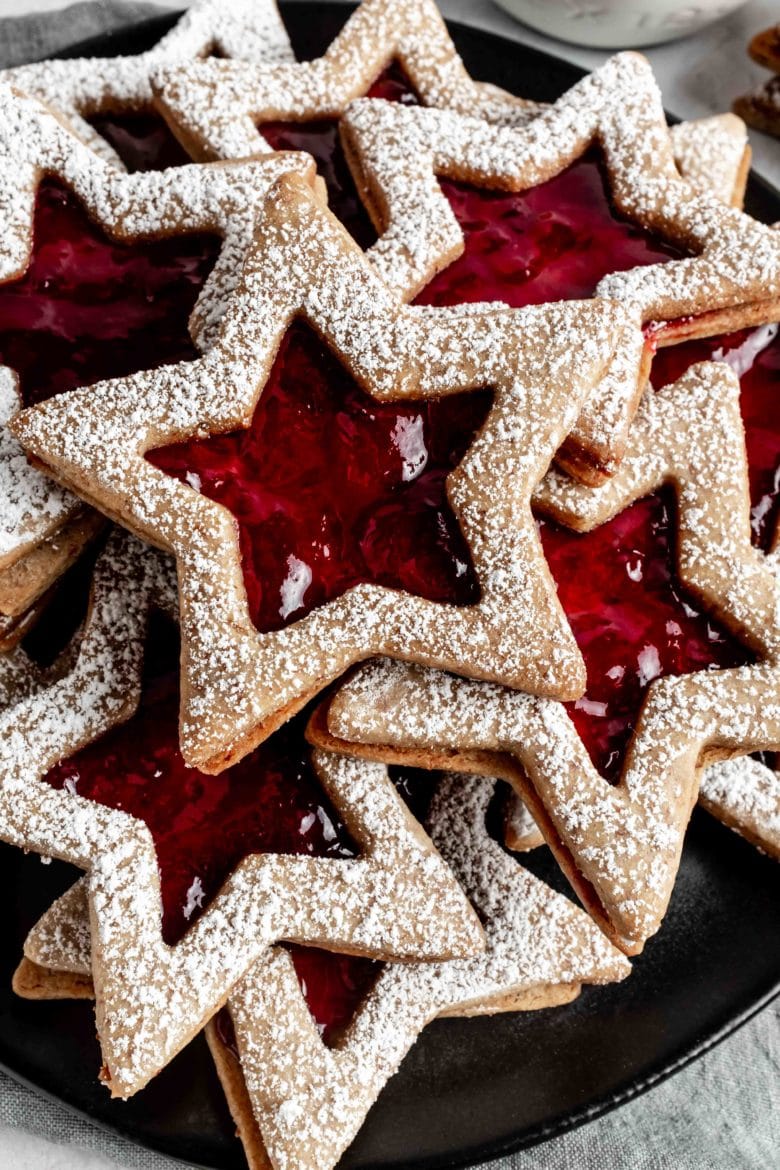 homemade mulled wine jelly
Making mulled wine jelly is actually quite easy! Here are the steps:
Make the mulled wine. Steep warm wine with a bit of brandy, orange juice and spices. Discard the solids.
Briefly boil the mulled wine with sugar and powdered fruit pectin (a gelling agent).
Pour into jars and let cool for at least 12 hours before using.
A lot of recipes for jelly call for an insane amount of sugar, which really detracts from the beautiful wine flavor. Our low sugar wine jelly is just as easy to make, but you will need to make sure you have the right version of pectin. We use Sure Jell Premium Fruit Pectin for Less or No Sugar Needed Recipes — it's in a pink box. This is very important. If you buy the original version of Sure Jell your jelly won't set properly.
A quick note on storing: We make this jelly primarily around the holidays and it doesn't usually last long. For that reason we haven't formulated this recipe for safe canning. The jelly will keep for about a month in the refrigerator.
making linzer cookie dough
These spiced sandwich cookies get a nutty flavor from ground almonds in the dough. You can either buy almond flour or make it yourself by pulsing whole almonds in a food processor until finely ground. If you opt to buy your almond flour, make sure to get an unblanched almond flour (sometimes called natural almond flour or almond meal), which is made with the skins left on. This will give your cookies better color and texture!
Now onto the process:
Cream the butter and sugar.
Beat in the egg and vanilla extract.
Add the remaining dry ingredients (almond flour, all-purpose flour, baking powder, cinnamon, ginger and salt).
After chilling the dough, you can begin shaping your cookies! I used two star cookie cutters for these cookies. The large star was approximately 3.5 inches (9 cm) in diameter and the window star was 2 inches (5 cm). Quick tip: make sure to keep your window cookies together on a separate pan as they may need less time in the oven than the whole cookies.
linzer cookies FAQ
Do I need to chill the cookie dough?
To make it easier to roll out the dough and help the cookies keep their shape, you'll need to chill the cookie dough. About two hours is the minimum amount of chill time that I would give the dough, but it can also sit in the refrigerator overnight. If you decide to make the dough ahead of time, just let it sit at room temperature for about half an hour before working with it — this will make it much easier to roll out!
How long will linzer cookies keep?
Linzer cookies will keep for several days stored in the fridge in an airtight container. But because these cookies will soften as they sit, they're best served on the day that you add the jelly.
Can I freeze linzer cookies?
While I don't recommend freezing the whole cookies, you can freeze the linzer cookies unfilled. Freeze for up to a month and bring to room temperature before filling.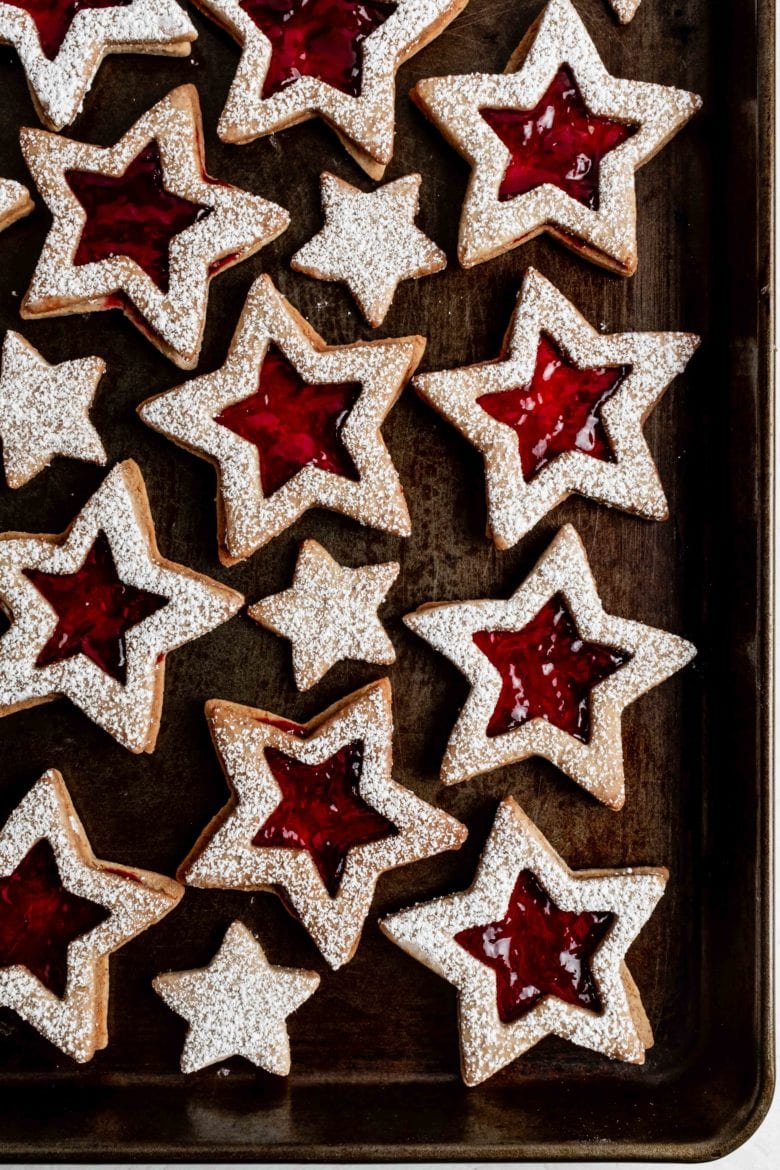 For more cookies perfect for the holiday season, make sure to check out these recipes!
Print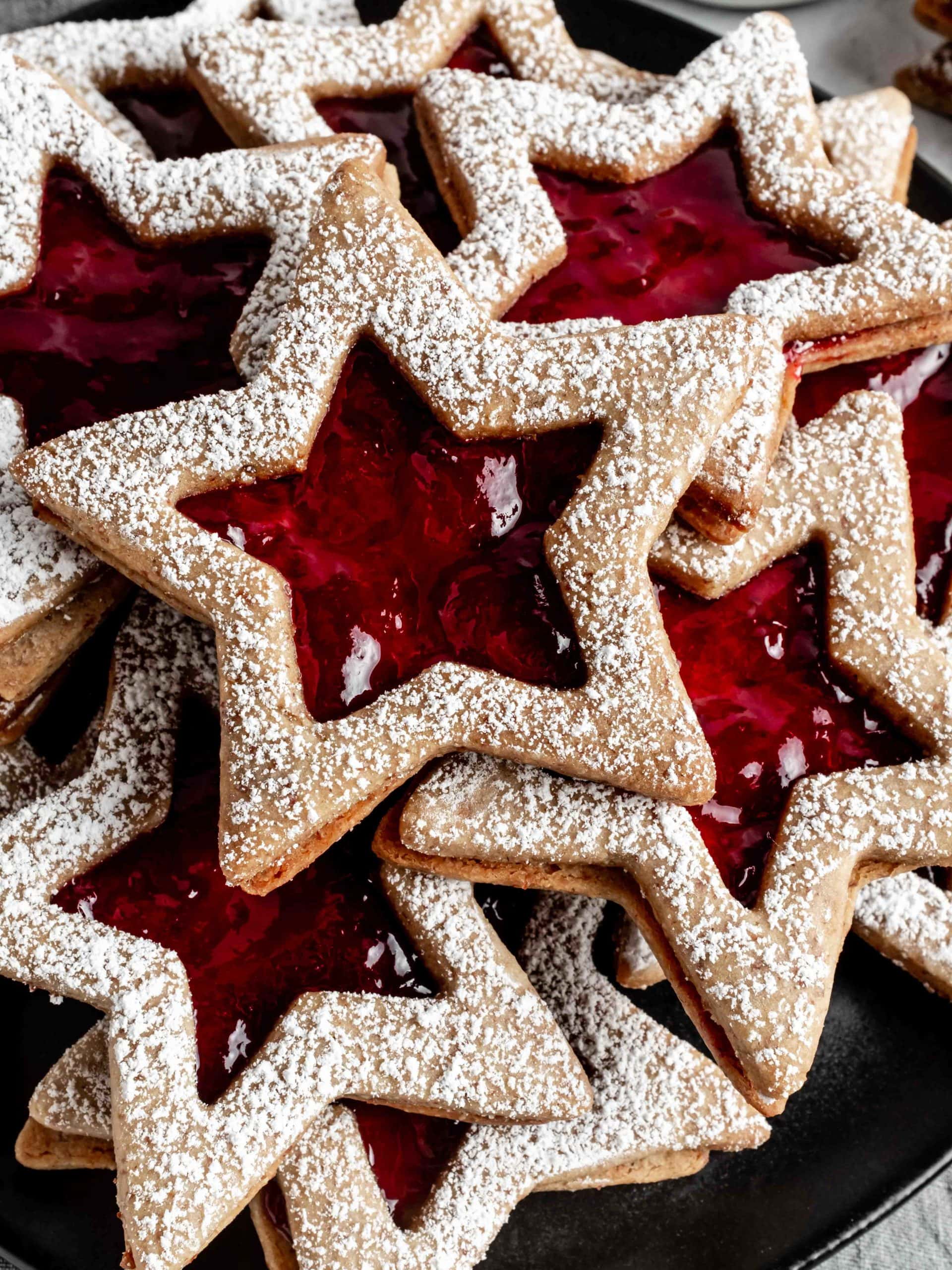 mulled wine linzer cookies
---
Author:

Brittney

Total Time:

13 hours 12 minutes

Yield:

24

Prep Time:

1 hour

Inactive Time:

12 hours

Cook Time:

12 minutes

Cuisine:

austrian
mulled wine jelly
750 ml bottle dry red wine

¼ cup (60 ml) brandy

1 orange

2 cinnamon sticks

3 whole star anise

6 whole cloves

4

juniper berries (optional)

½ cup (120 ml) water

1 cup (200 grams) granulated sugar, divided
linzer cookies
1 cup

(

230 grams

) unsalted butter, softened

⅔ cup

(

135 grams

) brown sugar

1

large egg

1 teaspoon

vanilla extract

1 cup

(

100 grams

) unblanched almond flour*

2 ¼ cups

(

270 grams

) all-purpose flour, spooned and leveled*

½ teaspoon

baking powder

1 teaspoon

ground cinnamon

½ teaspoon

ground ginger

½ teaspoon

kosher salt
powdered sugar for dusting
---
Instructions
mulled wine jelly
Pour the wine and brandy into a saucepan. Squeeze in the juice of one orange. You can also add some of the orange peel if you'd like, but make sure to avoid the pith (white part). Stir in the cinnamon, star anise, cloves and juniper berries.

Bring the mixture to a slight simmer over medium heat and cook for one minute.

Turn off the heat (but leave the pot on the burner), cover and let the mixture steep for at least one hour.

Strain the mulled wine into a bowl and discard the solids.

In a clean large saucepan, whisk together the

Sure Jell

, water and ¼ cup (50 g) of sugar until smooth. Pour in the mulled wine and bring to a boil over high heat, whisking constantly.

Add the remaining ¾ cup (150 g) of sugar and continue whisking until the mixture returns to a rolling boil. Cook for two minutes at a rapid boil, whisking constantly, then remove from heat. Skim off any foam from the top and carefully pour into jars, leaving at least ½ inch (12 mm) of head space.

Let cool to room temperature and then cover and refrigerate until set (at least 12 hours).
linzer cookies
Beat the softened butter and sugar using an electric mixer until light and fluffy.
Add the egg and vanilla extract and continue beating until combined.
In a separate bowl, combine the almond flour, all-purpose flour, baking powder, cinnamon, ginger and salt.
Gradually add the flour and almond mixture to the wet mixture and continue mixing until the dough just comes together.
Flatten the dough into a disc and cover with plastic wrap. Let the dough chill in the refrigerator approximately 2 hours* or until firm.
assembly
Preheat the oven to 350 F (180 C) and line baking sheets with parchment paper.
Flour your work surface and roll out the dough to ⅛ inch (⅓ cm) thickness. It may be easiest to start with half of the dough, leaving the other half in the refrigerator.
Use a cookie cutter* to cut out 48 shapes (the number will vary depending on the size of your cookie cutter; just make sure you have an even number).
Using a smaller cookie cutter, cut the center out of 24 (or half) of the cookies. These will be your window cookies. Make sure to keep these cookies together on a baking sheet, as they might need just a bit less time in the oven.
Bake the cookies 12 minutes or until just turning golden brown around the edges. Remove and let cool on the pan for 5 minutes before transferring to a wire rack to cool completely.
Once the cookies have cooled completely, dust the window cookies with powdered sugar.
Place a spoonful of jelly on every whole cookie and top with the window cookies. These cookies are best served on the day of filling, but can be stored in an airtight container in the refrigerator for several days.
Notes
Sure Jell: Sure Jell comes in several formulations. For this jelly, you need to make sure to the get the Sure Jell for Use in Less or No Sugar Needed Recipes. It comes in a pink box. Your jelly won't set properly using the original Sure Jell.
Almond flour: You can make your own almond flour by processing ⅔ cup (100 g) of whole almonds in a food processor until finely ground.
Spooned and leveled: Scooping a measuring cup into a flour container can result in much more flour than intended, which can affect the success of your cookies. To get a more accurate measurement, use a spoon to lightly scoop flour into the measuring cup until it's completely full. Then run the back of a knife over the cup to gently scrape off any excess.
Refrigerating cookie dough: You can make the cookie dough up to two days in advance. If refrigerating for more than a few hours, just make sure to let the cookie dough sit at room temperature for at least 30 minutes before working with it.
Cookie cutters: I used two star-shaped cookie cutters for these linzer cookies. The large star was approximately 3.5 inches (9 cm) in diameter and the window star was 2 inches (5 cm).
Keywords: linzer cookies, mulled wine jelly, glühwein jelly, mulled wine cookies
This post may contain affiliate links through which we may earn a small commission at no additional cost to you. We only recommend products that we genuinely love and would use ourselves.