A mug of our easy and deliciously spiced glühwein is sure to brighten your spirits and warm you up on a cold winter day! An added bonus? Your home will be filled with the cozy, holiday aromas of warming spices and citrus!
From watching the Prague christmas tree lighting with a hot mug of spiced svařák to warming up with a glass of gløgg during a chilly evening exploring Copenhagen's amusement park turned winter wonderland, mulled wine has definitely played a role in some of my favorite holiday memories!
While every country has their little variations of the spiced winter drink, this recipe most closely resembles glühwein — the first mulled wine that I encountered and the version closest to my heart. Served at christmas markets around Germany, glühwein is deliciously spiced, incredibly warming and a holiday staple in our home!
how to make glühwein
To make glühwein, you'll first want to gather your spices. I always make sure to use cinnamon sticks, star anise and cloves, but you can definitely adjust the spice mix to taste! Although not super traditional, juniper berries have become one of my favorite spices to add. They have a slightly woodsy, pine-like scent that I think is just perfect for this festive cocktail! Other great options include vanilla bean, nutmeg, cardamom, allspice or even a bit of fresh ginger.
Now all that's left is to mix your spices with the remaining ingredients: a bottle of dry red wine, sliced oranges, orange juice and honey! Mix everything together in a pot and bring the mixture to a slight simmer. You definitely don't want your wine to boil here; everything just needs to be heated through. Then you'll want to immediately turn off the heat, cover the pot and let the flavors infuse and mingle for about an hour. If you're in a hurry, half an hour will also do the trick!
Before serving, warm up your glühwein and, if you're so inclined, add a little extra holiday cheer! My personal preference is to add a few shots of rum or amaretto. It's incredibly delicious and adds a bit of extra warmth to the festive drink.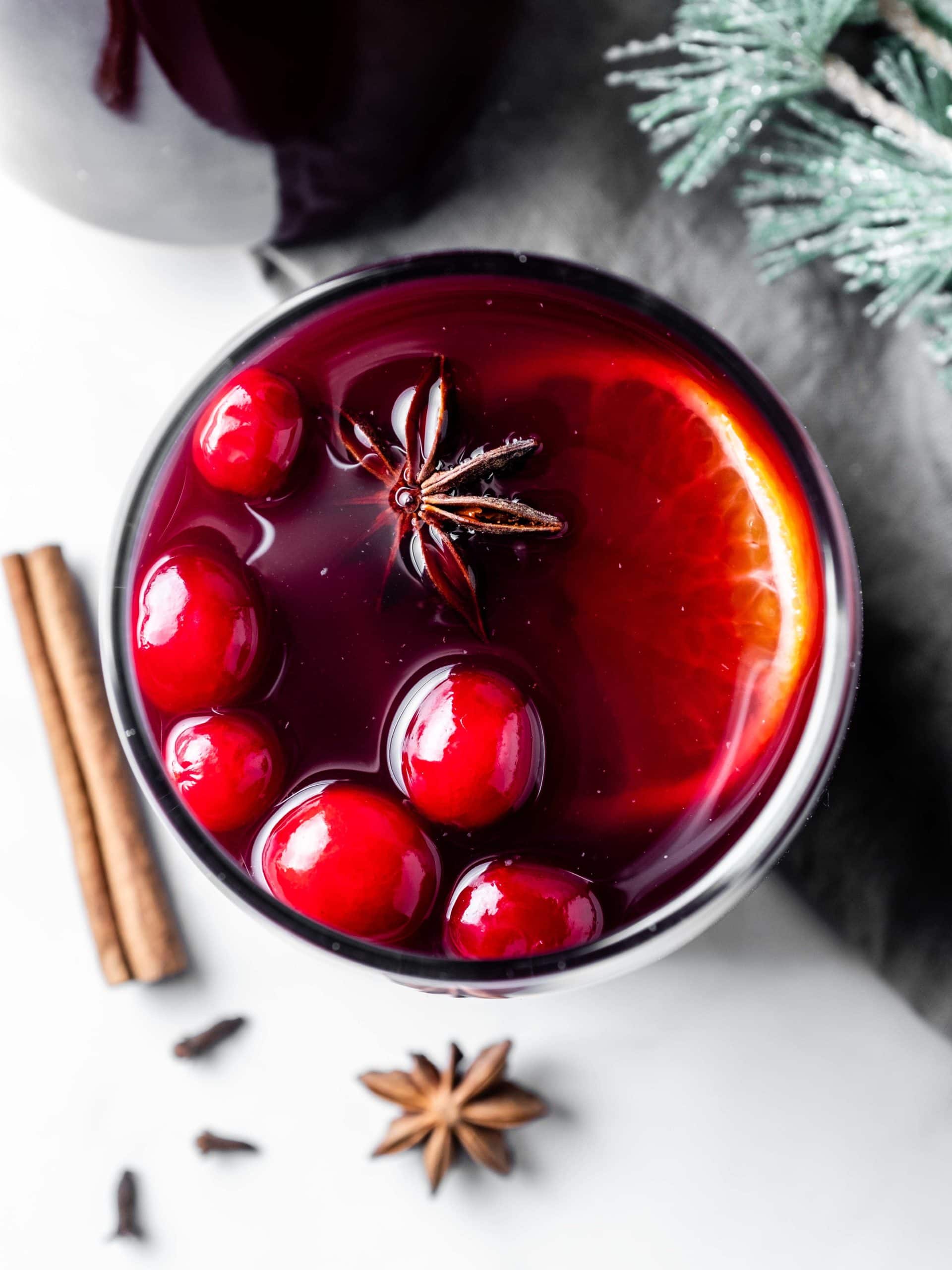 ingredients
dry red wine

1 (750 ml) bottle

orange juice

¾ c (180 ml)

cinnamon

2 sticks

star anise

2 whole

cloves

5 whole

juniper berries (optional)

3 whole

orange

1 large

honey

3 tbsp

rum

¼ c (60 ml)
instructions
Slice the orange and add it to a pot along with the red wine, orange juice, spices and honey.
Bring the mixture to a very slight simmer over medium heat. Stir briefly until the honey is dissolved.
Immediately turn off the heat, cover and let the mixture steep for one hour.
Warm up the mixture and add rum before serving.

Did You Make This Recipe?
This post may contain affiliate links through which we may earn a small commission at no additional cost to you. We only recommend products that we genuinely love and would use ourselves.