Homemade oreo ice cream is rich, creamy and bursting with crunchy chocolate cookie pieces! You'll need just four ingredients for this decadent cookies and cream ice cream — no ice cream maker required!
No churn oreo ice cream is the perfect indulgent treat to keep you cool this summer! It can be whipped up with minimal effort in just 10 minutes. And it's ready to scoop and enjoy after just six hours in the freezer!
For more cookies and cream goodness, make sure you check out our Oreo Cheesecake Cupcakes!
4-Ingredient No Churn Oreo Ice Cream
This oreo ice cream calls for just four ingredients and one of them is optional!
Heavy Cream: The heavy cream is first whipped, which incorporates air into the mixture and results in a light and airy texture. This is similar to what churning accomplishes when making ice cream in an ice cream maker.
Sweetened Condensed Milk: One can of sweetened condensed milk adds the perfect amount of sweetness and contributes to the creamy, velvety texture of the ice cream. The sugar content prevents the formation of ice crystals and helps keep your ice cream from becoming too hard, making for the perfect scoop!
Vanilla Extract: This is an optional ingredient, but I think it really enhances the cookies and cream flavor.
Oreo Cookies: The star of the show! You'll need 15 roughly crushed oreos for the perfect cookie to ice cream ratio.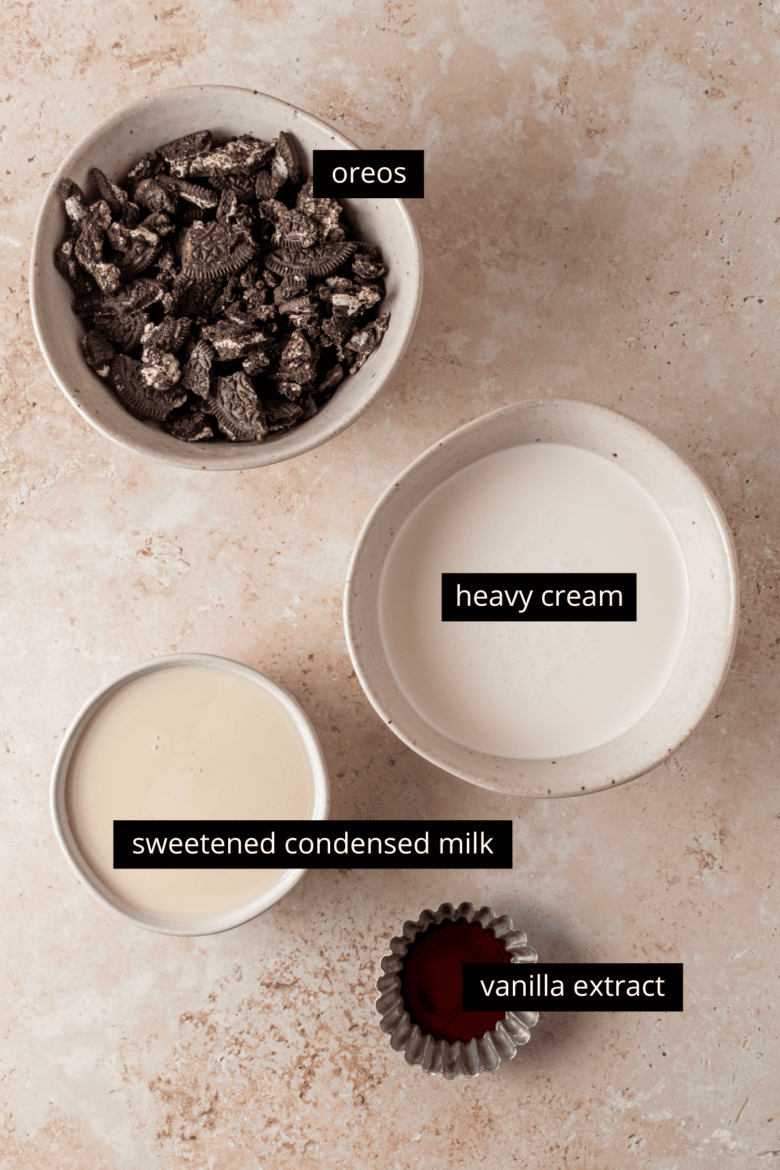 The No Churn Ice Cream Method
No ice cream maker? No problem! The no-churn ice cream method produces a decadent and creamy oreo ice cream with minimal effort. The ingredients are readily available and the process is simple, making it a fun summer project to make with kids!
Oreo ice cream can be made in three easy steps:
Whip the heavy cream to stiff peaks. To check for stiff peaks, lift the beaters out of the cream and turn them upside down. If the peaks hold their shape without drooping or collapsing, you have reached the stiff peaks stage.
Combine the sweetened condensed milk and vanilla extract in a large bowl. Then fold in the whipped cream.
Gently mix in the crushed oreos.
Freezing Oreo Ice Cream
You can use any freezer safe container for oreo ice cream. I generally use a standard size loaf pan. It's the perfect size and the shape makes it easy to scoop the ice cream. Metal or aluminum cake pans are my second favorite option.
The oreo ice cream will need at least six hours in the freezer, but I prefer to leave it overnight for the best texture. The mixture will be easily scoopable, but should still hold its shape.
Serving Ideas
Now that your ice cream is frozen and ready, it's time to enjoy it! Sure, you could serve a few scoops in a cone for the perfect snack. But if you really want to up your ice cream game, you can get creative with these fun ideas:
Make an oreo sundae. Start with a few scoops of oreo ice cream and top with hot fudge sauce, whipped cream and maybe a cherry on top!
Add your favorite toppings. Toppings that go well with oreo ice cream include caramel sauce, chocolate syrup, chopped nuts, sprinkles and candy pieces (like M&Ms)!
Try an oreo milkshake. Simply place your oreo ice cream in a blender with a bit of milk and blend until smooth!
Recipe Variations
Here are a few more ways to get creative with your no churn ice cream:
Experiment with oreo flavors. Oreo cookies have been around for more than 100 years and in that time they've come out with over 80 flavors. From birthday cake to peanut butter and dark chocolate, you can make this oreo ice cream with any flavor you can find!
Try golden oreos. The vanilla sandwich cookies are a great option for an ice cream without the chocolate. You can also mix in some freeze dried strawberries for a delicious strawberries and cream ice cream!
Add a little something extra. Keep the oreos and add an extra element! Chocolate chips and caramel sauce make excellent additions to oreo ice cream!
Switch up the cookies. Have a favorite cookie? Try using it in this recipe! Thin mints and shortbread cookies are a few of my favorite options. Just make sure to adjust the amount of cookies to taste.
Oreo Ice Cream: FAQs
Why does no churn ice cream work?
No churn ice cream is made with a base of heavy cream and sweetened condensed milk. The heavy cream is whipped to incorporate air into the mixture for a light and smooth texture. And the sweetened condensed milk helps prevent ice crystals from forming, resulting in an ultra creamy consistency.
Why is my ice cream soft or runny?
If your ice cream is runny, give it a few more hours in the fridge. If it's still too soft, you might have under-whipped your heavy cream. Make sure you whip the cream until stiff peaks. The ridges in the cream should hold their shape without collapsing.
How long can I store oreo ice cream?
As no churn ice cream can lose some of its texture after awhile, I recommend enjoying this ice cream within five days. But it will keep in the freezer for up to two weeks.
Love this oreo ice cream? Make sure to check out these recipes for more sweet treats perfect for summertime!
Print
Easy Oreo Ice Cream (No Churn)
---
Author:

Prep Time:

10 minutes

Cook Time:

0 minutes

Total Time:

10 minutes

Yield:

8
Description
You'll need just four ingredients for this indulgent no churn oreo ice cream!
---
sweetened condensed milk

14 oz (400 g)

vanilla extract

2 tsp

heavy cream

2 c (470 ml)

oreos, roughly crushed*

15 cookies

(plus 3-4 additional cookies for topping)
---
Instructions
In a large bowl, mix together the sweetened condensed milk with the vanilla extract. Set aside.

In a separate bowl, use a hand mixer or stand mixer fitted with a whisk attachment to beat the heavy cream on medium-high speed until stiff peaks* form.

Gently fold the heavy cream into the condensed milk with a spatula.

Carefully mix in the oreo pieces.

Pour the ice cream into your ice cream container. I recommend a 9×5 inch (23×13 cm)

loaf pan

, but any freezer safe container will work.

Sprinkle additional crushed oreos over the top if desired. Cover with plastic wrap and place in the freezer for at least six hours or until scoopable.
Notes
Crushing the oreos: To crush the oreos, I place them in a ziplock bag and then use a rolling pin to break them into pieces. Alternatively, you can pulse the oreos in a food processor briefly. Just make sure not to overdo it! This ice cream is best with lots of larger oreo chunks.
Beating the cream to stiff peaks: The heavy cream is ready when stiff peaks form. When you lift the beaters or whisk, the peaks or ridges in the cream will hold their shape without collapsing.
Equipment: No ice cream maker needed for this recipe! You'll just need a freezer safe container to store your ice cream. I prefer a 9×5 inch (23×13 cm) loaf pan.
Storing: This ice cream can be stored covered in the freezer and is best enjoyed within two weeks.
Category:

dessert

Method:

ice cream

Cuisine:

american
Keywords: oreo ice cream, no churn oreo ice cream, cookies and cream ice cream
This post may contain affiliate links through which we may earn a small commission at no additional cost to you. We only recommend products that we genuinely love and would use ourselves.