This classic shortbread cookie is flavored with orange zest and topped with a refreshing glaze infused with earl grey tea! Light and fluffy, this cookie recipe is incredibly easy to make and the perfect little snack for tea time.
Shortbread cookies are one of my favorite recipes to make for the holiday season! While my festive cookies are usually infused with peppermint and decorated with snowflakes, I decided to whip up a more summery batch to celebrate the last days of the season. To give these cookies a refreshing and citrusy twist, I added orange zest to the batter and topped them with an easy earl grey glaze!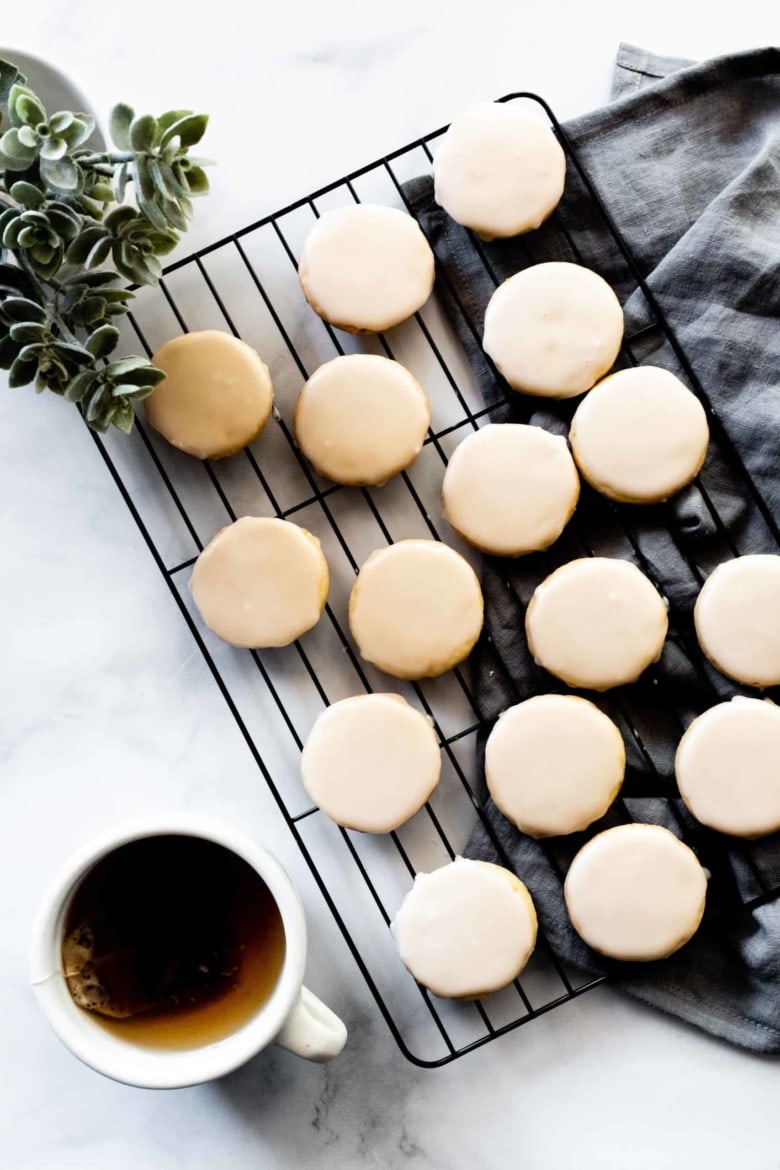 shortbread cookies
If you're not familiar with shortbread, they're deliciously buttery cookies traditionally made with just three ingredients — flour, butter and sugar. I also add a bit of cornstarch to my batter to ensure that my cookies turn out super soft and tender. These melt in your mouth treats turn out so light and fluffy that I could easily eat ten at a time!
The dough itself is pretty straightforward, but does require a bit of chilling. Before rolling out the cookies, I put the dough in the fridge for 30 minutes to make it easier to work with. If you're using more intricate cookie cutters, I would also suggest placing the cookies in the fridge for an additional half an hour after you've cut out the shapes. This will ensure that the cookies hold their shape better in the oven.
earl grey glaze
The glaze for these cookies is made with just two ingredients — powdered sugar and earl grey tea. Earl grey is a black tea flavored with oil of bergamot, which gives it a refreshing citrusy taste. The subtly flavored glaze is the perfect addition to our dainty orange shortbread cookies!
To make the glaze, first steep your tea in about a half cup of hot water until it's nice and strong. Then simply add one tablespoon of tea at a time to the powdered sugar and stir until your mixture is smooth. You can then either use a spoon to drizzle the glaze on top or do like I did — dunk the top of the cookie into the glaze and then swirl it a bit to cover the entire surface!
There's something incredibly cozy about these buttery little delights. While I intended these cookies to have a summer vibe, I think we'll be enjoying them well into the colder months. And I know they'll also be a great option when the holiday baking season comes around — they freeze really well so I can make them ahead of time!
ingredients
orange shortbread cookies
butter

1 c (230 g)

powdered sugar

¾ c (80 g)

vanilla extract

1 tsp

flour

2 c (240 g)

corn starch

3 tbsp

salt

½ tsp

orange zest

1 tbsp
earl grey glaze
powdered sugar

1.5 c (170 g)

earl grey tea

1 tea bag
instructions
orange shortbread cookies
Mix together softened butter with the powdered sugar and vanilla extract until smooth.
In a separate bowl, mix together the flour, salt and cornstarch. Gradually add to the powdered sugar mixture and stir until fully incorporated.
Mix in the orange zest.
Pour the dough onto your counter and knead a few times until smooth.
Form the dough into a disc, cover and transfer to the refrigerator to chill for 30 minutes.
Preheat the oven to 350 F (180 C) and line several baking sheets with parchment paper.
On a well floured surface, roll out the dough to approximately ¼ inch (½ cm) thickness. Use cookie cutters to cut out shapes and place on the prepared pans.
If your dough got warm during this process or you're worried about the cookies keeping their form, you can place them in the fridge for another 30 minutes, but I generally skip this step.
Bake for 12-15 minutes or until the edges are slightly golden.
Remove from oven and transfer the cookies to a wire rack to cool.
earl grey glaze
Once the cookies have cooled completely, make the glaze. Steep the tea bag in ½ cup (120 ml) of hot water for 5-7 minutes.
Add the powdered sugar to a bowl. Stir in one tablespoon of earl grey tea at a time until the mixture is smooth - I used 4 tablespoons.
Dip the top of each cookie into the glaze and shake a bit to let excess glaze drip off. Return to wire rack to dry.

Did You Make This Recipe?