Basted with rosemary garlic butter and pan-seared to perfection, this filet mignon topped with creamy gorgonzola is sure to impress! And the best part? It's easy to make and ready in just 20 minutes!
Our go-to for a fancy date night at home has become filet mignon. It requires very little prep, you don't need to spend much time in the kitchen and it's just so good! And while there are so many delicious ways to cook the iconic steak, this gorgonzola crusted filet mignon is our absolute favorite. It's first pan-seared in butter with fresh garlic and a few sprigs of rosemary. And then it's topped with crumbled bits of creamy gorgonzola and sent off to the oven to finish cooking. A restaurant quality dinner at home!
how to pan-sear filet mignon
Prized for its tenderness, filet mignon can be an expensive cut of meat, which is why you want to be sure that your cooking method does it justice. Another defining quality of filet mignon is that it is incredibly lean. That might be a plus for some, but a low fat content also translates to minimal flavor.
To combat that flavor deficit, we like to start by generously salting the filet mignon on all sides and letting it sit uncovered on a rack in the refrigerator for 24 hours or at least overnight. Sitting uncovered in the fridge will help to dry out the surface of your steaks (this ensures a crispier exterior when pan-frying) and also give the meat time to absorb the salt (more flavor!). If you're short on time, you should still try to get at least an hour or two in. Any less than an hour and the moisture drawn out by the salt won't have enough time to seep back into the meat.
And when it comes to cooking, we also have a few tips on how to get the most flavor out of your steaks. First, we like to sear our filet mignon in butter as opposed to oil. Butter adds an incredible depth of flavor that oil just can't match. The only problem with butter is that it has a lower smoking point and it can burn easily, which means you need to keep an eye on the pan and adjust the temperature as necessary. And the second flavor boost comes in the form of fresh garlic and rosemary — just tossed into the pan along with the steaks to really infuse the butter!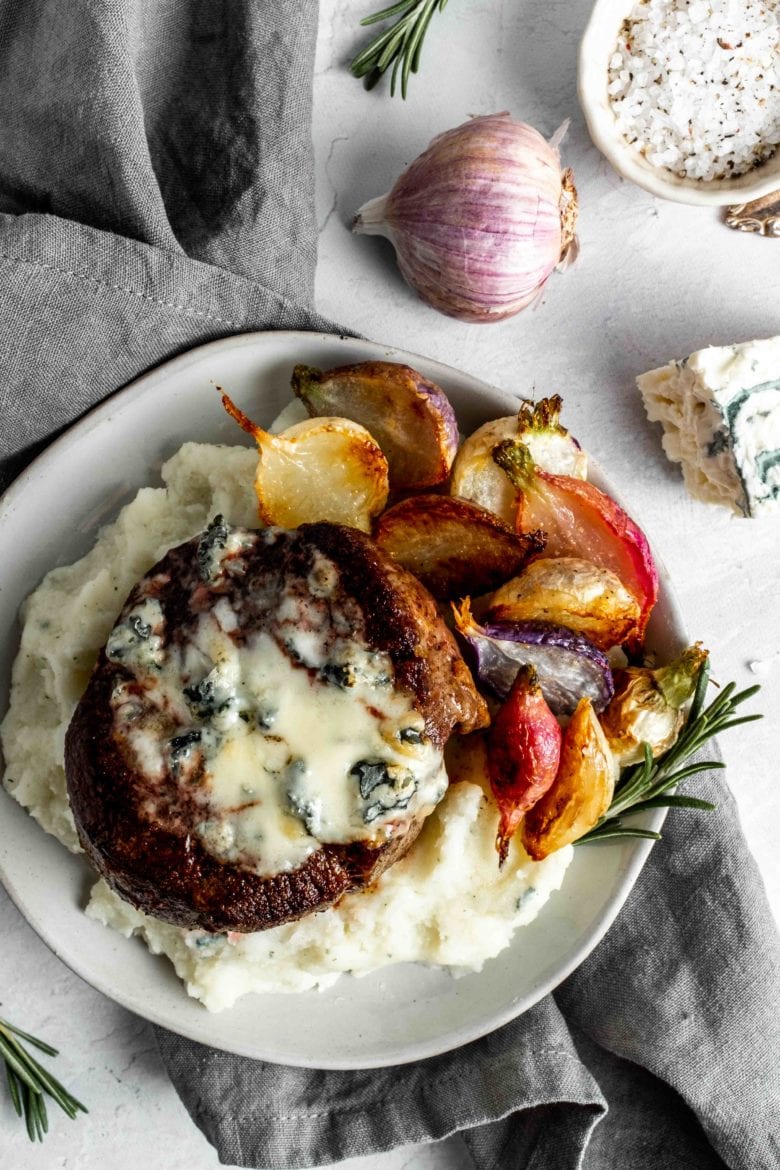 gorgonzola and the finishing touches
After searing the steaks, we like to add even more flavor by topping them with gorgonzola and placing them under the broiler for about five minutes or until just under medium-rare (the carryover heat will bring them up another few degrees). For a super creamy topping, try to stay away from the pre-crumbled gorgonzola. A wedge of gorgonzola will give the best results. Just break into smaller pieces and scatter over your steaks. And if you can't find good gorgonzola, roquefort or stilton would also be great substitutes!
A quick note: this recipe is intended for thicker filets. Our steaks are generally about 2 inches (5 cm) thick so they always need a bit of oven time to finish cooking. If your steaks are on the thinner side and are already cooked to your liking after pan-frying, you definitely don't want to put them under the broiler just for the sake of the gorgonzola! If you think that might be the case, I would recommend topping them with gorgonzola as soon as you flip them. The cheese won't be as bubbly, but it will still add excellent flavor!
And I'm generally not one to comment on your steak preference (rare or well-done, you do you!), but for filet mignon I highly recommend rare to medium-rare. Because of its low fat content, the meat cooks quicker and you risk drying it out if you cook it much past medium.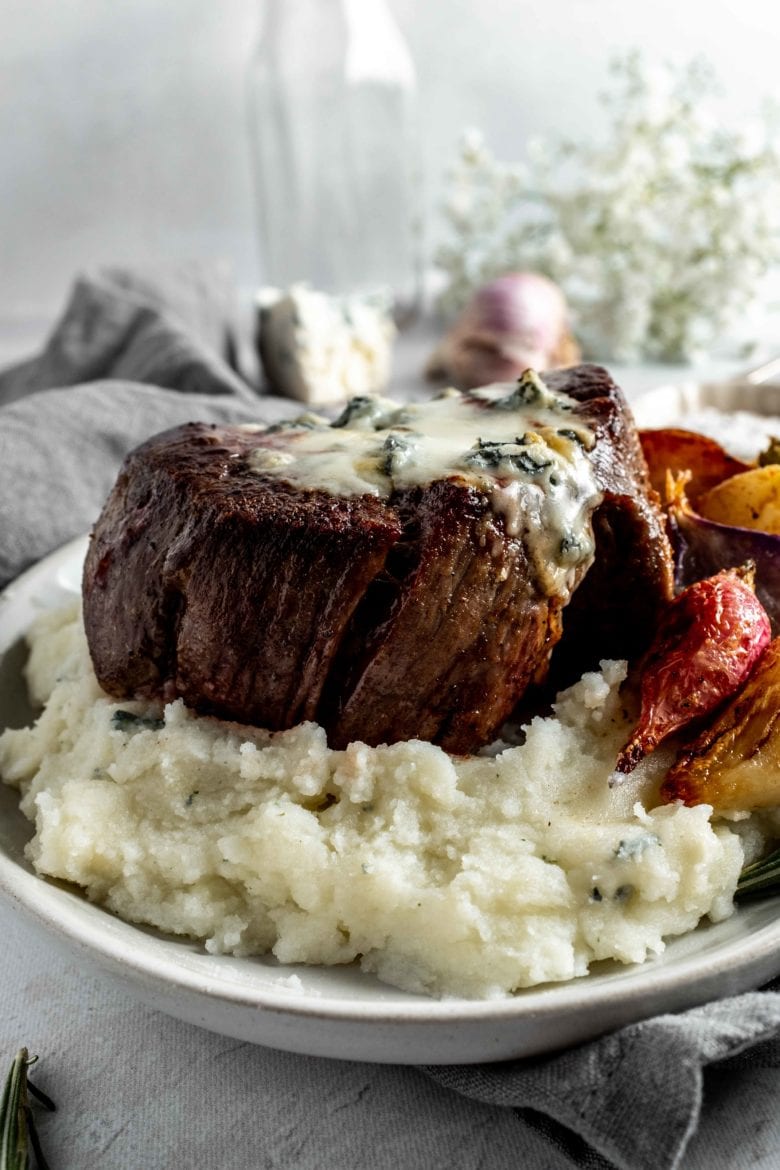 what to serve with gorgonzola filet mignon
This time around we served our filet mignon over creamy mashed potatoes with a side of roasted radishes, but really the options are endless! Any sort of potato dish from colcannon to za'atar smashed potatoes would make an excellent side.
To keep it lighter, you could go with an easy salad or something with a lot of garden veggies, like this easy cucumber tomato salad.
And for date night or a little something decadent, try serving your filet mignon over a plate of linguine. This is also a great way to make your filet mignon go a longer way — just slice it before serving and you'll generally only need one filet mignon per two people if you're adding it to pasta!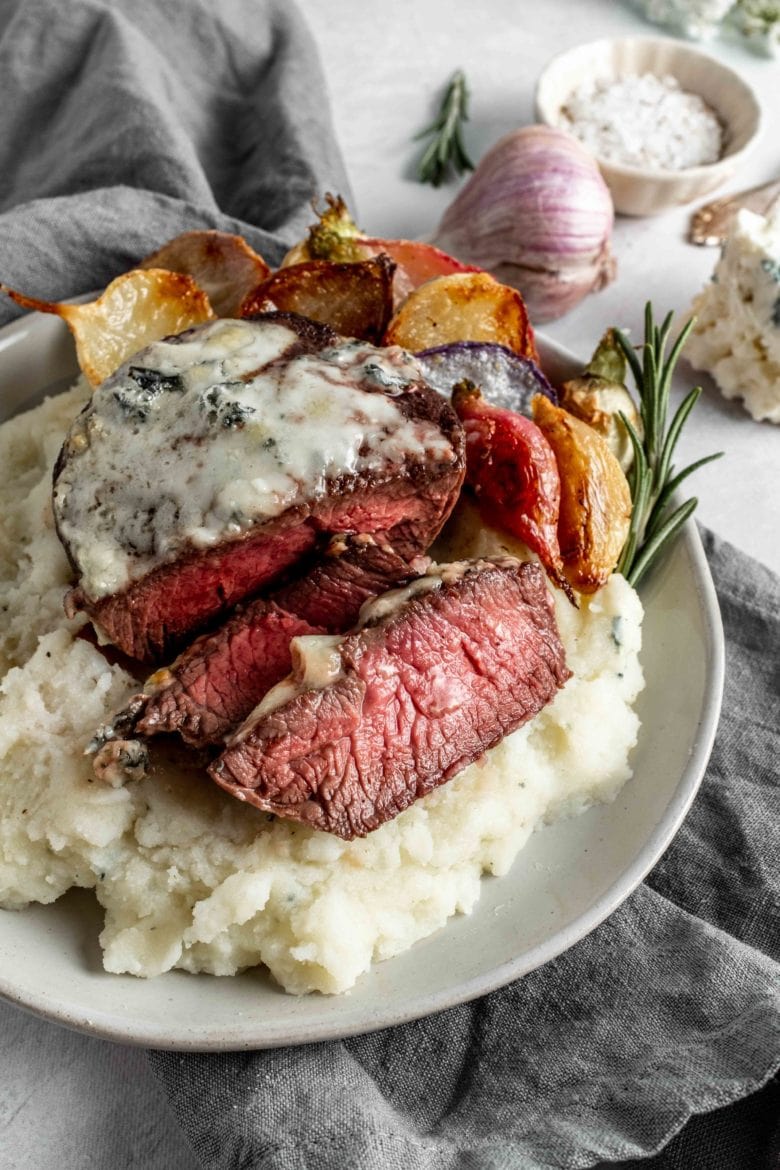 For more date night meals sure to impress, make sure to give these recipes a try!
Print
Pan-Seared Filet Mignon with Gorgonzola
---
Author:

Brit Kapustina

Total Time:

20 minutes

Yield:

2

Prep Time:

5 minutes

Cook Time:

15 minutes

Category:

Dinner

Method:

Stovetop

Cuisine:

Global
2

filet mignon

steaks

,

about 2 inches (

5

cm) thick
kosher salt t

o taste

3 tablespoons

(40 grams) unsalted butter

2

sprigs rosemary

3

cloves garlic, smashed

⅓ cup

(40 grams) gorgonzola, crumbled
---
Instructions
Generously season steaks on all sides with salt. Place on a pan fitted with a wire rack in the fridge uncovered for up to 24 hours (and at least 2 hours). Pat the steaks dry.
Heat the butter in a cast iron (or heavy-bottomed) skillet over medium-high heat. Butter can easily smoke and burn – make sure to keep an eye on the pan and lower the temperature if the butter begins to change color.
When the butter melts, add the rosemary and garlic (lightly smashed).
Sear the steaks on one side (about 2-3 minutes) until browned while continuously spooning the butter over the steaks. Flip the steaks to repeat on the other side for another 2-3 minutes. Briefly sear the sides.
Remove from heat and crumble the gorgonzola over the top of the steaks.
Turn the oven to high broil and immediately place the skillet a few inches under the heating element. To avoid any smoking from your oven, you can transfer the steaks to a new pan or drain any excess butter. Cook for 5 minutes or until the gorgonzola is bubbling and slightly golden in places. 
Check the temperature with an instant read thermometer. For rare to medium-rare your steaks should be at around 130 F (55 C). If the temperature is less than your preference by more than 5 degrees, turn off broil and continue cooking in the oven at 300 F (150 C).
Remove the filet mignon to a plate and allow to rest for at least 5 minutes before serving.
Keywords: Filet Mignon, Pan Seared Filet Mignon
This post may contain affiliate links through which we may earn a small commission at no additional cost to you. We only recommend products that we genuinely love and would use ourselves.