Start your day off right with this easy pearl barley kasha cooked in almond milk! Garnish your kasha with toasted almonds and fresh cherries for a healthy and delicious vegan breakfast!
Kasha (каша) is perhaps one of the most quintessential Russian foods. In English, kasha generally refers to buckwheat groats, but in Russia this term encompasses a rather varied selection of dishes made of various grains. Russian kasha is often translated as porridge, but that just doesn't do justice to the cozy dish. It can be savory or sweet, thick or soupy, soft or chewy. And just as is the case with many other foods, it can be hard to pinpoint the precise boundaries of what is and is not kasha.
However you want to define it, one thing is certain — this barley kasha with almonds and cherries is a nourishing and comforting bowl that makes for an amazing breakfast!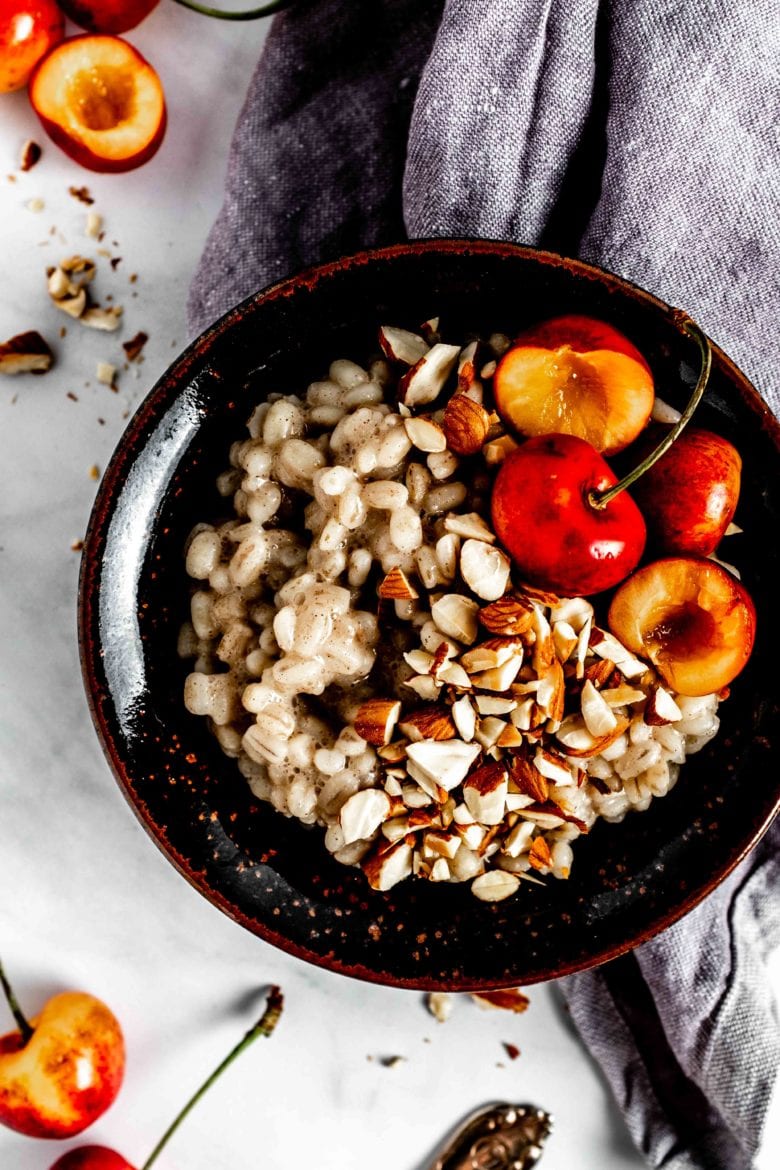 pearl barley porridge
Growing up in Russia, especially before breakfast cereal and granola became widely available, meant eating a lot of kasha. Different types of kasha could invoke polarizing responses and lead to heated debates on the benefits and evils of any particular type (oh, the absolute horror of semolina kasha clumps)! As for pearl barley (perlovka/перловка) porridge, the main disadvantage seemed to be that it can have a very tough texture. Fortunately, that comes down to choosing the right cooking method and planning ahead to give the barley time to soak!
After letting the pearl barley sit in water overnight, I like to cook it for about an hour to get the perfect texture. First I cook it on low for about 20 minutes and then steep it, covered, for 30 to 40 minutes. This provides a texture that is pleasantly tender, but still a bit chewy. Many traditional Russian recipes for pearl barley kasha with milk suggest cooking it for up to six hours on a double boiler or in the oven at a low temperature. I don't think I have ever tried this type of preparation, but I would imagine it would resemble a pudding in texture. While it seems like an interesting culinary experiment, I am perfectly happy with the shorter version!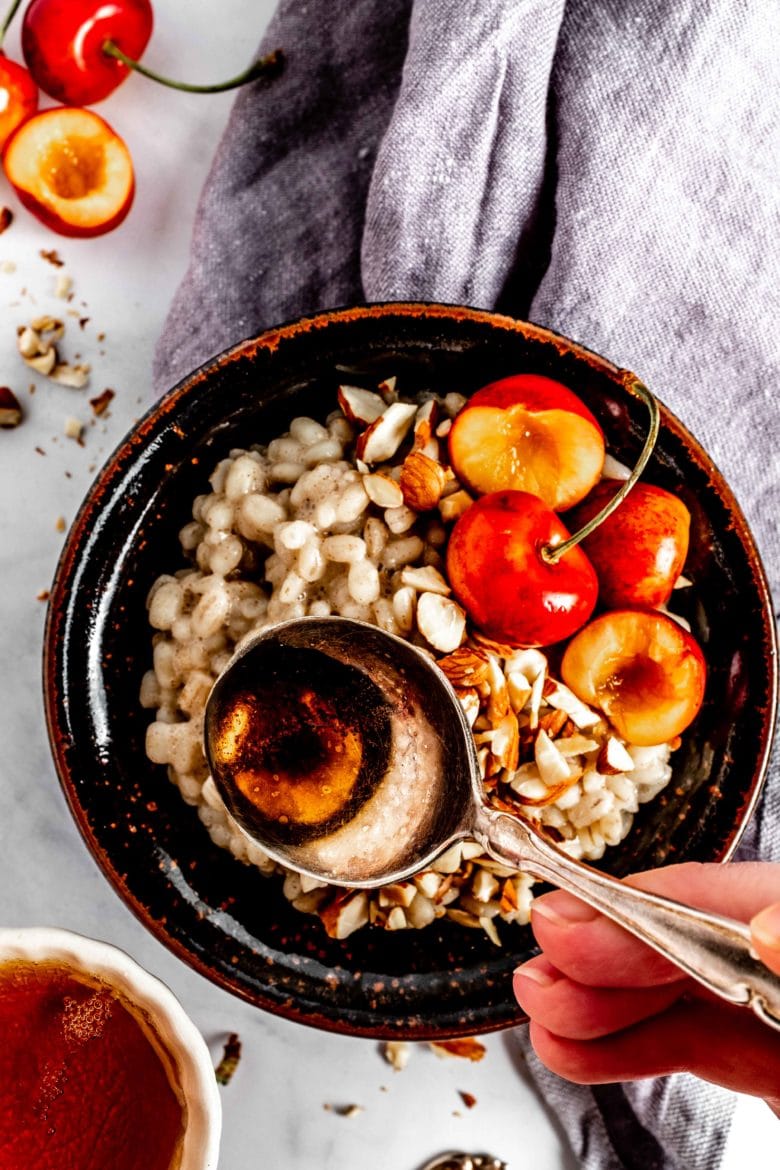 barley kasha variations
The great thing about kasha is that it is pretty much a blank canvas and easily customizable to your tastes! My favorite additions to breakfast kasha are berries of all kinds and I love adding them fresh when they're in season. When I need to use frozen or dried berries, I usually add them right after I remove the kasha from heat and leave them to steep for a while. Experiment with your favorite berries, nuts and fruit or just use what you have on hand. For this version I used toasted almonds for a little added crunch and pitted rainier cherries for their bright and sweet flavor!
And one last note — while I like to use almond milk to cook my pearl barley (which makes this recipe vegan), regular milk is definitely an option. But in my experience it requires more attention and you will need to stir the pot more frequently to make sure it doesn't burn.
Here are some other breakfast ideas to start your day off right!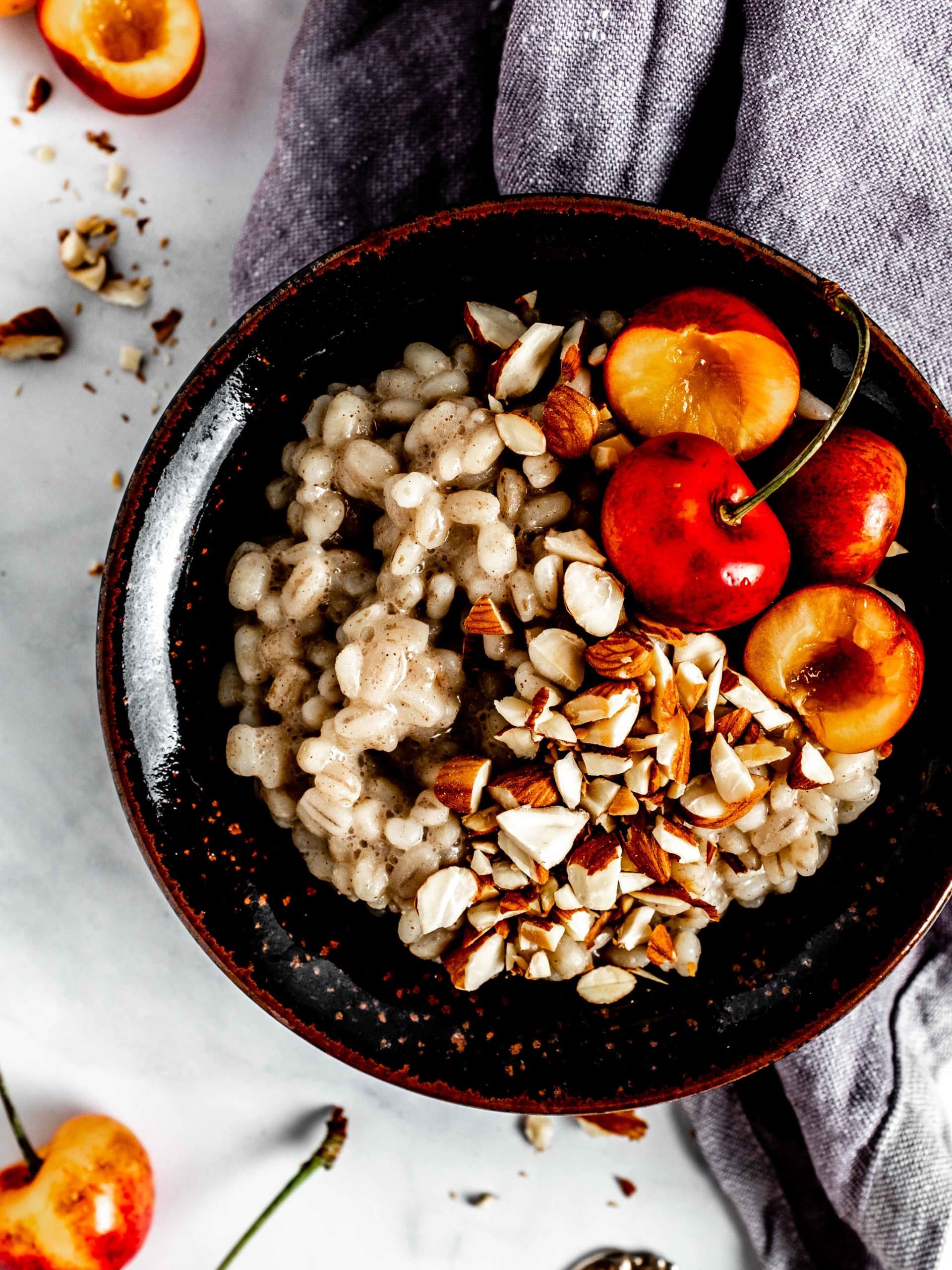 ingredients
pearl barley kasha
to garnish
- pitted rainier cherries
- toasted chopped almonds*
instructions
Start by soaking the pearl barley. Rinse it, drain and cover with plenty of water. Let sit overnight.
Drain the water and transfer the barley to a pot. Add 1.5 cups (350 ml) of almond milk.
Bring to a boil over medium heat. After it starts bubbling immediately reduce the heat to low.
Cook for 20 minutes uncovered, stirring occasionally. Add the rest of the milk (½ cup | 120 ml) as necessary to get the desired consistency.
Remove the pot from heat, cover and let steep for 30 minutes.
Add salt and maple syrup to taste and mix well.
Serve warm and garnish with pitted cherries and toasted almonds. This kasha can be stored in the refrigerator and reheated gently on the stovetop or in the microwave.
notes
Toasting almonds: Toast your almonds on a dry skillet over medium heat for 5-8 minutes until fragrant

Did You Make This Recipe?
This post may contain affiliate links through which we may earn a small commission at no additional cost to you. We only recommend products that we genuinely love and would use ourselves.