Tender beef seared and then stewed with mushrooms and red bell peppers in a flavorful sauce — this Polish style goulash is the comfort food of dreams. Serve your goulash over potato pancakes, a heaping bowl of mashed potatoes or buckwheat kasha!
If you read my recent post about potato pancakes, you'll know that I've been trying to perfect my goulash recipe — something that my neighbors from Poland used to cook for me when I lived in a small town in Germany. Packed with tender, juicy pork, as well as mushrooms that we had gathered together in the surrounding forest, their incredible gulasz was always the perfect antidote to a cold and gloomy day. While my version of polish style goulash uses beef chuck and supermarket veggies, the end result is still the soul warming comfort food that I have come to love.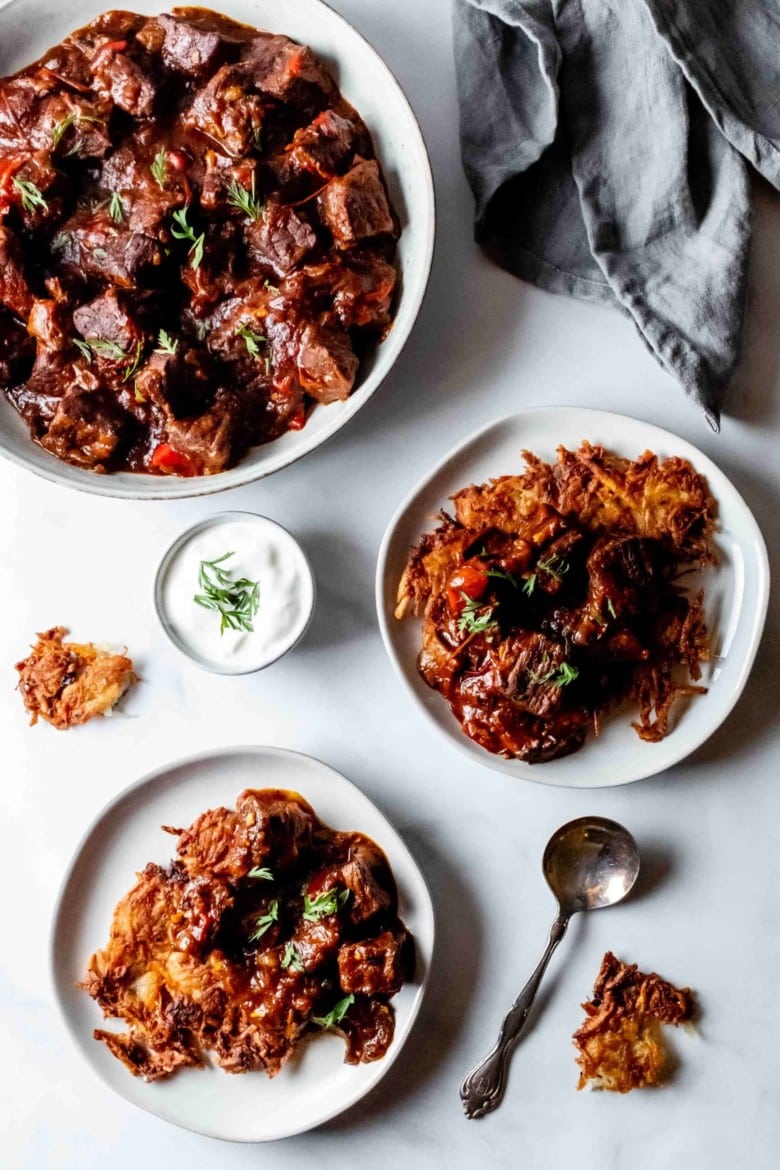 polish gulasz
The base of this stew consists of beef chuck cut into chunks, onion, red bell pepper and mushrooms. While I like to use shiitake mushrooms when I can find them, really any type of mushrooms will do. And if you'd like to add extra veggies, carrots and other root vegetables are great additions. Just add them in along with the onions, peppers and mushrooms.
The meat and veggies are flavored with tomato paste, garlic, smoked paprika and allspice and then stewed in beef broth for several hours. I like to start with just three cups (750 ml) of beef broth and then add additional broth or water if needed. If you prefer a more saucy goulash, you can go ahead and start with a full four cups (1 liter) of broth at the beginning.
To thicken the deliciously fragrant sauce, you'll need to make a cornstarch slurry. To do so, mix one tablespoon of cornstarch with two tablespoons of cold water in a small bowl — this is your slurry! Then slowly whisk it into the goulash about 10 minutes before serving and your stew will thicken to perfection!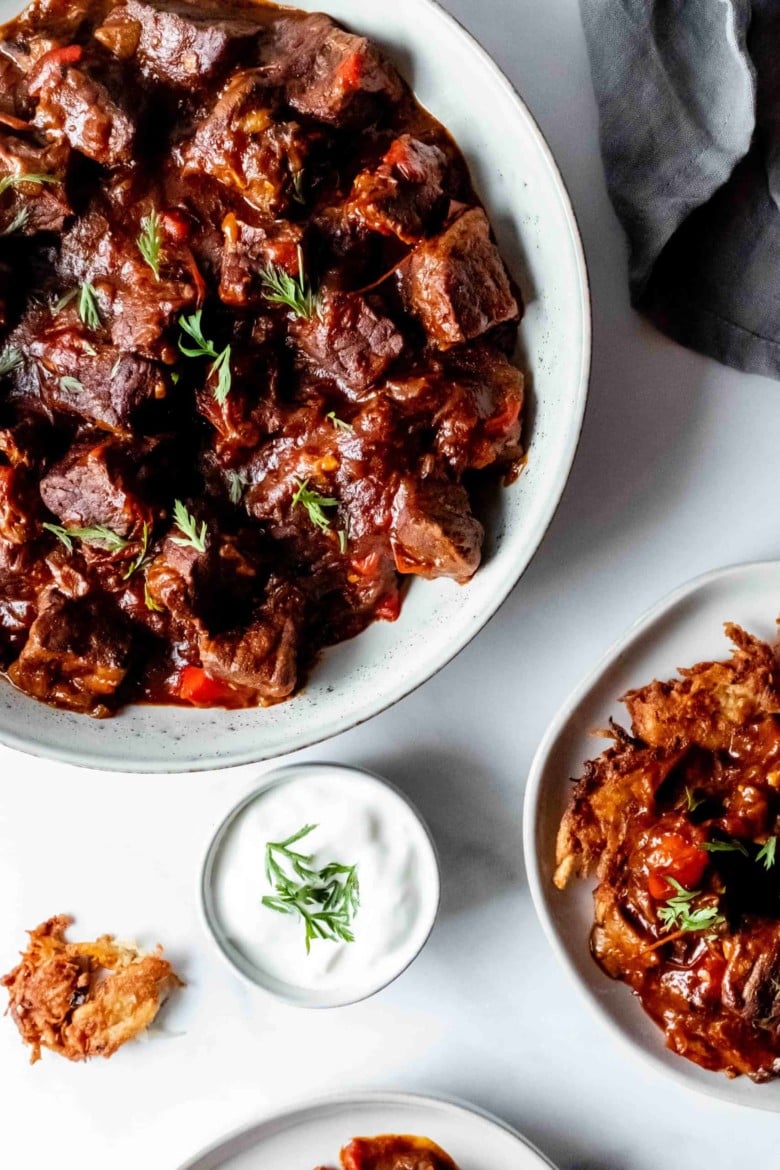 how to serve beef goulash
My favorite way to eat this goulash is to spoon it over crispy potato pancakes just like my neighbors from Poland always served it. But if you're not in the mood to peel and grate potatoes, you can try it with mashed potatoes or even baked potatoes.
And if you want to skip the potatoes completely, I recommend eating it over a plate of buckwheat kasha, which is an especially delicious side when cooked with onions and mushrooms!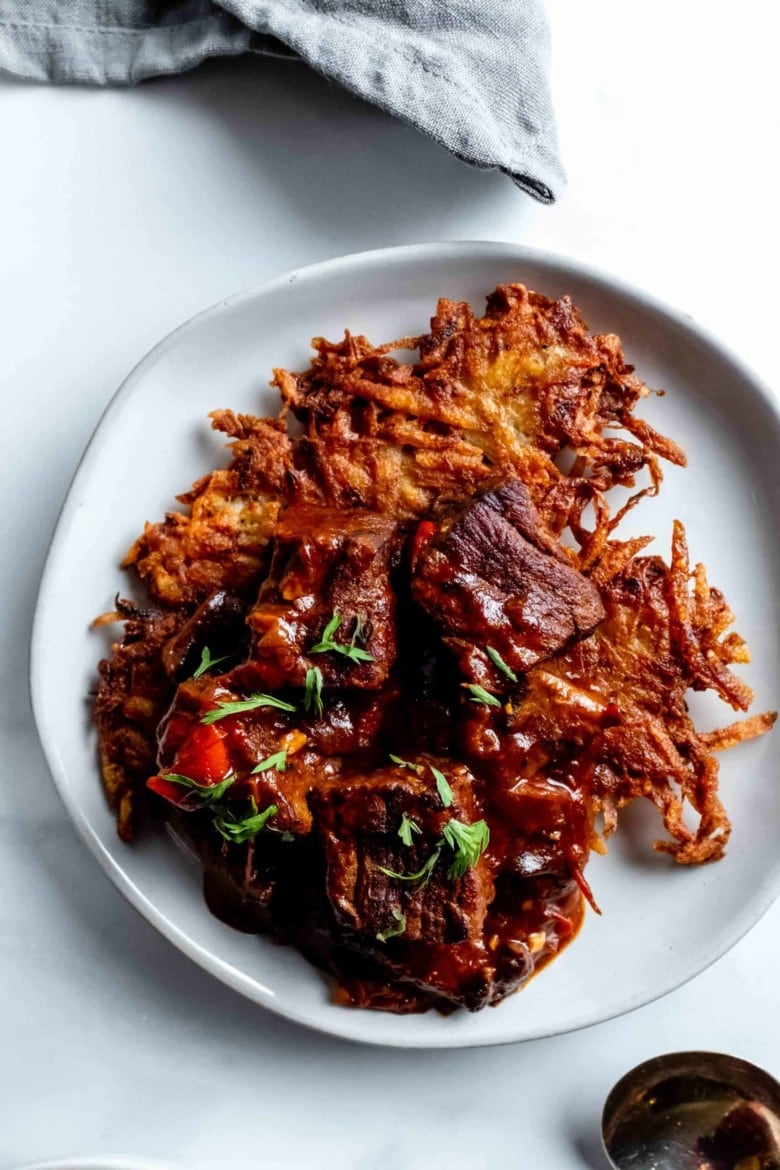 ingredients
speck (or bacon)

4 oz (110 g)

beef chuck

2.5 lbs (1 kg)

salt and pepper

to taste

vegetable oil

1 tbsp

onion

1 large

red bell pepper

2 medium

mushrooms

8 oz (230 g)

minced garlic

3 cloves

tomato paste

2 tbsp

smoked paprika

2 tbsp

allspice

¼ tsp

beef broth

3 c (700 ml)

cornstarch

1 tbsp

water

2 tbsp

sour cream

for serving
instructions
Cut the speck into small cubes and fry in a large pot over medium heat. If using bacon, you can fry the slices and then crumble them after they cool. Set aside.
Cut the beef into large cubes and generously season with salt and pepper.
Add a little oil to the pot along with the fat rendered from the speck or bacon. Working in batches, brown the beef on all sides. Remove and set aside.
Roughly chop the onion, thinly slice the red bell peppers and quarter the mushrooms. Add the onion, bell peppers and mushrooms to the pot and saute for 10-12 minutes over medium heat. You can add a bit more vegetable oil if needed.
Add the minced garlic and cook an additional minute.
Return the beef and speck (or bacon) to the pot.
Stir in the tomato paste, paprika and allspice.
Add the beef broth. Bring the stew to a slight boil, reduce heat and cover. Simmer for 1.5 to 2 hours or until the meat can be easily shredded with a fork. If the stew looks like it's getting too thick, you can add additional broth or water as necessary.
Mix together the cornstarch and water in a small bowl. Stir until smooth.
Stir the cornstarch mixture into the stew until fully incorporated. Simmer for an additional 10 minutes or until the stew has thickened.

Did You Make This Recipe?
This post may contain affiliate links through which we may earn a small commission at no additional cost to you. We only recommend products that we genuinely love and would use ourselves.