These Czech kolaches feature a sweet homemade poppy seed filling and are each topped with a toasted almond! Enjoy these poppy seed kolaches for a delicious breakfast or as a quick treat on the go!
The first time I tried a kolache with poppy seed filling was at a tiny train station on the way to visit a friend's hometown a few hours outside of Prague. The fruit and farmer's cheese varieties that I usually went for were sold out and, in desperate need of something sweet, I ordered my first makový koláček (poppy seed kolache). I wasn't sure what to expect since I'd only had poppy seed in small quantities (on bagels or in muffins), but the kolache had just the right amount of sweetness and a slightly nutty flavor that I immediately fell in love with!
making kolaches
The sweet dough for these kolaches is made with active dry yeast and, although it's easy to work with, you will need a bit of time to let it rise at several different steps. After forming the dough and kneading it until soft and elastic, cover and let it sit for two hours or until doubled in size. Then you can roll out the dough until it's about ½ inch (1.5 cm) thick and use cookie or biscuit cutters to cut out small circles approximately 2.5 inches (6 cm) in diameter. Place your kolaches on baking sheets lined with parchment paper and let them rise for the second time (about 45 minutes should be enough).
After the second rise, you can form a large indent in the center of each kolache. The dough will puff up in the oven so the indents should be quite large with a thin ring of dough around the edges. Lightly beat an egg with one tablespoon of water and brush the mixture over each kolache — this will help to give them a beautiful golden brown color. Then just fill the indents with poppy seed filling, top with a blanched almond (if using) and then bake for about 20 minutes or until your kolaches are golden brown!
poppy seeds!
Before making these kolaches, the only time I had baked with poppy seeds was when I made lemon poppy seed muffins. And while poppy seeds add a little bit of texture to muffins, I don't think you really get that delicious nutty flavor unless you make something with a good amount of the tiny seeds (like this filling)!
To make the filling, you'll first need to finely grind whole poppy seeds into a paste-like consistency. I used a coffee grinder, but a spice grinder or a mortar and pestle would also work. Make sure not to skip this step — whole poppy seeds won't stick together well and the filling will fall apart. Once your poppy seeds are the right consistency, you'll just need to heat them in a saucepan with milk, powdered sugar, chopped dates and a few spices for about five minutes or until it thickens. It's that easy!
After adding a few spoonfuls of the poppy seed filling to the kolaches I like to top them each with a blanched almond, which is how I always bought them in Czechia. It provides a bit of contrast and a little more texture, but it's completely optional.
And if you're looking for other ways to use the fiber-rich seeds, try adding them in cakes, mixing them into a salad dressing, or using them as a crispy topping for scones or other savory bakes!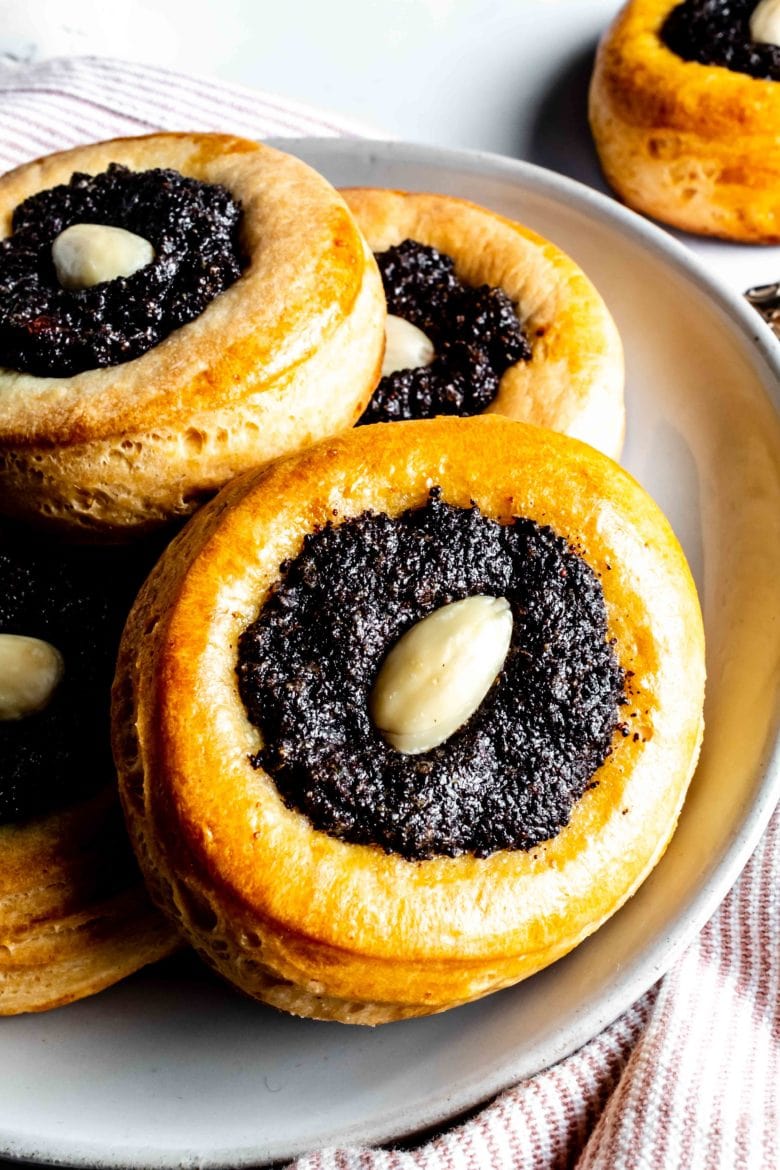 For more sweet breakfast ideas, check out these recipes!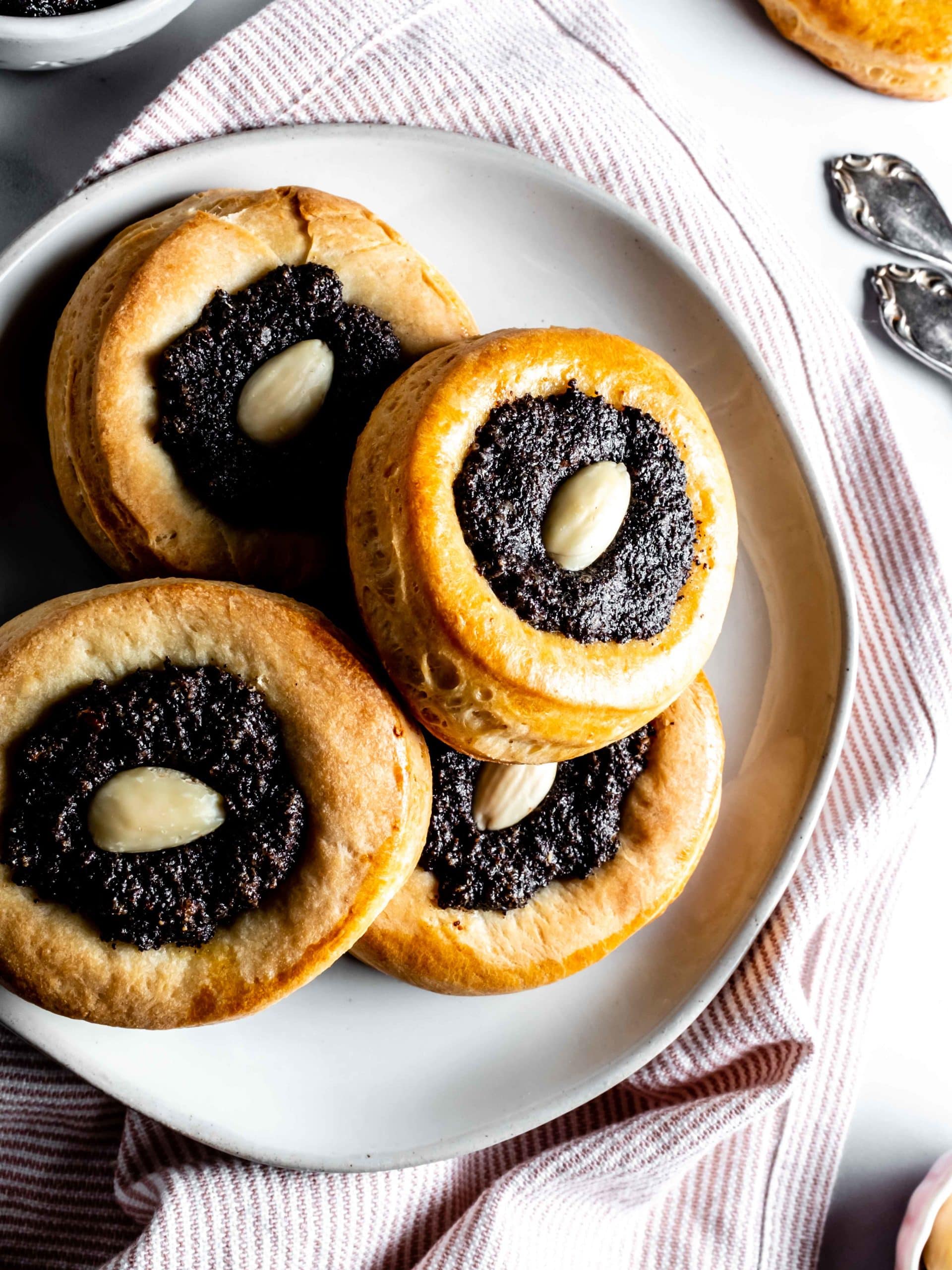 ingredients
dough
warm milk

1 c (240 ml)

active dry yeast

1 packet (2¼ tsp)

sugar

⅓ c (70 g) + 1 tbsp

flour

4 c (480 g)

salt

1 tsp

butter (softened)

1 stick (110 g)

eggs

2 yolks
egg wash
poppy seed filling
whole poppy seeds

1⅓ c (200 g)

whole milk

¾ c (180 ml)

powdered sugar

1 c (120 g)

chopped dates

¾ c (120 g)

ground cinnamon

½ tsp

ground cloves

¼ tsp

salt

pinch

vanilla extract

1 tsp

blanched almonds

to garnish
instructions
Add the active dry yeast and one tablespoon of sugar to the warm milk. Let the mixture sit for 10 minutes or until foamy.
In a large bowl, add the rest of the sugar, flour and salt.
Mix in the softened butter and egg yolks and pour in the milk mixture.
Once the dough begins to come together, knead with your hands until smooth and elastic (about 10 minutes).
Form the dough into a ball and place in a greased bowl. Cover and set aside in a warm space for about 90 minutes or until the dough doubles in size.
Make the poppy seed filling. Finely grind the poppy seeds (I used a coffee grinder). Place all ingredients except for the vanilla extract in a small saucepan. Bring to a boil. Reduce heat to a simmer and cook for 5 minutes, stirring often. Remove from heat and stir in the vanilla extract. Set aside.
Roll out the dough on a floured surface to approximately ½ inch (1.5 cm) thickness. Cut out circles with cookie cutters or a glass (approximately 2.5 inches / 6 cm in diameter). Place on a baking sheet lined with parchment paper. Make sure to leave about an inch between the kolaches as they will expand.
Lightly cover the kolaches with a damp towel and let them sit for 45 minutes or until almost doubled in size.
Preheat the oven to 350 F (180 C).
Make a large indent in the center of the kolaches using your thumb or the back of a spoon.
Beat one egg with one tablespoon of water in a small bowl. Brush the top of each kolache with the egg wash.
Add several spoonfuls of poppy seed filling to each kolache. Add blanched almonds on top if desired.
Bake for 20 minutes or until golden brown. Transfer to a wire rack to cool.

Did You Make This Recipe?
This post may contain affiliate links through which we may earn a small commission at no additional cost to you. We only recommend products that we genuinely love and would use ourselves.