Savory, a little bit spicy and sooo filling, these kimchi and pork mandu (korean dumplings) are great steamed, boiled, or fried! Serve them with a simple soy dipping sauce or enjoy them in this delicious dumpling soup!
Korean dumplings – mandu – can be filled with vegetables, meat or a combination of both! These kimchi and pork mandu are savory, a little bit spicy and sooo filling! My absolute favorite option for these dumplings is to boil them in a soup. If you prefer to steam or fry them, though, they are excellent served with a soy sauce-based dipping sauce. I've included my simple dipping sauce recipe below!
For the filling, I used ground pork and, of course, my favorite Korean ingredient – kimchi! You don't have to worry about cooking any of the ingredients before stuffing your mandu – just mix everything together and it will heat through when you're cooking your finished dumplings. One note – if you're not a huge fan of kimchi, you could always use a bit less and add a bit more ground pork to the mixture instead.
You've got two options for the mandu dough – you could either buy dumpling wrappers at the store or use the dough recipe I've posted below. Store-bought wrappers are quick and easy to use, but homemade dough does tend to taste just a bit better. If you do decide to make your own wrappers, it's a pretty painless process. Just make sure to knead the dough for about five minutes and then let it sit for 30 minutes to an hour before using. Remember to only lightly flour your work surface. This dough generally doesn't need too much extra flour to roll out nicely!
You can fold your mandu any way you like! For this recipe, we started by folding the dough discs in half circles and then bringing the ends together in a little dumpling hug (see below pictures)! I really love using this method for soup, but when frying I'm more likely to just fold them into half moon shapes.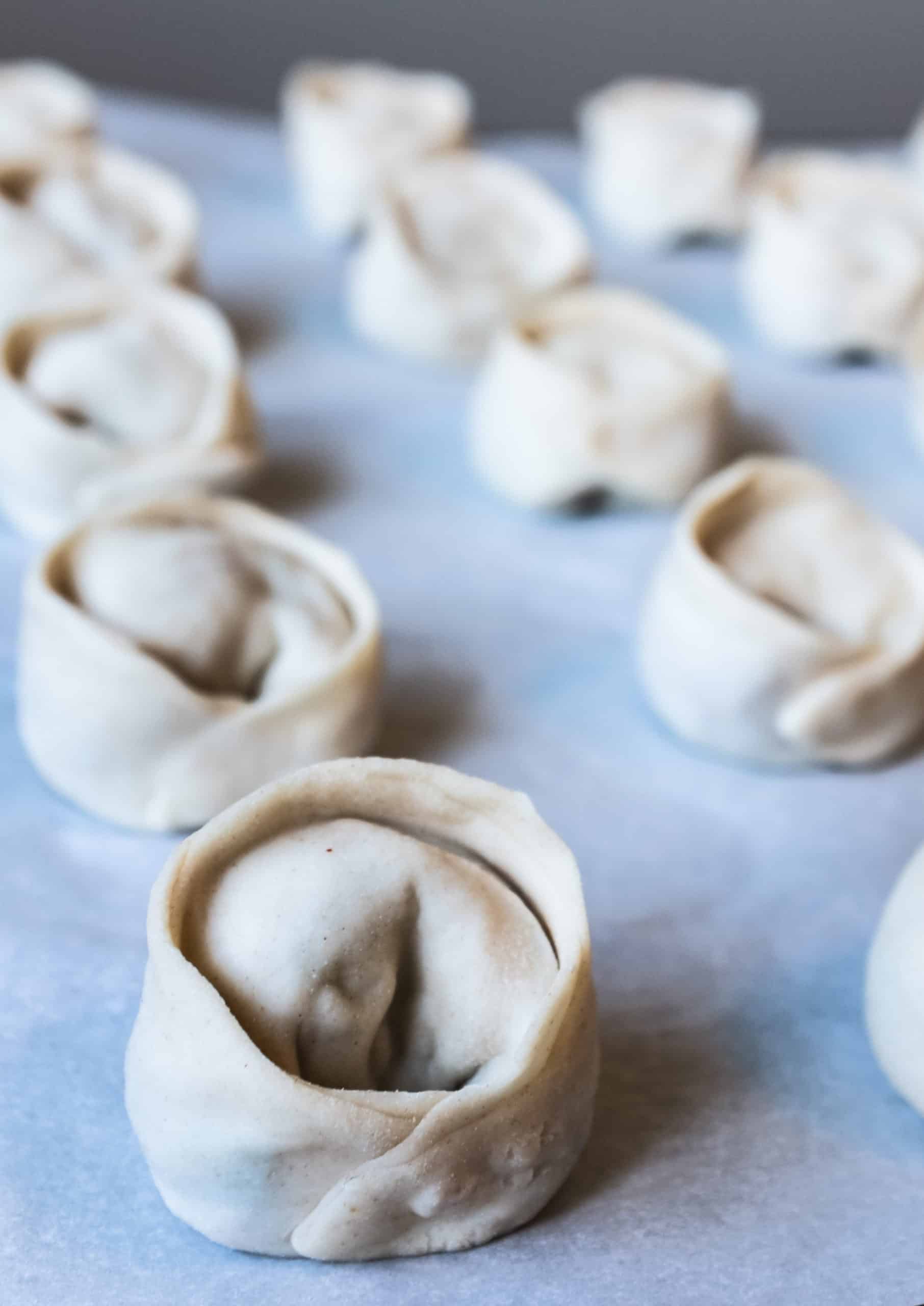 ingredients
dough*
flour

270 g (2 ¼ c)

salt

½ tsp

water (just boiled)

180 ml (¾ c)
filling
ground pork

250 g (½ lb)

cabbage kimchi

200 g (1 c)

mushrooms

60 g (2 oz)

(about 3-4 mushrooms)

onion

½ large

green onion

3 stems

garlic

2 cloves

soy sauce

1 tbsp

sesame oil

½ tbsp

salt

½ tsp

pepper

½ tsp
dipping sauce (optional)
soy sauce

60 ml (¼ c)

rice vinegar

1 tbsp

sesame oil

½ tsp

sugar

1 tbsp

chili sauce

1 tsp

(optional)

garlic

1 clove

green onion

1 stem

toasted sesame seeds

1 tsp

(optional)
instructions
dough
Add the flour and salt to a large bowl.

Boil some water and once it has rested for a minute, measure 180 ml (¾ c) and slowly pour it into the flour mixture while stirring.

Once the mixture is wet, knead the dough by hand for approximately 5 minutes. The dough should be a bit stiff and bounce back when you press your finger into it.

Cover with plastic wrap and let sit for 30 minutes to one hour before rolling out.
filling
While the dough is resting, prepare your filling.

Finely chop the kimchi and squeeze out as much liquid as you can.

Finely dice the onion, green onions and mushrooms. Mince the garlic.

In a large bowl, combine all ingredients for the filling and mix well.
assembly
Working on a lightly floured surface, cut the dough into small pieces and roll each into a ball. To get about 36 dumplings, each ball of dough should weigh approximately 11-12 grams or be 3.5 - 4 inches in diameter when rolled out.

Place a spoonful of the filling into each dumpling and fold the dumpling in half. Pinch the edges with your fingers. You can wet the edges of the dumpling wrapper with water to seal properly if needed.
dipping sauce (optional)
Mince the garlic and finely chop the green onion. Combine all ingredients and stir until the sugar has dissolved.
cooking
Steam: Place the mandu in a steamer lined with parchment paper. Cover and steam for 10-15 minutes until cooked through.
Boil: Boil the mandu in salted water or soup. After the mandu have all floated to the surface, continue cooking for two minutes.
Fry: Heat one tablespoon of vegetable oil over medium heat. Fry until golden brown, approximately 2-3 minutes per side. Add ¼ cup water to the pan, cover with a lid and reduce heat to medium-low. Steam for 4-5 minutes until mandu are cooked through.
notes
dough: if you're short on time, you could buy around 36 pre-made dumpling wrappers at the store!

Did You Make This Recipe?
Looking for more ways to add kimchi to your life? Then you should definitely try it with this delicious beef bulgogi!