Popular across Russia, these irresistible honey spice cookies or pryaniki can satisfy any sweet tooth and are the perfect accompaniment to tea! The base of these delicious honey cookies is a simple caramel made with just sugar, water, honey and butter!
When we go grocery shopping, Viktor is always on the lookout for something sweet to eat with his daily tea. He's also constantly expressing his dissatisfaction with the cookie selection available here in the states, which means that every time we come across a Russian grocery store, we have to buy these russian spice cookies or pryaniki (пряники) in bulk. While there were several stores carrying Russian products in Boston and even a few in Nebraska, we've spent the last month at a cabin in the Ozarks with no access to these gingerbread-like treats. So when we met a man selling jars of honey at a roadside stand a few weeks ago, I knew it was finally time to try and make my own pryaniki!
While you can find pryaniki filled with jam and even giant ornately decorated pryaniki in Russia, I opted for a simpler cookie that has Viktor hoping we never go back to the packaged version. Flavored with honey and spiced with cinnamon, ginger and nutmeg, these irresistible spice cookies are crunchy on the outside, but incredibly soft and sweet on the inside. While I also covered my spice cookies in an easy glaze, you could definitely omit this step as these cookies are packed full of flavor!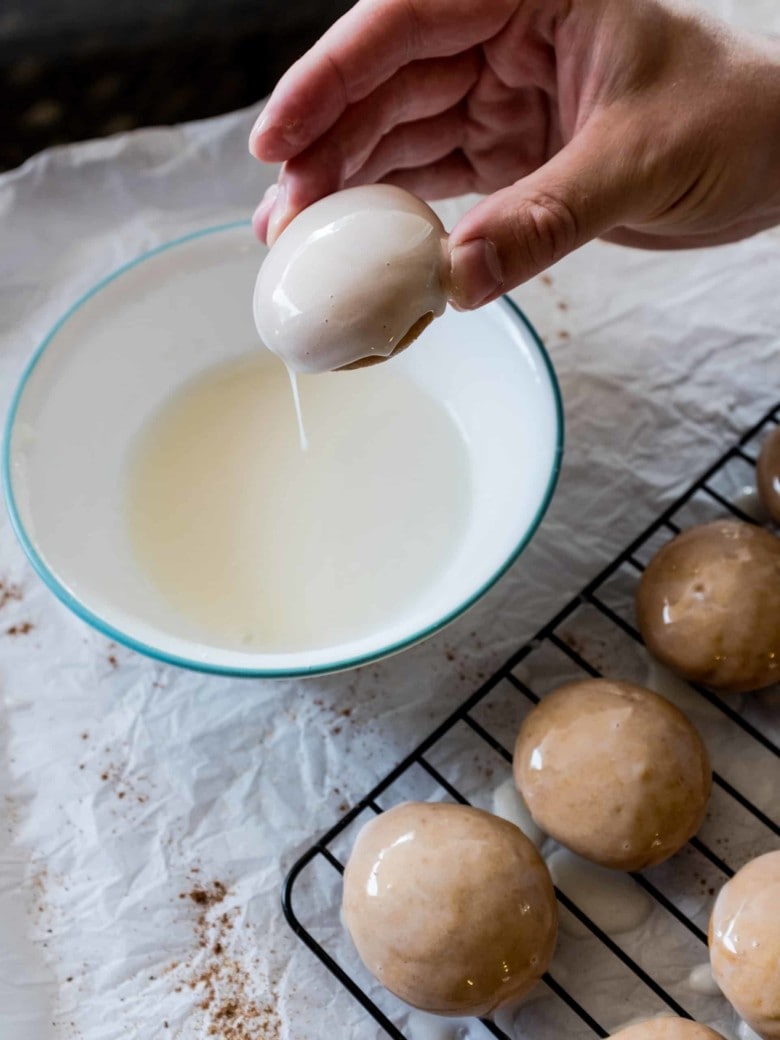 The base of these cookies is an easy homemade caramel sauce made with just sugar and water and then enhanced with butter and honey. To make the caramel, heat the sugar and water over medium heat. While you can stir the mixture at the beginning of the process to make sure the sugar is evenly distributed, it's best to not touch the pan once the mixture comes to a boil as stirring can cause the sugar to crystallize. However, if your caramel looks like it might be cooking unevenly, you can swirl the pan occasionally. Keep an eye on the mixture as it thickens and bubbles, as the caramel can go from light brown to burnt extremely quickly! Once the caramel turns a deep amber color, immediately remove it from heat. Next, add the butter and stir it vigorously to make sure it's fully incorporated. Be very careful during this step and take care to keep your hands away from the pot as the caramel may bubble and steam when adding the butter. Finally, stir in the honey and pour your delicious caramel into a heatproof bowl to cool!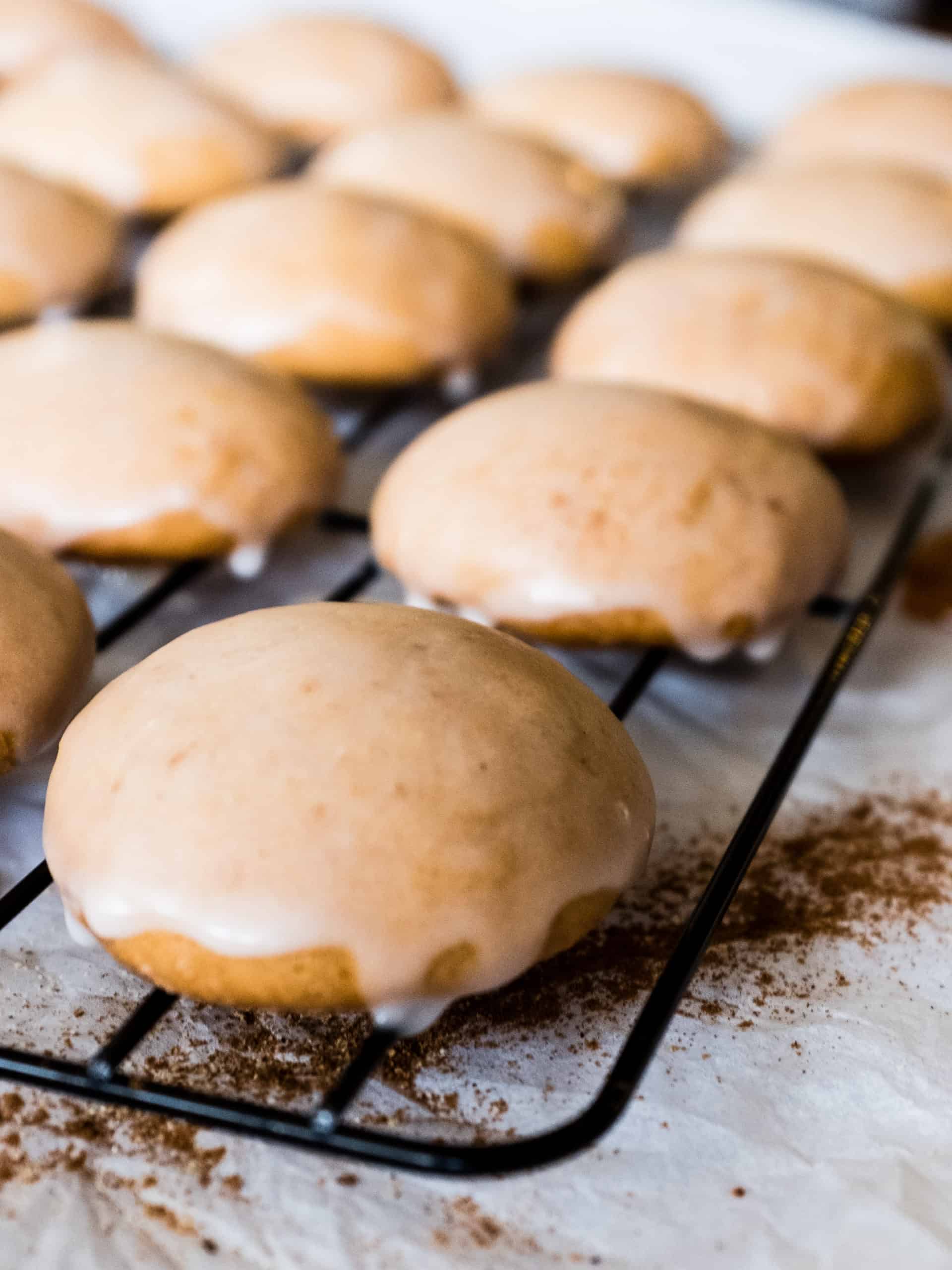 ingredients
cookies
sugar

200 g (1 c)

water

120 ml (½ c)

honey

110 g (⅓ c)

butter

80 g (6 tbsp)

cinnamon

½ tsp

ginger

¼ tsp

nutmeg

¼ tsp

salt

¼ tsp

egg

1 large

baking powder

½ tbsp

flour

360 g (3 c)
glaze
powdered sugar

120 g (1 c)

milk

2-3 tbsp

vanilla or almond extract

½ tsp
instructions
cookies
Preheat the oven to 350F (180C) and prepare a baking sheet with parchment paper.
Add the sugar and water to a saucepan and place on the stove over medium heat.
Stir the mixture until the sugar is mostly dissolved and evenly distributed. Once the sugar is dissolved and the mixture begins to boil, the saucepan should be left alone, as stirring may cause the mixture to crystallize.
When the mixture turns a deep amber, remove from heat. Add the butter and stir vigorously. Be very careful, as the caramel will bubble!
Stir in the honey until incorporated and then pour into a heatproof bowl and let cool for 20 minutes.
Stir in the cinnamon, ginger, nutmeg and salt.
Add the egg and mix until combined.
Stir in the baking powder.
Add the flour one cup at a time and mix until the dough is smooth.
Shape the dough into discs using a bit more than a tablespoon of dough for each and place on the prepared baking sheet, leaving 2 inches (5 cm) between each cookie.
Bake for 12-15 minutes.
glaze
Add the powdered sugar and extract to a bowl.
Add milk one tablespoon at a time until you reach your desired consistency.
Once the pryaniki have cooled, dip each cookie in the glaze and place on a baking rack to dry.

Did You Make This Recipe?