Made with puffed amaranth and rolled oats, these homemade granola bars are sweet, salty and slightly chewy! Our puffed amaranth bars come together quickly and are not only a fantastic breakfast, but also make for a delicious snack to power your busy afternoon!
When I know we're in for a long week, I always make sure to whip up a batch of these puffed amaranth granola bars. They're simple to make, incredibly delicious and packed with nutritious ingredients. And it just takes a few minutes of prep work and my kitchen is stocked with a week's worth of delicious grab-and-go breakfasts to fuel my busy days!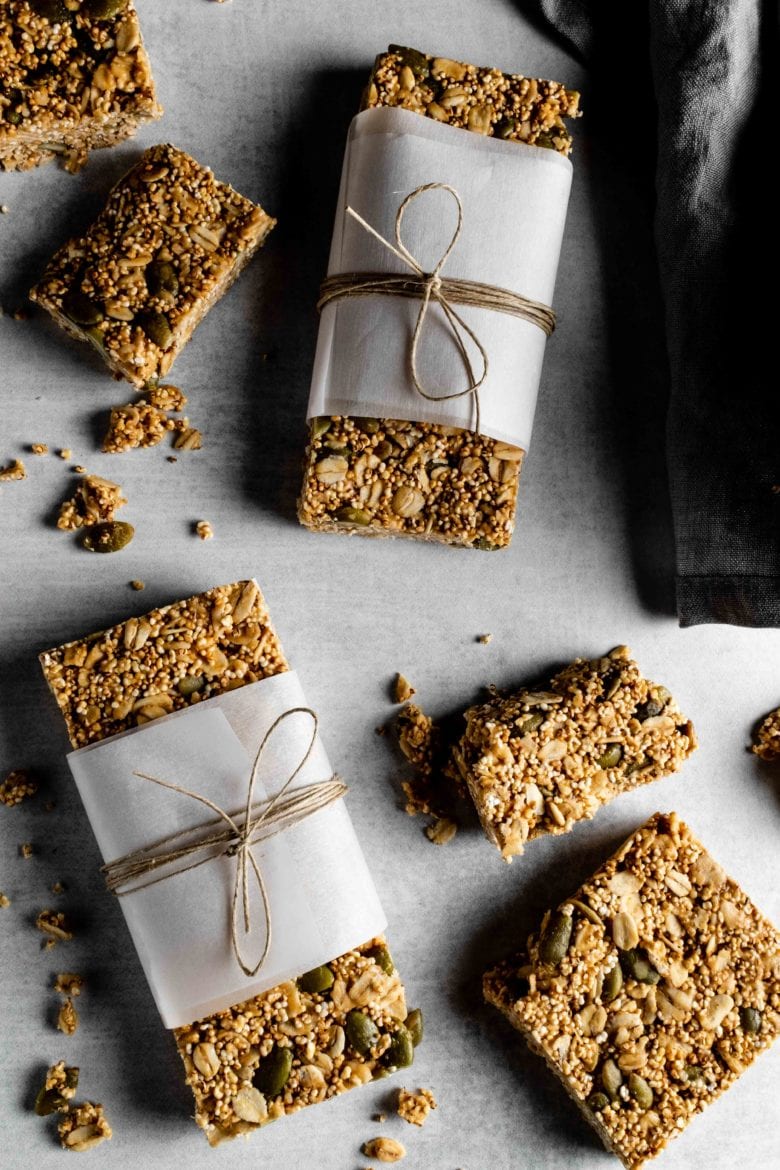 what is amaranth?
Amaranth is a tiny little ancient grain, first cultivated by the Aztecs, with an earthy, slightly nutty flavor. It's comparable to quinoa in that, although technically a seed, it's classified as a pseudocereal and considered a whole grain due to similarities in nutritional profile and use.
Nutritious and versatile, amaranth adds a healthy dose of fiber and protein to both sweet and savory dishes. The most common way to cook amaranth is to simmer it with your choice of liquid. It makes a beautifully textured breakfast porridge when cooked with coconut milk and a bit of honey, but also an incredibly creamy risotto with a bit of vegetable broth and grated parmesan. The gluten-free grain can also be used as an excellent substitute for rice or pasta or even as a way to thicken your favorite soups and stews!
But this recipe actually calls for a different way of cooking amaranth — popping it just like popcorn!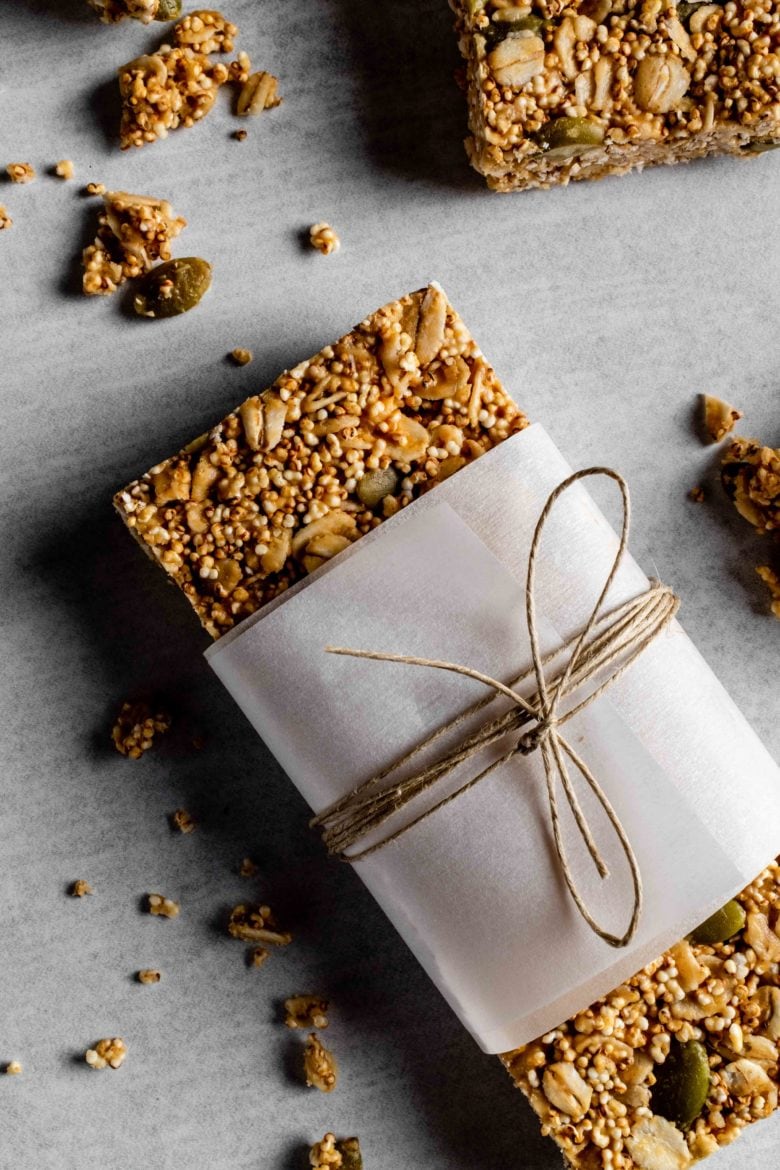 making puffed amaranth
Because raw amaranth is difficult to digest, it needs some type of treatment before we add the delicious grain to our granola bars. My favorite option is to use puffed amaranth (also sometimes called popped amaranth) which enhances the nutty flavor of the seed. While you can definitely use store-bought puffed amaranth, I like to make my own.
Popping amaranth is incredibly simple and it only takes about 10 minutes to make the amount needed for this recipe, but I will admit that the tiny seeds can be a bit fussy if the temperature isn't perfect. Here are the instructions, along with a few tips for success:
Heat a pot over medium-high heat.
Use a heavy-bottomed pot with tall sides to ensure the bottom is evenly heated and help prevent the seeds from popping all over your kitchen.
When the pot is heated, add amaranth seeds in a single layer (this is usually about 1-2 tablespoons).
The amaranth should begin to pop almost instantly. If the heat is too low, a few seeds may pop after about 20-30 seconds, but the majority will most likely burn before they're able to pop. If the heat is too high, the seeds will burn immediately without popping. I like to drop a few seeds into the pot to test them before adding a whole tablespoon — if they pop immediately, you're good to go!
Shake the pot while cooking.
As soon as your amaranth hits the pot, you'll want to shake the pot almost continuously to prevent any seeds from burning and make sure that the majority of the seeds find a hot spot where they can pop.
Separate the popped amaranth from the unpopped seeds.
Use a fine mesh sieve to shake out the unpopped seeds. If you don't have a sieve that works for this, just put the amaranth in a bowl and give it a good shake. All of the unpopped seeds will fall to the bottom (like unpopped popcorn kernels!) making it easier to measure out just popped amaranth.
For each tablespoon of amaranth, you'll get a bit more than two tablespoons of puffed amaranth. As this recipe calls for one cup of puffed amaranth, I used approximately ⅓ cup of amaranth seeds.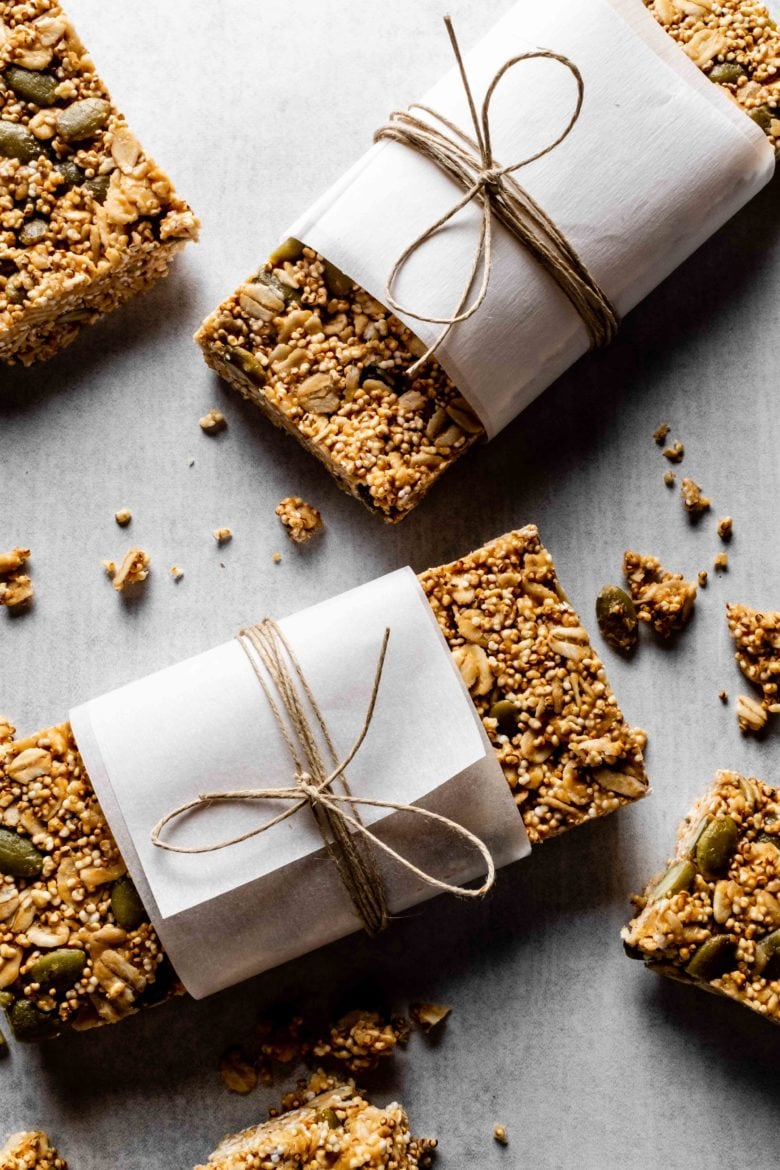 healthy granola bars
After your amaranth is ready, these bars come together very quickly. Just mix your puffed amaranth with old-fashioned rolled oats and a handful of pepitas (or any of your other favorite nuts or seeds). Then heat the peanut butter, honey and coconut oil in a small pan until gooey and melty and pour it over your amaranth mixture. Give it a good stir, spread the mixture into a baking pan and that's it!
Well, okay. You do need to let the mixture chill for at least an hour in the fridge before you can cut them into bars. But then they're ready to be enjoyed as a quick breakfast or healthy snack! You can store them in an airtight container in the fridge for up to a week (although they usually disappear before that).
And one final note. These granola bars use a minimal amount of liquid to hold the rest of the ingredients together. Feel free to add an extra tablespoon or two of peanut butter or honey if you want a chewier bar or are worried about the mixture holding together even after refrigerating.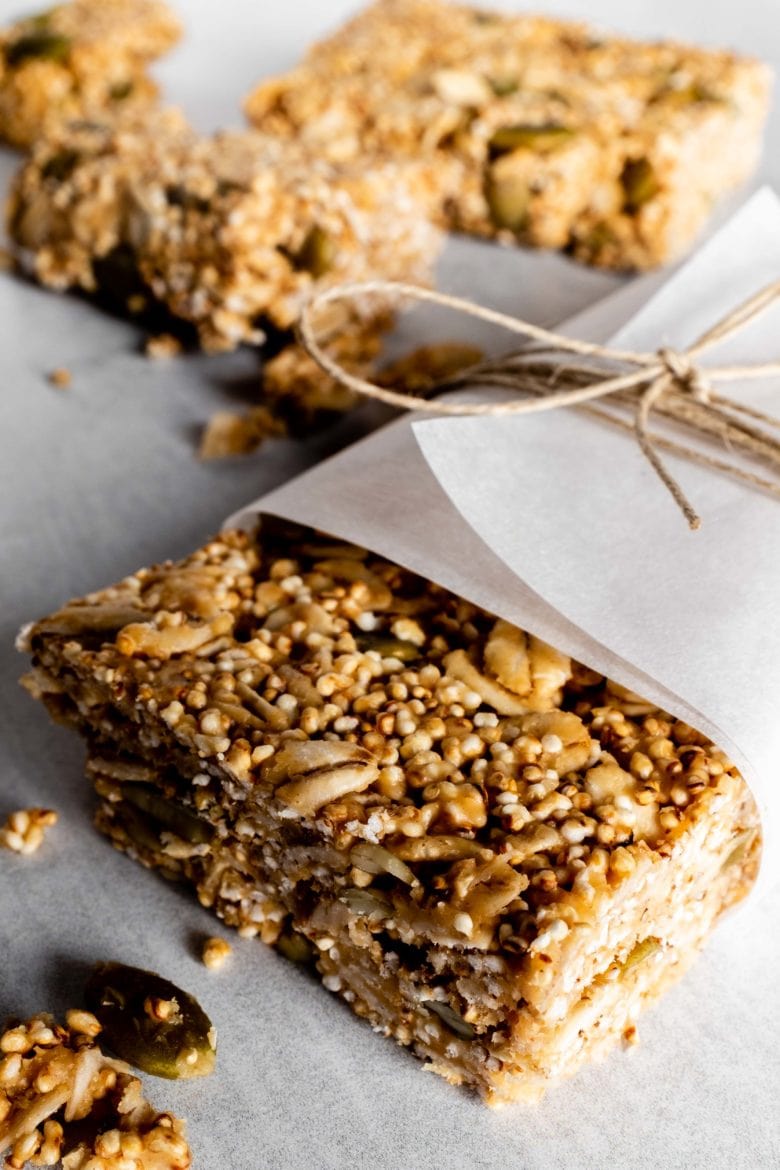 For more delicious breakfast options, make sure to check out these recipes:
Print
Puffed Amaranth Granola Bars
---
Author:

Brit Kapustina

Total Time:

15 minutes

Yield:

8 bars

Prep Time:

15 minutes

Category:

Breakfast

Method:

No Bake

Cuisine:

Global
1 cup

(40 grams) puffed amaranth (store-bought or follow the instructions below to make your own)

1 cup

(100 grams) old-fashioned rolled oats

½ cup

(70 grams) pumpkin seeds (also called pepitas)

½ cup

(120 grams) peanut butter

3 tablespoons

(60 grams) honey

1 tablespoon

coconut oil
kosher salt

to taste
---
Instructions
Puffed Amaranth Granola Bars
Line an 8×8 inch (20×20 cm) baking dish with parchment paper.
Add the puffed amaranth, oats, pepitas and salt to a bowl and mix well.
Heat the peanut butter, honey and coconut oil in a small saucepan over medium-low heat until just mixed and melted together.
Pour the peanut butter mixture over the dry ingredients and mix well.
Spread the mixture evenly into the baking dish. Press down with a spatula.
Place in the refrigerator for one hour before cutting.
How to make puffed amaranth
Heat a pot over medium-high heat. The amaranth will pop up like popcorn, so make sure to use a pot with high sides!
When the pot is hot, add approximately one tablespoon of amaranth. The amaranth should begin popping almost immediately. If the temperature is too low, the amaranth will burn without popping. Shake the pot often to help prevent burning and ensure all seeds pop.
Pour the puffed amaranth through a fine mesh sieve to separate any unpopped seeds.
Keywords: amaranth granola bars
This post may contain affiliate links through which we may earn a small commission at no additional cost to you. We only recommend products that we genuinely love and would use ourselves.