This healthy puffed amaranth granola is naturally sweetened and packed with feel-good ingredients! Easily customizable and ready in just 30 minutes, you're going to want to make this homemade granola on repeat!
A good homemade granola doesn't take much time to make and always gets my morning off to the right start! The best part? It's super adaptable so I can make it with whatever I have in my cupboards at the moment. Today's version uses rolled oats, coconut flakes, pecans and a bit of amaranth that I had on hand after making these puffed amaranth bars!
puffed amaranth granola
If you aren't super familiar with amaranth, you can read more about it and how to pop it like popcorn in my recent post about the little seeds. It doesn't take much time or effort to pop amaranth at all and can be quite a bit cheaper than buying already puffed amaranth. That being said, the seeds can be somewhat finicky if the temperature isn't just right so it can take a little time to perfect the process.
Along with old-fashioned rolled oats and puffed amaranth, I used coconut flakes and pecans. You can definitely switch these ingredients out for whatever you have on hand. Walnuts, almonds and pepitas would all be great mix-ins! And while I didn't add any seasoning other than a bit of salt, any warming spices such as cinnamon, nutmeg or cardamom would be excellent with this granola.
To coat the dry mixture, I like to use maple syrup (or honey) and unrefined coconut oil. You can use whatever oil you have on hand, but I really love the extra little boost of coconut!
And lastly, feel free to toss in some dried fruit at the end. My favorite options for this particular granola are dried mangoes and papaya. Along with the coconut oil and flakes, the tropical fruits give the granola a bit of caribbean flair!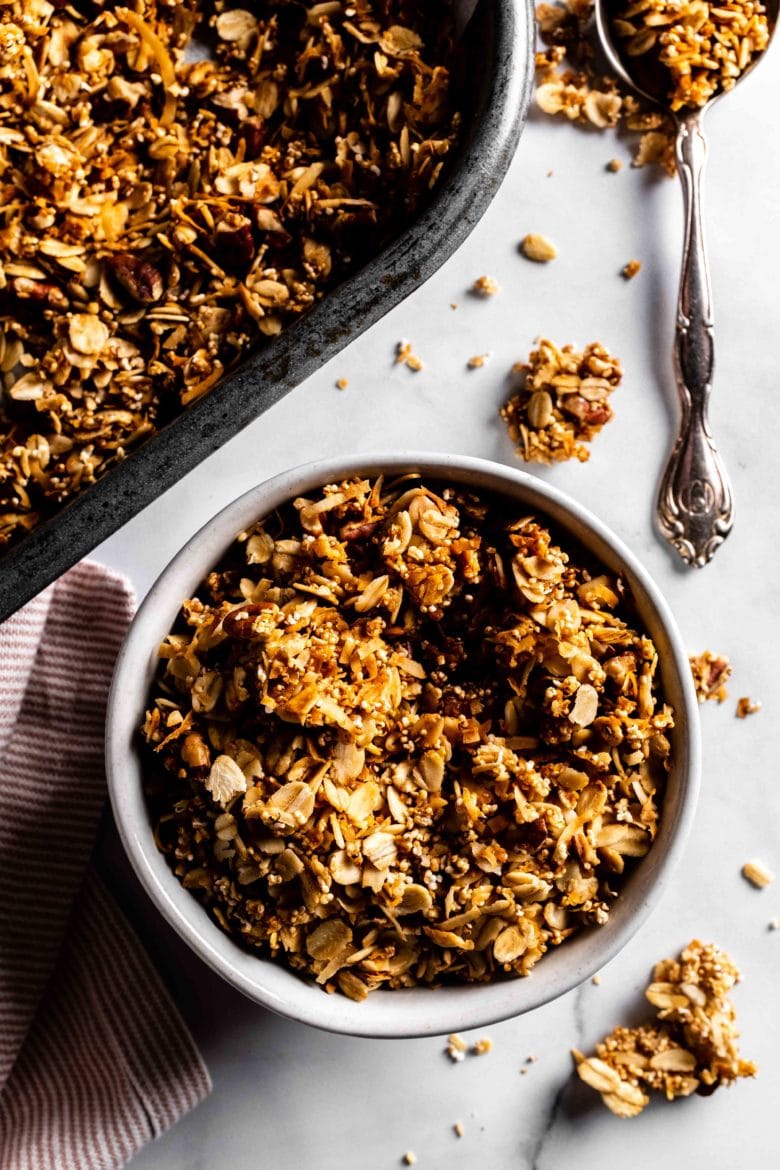 level up your granola game!
After baking the granola for half an hour, it's ready to be enjoyed! I always sneak out a good portion and enjoy it warm, but like to leave the rest of the granola untouched until it cools to encourage clumping.
And while a splash of milk with your granola is a classic option, we've got a few suggestions if you want to make the most out of your delicious homemade granola:
Make a parfait with yogurt and our favorite chia berry compote
Mix it with a bit of kefir (we've been enjoying this batch with blueberry kefir!)
Use it as a crunchy topping for baked apples, muffins or even smoothies
Stir a spoonful or two into this creamy sweet coconut rice porridge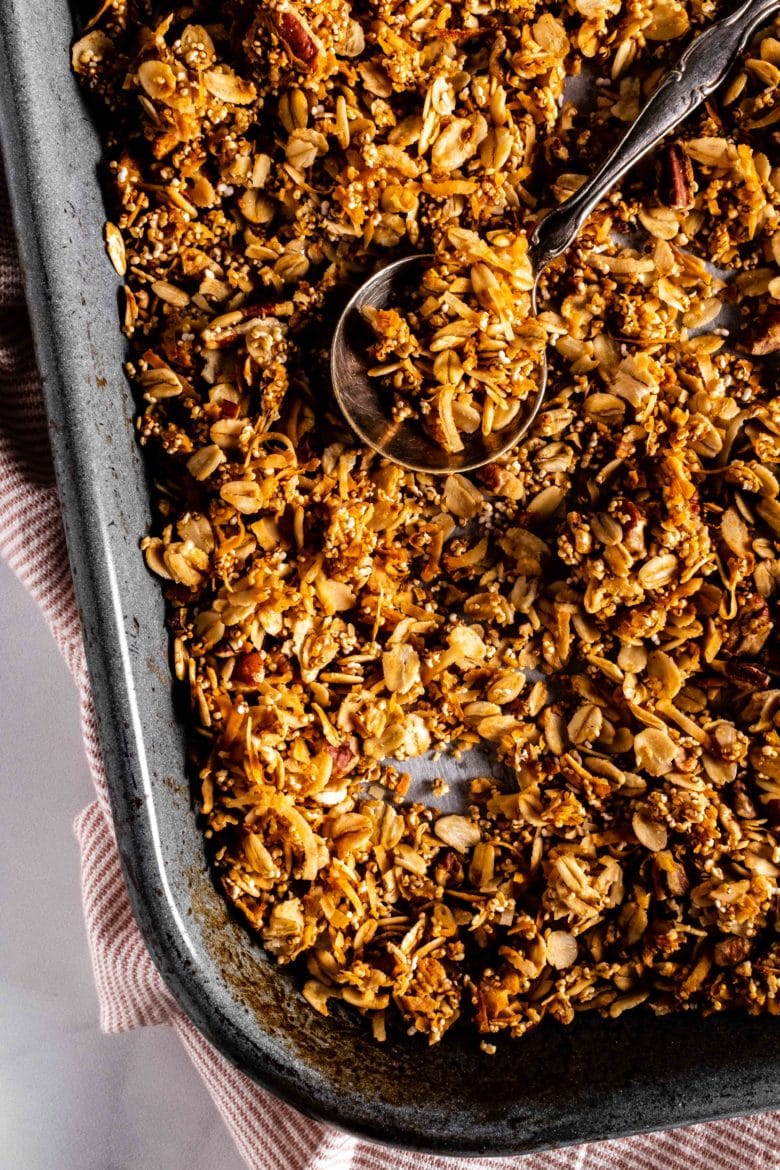 For more fantastic breakfast ideas, give these a try: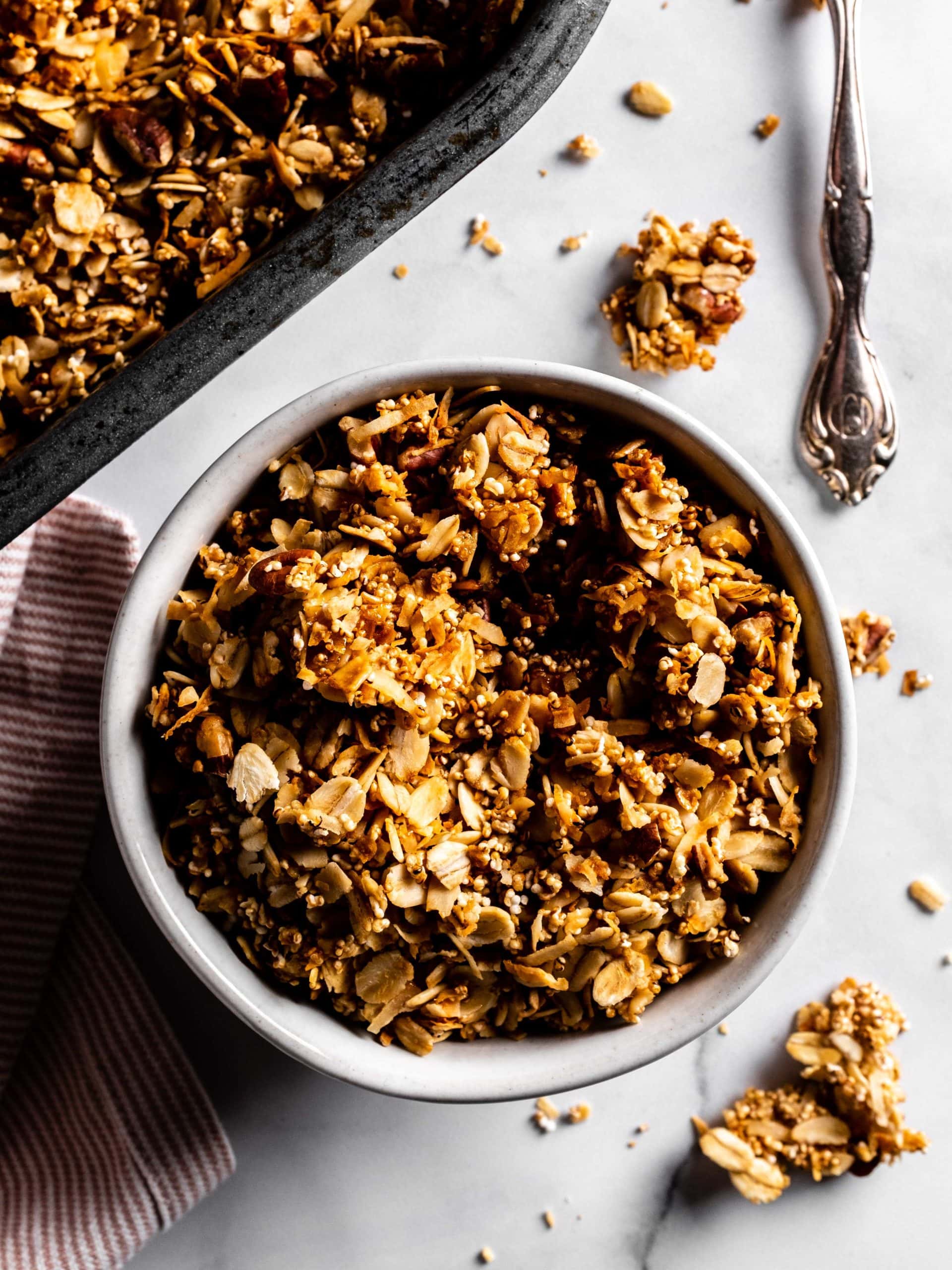 ingredients
old-fashioned rolled oats

2 c (200 g)

puffed amaranth

1 c (40 g)

(store-bought or follow the instructions below to make your own)

coconut flakes

¾ c (60 g)

chopped pecans

½ c (60 g)

salt

¼ tsp

melted coconut oil

¼ c (60 ml)

maple syrup or honey

⅓ c (80 ml)

dried fruit (optional)

½ c (80 g)
instructions
puffed amaranth granola
Preheat oven to 325 F (160 C) and line a baking sheet with parchment paper.
In a large bowl mix together the oats, puffed amaranth, coconut flakes, chopped pecans and salt.
Pour in the melted coconut oil and maple syrup (or honey). Stir to combine making sure that the entire mixture is well coated.
Spread the mixture in a thin, even layer on the prepared baking sheet.
Bake for 20-25 minutes, stirring once halfway through.
Remove from the oven and sprinkle the dried fruit on top (if using). Let cool completely before storing.
Store in an airtight container for up to two weeks.
making puffed amaranth

Heat a pot over medium-high heat. The amaranth will pop up like popcorn, so make sure to use a pot with high sides!
When the pot is hot, add approximately one tablespoon of amaranth. The amaranth should begin popping almost immediately. If the temperature is too low, the amaranth will burn without popping. Shake the pot often to help prevent burning and ensure all seeds pop.
Pour the puffed amaranth through a fine mesh sieve to separate any unpopped seeds.

Did You Make This Recipe?
This post may contain affiliate links through which we may earn a small commission at no additional cost to you. We only recommend products that we genuinely love and would use ourselves.