This recipe transforms slow cooked pulled pork into delicious homemade nachos loaded with your favorite toppings! Perfect for game day, these pulled pork nachos will give everyone something to cheer about!
These pulled pork nachos are one of our go-to options for feeding a crowd on game day. The slow cooker does most of the work by transforming the meat into tender, juicy perfection. And when it's time for the big game, all that's left to do is shred the pork, layer it onto tortillas chips with your favorite toppings and bake!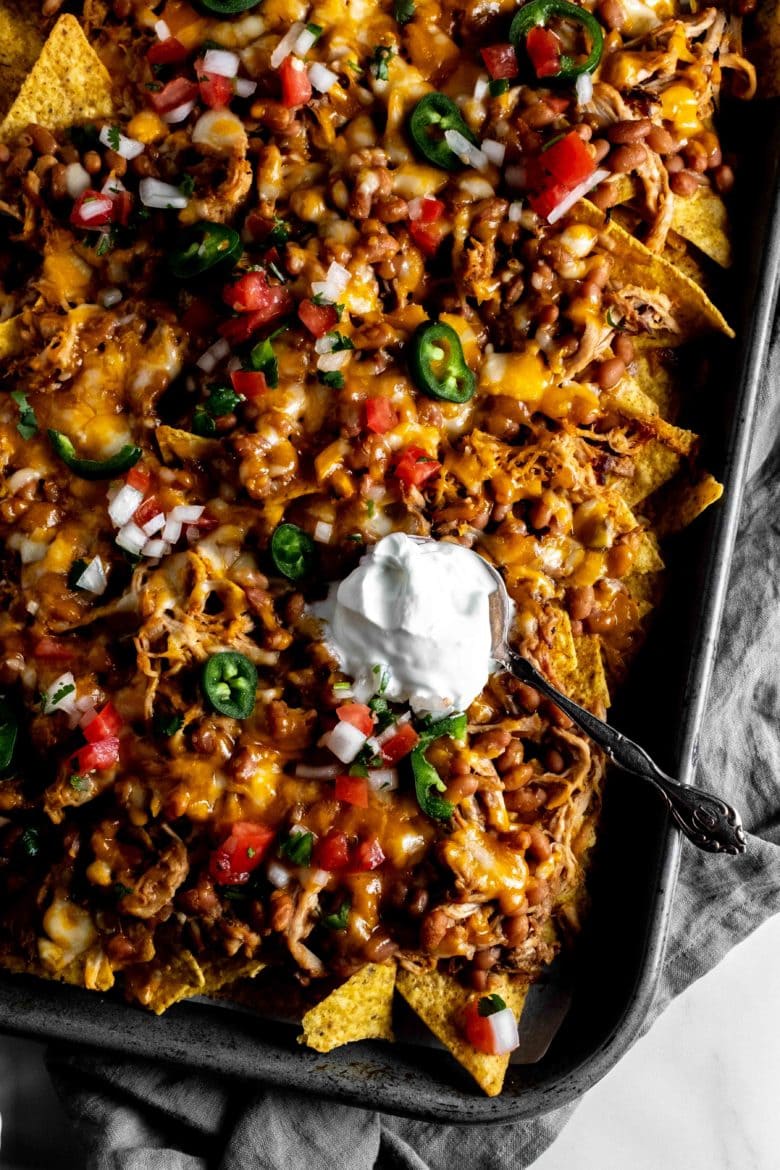 pulled pork loin
While pulled pork is most commonly made with pork shoulder, we like to make it with pork loin on occasion and particularly when we're making these nachos. Because pork loin is a leaner cut of meat, it will turn out a bit drier than if you were using something with more fat. But by adding some of the cooking liquid to the finished meat, we find that it still results in deliciously tender pulled pork. Plus, our nachos are loaded with juicy beans and melty cheese and using pork loin keeps our nachos from being overly greasy.
Whatever cut of meat you decide to use, start by rubbing it with a mixture of brown sugar, smoked paprika, garlic powder and salt. Then break out your slow cooker and in the bowl mix together diced onion, barbecue sauce, chicken broth, apple cider vinegar and soy sauce. I also like to throw in one dried chile de arbol for a bit of heat, but that's completely optional. This sauce will become the liquid you add back to the meat at the end so you can leave it out if you don't want it too spicy.
Now all that's left to do is let your pulled pork cook on low for about eight hours. Especially with pork loin, low and slow is definitely the way to go! The pork is ready when you can easily shred it with a fork. Then, if using pork shoulder, we pour just a few spoonfuls of the cooking liquid onto the pulled pork. But if we're using pork loin we tend to add quite a bit more to help it get nice and juicy!
sheet pan nachos
And now onto the nachos! I've included instructions for one sheet pan of nachos, but with the amount of pulled pork this recipe makes you could probably get about 3-4 sheet pans full. It really depends on how high you pile the pork onto your nachos!
For one sheet pan, you'll need a bag of your favorite tortillas chips, your cooked pork, shredded cheese (we used cheddar) and a can of baked beans. Baked beans might seem an unusual addition to some, but hear me out before you sub them for black or refried beans. When nachos are served at a BBQ joint here in the Ozarks, they almost always come topped with barbecue baked beans which blend with the meat and make it even juicer. Definitely worth a try and, if you've got the time, you can even make your own baked beans for a little extra flavor!
When all of your ingredients are ready to go, layer everything on a pan and bake for about eight minutes at 400 F (200 C). Just make sure to keep an eye on your nachos so your chips don't burn!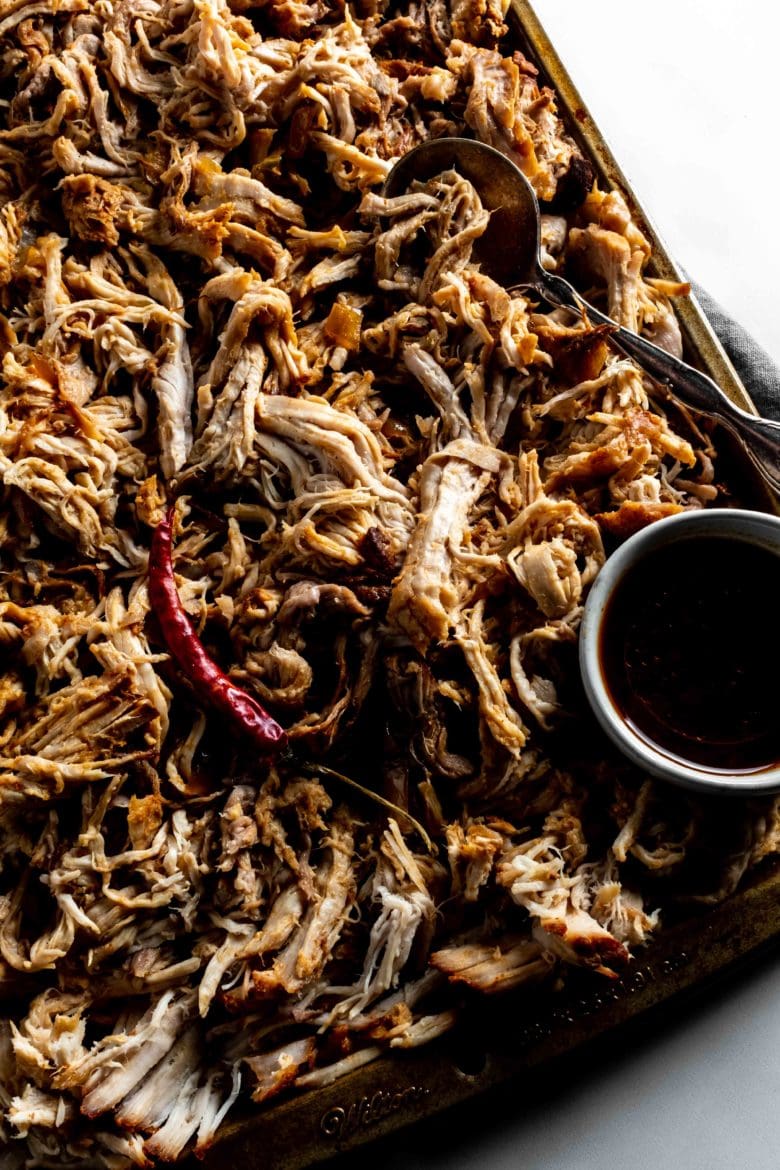 extra toppings
To take these nachos to the next level, we like to have a variety of toppings. Our lineup always includes pico de gallo, sour cream and homemade guacamole, but there are really so many ways you could take these nachos. Try adding a bit of cilantro or chopped green onions for a bit of freshness or toss on a handful of pickled jalapenos for some heat. The options are endless!
And if you really want to go the extra mile, try whipping up a batch of our skillet mexican street corn to top off your nachos!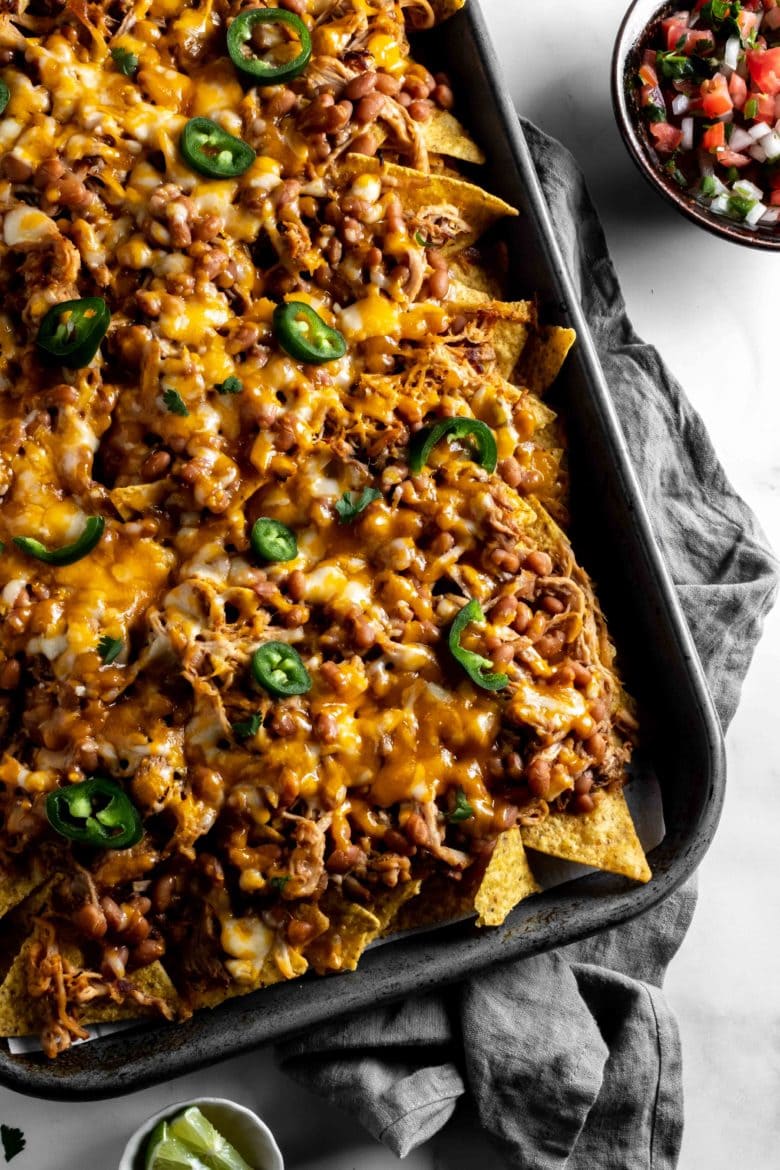 For more game day snacks, give these recipes a try!
ingredients
slow cooker pulled pork
pork shoulder or loin*

3-4 lbs (1.5 kg)

brown sugar

2 tbsp

smoked paprika

1 tsp

garlic powder

1 tsp

salt

2 tsp

diced onion

1 large

barbecue sauce

½ c (120 ml)

chicken broth

¼ c (60 ml)

apple cider vinegar

2 tbsp

soy sauce

2 tbsp

dried chile de arbol

1 (optional)
sheet pan nachos (for one large sheet pan)
tortilla chips

12 oz (350 g)

pulled pork

2 c (500 g)

baked beans

16 oz (450 g)

shredded cheddar

10 oz (280 g)
optional nacho toppings
- pickled jalapenos
- cilantro
- sour cream
- guacamole
- salsa
instructions
Mix together the brown sugar, smoked paprika, garlic powder and salt. Rub the pork with the mixture on all sides.
In the bowl of the slow cooker, mix together the diced onion, barbecue sauce, chicken broth, apple cider vinegar and soy sauce. Add the dried chile if using (chop into several pieces for more heat).
Place the pork in the slow cooker. Cover and cook on low for 8 hours or until the pork is tender and can easily be shred with a fork.
Remove the pork from the slow cooker and shred. Spoon some of the cooking liquid from the slow cooker over the pork. If you used pork loin, make sure to add a good amount to ensure the meat isn't dry.
Preheat oven to 400 F (200 C) and line a baking sheet with parchment paper or foil.
Spread the tortilla chips on the prepared baking sheet in a single layer. Top with pulled pork, baked beans and cheese. Cook for 6-8 minutes or until the cheese has melted.
Add additional toppings as desired.
notes
Cuts of pork: Pork shoulder is most commonly used when making pulled pork, but we also like to use pork loin on occasion. Pork loin is leaner and thus will turn out a bit drier, but we find that adding about ¾ cup of the cooking liquid back to the meat results in deliciously tender pulled pork loin!

Did You Make This Recipe?
This post may contain affiliate links through which we may earn a small commission at no additional cost to you. We only recommend products that we genuinely love and would use ourselves.