The reverse sear is an incredibly easy method to get perfectly cooked rack of lamb every single time! Our lamb dinner is served over a bed of herby farro and topped with a delicious two-ingredient dijon mustard sauce!
This is kind of a feast. Tender, juicy lamb cooked to perfection with an incredibly flavorful dijon mustard sauce. And then everything served over a hearty plate of herby farro. It's definitely a meal for a special occasion, but it's also wonderfully simple to make. The reverse sear rack of lamb is no fuss, the dijon sauce consists of just two ingredients and the farro simmers away while you're preparing everything else!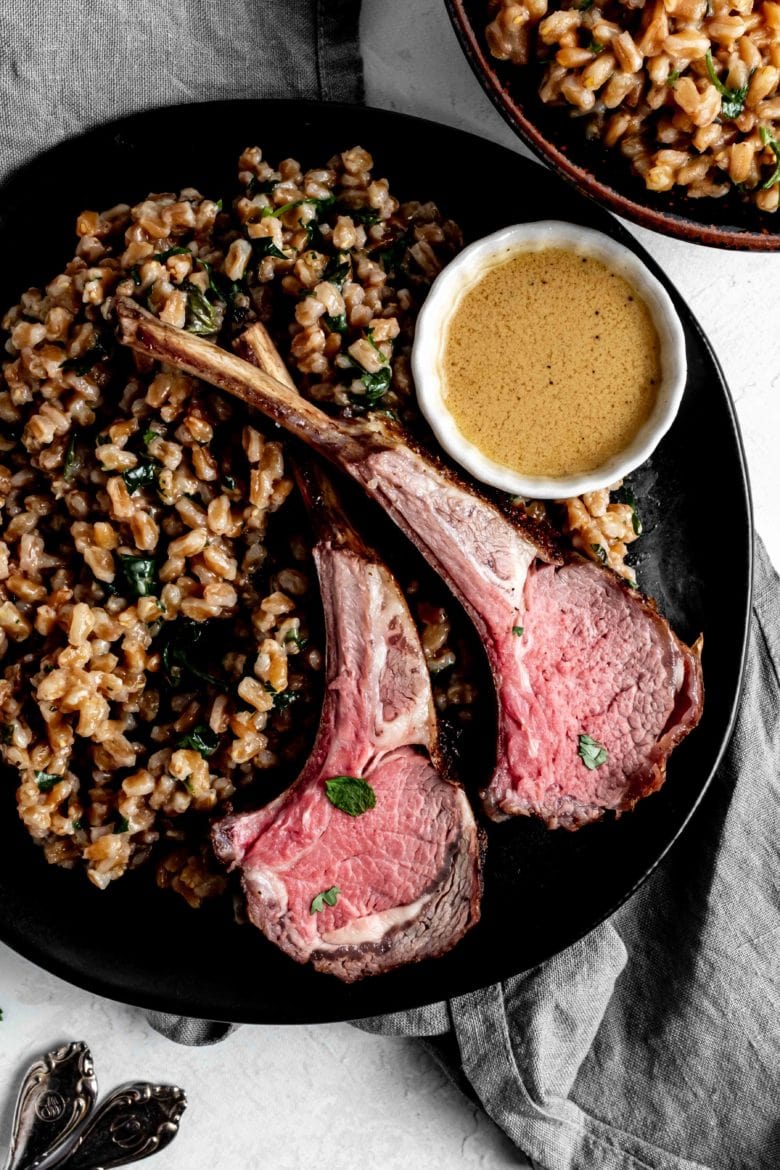 reverse sear rack of lamb
When working with such a premium cut of meat, you definitely want to make sure you're doing it justice. That's why I absolutely love the reverse sear method for lamb. If you're not familiar with reverse searing, it just means that we'll start by cooking the lamb in the oven at a low temperature just until it reaches our ideal doneness. Cooking the rack at a low temperature gradually increases the internal temperature and ensures the lamb cooks evenly. Then we'll finish it off by searing it in a hot skillet for that wonderfully crispy crust!
While we often advocate for salting meat ahead of time, with this method and cut of meat we don't really see a difference in flavor or texture. So for this recipe we recommend generously seasoning your rack of lamb right before it goes in the oven. We use a simple mixture of salt and cumin. Cumin pairs incredibly well with the flavors in this dish, but feel free to mix it up with your favorite spices! Then place the lamb on a pan fitted with a wire rack and send it off to the oven.
The rack will cook for at least 40 minutes and up to 1.5 hours depending on its size. I start checking the internal temperature using an instant read thermometer at about 45 minutes. You'll want the temperature to be at about 125 F (52 C) for medium-rare. Carryover heat and the additional searing may bring the temperature up another two degrees, but with rack of lamb that increase will be less than with other cuts of meat.
Now the least step! Sear your rack of lamb on all sides in a tablespoon of any oil that has a high smoke point. At this point you could be done. Or you could reduce the heat a bit and toss in a few tablespoons of butter and several cloves of garlic. Spend a few minutes spooning the butter mixture over the lamb for additional flavor and then let the rack rest for about 10 minutes before cutting into individual chops!
two-ingredient dijon mustard sauce
This sauce is my absolute favorite for serving alongside seared meats, especially lamb and pork chops! It's made in the same skillet where you sear the rack of lamb, which means you're already getting tons of flavor and you only need to add a bit of liquid and a few tablespoons of dijon mustard to get an incredibly flavorful sauce!
Start by mixing one cup (240 ml) of broth with three tablespoons of dijon mustard. I prefer to use beef broth for its rich flavor, but you can substitute chicken or even vegetable broth. Then add the mixture to the pan where you seared the rack of lamb and bring to a simmer. Cook for five minutes and that's it! Now dip you lamb into the sauce or spoon it over the chops (and maybe even farro) — your choice!
herby farro
To make the farro, start by sauteing two diced shallots. Next, add in the farro and cook for a few minutes to toast and intensify its flavor. Then pour in your chicken broth and cook until tender!
For this recipe we use semi-pearled farro, but you can also buy pearled farro and whole farro. To adjust this recipe for pearled farro, use less liquid and cook for only about 15-20 minutes. For whole farro, you'll want to add more liquid as necessary and cook for 40 minutes.
Once your farro is tender and the liquid is mostly absorbed, you can add the finishing touches. Lemon juice, a bit of olive oil and chopped herbs! I always use a combination of two or three chopped herbs. Mint is always on the list, because its bright flavor pairs so well with the lamb. Other great additions include cilantro, tarragon and parsley.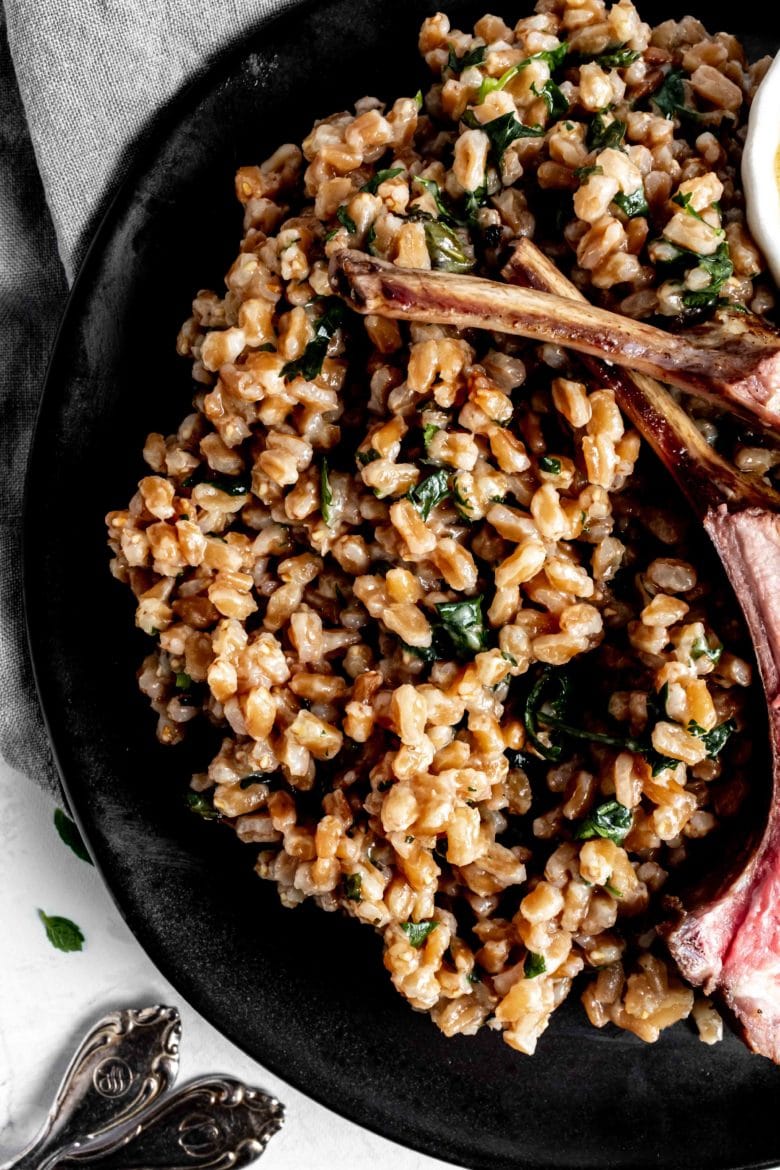 For more dinners perfect for a special occasion, make sure to check out these recipes!
Print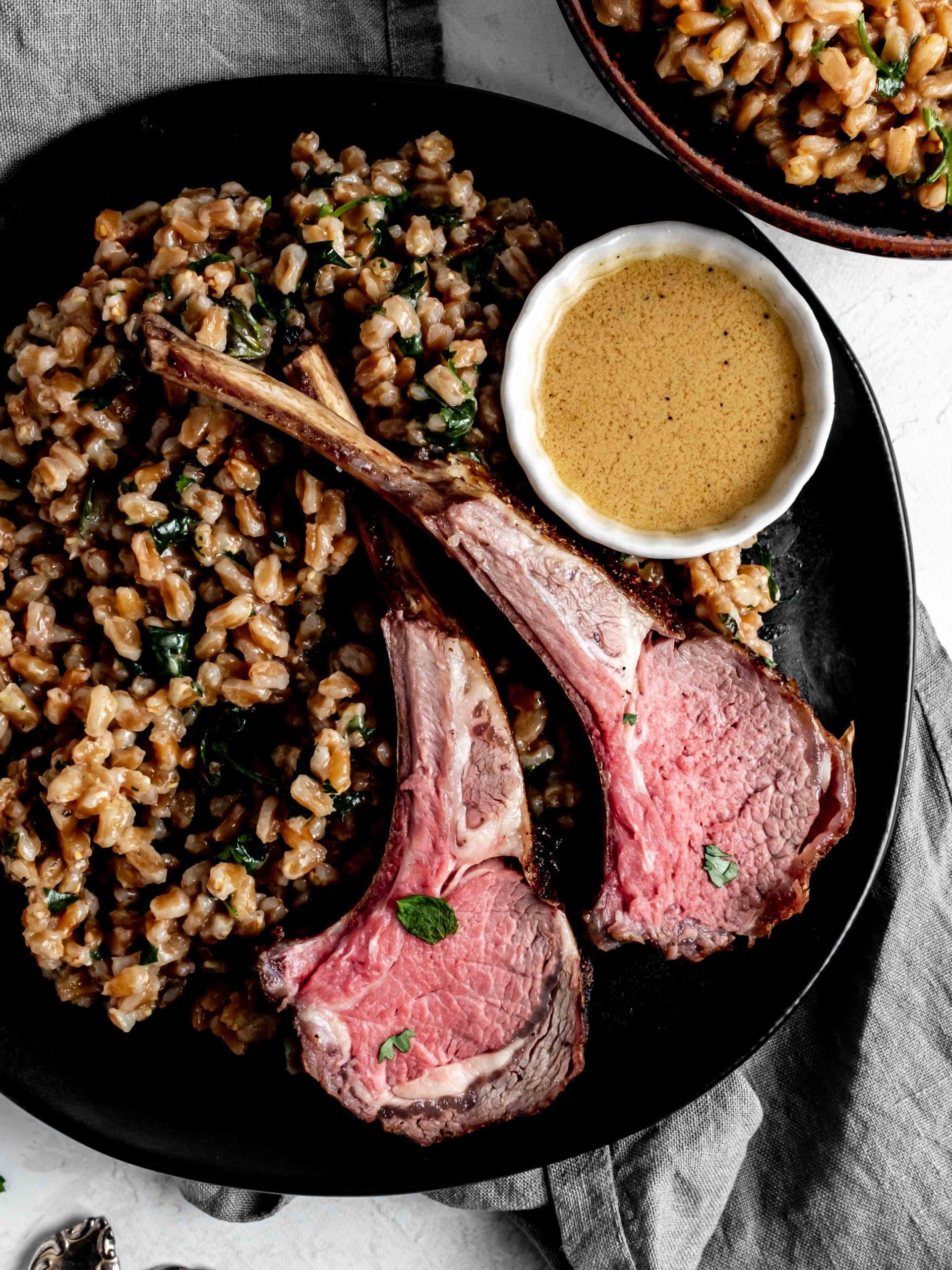 reverse sear rack of lamb with dijon mustard sauce + herby farro
---
Author:

Prep Time:

15 minutes

Cook Time:

1 hour 30 minutes

Total Time:

1 hour 45 minutes

Yield:

4
reverse sear rack of lamb
frenched* rack of lamb

1.2-1.5 lbs (550-680 g)

cumin

1 tsp

salt

to taste

vegetable oil

1 tbsp

butter

2 tbsp (30 g)

garlic (smashed)

2 cloves
dijon mustard sauce
beef broth

1 c (240 ml)

dijon mustard

3 tbsp

salt

to taste
herby farro
semi-pearled farro

1.5 c (280 g)

butter

3 tbsp (40 g)

diced shallots

2 small

chicken broth

3 c (700 ml)

chopped fresh herbs

¾ c (35 g)

(I use mint and cilantro and occasionally tarragon)

olive oil

2 tbsp

lemon juice

2 tbsp

salt

to taste
---
Instructions
reverse sear lamb + dijon mustard sauce
Preheat oven to 250 F (120 C). Trim any additional fat off the lamb, leaving only a thin layer of fat on top.

Pat the lamb dry and season generously with salt and cumin (make sure to do this right before you're ready to pop it in the oven). Line a rimmed baking pan with foil and fit a wire rack on top. Place the lamb bone-side down on top.

Cook the lamb until it reaches an internal temperature of 125 F (52 C) for medium-rare. Start testing for doneness after 45 minutes, but it generally takes about 1 hour.

Heat the vegetable oil in a skillet over high heat and briefly sear the rack on all sides (1-2 minutes on each side).

Reduce heat to medium-low and add the butter and smashed garlic to the pan. Spoon melted butter over the lamb for 2-3 minutes.

Transfer the lamb to a cutting board to rest. Discard the garlic and drain all but one tablespoon of the butter and oil mixture from the pan.

While the lamb is resting, prepare the sauce. Whisk together the beef broth and dijon in a small bowl. Add the mixture to the skillet where you seared the lamb. Bring to a light simmer and cook for five minutes stirring occasionally. Season with salt to taste.

Slice the lamb between the bones and serve with the dijon mustard sauce.
herby farro
Melt the butter in a saucepan over medium heat. Add the diced shallot and cook for 5 minutes, stirring occasionally.
Add the farro and toast 2 minutes.
Pour in the chicken broth and add a pinch of salt. Bring to a boil. Reduce heat to a simmer and cook uncovered for 30 minutes or until the farro is tender and the liquid is mostly absorbed. Stir occasionally.
Season with salt and stir in herbs, olive oil and lemon juice.
Notes
Frenched rack of lamb: A frenched rack of lamb already has the meat and fat stripped away from the bones, which gives the meat a more attractive presentation.
Keywords: reverse sear, reverse sear rack of lamb, herby farro
This post may contain affiliate links through which we may earn a small commission at no additional cost to you. We only recommend products that we genuinely love and would use ourselves.