When cooking steak indoors, reverse searing is the ultimate method to produce an irresistibly juicy steak with a perfectly browned crust. Add an extra flavor boost to your reverse sear T-bone steaks by basting them in rosemary garlic butter!
I used to avoid cooking steaks unless the weather allowed for grilling. When using a more expensive cut of meat, you want to be sure you're doing it justice and cooking a good steak indoors can be tricky. That all changed when I learned to reverse sear T-bone steaks. The reverse sear method is surprisingly simple and consistently results in an evenly cooked steak and an incredible seared crust!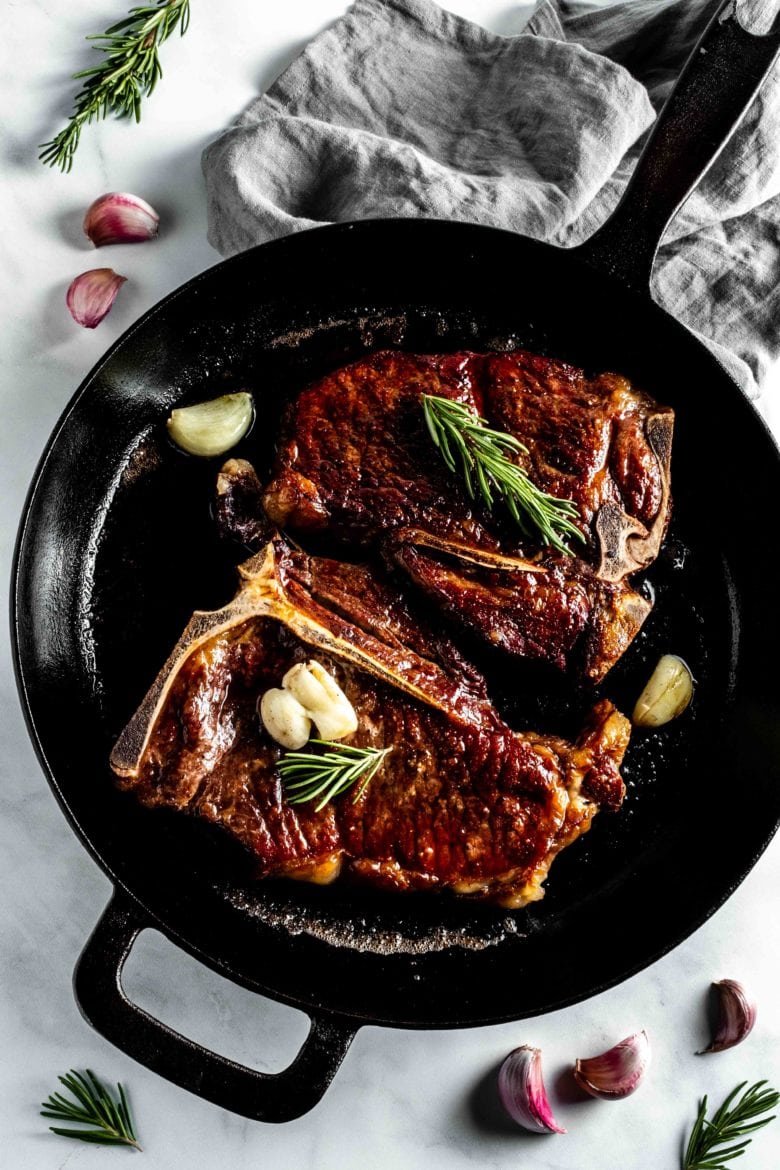 The Reverse Sear Method
The most common method of cooking steak indoors is pan frying, where the steaks are first seared and then finished in the oven. When a steak is pan fried, the outside gets cooked much faster than the center. This produces a gradient doneness, where the center stays pink and is surrounded by a more well-done band of meat. 
Reverse searing T-bone steak is just the opposite. First, the steak is cooked in the oven at a low temperature to gradually increase the internal temperature. The steak is removed from the oven a little before your desired doneness (check the thickest part of the steak using an instant read thermometer) and finished by briefly searing it in a hot skillet.
Regardless of your steak preferences (be it medium-well or rare), this method will yield a more evenly cooked and tender steak with an incredible seared crust!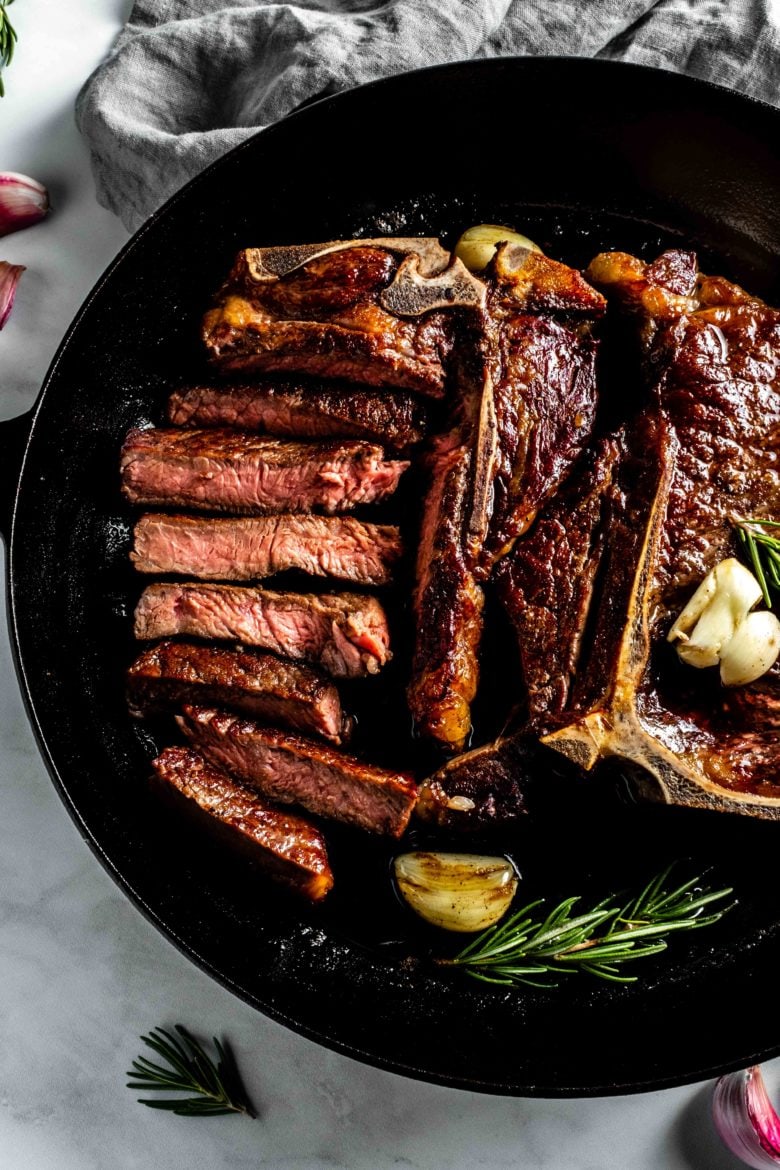 Perfectly Seared Crust
A well developed crust will take your steak from good to great. One of the main barriers to a good browning is the moisture on the surface of the steak. Thus it is commonly advised to pat the steak dry with paper towels before frying. Because reverse searing dries out the surface of the steak, patting your steaks dry is completely unnecessary and the searing is a lot more effective!
Another key to a good crust is to sear your steaks at a high temperature. I would recommend using a cast iron skillet if you have one (we use this cast iron skillet). Cast iron pans have a high heat capacity which means they better maintain a high temperature during cooking. To begin, use oil with a higher smoking point (such as sunflower or vegetable) and heat the pan to the point where the oil is almost smoking. Sear the steaks for two minutes in total, turning every 30 seconds to make sure they are evenly cooked. And to finish, briefly sear the sides.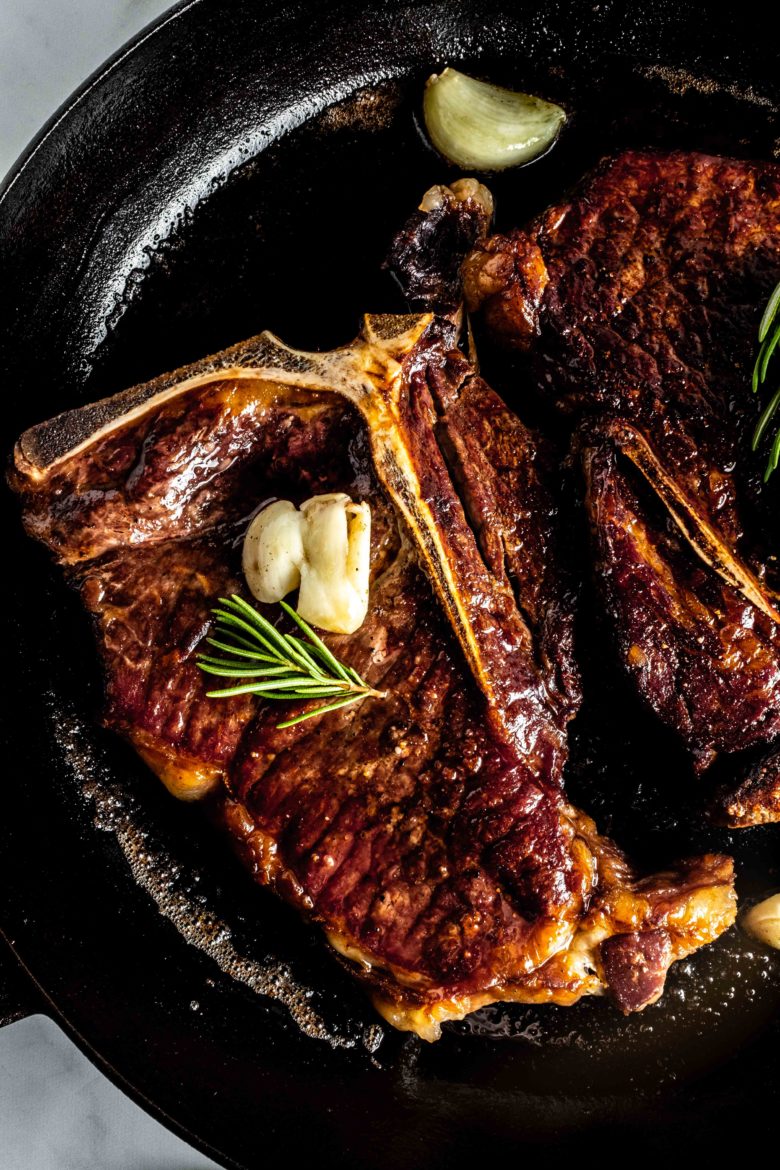 Butter Basting Reverse Sear Steak
When cooking steaks indoors, I like to add a little extra flavor with butter basting. Usually butter basting is used when steaks are pan fried — you fry them in a generous quantity of butter and spoon the hot butter over the steaks as they are cooking. The milk solids in the butter caramelize at high temperatures, which helps with browning and flavor!
When using the reverse sear method you want to heat the skillet far past the smoking point of butter. For that reason, I like to melt the butter in a separate saucepan together with crushed garlic and fresh rosemary. Then, I spoon hot butter from the saucepan over the top of the steaks as they are searing. This allows me to impart more flavor on the steak crust with little to no extra smoke. I also reserve a few spoons of hot butter to pour on top of the reverse sear T-bone steaks as I serve them. This extra step is worth it for me, but it's entirely optional!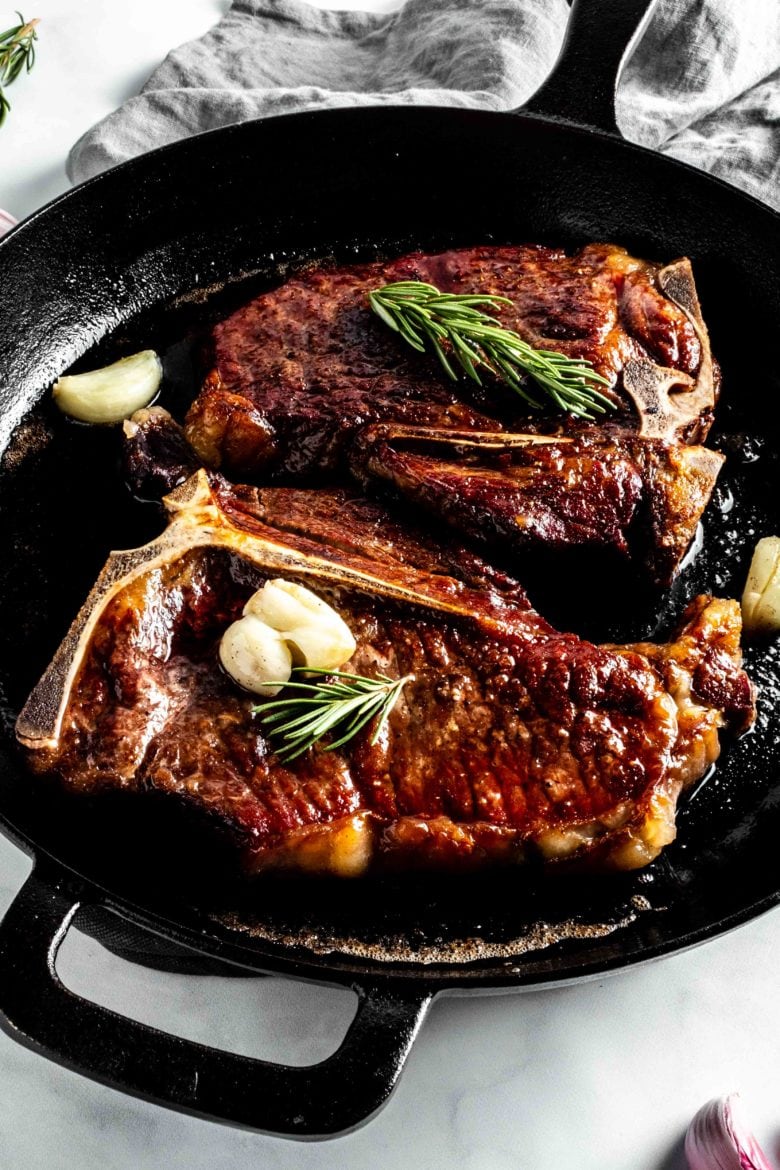 Reverse Sear T-bone Steak: FAQs
How long does it take to reverse sear a T-bone steak?
Cooking times for reverse searing a T-bone steak vary based on thickness and desired doneness. Generally, it takes around 40 minutes in the oven, plus a few minutes for searing.
Can I reverse sear a steak on the grill?
Yes! After cooking the steak in the oven, instead of transferring it to a skillet, sear it on the grill over high heat.
Can I use other cuts of meat for reverse searing?
Absolutely! Any thick-cut steak will work well, including ribeye, porterhouse and strip steak. For best results, the steak should be 1.5-2 inches (4-5 cm) thick.
Loving these reverse sear T-bone steaks? Here are some more of our date night favorites:
Print
Reverse Sear T-Bone Steak
---
Author:

Prep Time:

5 minutes

Cook Time:

50 minutes

Total Time:

55 minutes

Yield:

2
Description
For juicy steak with a perfect crust, try reverse searing when cooking indoors. Boost the flavor by basting your steaks in rosemary garlic butter!
---
Reverse Sear T-Bone Steaks
t-bone steaks

2 large

(or other thick-cut steaks)

salt

to taste

pepper

to taste

vegetable oil

1 tbsp
Butter Basting (Optional)
butter

6 tbsp (85 g)

crushed garlic

4 cloves

rosemary

2 sprigs
---
Instructions
Reverse Sear T-Bone Steaks
Preheat the oven to 200°F (95°C).
Generously season the steaks with salt and pepper.
Place a wire rack on a rimmed baking sheet and place the steaks on top.
Cook the steaks until they reach an internal temperature of approximately 15°F (8°C) below your desired doneness temperature. For example, medium-rare steaks are ready at 135°F (57°C) so you would want to remove them at 120°F (49°C). Cooking time will range from approximately 40 to 60 minutes.
Five minutes before removing the steaks from the oven, preheat a cast iron or thick bottom skillet over low heat. If you want to butter baste your steaks, read the instructions below.
Remove the steaks from the oven. Add a tablespoon of oil to the skillet and increase heat to high.
When the skillet is hot and the oil is almost smoking, begin searing the steaks. Sear the steaks for two minutes in total, turning every 30 seconds to cook evenly. Briefly sear the sides of the steaks as well. Reduce heat if the skillet begins to smoke.
Remove the steaks from the skillet and check the temperature. If the steaks are at the desired temperature, serve immediately. If below, letting the steaks sit for 3-5 minutes is generally enough to reach the desired temperature.
Butter Basting
At the same time as you begin to preheat the skillet, melt butter in a saucepan over medium-low heat. Add the rosemary and crushed garlic.
After turning the steaks for the first time, begin adding the butter on top of the steaks one spoonful at a time. After all but approximately two tablespoons (reserve for serving) has been added, tilt the skillet to gather the butter in the corner and continue spooning over the steaks.
Pour the reserved butter over the steaks just before serving.
Notes
Preparing the steak: For this recipe you don't need to pat the steak dry or bring it up to room temperature before cooking. It can go straight from the fridge to the oven (after briefly seasoning).
Category:

dinner

Method:

reverse sear

Cuisine:

global
Keywords: reverse sear steak, reverse sear t-bone
This post may contain affiliate links through which we may earn a small commission at no additional cost to you. We only recommend products that we genuinely love and would use ourselves.