This homemade vodka infusion is the perfect way to extend your rhubarb harvest into the colder months! Crisp and refreshing rhubarb infused vodka can be sipped straight on the rocks or enjoyed as a delicious addition to your favorite vodka cocktails!
The supply of fresh rhubarb at our local farmers market is dwindling so we made sure to grab a few final stalks during our last visit specifically for this homemade vodka infusion. The crisp flavor and beautifully bright color make any cocktail with this rhubarb infused vodka taste extra special. Plus, it's a great way to extend your summer rhubarb harvest into fall and even winter!
To make the rhubarb vodka, you'll just need three ingredients and a bit of time — the infusion needs to steep for about two weeks (and up to a month) to get the best flavor!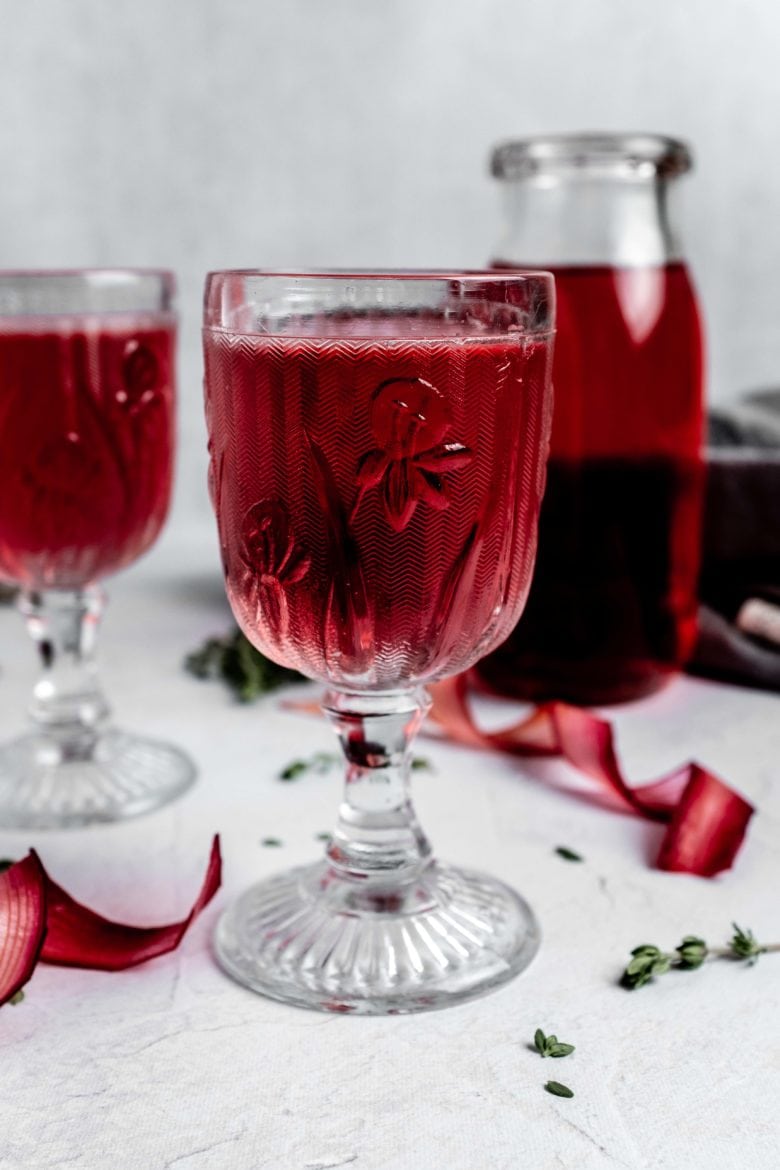 rhubarb vodka
Start by scrubbing your rhubarb clean and roughly chopping it into pieces of about 1 inch (2.5 cm). Then just place the rhubarb in a quart jar and pour the vodka over the top. Add ¼ cup (50 g) of sugar, shake and store in a cool, dark place!
A few frequently asked questions:
How long should I steep the infusion? You have quite a bit of freedom as it depends heavily on preference. After two weeks, begin sampling a bit of the vodka every few days and strain the mixture when it has developed a flavor that suits your taste. When you're satisfied with the flavor, you can strain the vodka into a clean jar and discard the rhubarb.
Do I need to add the sugar? Nope, it's completely optional! If you'll be using your rhubarb vodka for cocktails that call for other sweeteners I would definitely recommend leaving it out. On the other hand, if you plan to sip on your vodka straight you may want to add a bit more. The amount I've included is perfect for serving the vodka with a bit of club soda!
Can I use the vodka-soaked rhubarb for anything? I suggest cooking it down into a compote with any of your favorite berries. Strawberry rhubarb compote makes an excellent topping for toast, waffles and crepes!
rhubarb cocktail ideas
And now the fun part — what can you make with this rhubarb vodka? My favorite way to serve this homemade infusion is with ice, club soda and a squeeze of fresh orange juice, but really the options are limitless! Here are some of our favorite ideas:
Give your next moscow mule a summery twist by using rhubarb vodka in place of plain
Get the delicious rhubarb + strawberry combo by adding rhubarb vodka to make a strawberry smash
Try adding a splash to a sangria with red wine and your favorite fruits
And if you still have any fresh rhubarb on hand I definitely recommend adding a few candied rhubarb ribbons to each glass to really up your cocktail game!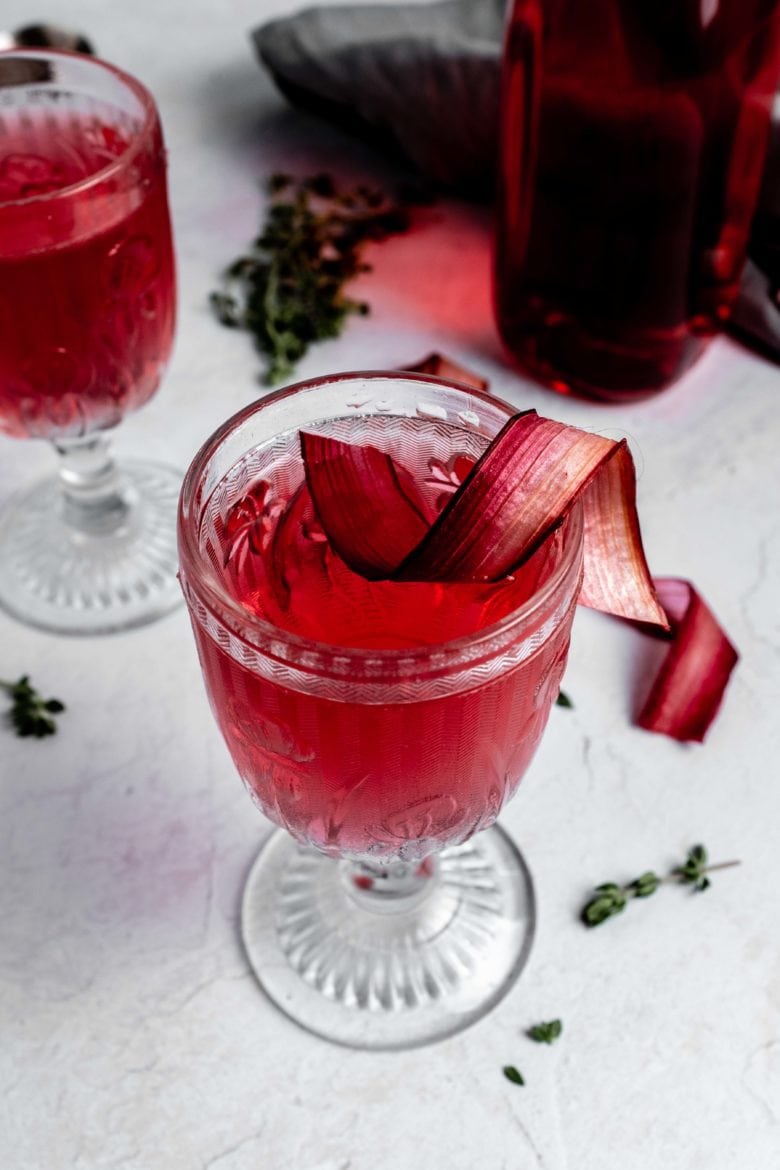 For more of our favorite vodka infusions and cocktails, make sure to check out these recipes!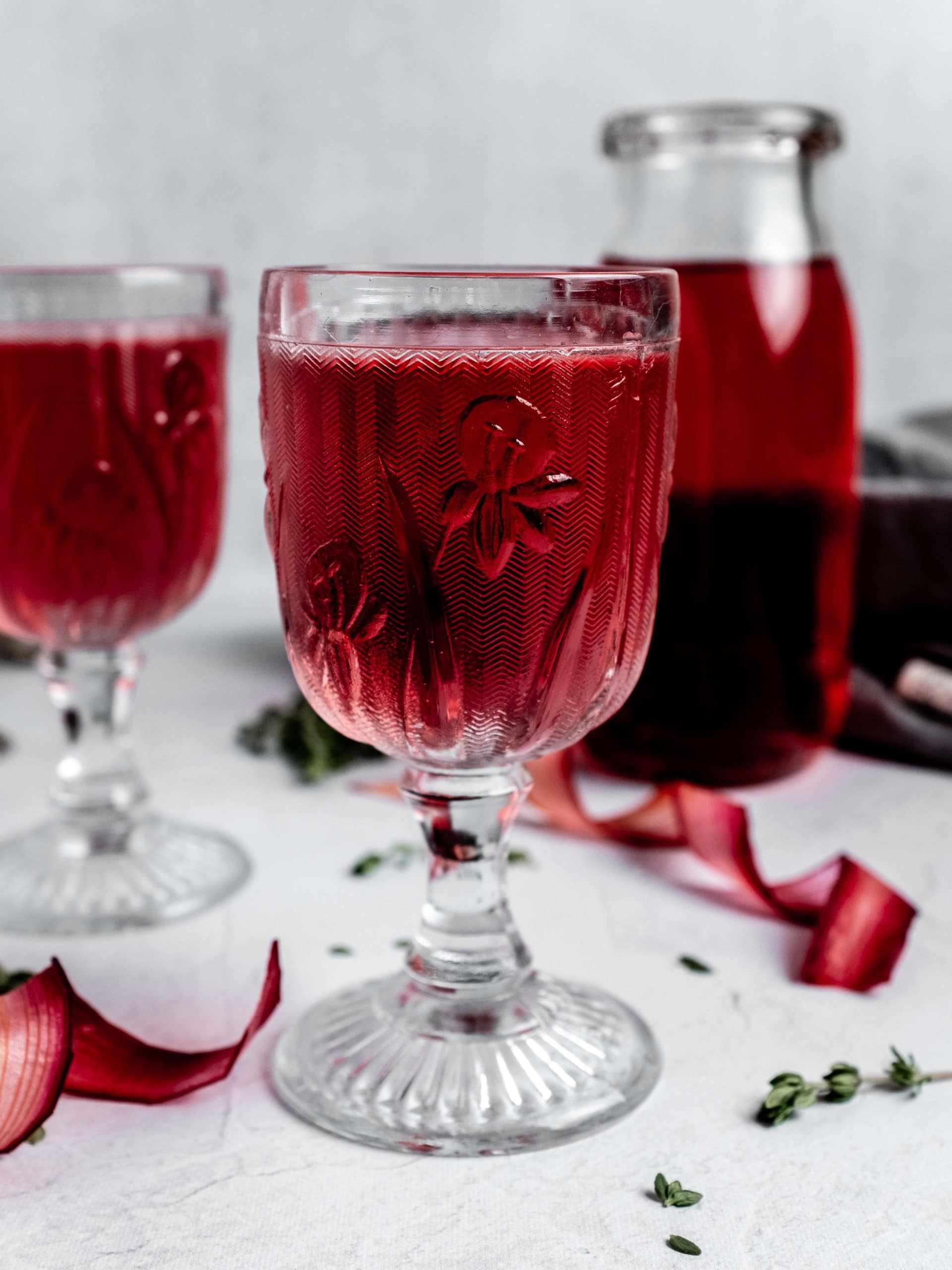 ingredients
chopped rhubarb

2 c (200 g)

(cut into 1 inch / 2.5 cm pieces)

vodka

2.5 c (600 ml)

sugar

¼ c (50 g)
instructions
Add the rhubarb, vodka and sugar to a 1-quart jar and shake well. Seal and store in a cool, dark place for two weeks (and up to a month).
Strain the vodka into a clean jar and discard the rhubarb.
Seal, refrigerate and serve cold.

Did You Make This Recipe?
This post may contain affiliate links through which we may earn a small commission at no additional cost to you. We only recommend products that we genuinely love and would use ourselves.