This easy and delicious seared sablefish with arugula and fennel is ready and on the table in just 30 minutes! Served with a simple brown butter dijon dressing, this seafood dinner is light and full of fresh flavors!
This simple seafood dinner consists of three components — the salad, the seared fish and the dressing — and each component calls for just three ingredients! It's a super quick and easy meal perfect for a healthier weeknight dinner!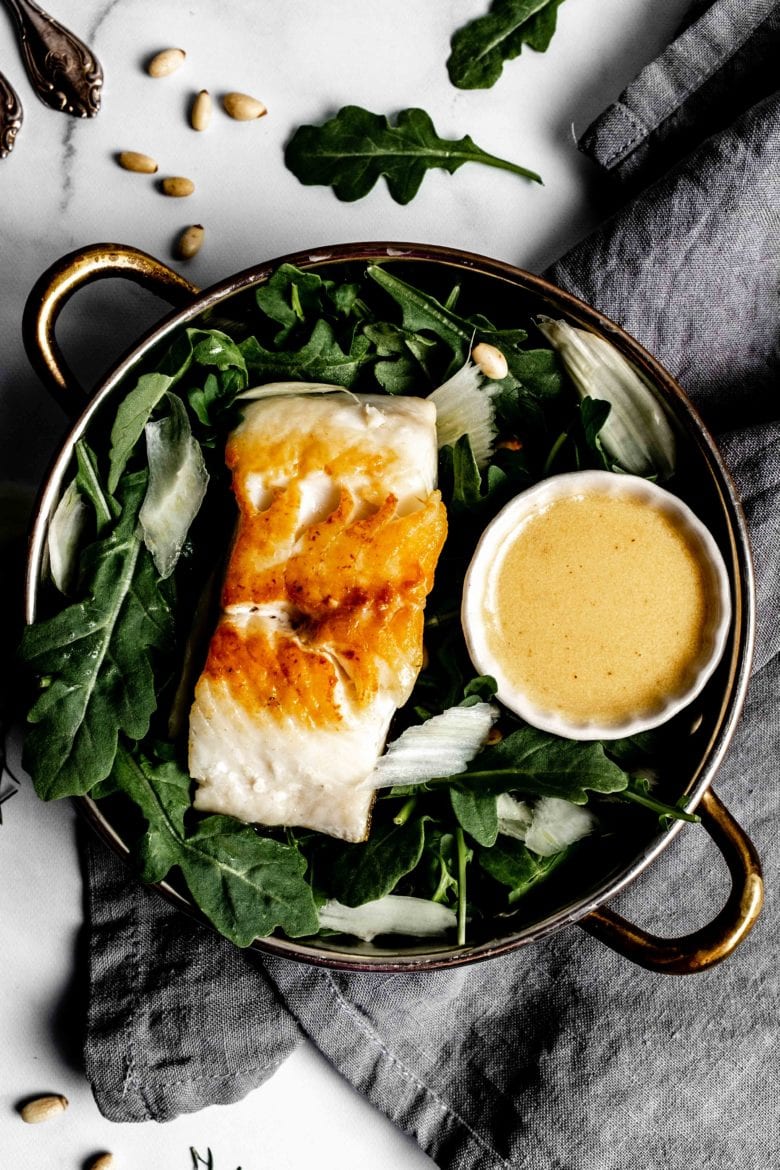 seared sablefish
Sablefish, which is also sometimes referred to as black cod, is a mild fish with a beautifully smooth and velvety texture. It has a wonderful rich and buttery flavor and that richness actually makes it one of the more forgiving types of fish to cook — perfect for anyone just venturing into fresh fish! One of the easiest (and our favorite) methods for cooking sablefish is simply pan-frying it to perfection. A generous sprinkling of salt, some pepper if you'd like and an oil with a high smoke point are the only ingredients you'll need to turn this fish into a showstopper!
To pan-fry the fish, heat the oil in a pan over medium-high heat and pat the sablefish as dry as you can. Add your seasonings and then place it in the pan with the skin-side facing down. You'll cook the sablefish until the skin is nice and crispy, and then you'll flip and cook until the fish reaches an internal temperature of just 135 F (57 C). All together it should take about 7-8 minutes!
And if you aren't able to find sablefish where you're living, really any thicker fillet of white fish will work for this recipe. Our favorite substitute is chilean sea bass, but cod or halibut would also work well!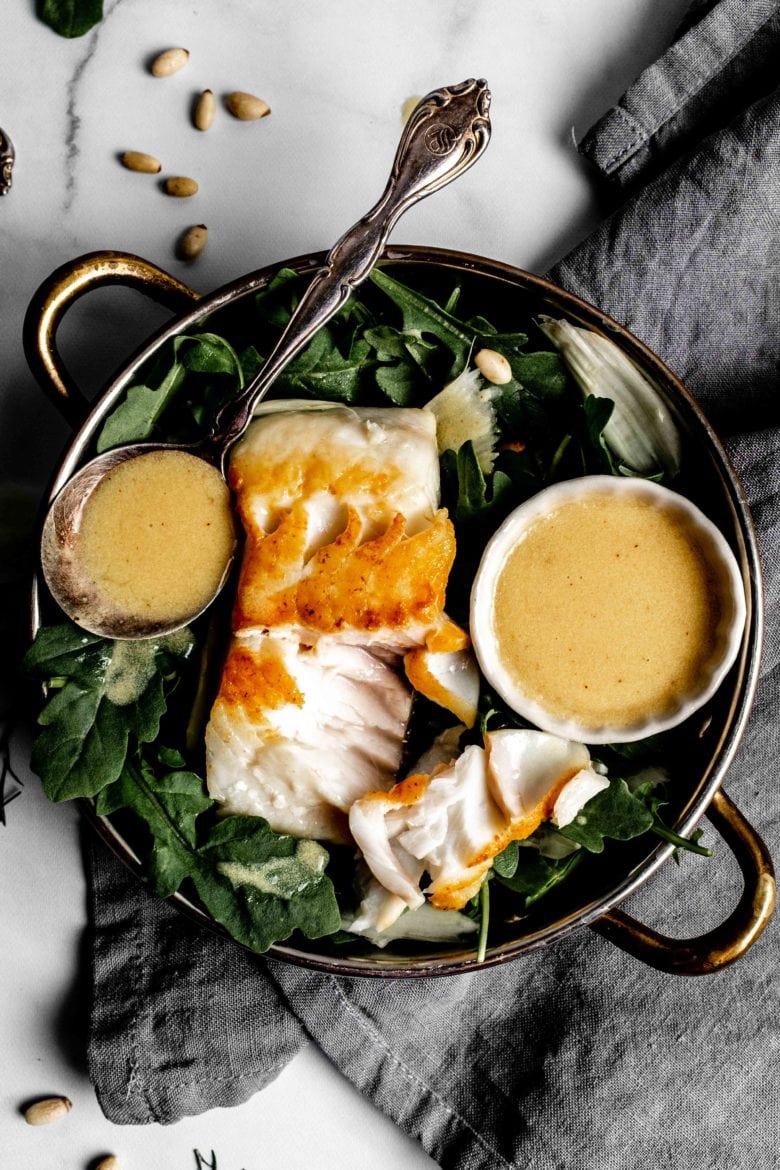 arugula and fennel salad
I love to serve seared sablefish over a light salad made with just arugula, shaved fennel and toasted pine nuts! For the greens, you can really use any of your favorites — romaine, spinach and even kale make a great salad base.
The fennel just adds a bit of freshness to complement the rich fish, but it's definitely optional. If you're not a fennel fan, but would still like that pop of fresh flavor in your salad, you could add your favorite fresh veggies or herbs — parsley especially works well here!
And to toast the pine nuts, my preferred method is to cook them in a dry skillet over medium-low heat. Make sure the pine nuts are in a single layer and stir often. You'll know they're ready when they're fragrant and golden brown. It should take about 3-5 minutes.
brown butter lemon dijon sauce
And the easy three-ingredient dressing! It's made with just brown butter, lemon juice and dijon mustard, but it adds so much flavor! It perfectly complements the seared sablefish and really brings the whole dish together!
Start by melting the butter in a small pan over medium heat. Cook it, swirling the pan occasionally, until it begins to turn brown and foamy and has a nutty aroma. Pour your brown butter into a jar and then add the lemon juice and dijon. Shake until fully combined and serve warm!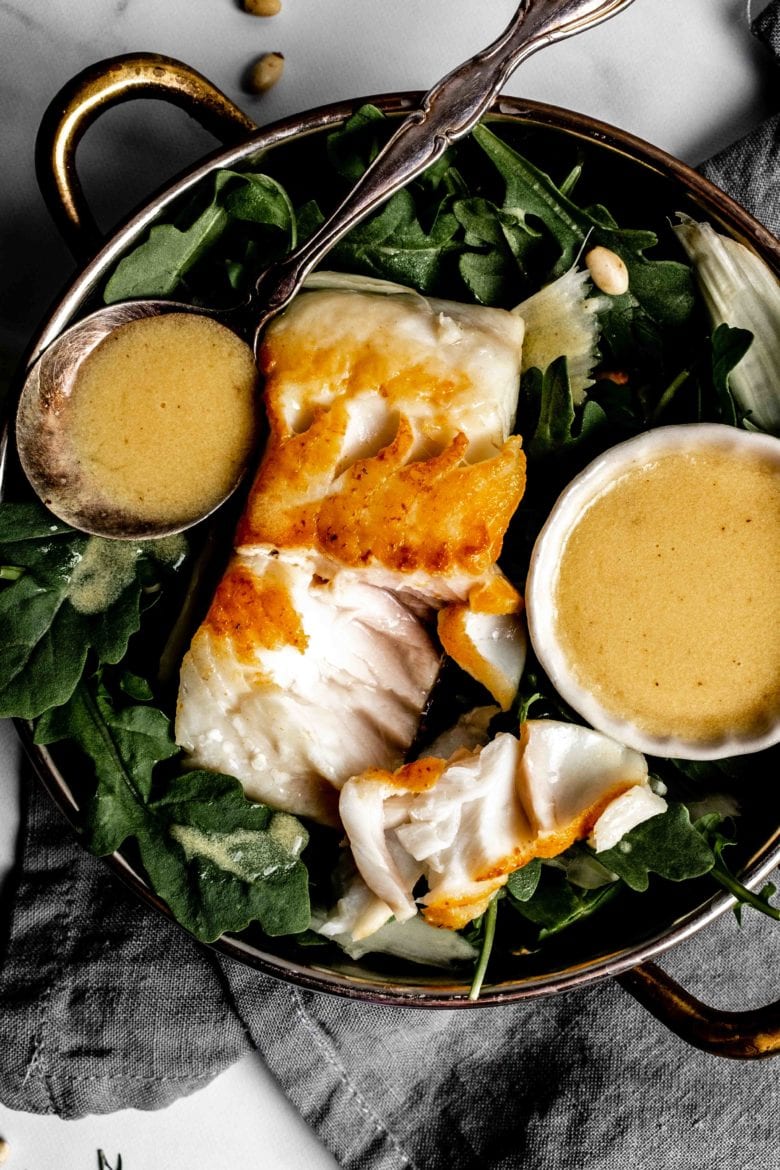 For more of our favorite seafood dishes, make sure to check out these recipes!
ingredients
seared sablefish
sablefish

2 fillets

(approximately 5 oz or 140 g each)

canola oil

1 tbsp

salt and pepper

to taste
brown butter dijon dressing
butter

3 tbsp (40 g)

lemon juice

2 tbsp

dijon

1 tbsp
fennel arugula salad
arugula

3 c (60 g)

fennel

½ small bulb

toasted pine nuts

3 tbsp (20 g)
instructions
seared sablefish
Add the oil to a skillet over medium-high heat.
Pat the sablefish dry and season generously with salt and pepper. Add fish to the pan skin-side down.
Cook for 5 minutes or until the skin is crispy. Flip and cook an addition 2-3 minutes or until the internal temperature just reaches 135 F (57 C).
brown butter dijon dressing
Melt the butter in a pan over medium heat. Cook until the butter begins to turn brown and foamy (about 3-5 minutes).
Add the brown butter, lemon juice and dijon to a jar and shake until combined. Serve warm.
fennel arugula salad + assembly
Thinly shave the fennel and toss with the arugula.
Serve the seared sablefish fillets over the salad. Top with toasted pine nuts and brown butter dijon dressing.

Did You Make This Recipe?
This post may contain affiliate links through which we may earn a small commission at no additional cost to you. We only recommend products that we genuinely love and would use ourselves.