Bursting with tomatoes, cucumber and cilantro, this citrusy shrimp ceviche is a vibrant and refreshing appetizer perfect for summer!
originally published 8.3.2019
We moved to Boston! We'll only be on the east coast for about a year while I'm studying at a university here, but we'll definitely be making use of our proximity to the ocean. Living in Nebraska definitely had its perks — fresh sweet corn and the best beef in the country to name a few — but being landlocked generally means no fresh seafood. So (after eating takeout for a few more days than was probably necessary) what was the first meal we made in our new home? Shrimp ceviche!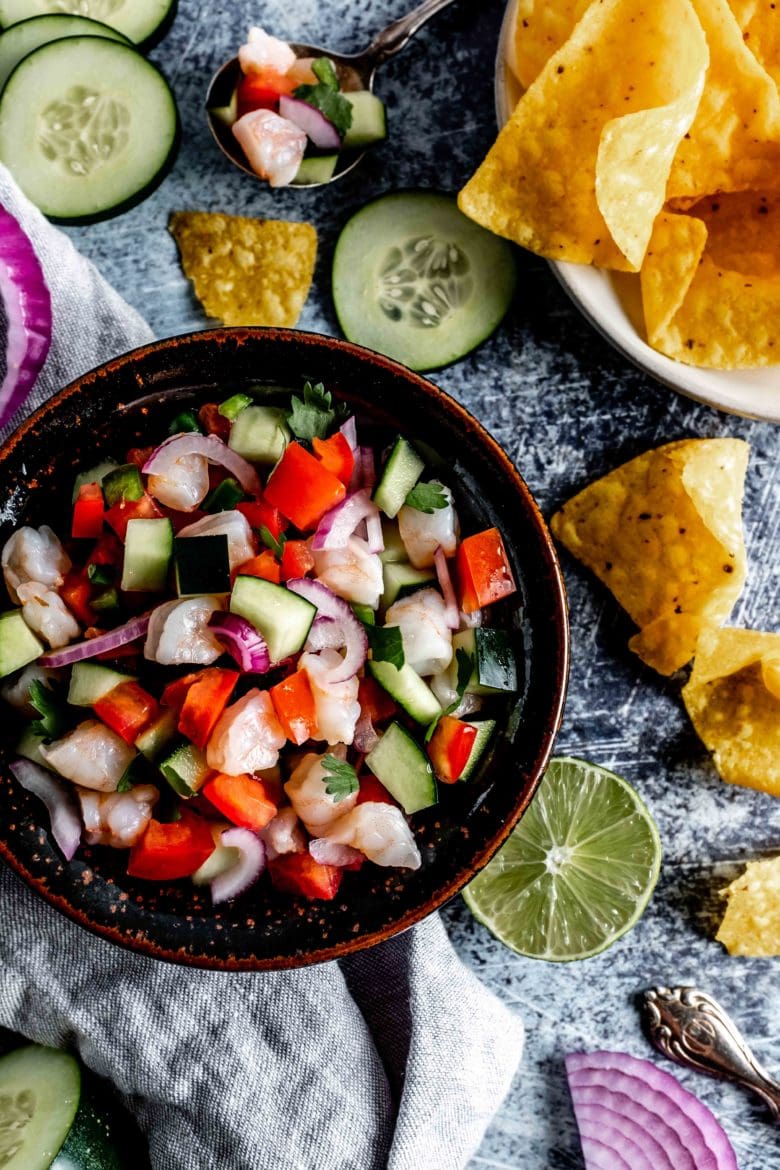 making shrimp ceviche
Making this shrimp ceviche is incredibly simple. First slice up the red onion and then soak it in lime juice and orange juice. Let the mixture sit while you chop the cucumber, tomatoes, cooked shrimp and jalapeno into bite sized pieces. Now mix it all up with a bit of fresh cilantro and then pour the red onion and juice mixture over the top. It's ready to enjoy!
One note: Traditional ceviche recipes generally have you "cook" the shrimp by soaking them in lime juice for half an hour (more on that in the recipe notes). That method doesn't always kill all of the bacteria, so only try it if you have super fresh shrimp! I'm a bit paranoid when it comes to raw food, so I tend to play it on the safe side and poach the shrimp in boiling water.
what to serve with ceviche
This shrimp ceviche is so colorful and perfect to serve for a crowd! It's also a wonderful dish to make if you don't want to turn on your oven, because you're in a heat wave and your new home doesn't have air conditioning and you only bought one semi-functional fan. This citrusy shrimp ceviche is so refreshing that you'll almost forget that it's over 100 degrees outside (and probably inside)!
But really, shrimp ceviche is pretty versatile when it comes to how you can enjoy it. Sometimes we'll turn it into a small meal with tostadas and smashed avocados, but most often we serve it as an appetizer with just a side of tortilla chips. It'd also be great with plantain chips!
For more delicious appetizers, check out these recipes!
ingredients
small shrimp*

200 g (½ lb)

(cooked, peeled and deveined)

limes

3 medium

orange

1 small

red onion

½ small

roma tomatoes

2 medium

cucumber

½ medium

jalapeno

1 medium

cilantro

½ bunch

salt

to taste
instructions
Juice the limes and orange into a bowl and add a pinch of salt. 
Slice the red onions and place in the juice. Set aside for at least 15 minutes.
Deseed the tomatoes, cucumber and jalapeno and chop into small bite-sized pieces. You can cut the shrimp into pieces as well or leave it whole.
Add the cilantro and mix well.
Pour the red onion and lime juice mixture over the shrimp.
Season with salt to taste.
notes
cooking your shrimpTo prepare your shrimp the traditional way, let raw shrimp soak in fresh lime juice for about half an hour. The shrimp is "cooked" by the acidity. If you use this method, make sure your shrimp is very fresh, as the lime juice may not kill all of the bacteria. Instead of using this method, I tend to play it safe by quickly poaching my shrimp before making ceviche. Or for an even easier version, use pre-cooked shrimp!

Did You Make This Recipe?
This post may contain affiliate links through which we may earn a small commission at no additional cost to you. We only recommend products that we genuinely love and would use ourselves.