Our delicate strawberry champagne macarons are light, crispy and bursting with fresh flavor! Surprise your special someone with these pretty in pink treats for Valentine's day or whip them up and make today a special occasion!
Although we don't really celebrate Valentine's day with flowers, cards and gifts, we're all about any day that calls for themed food! And with February just around the corner, we figured it was time to start thinking about flavors and bakes fit for the festival of love. For us, the first thing that came to mind was the ultimate celebratory flavor combination: strawberries and champagne! So we filled a batch of dainty pink macarons with an irresistible strawberry champagne buttercream and the resulting macarons were definitely cause for celebration!
pink macarons
For more tips and tricks on how to get the perfect macarons, you can read my post on peppermint mocha macarons. But the main points are to always use a kitchen scale to weigh your ingredients and to prepare everything you'll need before you get started (baking sheets, macaron template if using and a piping bag fitted with a round tip). And, of course, be patient and make sure you've got the right consistency when whipping the egg whites and when incorporating the dry mixture into the meringue.
To get the beautiful dusty pink color for these macarons, I used red food coloring along with just a touch of blue. When coloring your macarons, just make sure to use a gel-based food coloring as water-based food colorings can ruin the texture of your batter. I like to start adding my food coloring when I'm about halfway through combining the dry ingredients with the meringue. It's best to start with just a bit, and continuously add more as needed.
strawberry champagne buttercream
Making the strawberry buttercream isn't too difficult, but it does require making a quick reduction to concentrate the strawberry and champagne flavors. Without making a reduction, the amount of champagne and strawberry puree needed to get a good flavor would create a frosting too thin to be usable. But by reducing pureed strawberries and champagne on the stove for about 20 minutes, you can create a thicker, more intensely flavored sauce that will blend nicely into the frosting. Just make sure to let the sauce cool completely before incorporating it into the buttercream!
To complete the frosting, beat the softened butter until light and fluffy. Then just add your strawberry and champagne reduction, powdered sugar and a bit of mascarpone. If you don't have mascarpone on hand, you can definitely skip it. But we find that it really lightens up the buttercream and gives it a super fresh flavor.
And if you need to adjust the consistency of your buttercream, you can add a bit more powdered sugar to thicken it or even a few tablespoons of champagne (straight from the bottle) to thin it out a bit.
If you're looking for more macaron inspiration, make sure to check out our chocolatey peppermint mocha macarons and boozy chocolate kahlua macarons.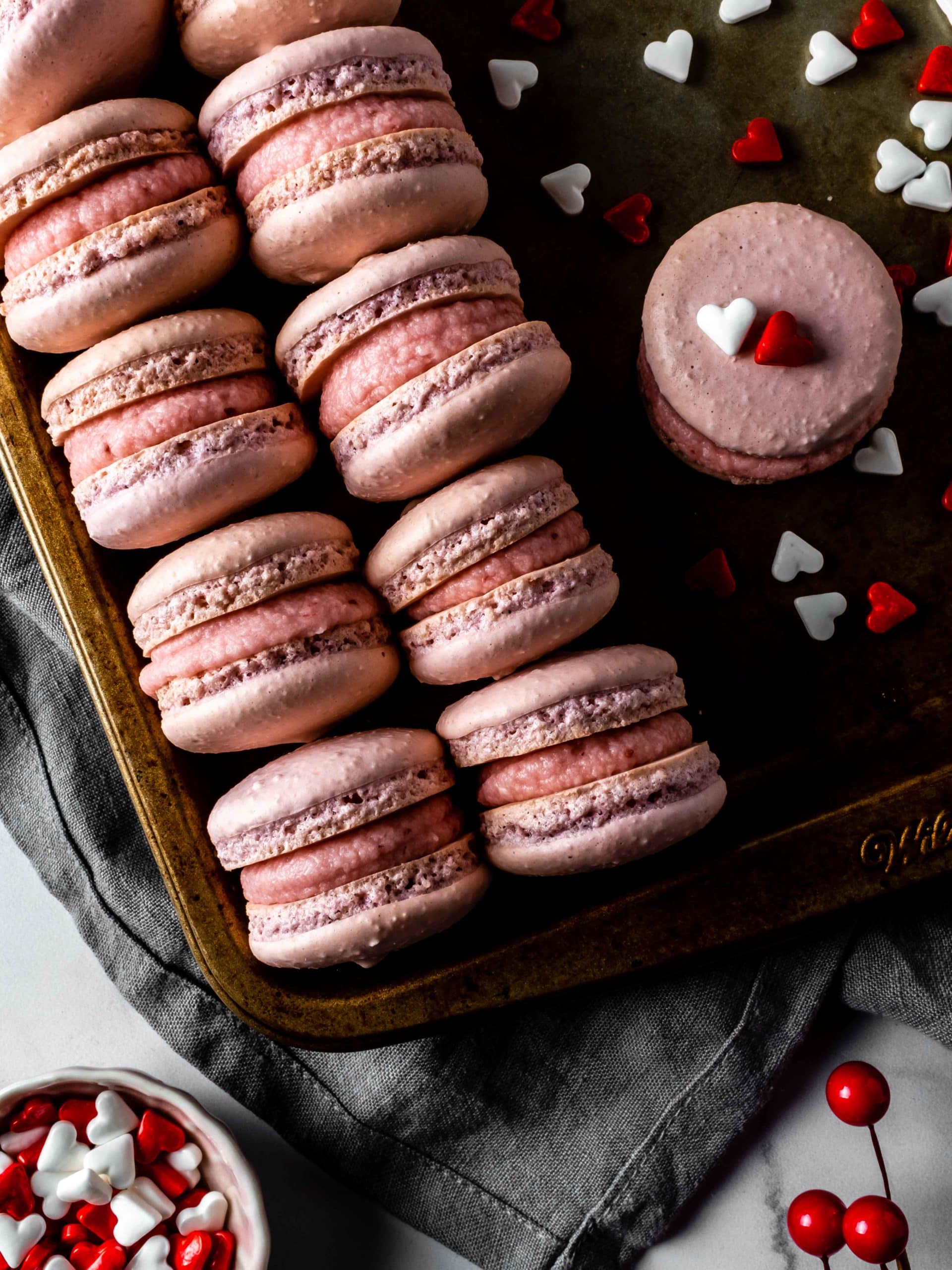 ingredients
pink macaron shells
strawberry champagne buttercream
chopped strawberries

¾ c (130 g)

champagne

½ c (120 ml)

butter

½ c (115 g)

powdered sugar

2.5 c (300 g)

mascarpone

¼ c (50 g)
instructions
pink macaron shells
Prepare everything you'll need to make the macarons. Line several baking sheets with parchment paper and fit a piping bag with a medium-sized round tip.
Mix together the almond flour and powdered sugar. Sift the mixture twice, discarding any larger pieces, and set aside.
Beat the egg whites with a pinch of salt until frothy and white.
Begin adding the granulated sugar gradually and keep beating until stiff peaks form. This can take anywhere from 5-10 minutes.
Beat in the vanilla extract.
Gently fold the dry ingredients into the meringue. Start with ⅓ of the almond mixture and then gradually add the rest until all of the mixture is fully incorporated. If using, add the food coloring after ⅓ of the almond mixture is incorporated. Start with a small amount and add more as needed. You'll know the batter is the right consistency when it can stream from the spatula into a figure-eight without breaking.
Use a piping bag fitted with a medium-sized round tip to pipe the macarons onto the prepared baking sheet. The macarons should be approximately 1.5 inch (4 cm) in diameter and you'll need to leave about 1 inch (2.5 cm) between each macaron.
Tap the baking sheet against the counter several times to eliminate any air bubbles.
Let the macarons rest at room temperature for 40 minutes until dry to the touch. This step is very important so don't skip it!
Preheat the oven to 300 F (150 C) and bake the macarons for 15-17 minutes.
Let the macarons rest for 15 minutes on the pan and then transfer to a wire rack to cool completely.
Pipe the strawberry champagne buttercream onto half of the macaron shells and top with another macaron shell.
strawberry champagne buttercream
Add the chopped strawberries to a blender and puree until smooth.
In a small saucepan, bring the champagne and pureed strawberries to a boil over medium-heat. Reduce heat to a simmer and cook until the sauce has reduced to about ⅓ cup (80 ml), about 20-25 minutes. Allow to cool to room temperature.
In a large bowl, beat the butter until smooth.
Add the powdered sugar, mascarpone and strawberry champagne sauce. Continue beating until light and fluffy.

Did You Make This Recipe?
This post may contain affiliate links through which we may earn a small commission at no additional cost to you. We only recommend products that we genuinely love and would use ourselves.