Soft and buttery, yet rich and dense — this simple strawberry pound cake will melt in your mouth! 
This pound cake is incredibly smooth, perfectly tender and bursting with fresh strawberries! And while it's great on its own, our favorite way to enjoy it is with a dollop of whipped cream and fresh sliced strawberries!
And for more strawberry recipes, make sure to check our our Strawberry Crumble and Strawberry Mousse Cake.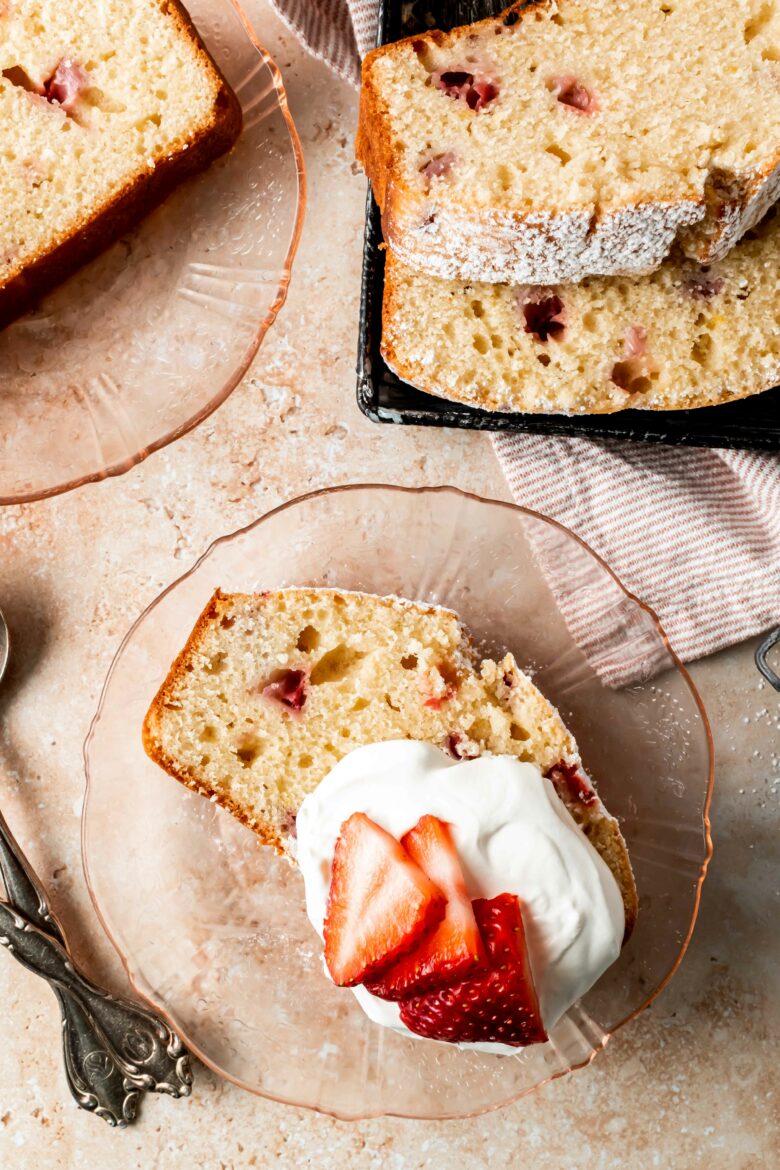 pound cake
Pound cake gets its name from the classic recipe which calls for a pound of flour, a pound of sugar, a pound of butter and a pound of eggs. The original version results in a cake that's somewhat bland and tends to be a little on the dry side. So, like most modern adaptations, our pound cake has a few extra ingredients to get the perfect flavor and texture:
Baking powder provides a slightly lighter texture — still dense, but not too heavy.
Sour cream adds fat and moisture to the batter. It gives the cake a soft, tender crumb and a bit of tanginess.
Strawberries add a bit of fresh flavor to the dense cake.
Salt balances the sweetness and enhances the flavor of the other ingredients.
Vanilla extract is added for flavor, but almond extract also pairs well with strawberries.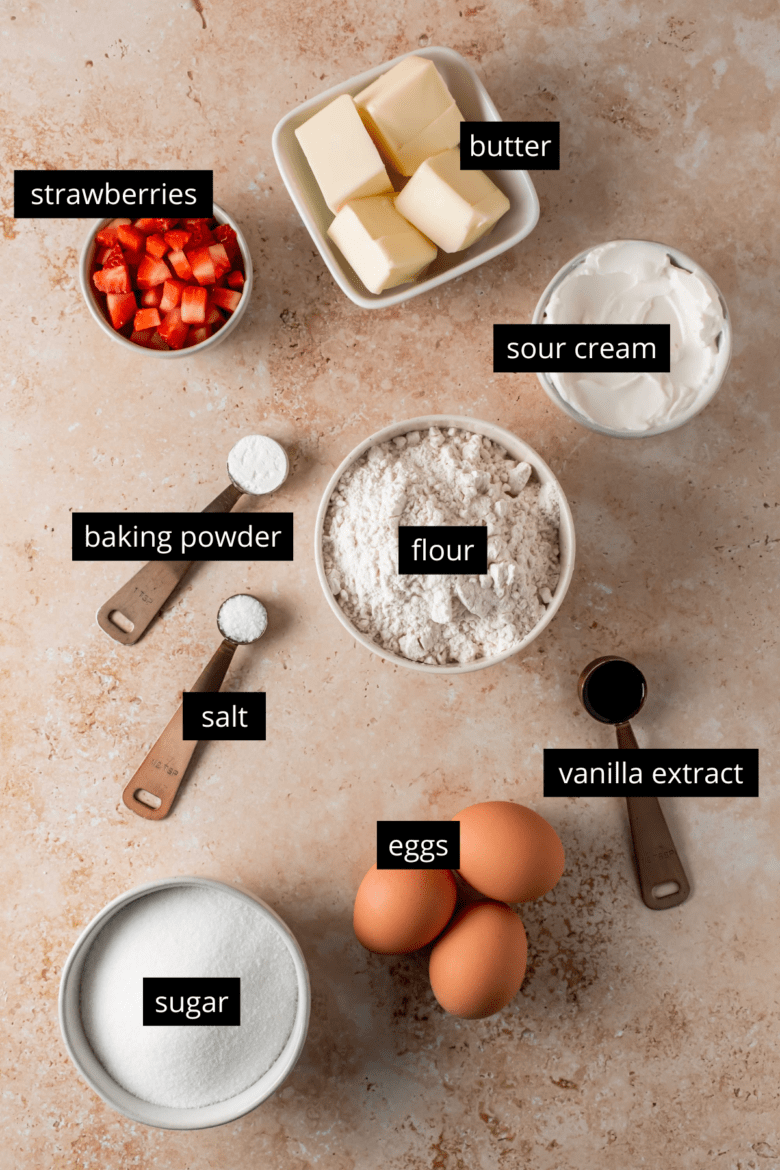 the method
While most of our cake recipes start by creaming butter and sugar, this recipe calls for the egg foaming method. Here's how it works:
Beat the eggs and sugar together until the mixture is light in color and almost triples in volume.
This helps to get a lighter batter, which results in a soft cake with a more open crumb. It helps create a pound cake that is dense, but not overly heavy.
Gently fold in the dry ingredients and sour cream.
Make sure to sift the dry ingredients so they incorporate easily.
Fold in the melted butter.
First mix a spoonful of batter with the butter, then fold it into the remaining batter. This is called tempering the butter and helps to prevent deflation.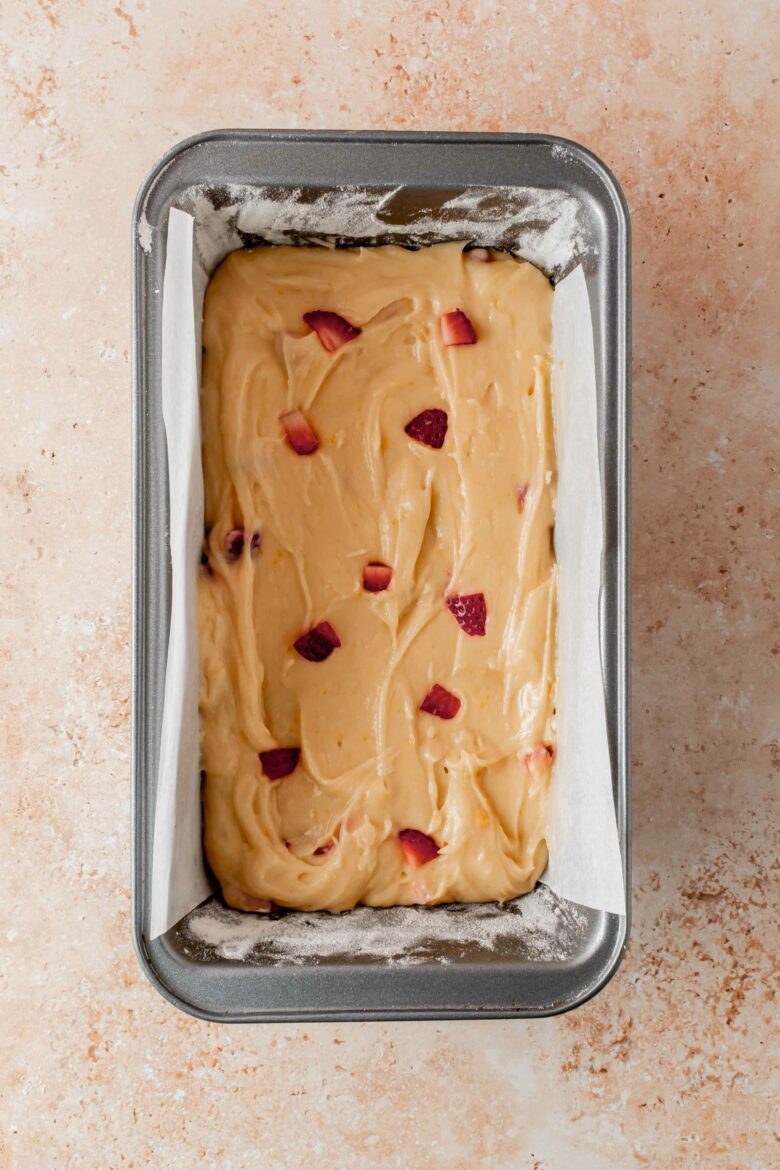 tips and tricks
Because it's very easy to overmeasure flour when using cups, we highly recommend using a kitchen scale. Adding too much flour to your batter will result in a dry texture.
Don't skip sifting the flour. Sifting will help ensure there are no lumps in your batter and make it easier to mix in the flour evenly. This is important so we don't overwork the gluten, which will result in a tougher texture.
Butter and flour your loaf pan so you can easily turn out the cake. Rub a stick of butter around the pan until completely coated — make sure to get the corners! Sprinkle a bit of flour into the pan. Rotate and tap the pan until a thin layer of flour is sticking to all surfaces. Discard any excess flour.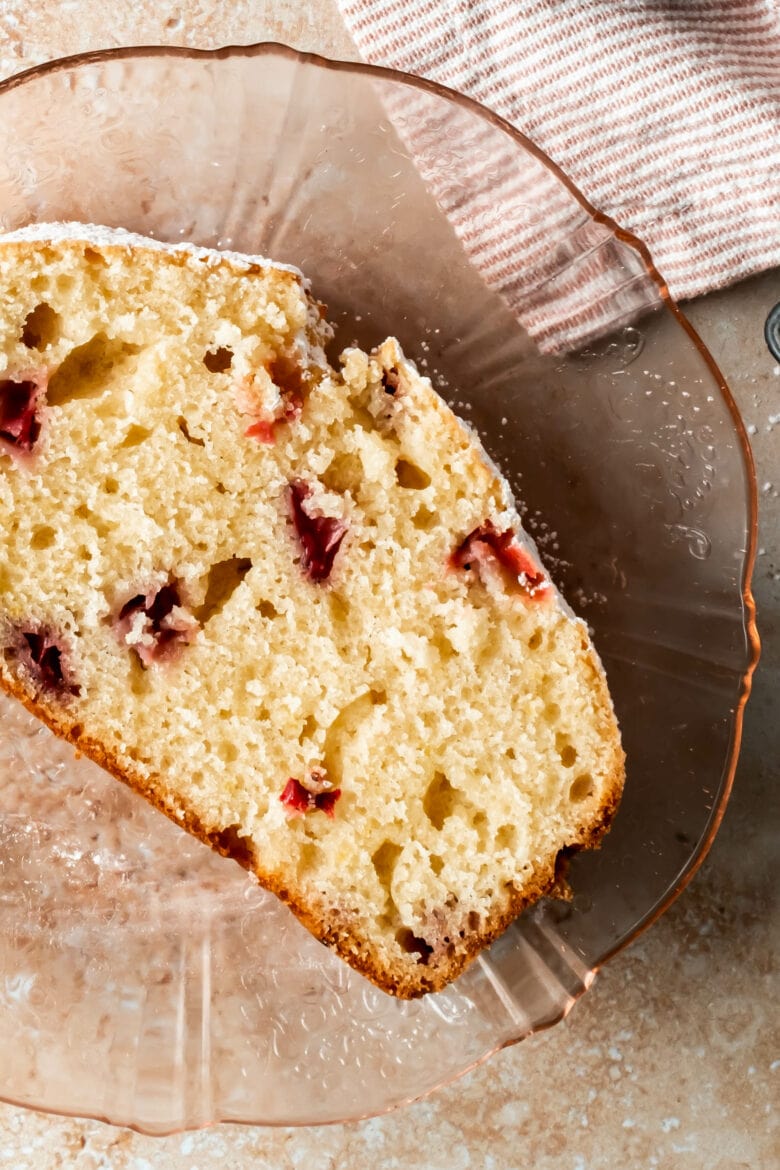 strawberry pound cake: FAQs
Can I use frozen strawberries?
Fresh strawberries are best for this recipe. Frozen strawberries will add too much excess moisture to the batter.
How do you store strawberry pound cake?
Store leftover cake in an airtight container at room temperature for up to 2 days or cover tightly and store in the refrigerator for up to 5 days.
Can I freeze pound cake?
Yes, this cake freezes beautifully! Wrap tightly in plastic wrap and then place in a freezer safe bag or container. Freeze for up to 3 months.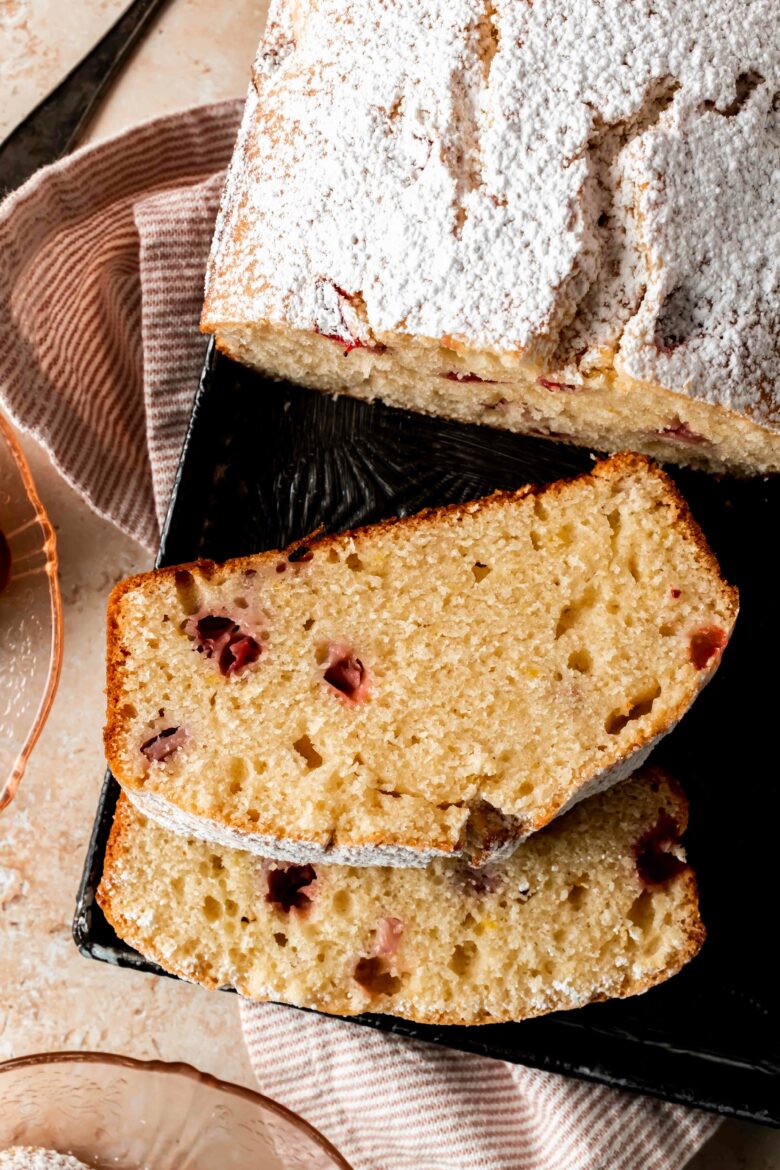 For more fruity dessert inspiration, check out these recipes!
Print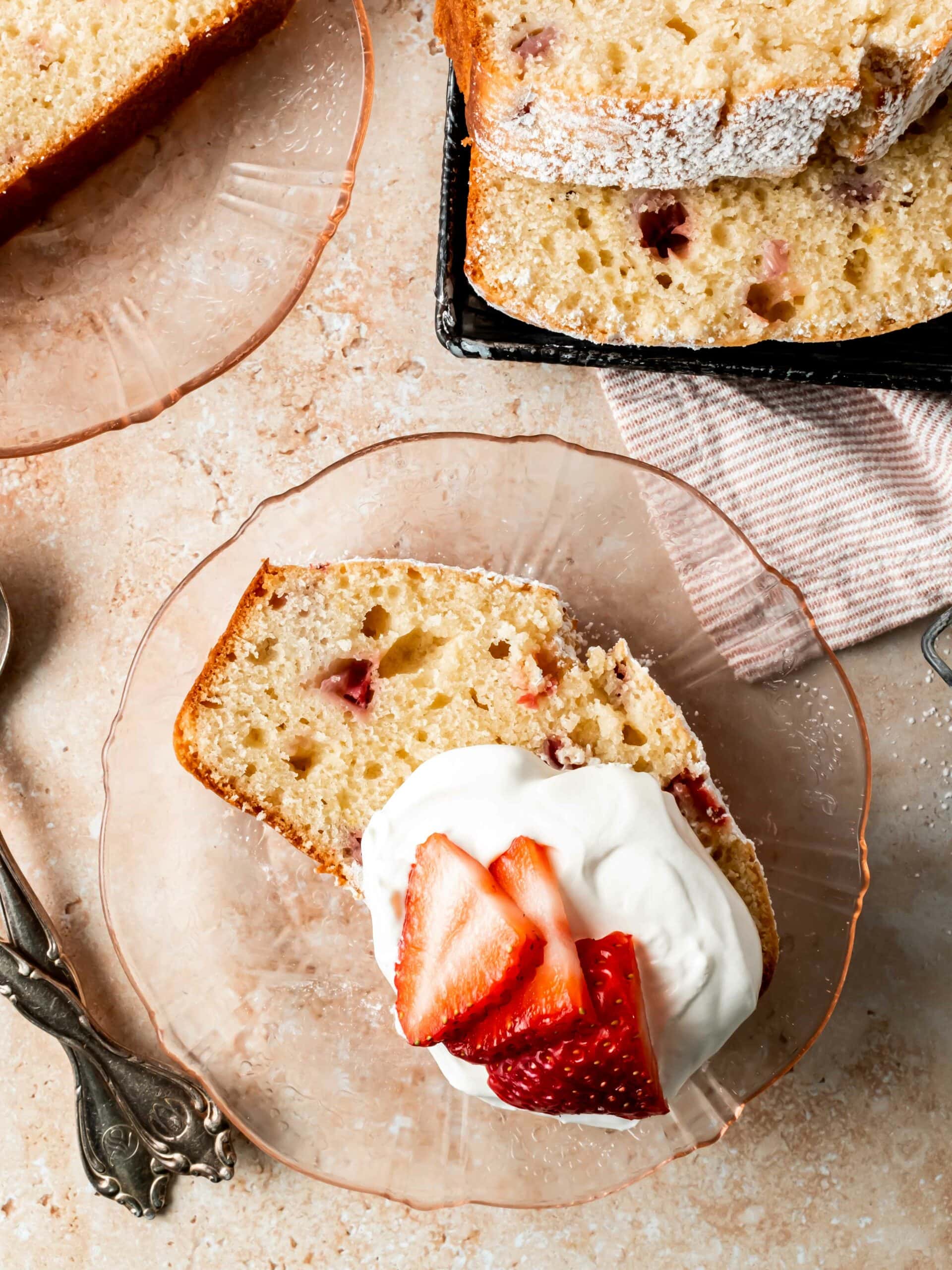 Strawberry Pound Cake
---
Author:

Prep Time:

15 minutes

Cook Time:

50 minutes

Total Time:

1 hour 5 minutes

Yield:

8
Description
This simple strawberry pound cake is soft, buttery and will melt in your mouth! 
---
butter

10 tbsp (140 g)

vanilla extract

1 tsp

all purpose flour

1 ⅔ cup (210 g)

(spooned and leveled*)

baking powder

1 tsp

salt

½ tsp

eggs

3 large

granulated sugar

1 c (200 g)

sour cream, room temperature

½ c (120 g)

fresh strawberries, diced

⅓ c (50 g)

powdered sugar

for dusting
---
Instructions
Preheat oven to 350 F (180 C). Butter and lightly flour a 9×5 inch (23×13 cm)

loaf pan

.

Melt the butter in a small bowl. Whisk in the vanilla extract and set aside until cooled to about room temperature.

Sift and combine the flour, baking powder and salt in a separate bowl. Set aside.

Using an electric mixer, whip the eggs and sugar on high speed until the mixture is light in color and expands to about 3 times its original volume.

Gradually fold in the sifted flour mixture and room temperature sour cream by hand.

Mix a large spoonful of the batter into the melted butter, then incorporate the butter mixture into the remaining batter.

Gently fold in the strawberries.

Pour the batter into the prepared pan and spread evenly. Bake for 50-60 minutes or until an inserted toothpick comes out mostly clean.

Cool the cake in the pan on a wire rack for 20 minutes. Then remove the cake from the pan and allow to finish cooling on the wire rack.

Dust with powdered sugar if desired.
Notes
Measuring Flour: We highly recommend using a kitchen scale to measure flour. If measuring by volume, use the spoon and level method to avoid over-measuring the flour. Lightly spoon flour into the measuring cup until it's completely full. Then run the back of a knife over the cup to gently scrape off any excess.
Storing: Store leftover cake in an airtight container at room temperature for up to 2 days or cover tightly and store in the refrigerator for up to 5 days.
Category:

dessert

Method:

baking

Cuisine:

european
Keywords: strawberry pound cake
This post may contain affiliate links through which we may earn a small commission at no additional cost to you. We only recommend products that we genuinely love and would use ourselves.