This strawberry scone recipe gets a burst of citrusy freshness from wonderfully tart sumac! Golden brown and crispy with a light and tender center, these sumac strawberry scones are perfect for breakfast, brunch or even dessert!
Fresh strawberries, citrusy sumac and ground almonds — this strawberry scone recipe is bursting with flavor! These sweet and fruity scones have been our favorite breakfast fix for a while now. They're quick to make and the perfect morning treat when served warm right out of the oven!
And don't forget to check out our Simple Strawberry Crumble and Strawberry Mousse Cake for more fresh strawberry flavor!
what is sumac?
Before we get into the scones, let's talk a bit about the ruby red spice that gives these little treats a burst of citrusy freshness: sumac! Made from dried and ground berries of the sumac bush, the versatile spice is popular in many Middle Eastern cuisines. And while sumac is often used in savory dishes, I absolutely love adding it to sweet bakes. It has a slightly sour, yet sweet and almost floral flavor that will brighten up your favorite desserts!
Looking for more ways to use sumac? The delicious ingredient is one of the components of za'atar spice mix, makes an excellent garnish for hummus and baba ganoush, and pairs well with roasted vegetables and grilled meats!
And if you'd like to make this strawberry scone recipe but don't have any sumac on hand, lemon zest makes a wonderful substitute.
sumac strawberry scones
Making these sumac strawberry scones is easy — here's the simple method:
Mix together the dry ingredients. All purpose flour, almond flour, sugar, baking powder, salt and sumac.
Add the butter. Cold, grated butter is cut into the dry ingredients using a pastry cutter or a pair of forks. The resulting dough should resemble coarse crumbs with visible flakes of butter.
Pour in the wet ingredients. Next combine the kefir (or buttermilk), almond extract and egg. Pour the liquid mixture into the dry and stir together just until the dough begins to form. Use your hands to clump the dough together, but make sure not to overmix.
Fold in the strawberries. The chopped fresh strawberries should be gently folded into the mixture just until evenly distributed.
Form the dough into two discs and cut into wedges. Separate the dough in half and form each into a disc. Cut each disc into six wedges.
Brush with kefir (or milk) and chill for 15 minutes. To get a nice golden crust you can brush the tops of the scones with milk or kefir. Then place them in the fridge for 15 minutes to help ensure that they don't spread while baking.
Bake! And now just bake for 16-20 minutes or until golden brown around the edges.
making scones faq
How do I get that perfect scone texture?
Scone texture is all about using cold ingredients and not overworking the dough. If your dough ever feels like it's getting warm or like the butter may be melting, just place it back in the fridge for 15 minutes and then continue with the recipe. This will ensure your scones have a light and airy texture! Also don't worry if your dough is a bit lumpy and crumbly — that's a good thing and will ensure your scones aren't too dense.
How should I handle the dough if it's too sticky?
Make sure your working surface and hands are well-floured when turning out the dough and forming it into discs. You can add a few more tablespoons of flour as necessary.
Can I use frozen strawberries instead of fresh for these scones?
I definitely prefer fresh strawberries for this recipe, but frozen strawberries can be used in a pinch. Just make sure not to let the strawberries thaw before using so the juice doesn't change the texture of the scones. If you add them at the last minute they should work just fine in this recipe.
How long do these scones keep? Can I freeze them?
These scones will keep for several days in an airtight container at room temperature or for about a week in the refrigerator. This strawberry scone recipe also freezes well and individual scones can be easily reheated in the microwave.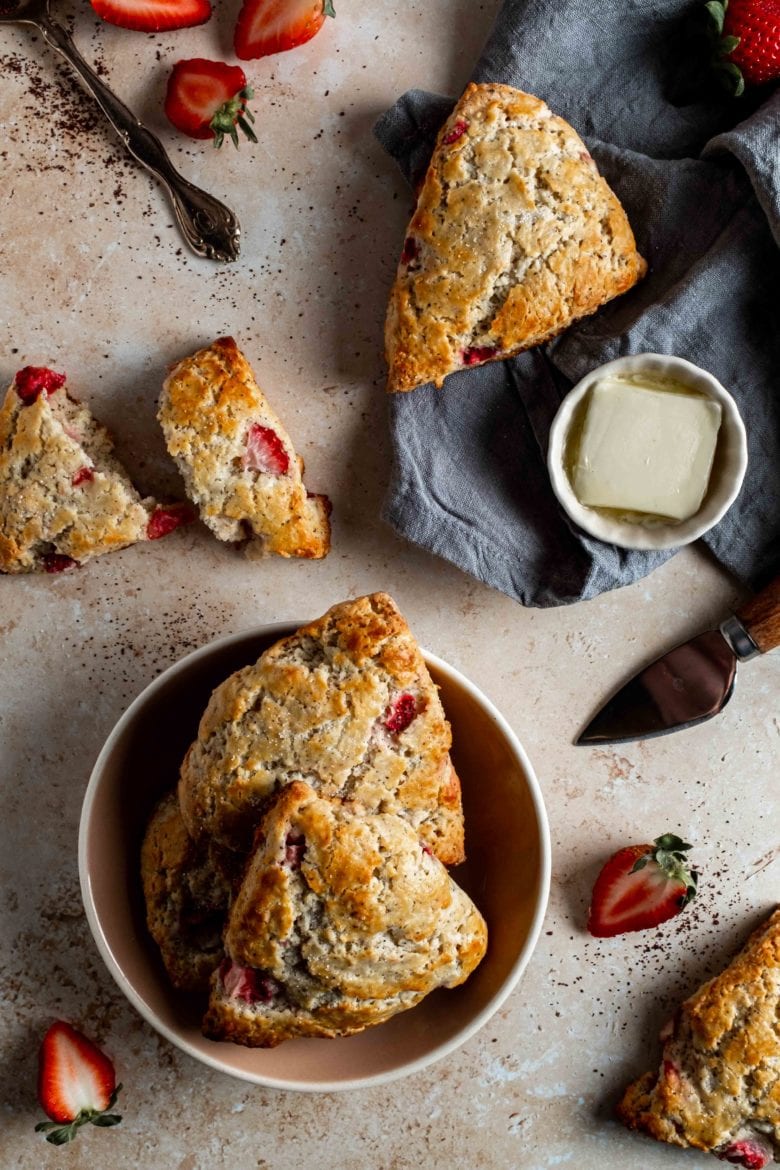 For more sweet dishes perfect for breakfast or brunch, make sure to check out these recipes!
Print
sumac strawberry scones
---
Author:

Brittney

Total Time:

56 minutes

Yield:

12 scones

Prep Time:

40 minutes

Cook Time:

16 minutes
½ cup (115 grams) unsalted butter, frozen

2 cups (250 grams) all purpose flour, spooned and leveled*

½ cup (100 grams) granulated sugar

1 tablespoon baking powder

½ teaspoon kosher salt

½ cup (120 ml) kefir or buttermilk

½ teaspoon almond extract

1 large egg

1 cup (160 grams) strawberries, cut into ½-inch (1.5 cm) pieces
---
Instructions
Preheat oven to 400 F (200 C) and line a baking sheet with parchment paper.

Grate the frozen butter using the side of the grater with the largest holes and place it back in the freezer.

In a large bowl mix together the all purpose flour, almond flour, sugar, sumac, baking powder and salt.

Mix the grated butter into the dry ingredients using a

pastry cutter

or several forks until the mixture resembles coarse crumbs. You can also use your hands, but place the mixture back in the fridge for 15 minutes if it starts to get warm.

Whisk together the kefir, egg and almond extract in a small bowl. Add to the flour mixture and stir to combine. The mixture will be a bit crumbly, but should start clumping together.

Fold in the chopped strawberries until just combined.

Pour out the dough onto a lightly floured surface. Use well-floured hands to form the dough into 2 discs (about 1 inch or 2.5 cm high). Cut each disc into six wedges.

Place the individual scones on the prepared baking sheet. Brush the tops with kefir (or milk) to get a nice brown crust and sprinkle with extra sugar if desired. Chill for 15 minutes in the refrigerator.

Bake for 16-20 minutes or until golden brown around the edges. Sprinkle with extra sumac if desired.
Notes
Spooned and leveled: Scooping a measuring cup into a flour container can result in much more flour than intended, which can affect the success of your scones. To get a more accurate measurement, use a spoon to lightly scoop flour into the measuring cup until it's completely full. Then run the back of a knife over the cup to gently scrape off any excess.
Almond flour: Superfine blanched almond flour works best in this recipe.
Keywords: strawberry sumac scones, what is sumac; strawberry scone recipe; substitute for sumac; kefir recipes
This post may contain affiliate links through which we may earn a small commission at no additional cost to you. We only recommend products that we genuinely love and would use ourselves.