Tender beef sirloin in an irresistible vegetable cream sauce or svíčková is a popular Czech dish and one of our all-time favorites! Served with knedliky and a dollop of cranberry sauce, this hearty dish is perfect for special occasions or even a cozy night in.
When we lived in Prague, family and friends visiting always called for an outing to a Czech restaurant where we would strongly recommend they order the svíčková (pronounced sveech-ko-vah). The delicious braised beef sirloin in a creamy root vegetable sauce never disappointed. Now that we're living in the States, we've had to adapt the recipe using the ingredients we can find at our local market, but I'm happy to report that the resulting dish immediately transported us back to Czechia!
preparing the meat
This hearty dish is made by braising beef in the oven with root vegetables that are then turned into a creamy sauce. Svíčková technically means sirloin in Czech, but you might be hesitant to slow cook such a nice cut of meat. While we did choose to use sirloin this time around, something like a chuck roast or even short ribs would also work well. Just braise the meat for an additional hour or until tender.
Whatever cut of beef you decide to use, the first step is to lard the meat. While this might sound intimidating, we take a simpler approach and also substitute lard for bacon. Just use a knife to cut little pockets into the beef (without going all the way through) and stuff small pieces of bacon inside. For the 1.5 lbs (700 g) of meat we had, we used one piece of thick-cut bacon cut into pieces and made about 10 little pockets. This technique not only helps tenderize the meat, but also adds excellent flavor!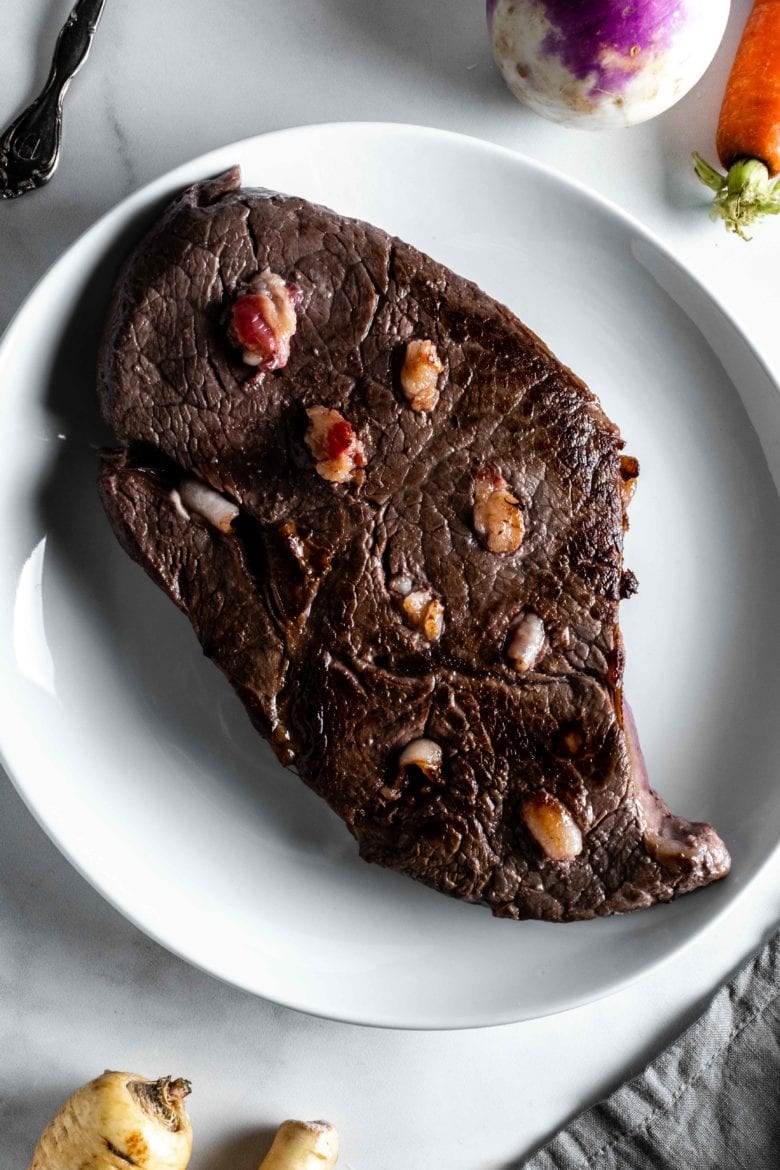 svíčková na smetaně
The full name of this recipe is actually svíčková na smetaně, which literally translates to sirloin in cream sauce. While the term svíčková originally referred to the cut of meat, it has now become almost synonymous with the creamy root vegetable sauce used in this famous dish. For me, this sauce is the star of the show and I can eat the leftovers poured over almost anything!
To make the sauce, I use about one pound (500 g) of root vegetables. Of the three root vegetables that Czech recipes generally call for — carrots, parsley root and celeriac — we only had access to carrots. I settled on turnips and parsnips as substitutes and found the resulting sauce to be incredibly similar to the one I had been dreaming of!
Begin by briefly pulsing your veggies along with one onion in a food processor (alternatively, you can dice everything by hand but it does take a bit of time). Then, after first searing the beef and browning a few strips of bacon, add the vegetables to your dutch oven along with a pat of butter and cook for about 15-20 minutes. You want everything lightly caramelized to really develop a deep flavor for the sauce. Once the veggies are caramelized, add the the beef back to the pot along with the spices and broth and braise in the oven until tender!
When the meat is ready, remove it from the pot and keep it warm while you finish the sauce. While some recipes make the sauce by first pressing the veggie mixture through a sieve, I prefer to puree everything together in a blender. This is quicker than thickening the sauce on the stovetop and means nothing gets wasted. Add a bit of heavy cream and a splash of lemon juice to the blender along with the veggies and your sauce is ready!
what to serve with svíčková
Traditionally, svíčková is served with knedliky or Czech dumplings. I served ours with the mosaic-style carlsbad knedliky that you see in the photos, but bread dumplings (houskové knedlíky) are also a classic pairing. These types of knedliky aren't incredibly flavorful themselves, but they are perfect for soaking up that deliciously creamy sauce!
In addition to knedliky, svíčková is often served with a slice of lemon, cranberry sauce and sometimes whipped cream. While all of these additions are optional, I almost always make the cranberry sauce to go with it. The acidity really lightens up the rich dish and a good cranberry sauce can be quickly whipped up on the stovetop with just frozen cranberries, water, orange juice and sugar!
And if you're looking for more Czech-inspired recipes, definitely check out our blueberry and cream cheese kolaches or buchty for a delicious breakfast or unwind with a becherovka bramble: a refreshing cocktail made with our favorite Czech liqueur!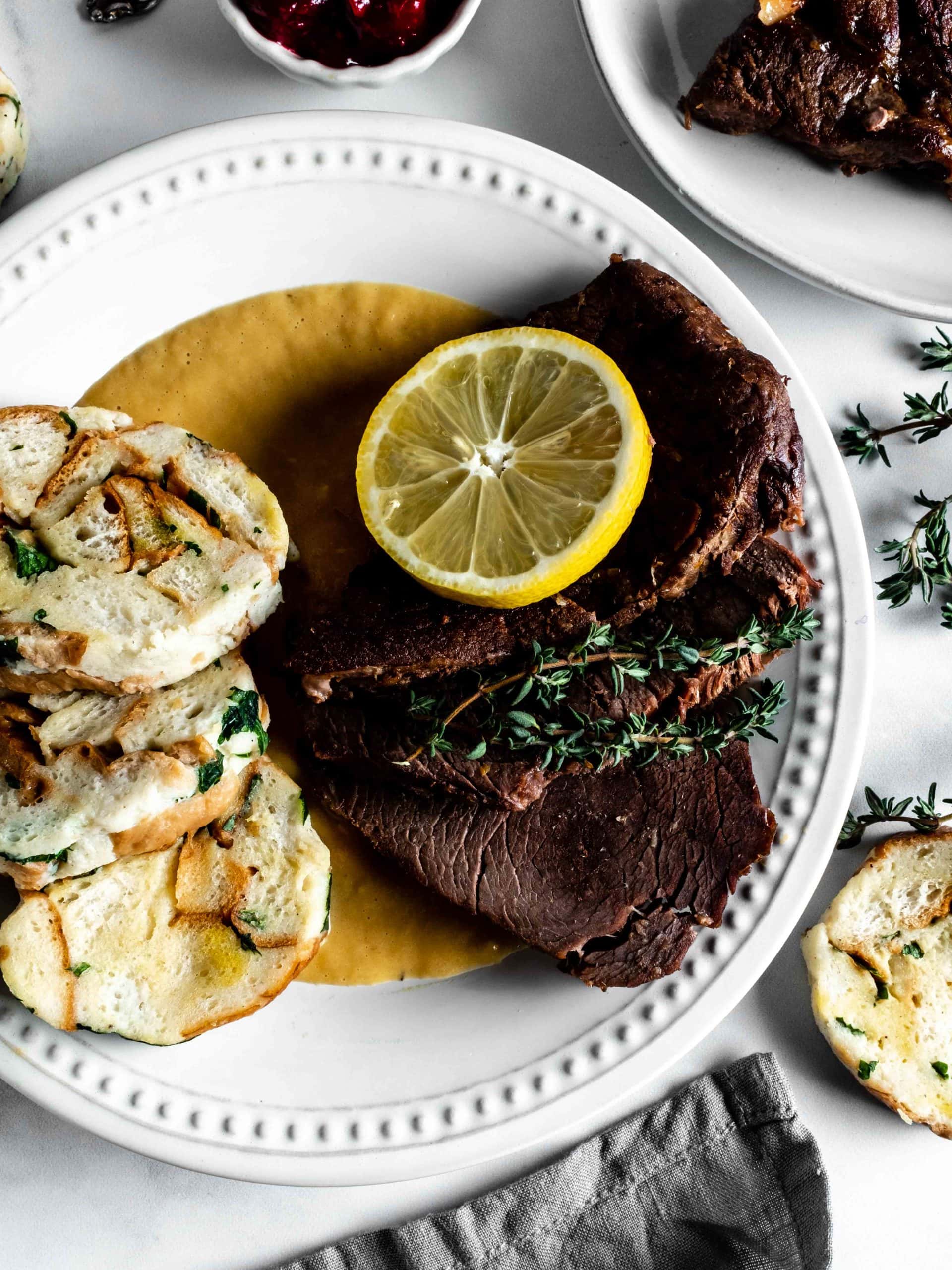 ingredients
sirloin

1.5 lbs (700 g)

salt and pepper

to taste

thick-cut bacon

3 pieces (110 g)

vegetable oil

1 tbsp

butter

1 tbsp

carrots

2 medium (140 g)

parsnips

2 medium (200 g)

turnip

1 large (170 g)

onion

1 large

bay leaves

2 leaves

thyme

2 sprigs

allspice

4 whole

black peppercorns

4 whole

chicken broth

2 c (480 ml)

heavy cream

¾ c (180 ml)

lemon juice

½ tbsp
instructions
Peel and dice the carrots, parsnips, turnip and onion (alternatively, blitz together in a food processor).
Use a knife to cut approximately 10-12 small pockets into the meat (without cutting all the way through). Cut one strip of bacon into pieces and stuff into the pockets.
Generously season the sirloin with salt and pepper. Heat vegetable oil in a dutch oven over medium-high heat. Sear the sirloin on each side (approximately 2 minutes per side). Remove to a plate.
Roughly chop the remaining two strips of bacon, add to the pot and cook until lightly browned.
Add the butter along with the carrots, parsnips, turnip and onion. Cook for 15-20 minutes or until lightly caramelized. While the veggies are cooking, preheat oven to 320 F (160 C).
Return the meat to the pot along with the bay leaves, thyme, allspice, peppercorns and broth. To make it easier to remove the spices later, I recommend placing them in a cheesecloth bag.
Cover the pot and place in the oven for 2 hours.
Remove the meat from the pot and keep warm (or reheat by returning to the sauce before serving). Remove the spices and bay leaves from the sauce and discard.
Carefully transfer the remaining contents of the pot to a blender along with the heavy cream and lemon juice. Pulse until smooth and add salt to taste. Slice the meat and serve warm with vegetable sauce.

Did You Make This Recipe?
This post may contain affiliate links through which we may earn a small commission at no additional cost to you. We only recommend products that we genuinely love and would use ourselves.