You just need a handful of ingredients to create this classic chicken salad! Featuring fresh tarragon and a creamy dijon dressing, this homemade chicken salad is the perfect filling for sandwiches and wraps!
Tarragon chicken salad is one of our absolute favorite ideas for a simple lunch! Tarragon has a very subtle anise flavor that cuts through the delicious creaminess of chicken salad for a perfectly bright and balanced mixture. Toss in a few crunchy veggies, add a bit of mayo and lemon juice, and this easy salad is ready in just minutes!
poaching chicken
When it comes to chicken salad, we always opt for boneless skinless chicken breasts. Thigh and leg meat is more flavorful, but chicken breasts have a firmer texture and the mild flavor is the perfect blank canvas for all of your favorite mix ins.
And while you can use roasted, grilled or even rotisserie chicken in your salad, our go-to method is poaching. It's quick, easy and results in juicy, tender pieces of meat.
Here's how to poach chicken in two easy steps:
Place the chicken in a pot filled with salted water.
Bring to a simmer and cook until the internal temperature reaches 165F (74C). Make sure to keep the liquid at a gentle simmer – boiling the chicken will result in a tougher texture.
To add extra flavor to your chicken, try adding lemon juice, bay leaves, garlic or herbs to the poaching liquid or use broth instead!
how to make chicken salad
Now it's time to put your salad together. Here are the three main steps for any chicken salad recipe:
Cook and shred the chicken. Or use leftover roasted, grilled or rotisserie chicken.
Chop your veggies and herbs. We use celery, red onion and fresh tarragon.
Mix it all together with the dressing. Ours consists of mayo, dijon mustard and lemon juice.
Mix it up!
Chicken salad is a great way to use whatever you have on hand. Here are some of our favorite substitutions:
Veggies: Celery and red onions are our favorite way to add crunchiness to this salad. Some other good options are radishes, carrots and cucumbers.
Herbs: Tarragon adds a lovely fresh flavor. Other great mix-ins include cilantro, dill, basil and green onion.
Dressing: The best dressings are creamy with a bit of acidity. We go with the classic mayonnaise and lemon juice, but you could also go with greek yogurt or a mixture of mayonnaise and sour cream.
And for a little something extra? Try adding chopped dried fruits or nuts, such as golden raisins, dried apricots, cashews or almonds!
tarragon chicken salad: FAQs
What type of chicken should I use?
Boneless skinless chicken breasts are the best cut for this salad. We've included instructions for poaching raw chicken, but any leftover rotisserie, grilled or roasted chicken would work well. And while we recommend shredding the chicken for the best texture, dicing is just fine if that's your preference.
Can I make this ahead of time?
For the best flavor, we recommend chilling for at least 30 minutes before serving. The chicken salad will keep covered in the fridge for 3-4 days.
What should I serve with chicken salad?
We love chicken salad sandwiches served on fresh croissants with tomatoes and sprouts. You can also enjoy it on crackers, toasted baguette slices or as part of a cheese or vegetable platter!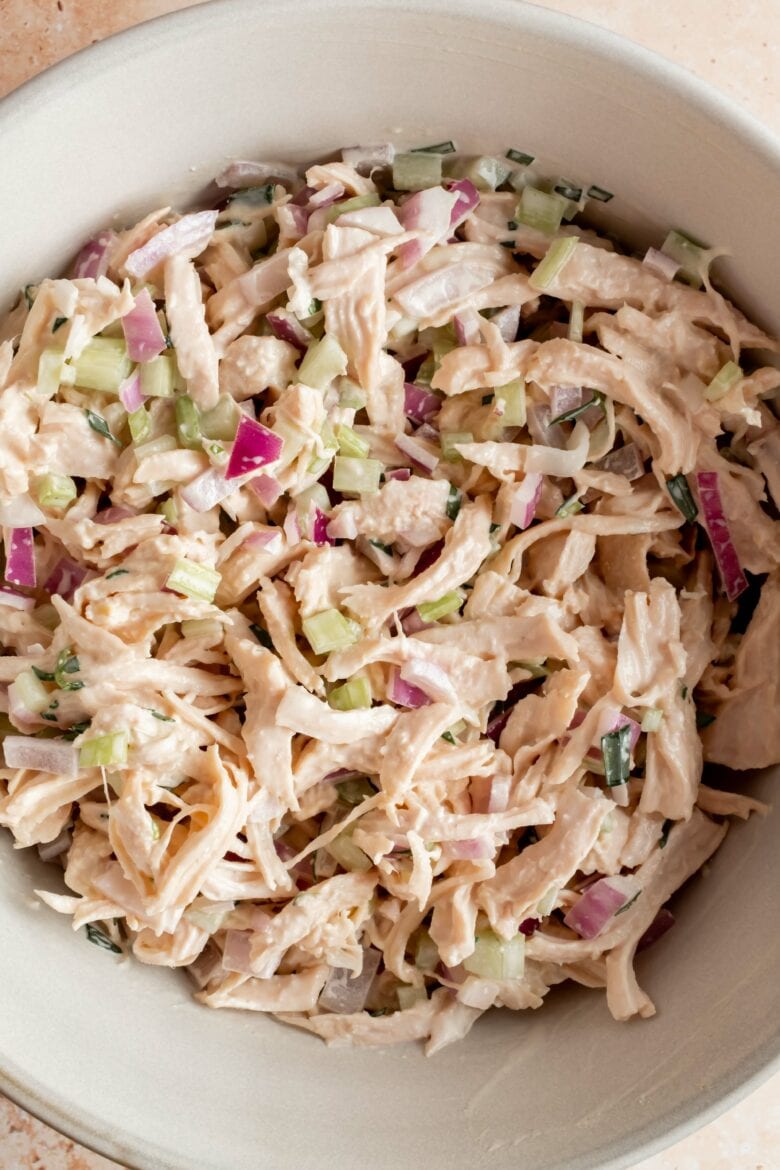 Looking for more quick lunch ideas? Try these recipes!
Print
tarragon chicken salad
---
Author:

Prep Time:

10 minutes

Cook Time:

10 minutes

Total Time:

20 minutes

Yield:

6
Description
Featuring fresh tarragon and a creamy dijon dressing, this homemade chicken salad is the perfect filling for sandwiches and wraps!
boneless skinless chicken breasts

1.5 lb (680 g)

(about 3 cups cooked and shredded)

red onion, finely diced

½ small

celery, finely diced

2 stalks

tarragon, chopped

1.5 tbsp

mayonnaise

¼ c (60 g)

dijon mustard

1 tbsp

lemon juice

2 tbsp

salt

to taste
---
Instructions
cooking the chicken
Pour 6-8 cups (1.5-2 L) of water into a saucepan and stir in ½ tablespoon of salt. Add the chicken in a single layer. The water should cover the chicken by about an inch (2.5 cm).
Bring the pot to a simmer over medium heat. Cook at a gentle simmer until the chicken reaches 165 F (74 C) on an instant read thermometer (about 8-12 minutes depending on thickness).
Remove and let rest until cool enough to handle. Then shred and set aside to cool completely before using in chicken salad.
tarragon chicken salad
Combine the cooked and shredded chicken in a bowl with the remaining ingredients and mix well. Add additional mayonnaise as desired.
Chill for at least 30 minutes before serving.
Notes
Storing: The chicken salad will keep covered in the fridge for 3-4 days.
Category:

dinner

Method:

mixing

Cuisine:

global
Keywords: tarragon chicken salad, classic chicken salad, chicken salad with tarragon
This post may contain affiliate links through which we may earn a small commission at no additional cost to you. We only recommend products that we genuinely love and would use ourselves.