This rice noodle soup in a rich coconut curry broth is ideal for a quick weeknight meal! Add a bit of sriracha if you like it spicy and use dried shiitake mushrooms to give this Thai soup an umami boost!
This Thai curry soup is a dish that I've been making in various iterations for several years now! While I often throw this soup together with anything I have in the fridge, the version I'm sharing today takes a bit of planning as you'll need to rehydrate dried shiitake mushrooms before cooking. This extra step (which is super easy!) gives the soup a more complex taste and an intense umami flavor!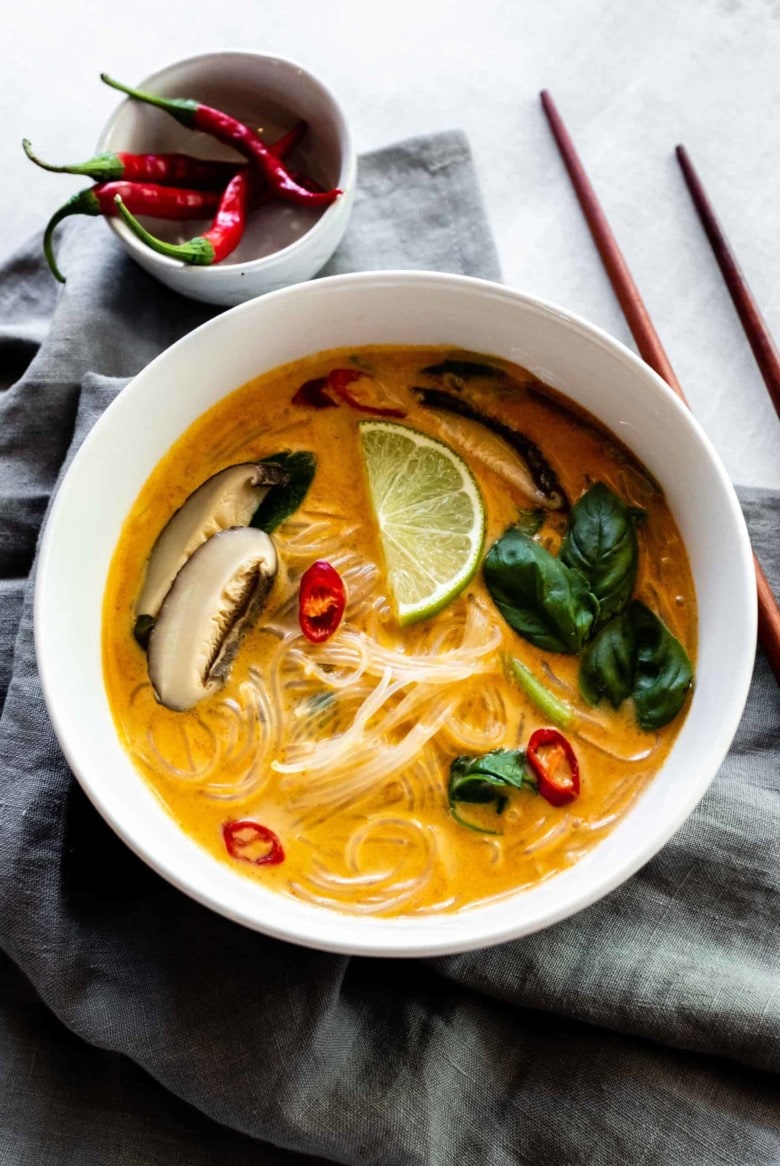 rehydrating dried mushrooms
Dried shiitake mushrooms can be found online and in many grocery stores that carry Asian products. They provide a bolder, more concentrated flavor than fresh mushrooms, which makes them great for soups and stews! And an added plus? The soaking liquid turns into an incredibly flavorful broth that I like to add to this Thai curry soup for even more depth!
To rehydrate the mushrooms, start by rinsing them to remove any grit. Then just pour hot water over the mushrooms and let them soak for 30 minutes to an hour or until tender. If your water is almost boiling, 30 minutes is usually enough time. Using warm water will take a bit longer, but allows the mushrooms to retain more of their flavor. I generally go for the quicker method using almost boiling water and the mushrooms are always super flavorful! The last step is to cut off the stems as they remain tough. While you can do this before soaking, I always find it a bit easier afterwards. And don't forget to reserve about a cup (240 ml) of the soaking liquid to add to the soup!
mix it up!
The base of this soup is made with Thai red curry paste, a can of coconut milk and vegetable broth — everything else can be adjusted to taste. I always like to add some leafy greens to my soup, but instead of spinach you could use kale or bок choy. Other great veggies that I've used before include sweet potatoes, bell peppers and carrots! And don't forget the noodles! This version of curry soup calls for rice noodles, but it's also great with egg noodles or even rice!
Finally, this soup is all about the garnishes! Basil, cilantro, lime juice, chili peppers, sriracha — top your soup with your favorite ingredients to make it fresh and spicy!
Want to make this soup but don't have any dried mushrooms on hand? No worries! Fresh mushrooms will work too, but I suggest adding a tablespoon or so of soy sauce to get the umami flavor!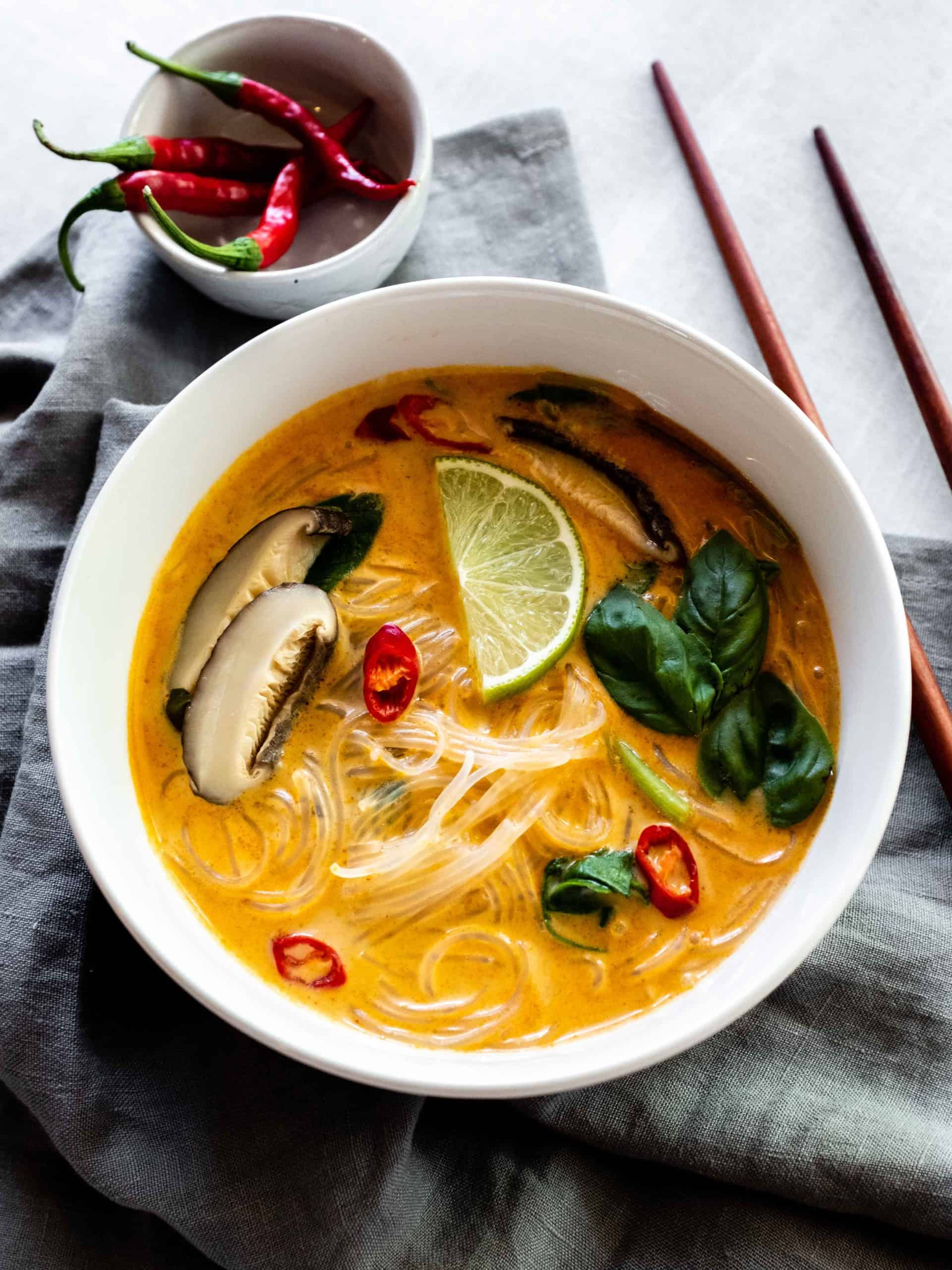 ingredients
vegetable oil

1 tbsp

garlic

3 cloves

cilantro

5 stems

thai red curry paste

2-3 tbsp

coconut milk

13.5 oz can (380 g)

vegetable broth

4 c (1 l)

spinach

2 handfuls

(reserve 1 cup/240 ml of water from rehydrating)

vermicelli rice noodles

5 oz (150 g)

lime juice

2 tbsp

salt

to taste
optional garnishes
- sliced chili or sriracha
- cilantro and basil
instructions
rehydrating the mushrooms
Wash the dried mushrooms under water to remove any dirt and grit.
Place the mushrooms in a bowl and pour hot water over them. Soak for 30 minutes to an hour or until tender. The mushrooms will float, so you can place something heavy, such as a plate, on top to make sure they are fully submerged.
Reserve one cup of the soaking liquid for the soup, making sure to pour it through a fine sieve to catch any lingering dirt.
Remove the tough stems from the mushrooms and slice the caps.
thai curry soup
Remove the cilantro leaves from the stems and reserve for garnish. Finely chop the cilantro stems and mince the garlic.
Heat oil in a large pot over medium heat. Add garlic and cilantro stems to the pot and saute for one minute. 
Add the thai red curry paste and continue sauteing for an additional two minutes.
Add the coconut milk, vegetable broth and 1 cup of the reserved mushroom broth. Bring to a very slight boil and simmer for 10 minutes.
While the soup is simmering, cook the rice noodles according to package instructions. You can cook them directly in the soup, but I prefer to prepare my rice noodles separately so they absorb less of the soup!
Stir in the spinach and shiitake mushrooms and cook until the spinach is wilted.
Remove from heat and add the rice noodles. Stir in the lime juice and salt to taste. Garnish with chilis, cilantro leaves and basil.

Did You Make This Recipe?
This post may contain affiliate links through which we may earn a small commission at no additional cost to you. We only recommend products that we genuinely love and would use ourselves.