Freshly baked choux pastry filled with a luxuriously smooth thai tea pastry cream makes for a decadent bite-sized treat! These thai tea cream puffs are bursting with flavor and sure to impress!
A refreshing thai iced tea is one of the best treats on a hot summer day. So what's the equivalent for fall? Probably these crispy little cream puffs filled with thai tea pastry cream!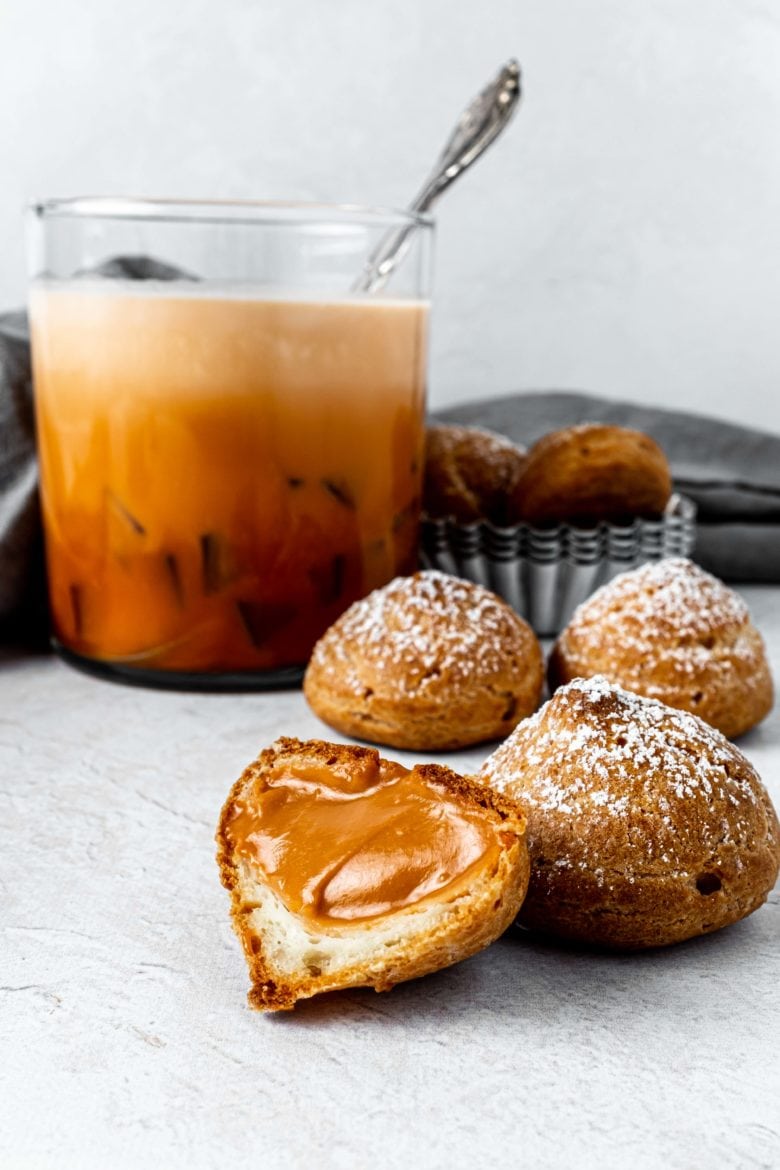 making choux pastry
Choux pastry is incredibly versatile and can be used to make everything from churros to eclairs and cream puffs! In some respects choux is a lot easier to make than other doughs. It requires little effort to mix up, comes together quickly, and generally doesn't leave much of a mess. That being said, choux pastry does require a bit of technique. But once you get the hang of it, making choux is a breeze!
There are two steps in making choux: creating a paste and then incorporating the eggs. The goal of the first step is to evenly hydrate the dough. You'll create the paste by heating butter, water, milk, sugar and salt in a saucepan. Then, when it's time to add the flour to the simmering liquid, you'll need to mix it in quickly and vigorously. Constant agitation helps with even hydration and the development of gluten.
When baked, choux pastry expands creating a hollow center that is perfect for adding fillings! To get that hollow center, it's important to add as much egg to the dough as possible while maintaining a pipeable consistency. Adding too many eggs will make the choux too runny and there's no saving the dough from there (because you cannot add raw flour to the paste). This makes the quantity of eggs an important judgement call. To get the perfect amount, the eggs are added gradually while mixing the dough until it becomes a shiny, smooth paste of pipeable consistency. Most of the time I use all of the egg in this recipe but occasionally I use a little less or a little more.
cream puffs
Once the eggs are incorporated into the dough we can pipe it into cream puffs! Choux is often first baked at a higher temperature to help it expand and then at a lower temperature to dry it out. Because these cream puffs are on the smaller side they cook and dry out faster. The added milk and sugar also causes them to brown more rapidly, so for this recipe I prefer to cook them at a lower temperature for the entire duration.
Make sure not to open the oven for the first half hour of baking or there is a risk that the cream puffs will collapse. After about 35 minutes, or when the cream puffs have turned from pale yellow to golden brown, take the cream puffs out and cut holes into the bottom. This is where we will add the filling later. Some people recommend using a chopstick to poke a hole, but I prefer to insert the tip of a small paring knife and twist it a bit. Turn the oven off and return the cream puffs to the oven for 10 minutes to dry out, leaving the oven door slightly ajar.
Allow the cream puffs to cool completely and then they are ready to be filled!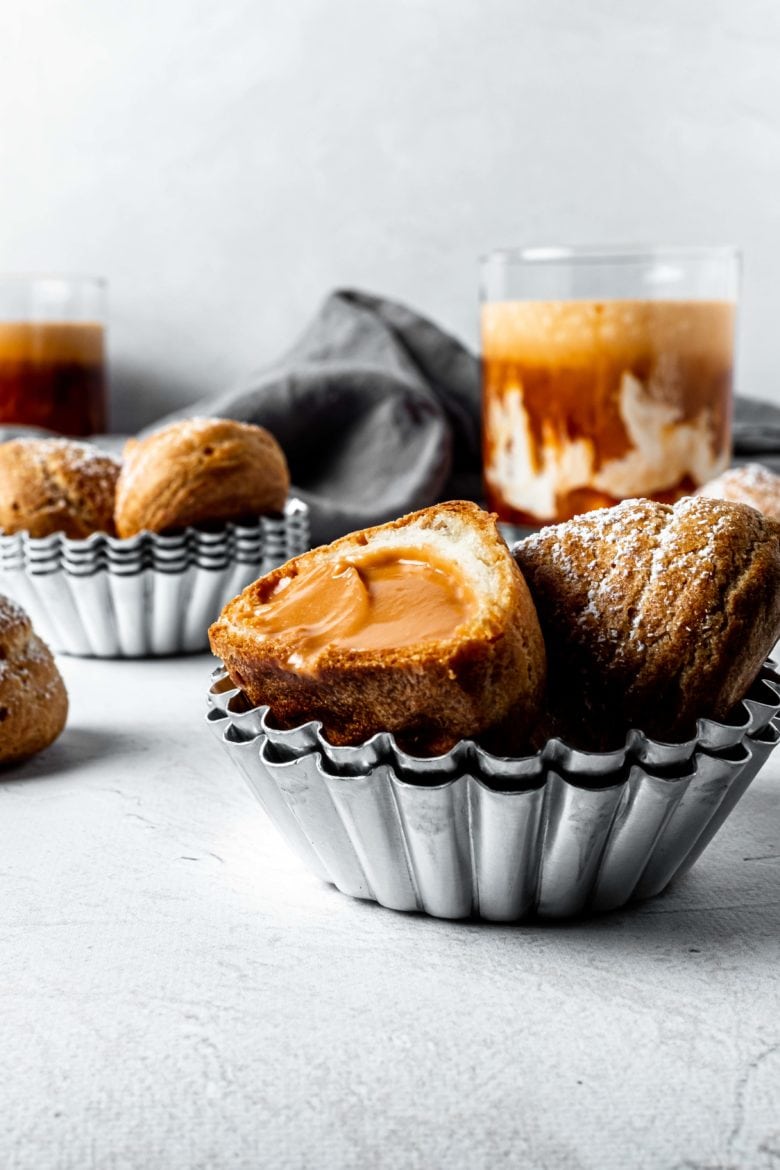 thai tea pastry cream
Pastry cream (crème pâtissière) is a deliciously creamy custard made with milk, eggs, sugar and cornstarch. We also add a bit of butter for richness and give this version a beautiful thai tea flavor by first infusing the milk that we'll be using! We use this thai tea mix, but most brands will work well for this recipe.
One note: the distinct orange color of thai tea comes from food coloring that's added to almost all of the premade mixes. If you want to avoid the food coloring, you can try using a homemade thai tea recipe that's completely from scratch. This would involve infusing the milk with black tea and adding fresh whole spices. You wouldn't get the characteristic bright orange color, but it would be delicious!
And a few tips for making the best pastry cream:
To make this pastry cream, you'll need to combine all ingredients in a saucepan over medium heat. To get the right consistency, the pastry cream needs to be heated just shy of boiling in order to stabilize the cream. As soon as the mixture begins to bubble, whisk vigorously for one minute before removing from heat.
You'll need to pay close attention to your pastry cream for the duration of the cook time. The mixture needs to be constantly whisked to avoid scrambling the eggs.
Strain the finished pastry cream through a fine mesh sieve to get rid of any clumps. Then cover the pastry cream with plastic wrap that's pushed directly into the cream to prevent a skin from forming.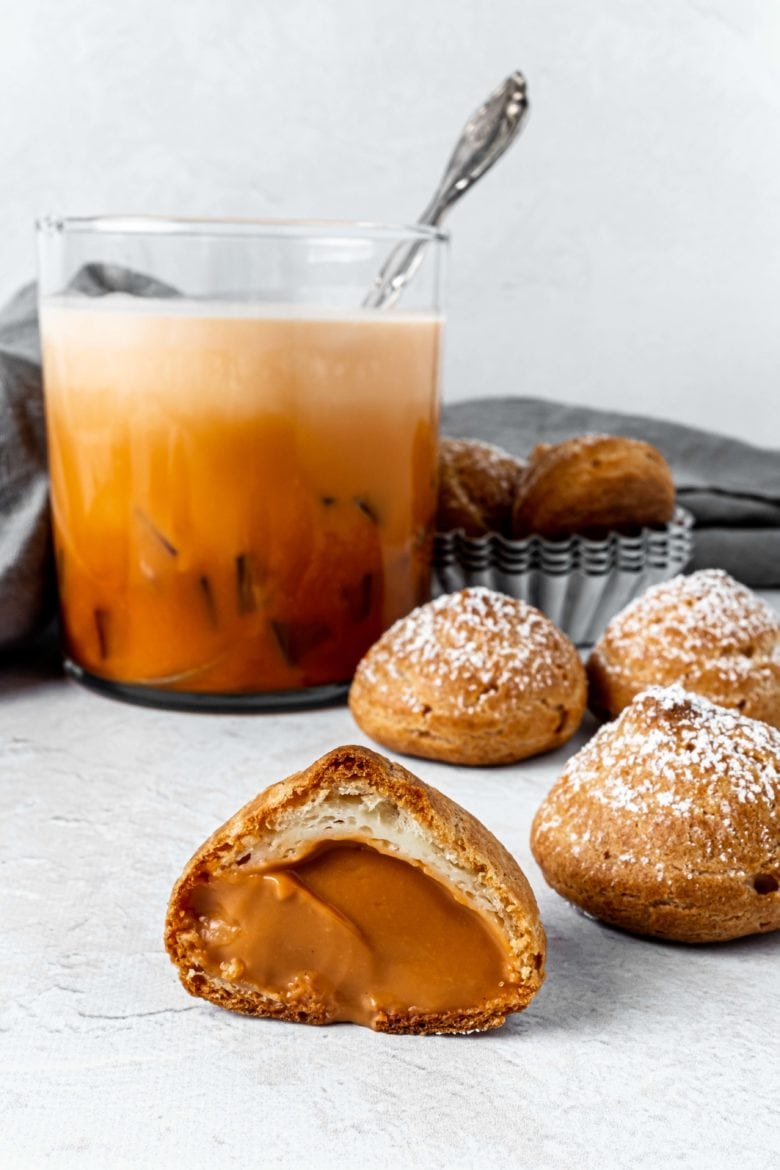 For more delicious dessert inspiration, check out these recipes!
Print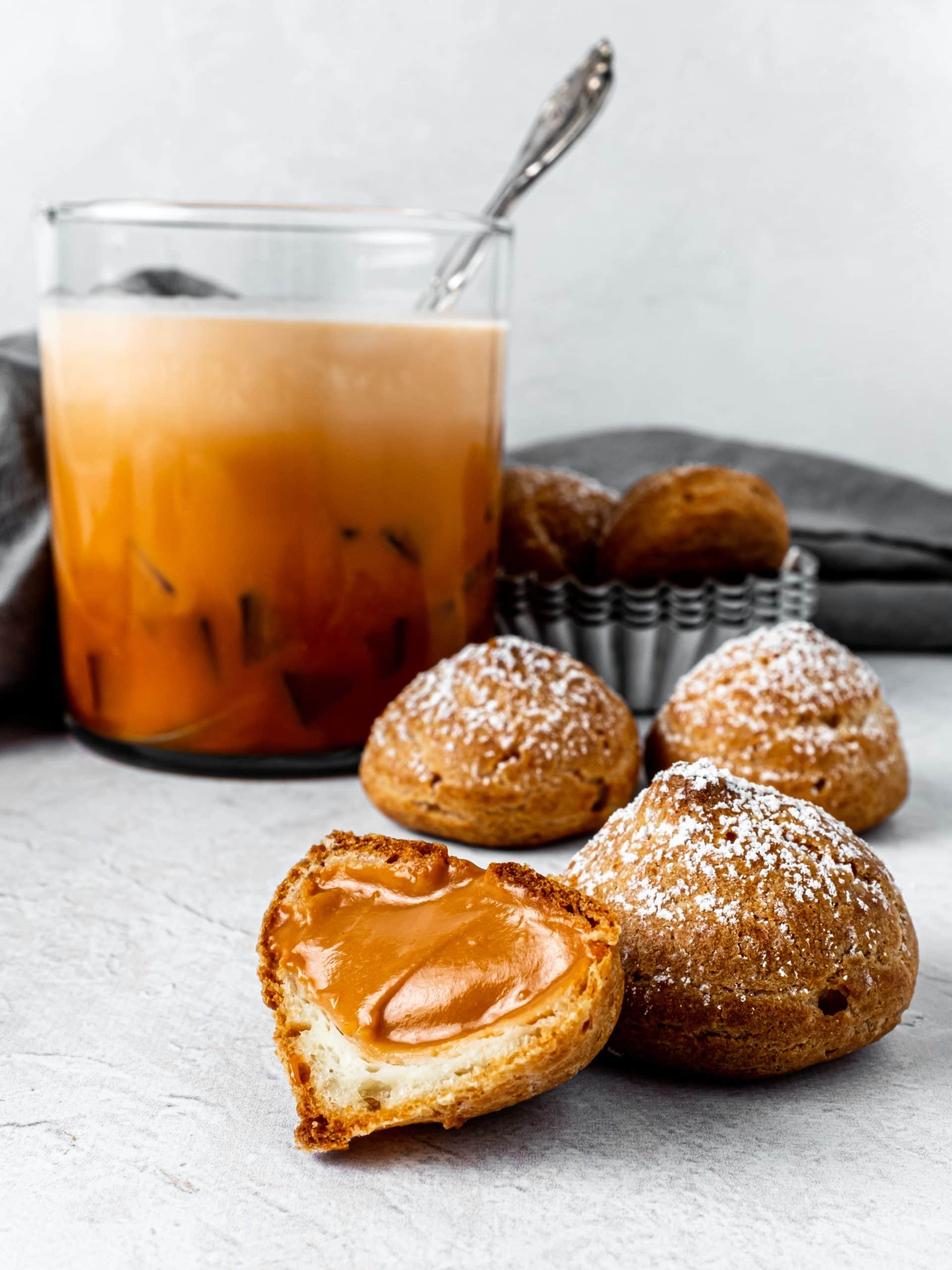 thai tea cream puffs
---
Author:

Prep Time:

20 minutes

Chill Time:

2 hours

Cook Time:

40 minutes

Total Time:

3 hours

Yield:

25
choux pastry
flour

½ c (60g)

(spooned and leveled*)

milk

¼ c (60 ml)

water

¼ c (60 ml)

butter

4 tbsp (55 g)

salt

pinch

sugar

1 tbsp

eggs

2 large (100 g)
thai tea pastry cream
thai tea mix

5 tbsp (20 g)

milk

2 ¼ c (530 ml)

eggs

4 yolks

sugar

½ cup (100 g)

cornstarch

¼ c (30 g)

salt

¼ tsp

butter

2 tbsp (30 g)
---
Instructions
choux pastry
Measure out and sift the flour. Set aside.
Combine the milk, water, butter, salt and sugar in a saucepan over medium heat. Cook until the butter has melted and the mixture begins to simmer, stirring occasionally.
Reduce heat to low and add all of the flour to the saucepan at once. Quickly stir the mixture until the dough forms into a ball.
Cook for 1-2 minutes while pressing the dough down against the bottom of the pot and stirring. The dough should reach a temperature of about 170 F (77 C) and leave a film on the bottom of the saucepan.
Remove from heat and transfer to a bowl. Let cool for about 10 minutes or until the dough reaches below 140 F (60 C).
While the dough is cooling, combine the eggs in a separate bowl and lightly beat.
Once the dough is cool, add ⅔ of the egg mixture to the dough and use an electric mixer to combine. The dough should curdle at first and then come together again.
Start to gradually add more of the egg mixture until the dough turns into a shiny and smooth paste that sticks to the spoon. Do not add more eggs than necessary – the mixture should be pipeable, but hold its form.
Preheat the oven to 360 F (180 C) and line a baking sheet with parchment paper.
Transfer the choux dough to a piping bag fitted with a large round tip (I use Wilton 2A).
Pipe mounds at least 1 inch (2.5 cm) apart. The mounds should be approximately 1.5 inch (3.8 cm) in diameter and about ⅓ inch (0.8 cm) tall around the edges. Smooth down any points with a wet fingertip.
Bake for 35-40 minutes or until the cream puffs are golden brown. Do not open the oven for the first 30 minutes.
Take the cream puffs out and make a hole in the bottom of each by inserting the tip of a knife and rotating it.
Turn the oven off and return the cream puffs to the oven for 10 minutes to dry out, leaving the oven door slightly ajar.
Remove the cream puffs from the oven and let cool completely before filling.
thai tea pastry cream
Heat the milk in a small saucepan over medium heat (stirring often) until it just begins to boil. Remove from heat and stir in the thai tea mix. Let stand for 30 minutes and then strain using a fine mesh sieve or cheesecloth. You should have approximately 2 cups of milk. Add additional milk if necessary until you have exactly 2 cups (470 ml).

Combine the sugar, cornstarch and salt in a medium saucepan.

In a separate bowl, whisk together the yolks and thai tea-infused milk until completely smooth.

Pour the egg mixture into the saucepan and add the butter.

Bring the mixture to a boil over medium heat, whisking constantly. Make sure to scrape the bottom and sides of the pan to prevent burning. Once the mixture begins to bubble, continue whisking vigorously for one minute or until the custard thickens. Immediately remove from heat.

Strain the pastry cream through a fine mesh sieve into a bowl. Cover the  pastry cream directly with plastic wrap to prevent a film from forming. Chill in the refrigerator for at least two hours.
assembly
Briefly whisk the chilled thai tea pastry cream and transfer to a piping bag fitted with a small round tip. Insert the tip of the bag into the cream puff and fill until the cream puff feels heavy. Wipe off any excess.
Dust with powdered sugar if desired. Serve within several hours.
Notes
Spooned and leveled: Scooping a measuring cup into a flour container can result in much more flour than intended, which can affect the success of your choux pastry. To get a more accurate measurement, use a spoon to lightly scoop flour into the measuring cup until it's completely full. Then run the back of a knife over the cup to gently scrape off any excess.
Keywords: thai tea pastry cream, thai tea, thai tea cream puffs, cream puffs
This post may contain affiliate links through which we may earn a small commission at no additional cost to you. We only recommend products that we genuinely love and would use ourselves.