Delicious tortellini are covered in a mouthwatering white wine cream sauce and loaded with fresh spinach to create this cozy meal! Ready in just 30 minutes, this easy tortellini recipe is perfect for a quick weeknight dinner, but elegant enough for date night!
We've been making this white wine cream sauce for several years now! It's made with ingredients we tend to have on hand and is always there to save us on busy days when we need a quick dinner but are craving something cozy and comforting. While our favorite way to serve it is with frozen tortellini, we've also been known to enjoy it alongside noodles, gnocchi and even over a plate of chicken!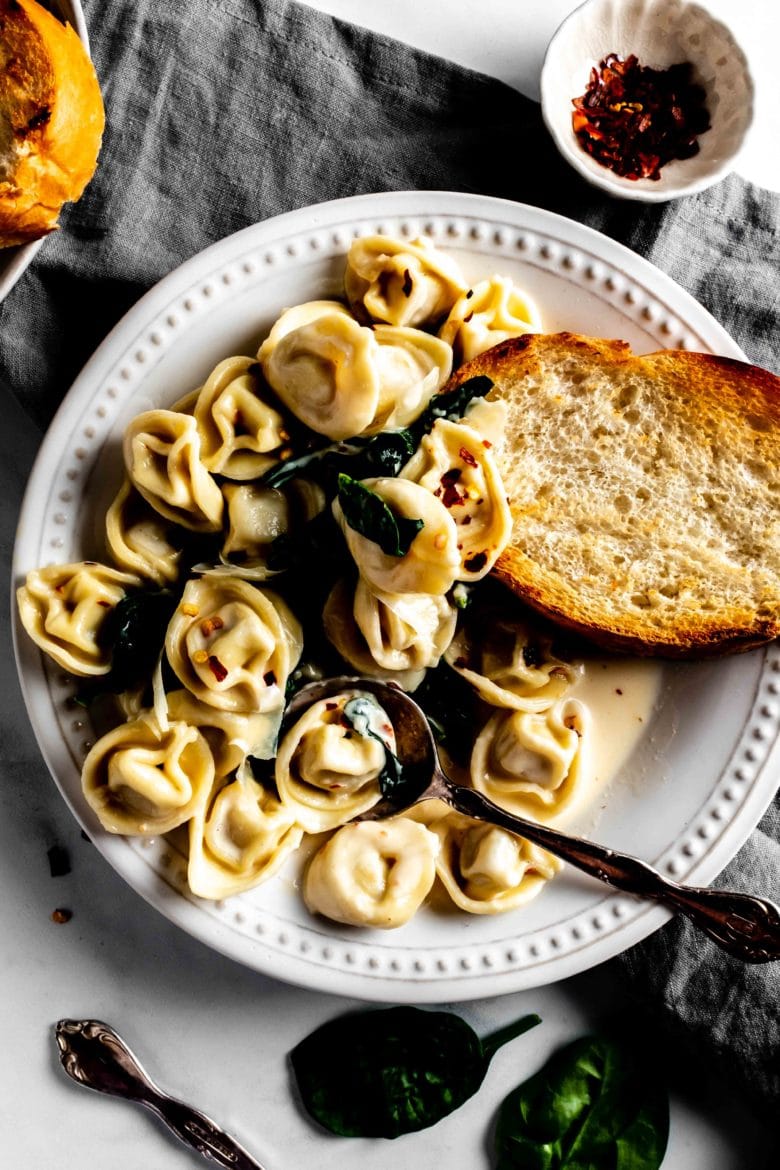 white wine cream sauce
This sauce is a bit on the decadent side, but it's so easy to whip up and hits the spot when you need something a little rich and creamy!
To make the white wine cream sauce, start by melting a few tablespoons of butter in a saute pan. Saute a bit of minced garlic until aromatic and then add red pepper flakes to taste. We like to add a heaping teaspoon of red pepper flakes, which makes the sauce quite spicy, but you can adjust to taste or omit completely if you're not a fan. 
Now it's time to pour in the white wine. You won't need anything fancy here — we generally go with a cheaper bottle of sauvignon blanc and it always turns out perfectly. Cook the wine until it reduces by half and then add the heavy cream. To thicken the sauce, bring the mixture to a slight boil and continuously stir for about five minutes or until it reaches your desired consistency.
And to balance out the rich sauce (kind of) we always toss in a few large handfuls of fresh spinach and cook until the spinach is slightly wilted. Then just remove from heat and stir in a few heaping spoonfuls of parmesan!
tortellini
While we love homemade filled pastas and have tackled everything from pierogi to pelmeni, we haven't yet tried our hand at tortellini. They're so tiny and delicate and I definitely think I would need to be in a very patient mood to take on the task! While they're still on my list of things to try on a rainy day, we'll stick to buying our tortellini from the experts for this quick recipe.
Our local farmers market always has an array of fresh tortellini with various fillings from pumpkin to roasted tomato, but a simple package of cheese tortellini from your neighborhood grocer will work just as well. Really we haven't yet found a type of tortellini that I didn't enjoy in this sauce! And you certainly don't have to stick to tiny filled pasta — mushroom ravioli is one of my favorite options to toss with white wine cream sauce!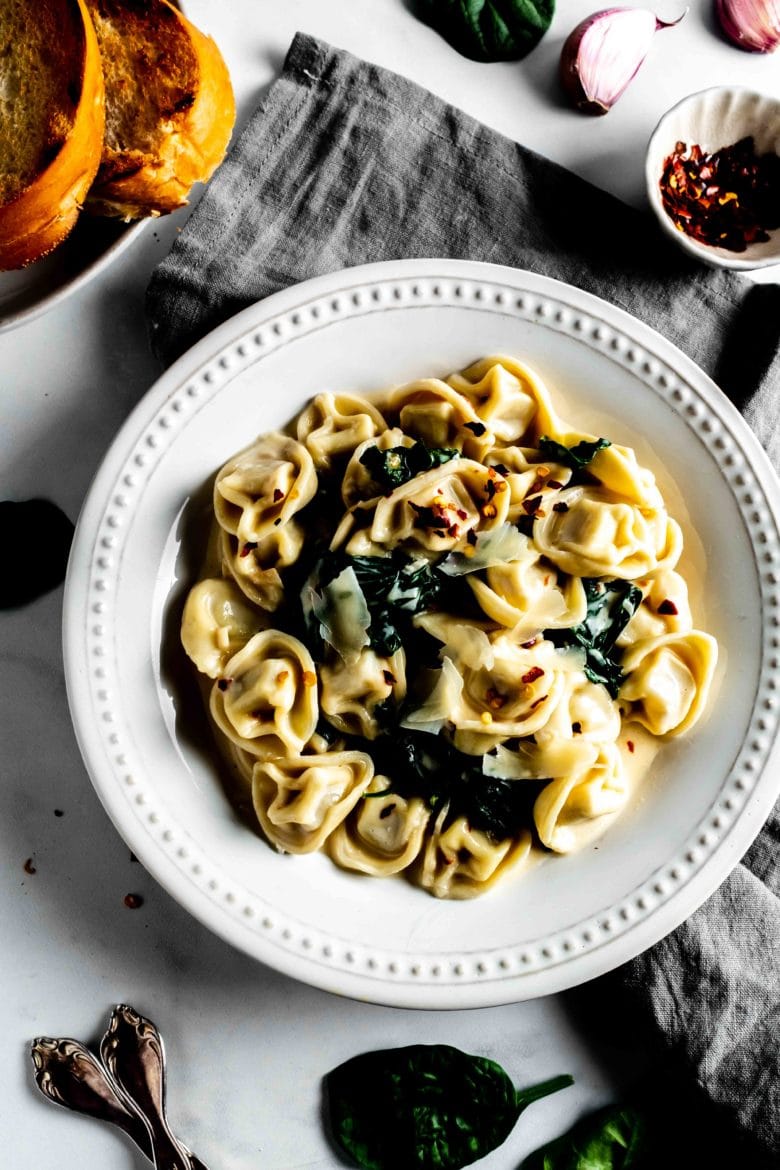 what to serve with tortellini in white wine cream sauce
The best thing about this meal is that you really don't need any sides other than maybe some toasty bread or something to dip into any extra sauce! Other than that, we mostly serve this dish alone or with a light vegetable side such as a quick salad or roasted asparagus.
And actually, if we do feel like we need a little something extra, we're big fans of adding ingredients directly into the pasta! A little leftover rotisserie chicken, some sauteed brussels sprouts or maybe a bit of pancetta or bacon — they all make excellent mix-ins! The white wine cream sauce complements so many different ingredients so feel free to get creative!
Looking for more pasta recipes? Give these a try!
ingredients
tortellini

10 oz (300 g)

butter

2 tbsp (30 g)

minced garlic

2 cloves

red pepper flakes

½-1 tsp

white wine

¾ c (180 ml)

heavy cream

1 c (240 ml)

fresh spinach

2 handfuls (80 g)

grated parmesan

3 tbsp (15 g)

salt

to taste
instructions
Cook the tortellini according to package instructions.
While the tortellini are cooking, melt the butter in a saute pan over medium heat. Add the garlic and cook for two minutes.
Stir in the red pepper flakes.
Add the white wine and cook for five minutes or until the sauce has reduced by about half.
Pour in the heavy cream. Increase heat to a light boil and simmer for five minutes or until the sauce has thickened. Make sure to whisk constantly so the sauce doesn't burn.
Reduce heat and stir in the spinach. Cook until wilted.
Remove from heat and stir in the parmesan. Season with salt to taste.

Did You Make This Recipe?
This post may contain affiliate links through which we may earn a small commission at no additional cost to you. We only recommend products that we genuinely love and would use ourselves.