Vanilla bean and blackberry infused drinking vinegar is easy to make and a great way to give all of your favorite cocktails and mocktails a refreshing twist! Use this vanilla blackberry shrub to top off your sparkling water or add a splash to your next gin and tonic for an incredible flavor boost!
We became a little obsessed with shrubs after coming across a delicious premade bottle of persimmon drinking vinegar a few months ago. After a few weeks of pouring a splash of the persimmon shrub into our sparkling water for an afternoon treat, the bottle was gone and we were left craving the sweet tartness. With very few local stores selling shrubs in the Ozark mountains, we decided to try making our own. The process is actually super easy and, after experimenting a bit, I'm excited to share my favorite version with you: a vanilla blackberry shrub!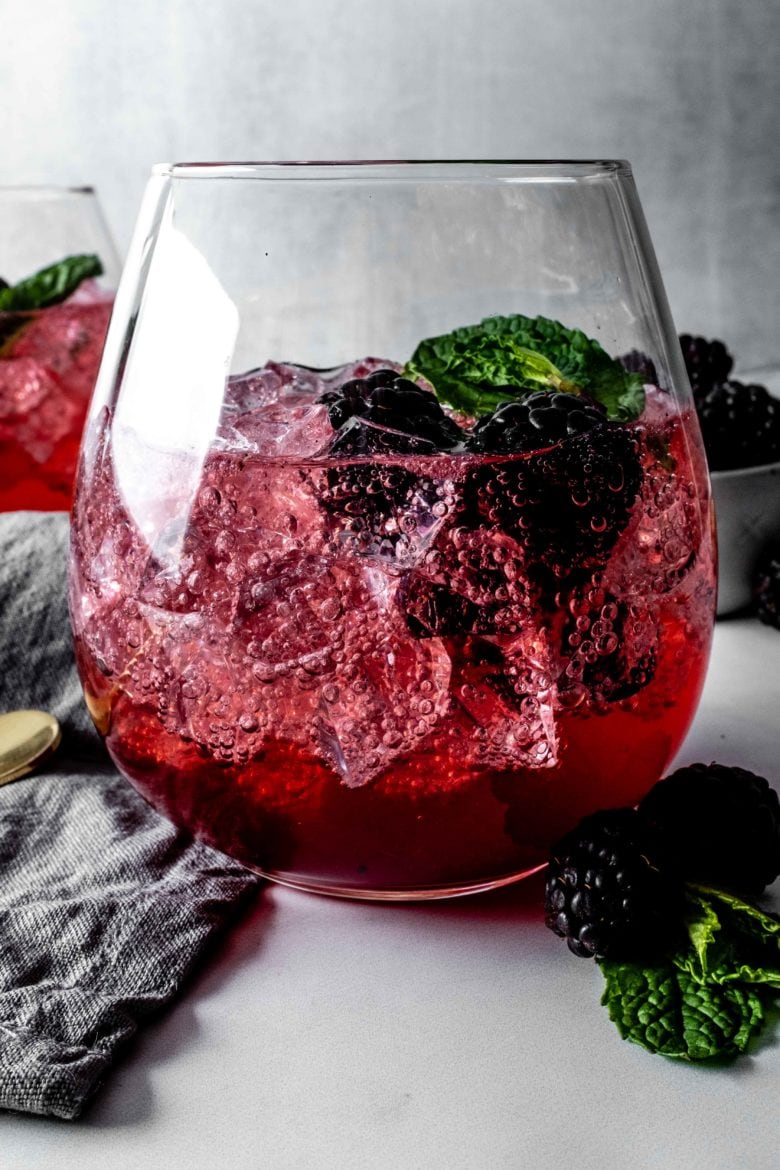 what is a shrub?
Shrubs, also called drinking vinegars, are syrups made with vinegar, sugar and fruits or other aromatics such as spices and herbs. They add a beautiful tartness to cocktails and turn sparkling water into a refreshing treat. Also they're a great way to use bruised or overripe fruit and, in fact, slightly bruised blackberries in my fridge were the inspiration behind this shrub!
While there are several methods you can use to make shrubs, I prefer the cold process method for this recipe. The blackberries are macerated in sugar and then strained and added to the vinegar. It's super easy and produces an incredibly clean fruity flavor!
As for the vinegar, I generally use apple cider vinegar for all of my shrubs. White wine vinegar, red wine vinegar and champagne vinegar also work well in shrubs — just think about the fruit or aromatics you'll be pairing the vinegar with and get ready to experiment!
how to use your vanilla blackberry shrub
While you will need to wait a day for the blackberries to macerate in the sugar and then let your finished drinking vinegar sit in the fridge for about a week before it's at its best, one batch goes a long way and you don't need much at all to transform your drink. Depending on the intensity of the shrub, I generally mix just one tablespoon with about a cup (250 ml) of sparkling water or club soda.
Another one of our favorite ways to enjoy this vanilla blackberry shrub is to add a splash to iced tea. And if you're looking for cocktail inspiration, I definitely recommend adding a few tablespoons to a gin and tonic or even to a chilled glass of champagne! Just stay away from anything that already has a lot of citrus (such as margaritas) as they already have the acidity there.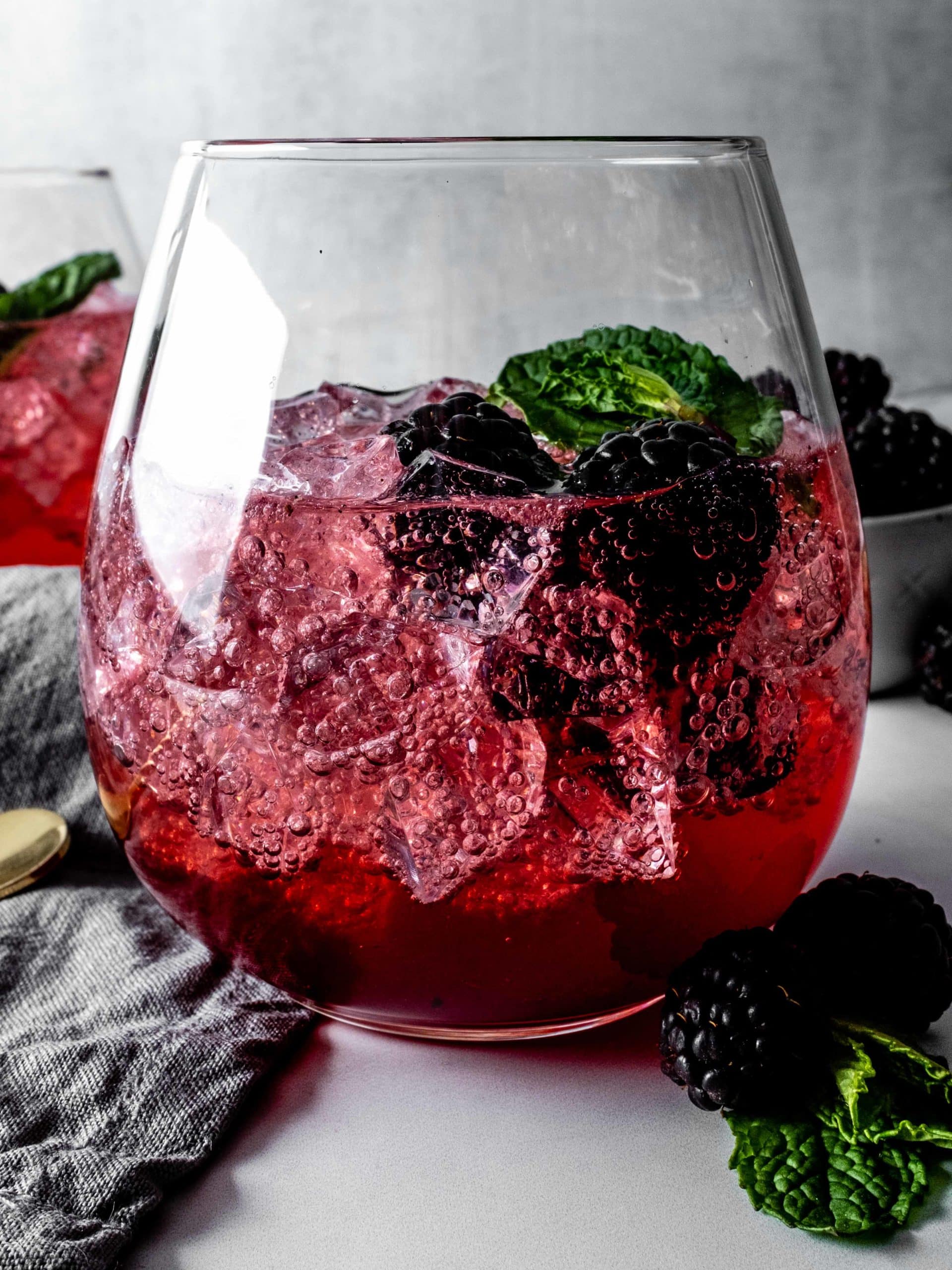 ingredients
vanilla blackberry shrub
instructions
vanilla blackberry shrub
Cut the vanilla bean in half lengthwise and scrape out the seeds with a knife.
Add the seeds, blackberries and sugar to a bowl. Use a muddler or the back of a spoon to lightly mash the berries with the sugar. Cover and store in the refrigerator for 24 hours.
Strain the fruit syrup through a fine mesh sieve and discard the solids*.
Add the vinegar and pour into a clean bottle. Shake well and store in the refrigerator. You can enjoy your shrub immediately, but it's best after letting the flavors blend together for at least a week!
serving suggestion
Add a few tablespoons of vanilla blackberry shrub and approximately ½-1 cup (120-250 ml) of sparkling water to a glass filled with ice.
notes
Blackberry solids: After straining the syrup, you'll be left with the blackberry solids. A great way to use the leftovers is to mix them into muffin or scone batter - just make sure to cut back on the sugar in the recipe you're using, as the blackberries will still be quite sugary!

Did You Make This Recipe?
This post may contain affiliate links through which we may earn a small commission at no additional cost to you. We only recommend products that we genuinely love and would use ourselves.