Our version of the refreshing French fortified wine is infused with cara cara oranges, blood oranges, vanilla bean and cinnamon! You'll just need ten minutes of prep and a bit of patience while your vin d'orange steeps to sweet perfection!
Classic vin d'orange, popular across southeastern France, is made by infusing wine with bitter seville oranges. Unfortunately for us, the traditionally used oranges have quite a short season and are almost impossible to find where we currently live. But with April right around the corner and the end of winter citrus season upon us, now is the perfect time to make a version of vin d'orange that preserves the flavors of our favorite seasonal fruits: cara cara and blood oranges!
The delicious fortified wine needs to steep for about a month so if you make it today, you can sip on the cool, refreshing drink all summer long!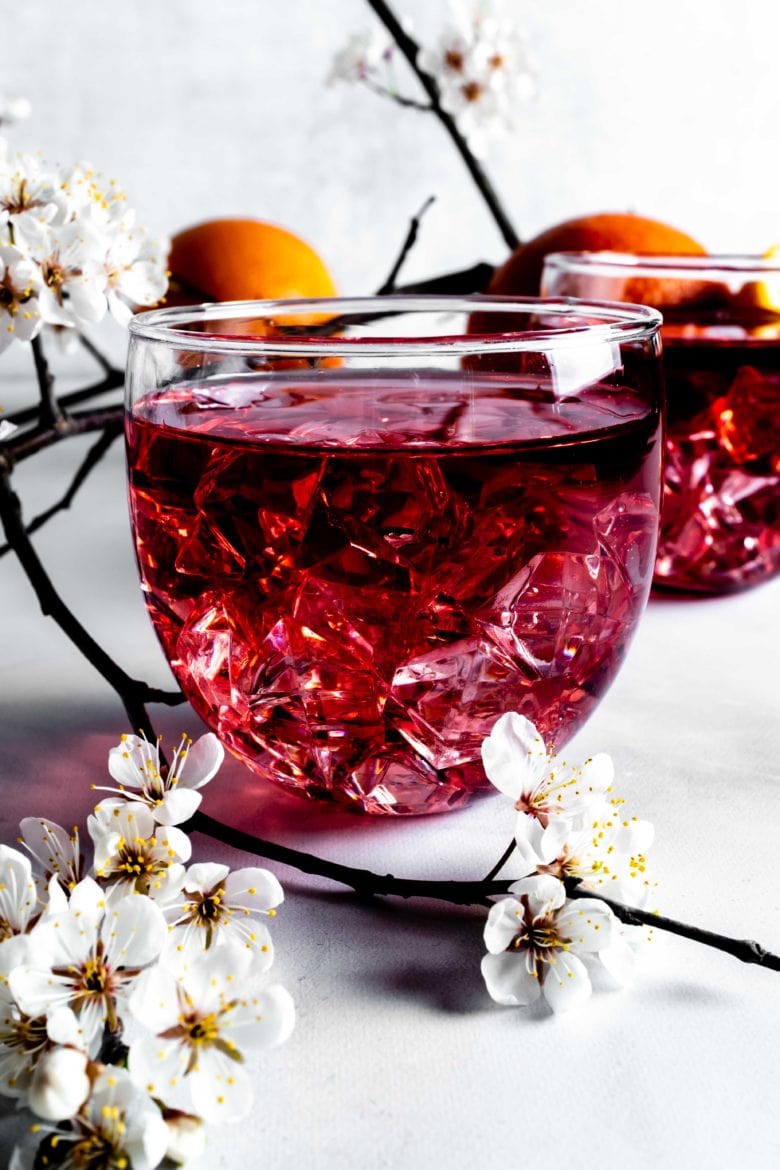 making your winter citrus infusion
To make your vin d'orange, you'll need the following:
Wine: While we used rosé, white wine is also commonly used so feel to choose your favorite. Just make sure not to buy anything too expensive. We're adding quite a bit of flavor to the wine so it doesn't need to be anything fancy!
Vodka: We generally prefer to use vodka for infusions — it's essentially a blank canvas which makes it perfect for extracting and preserving the flavor of the oranges. Brandy is also a great option if you want something with extra flavor.
Citrus: This recipe calls for two cara cara oranges, two blood oranges and one lemon. If you're looking for substitutes, navel oranges or even grapefruit slices would be great additions.
Vanilla bean: I used one whole vanilla bean split in half lengthwise, but two would give a bit more flavor if you're a vanilla fan!
Cinnamon stick: One stick is all you need to develop a good cinnamon flavor. If you need to separate the mixture between several jars, just break the cinnamon stick in half.
Sugar: Because cara cara and blood oranges are sweeter than the bitter oranges traditionally used in vin d'orange, I've lowered the amount of sugar generally added. If you like your wine on the sweeter side you can add a few tablespoons more.
After cutting your citrus into wedges and slicing your vanilla bean, combine everything into a large jar, seal and store in a cool, dark place for 30-40 days. Every few days (or whenever you think about it), give the jars a light shake. And make sure to taste test along the way to determine when the flavor is right for you!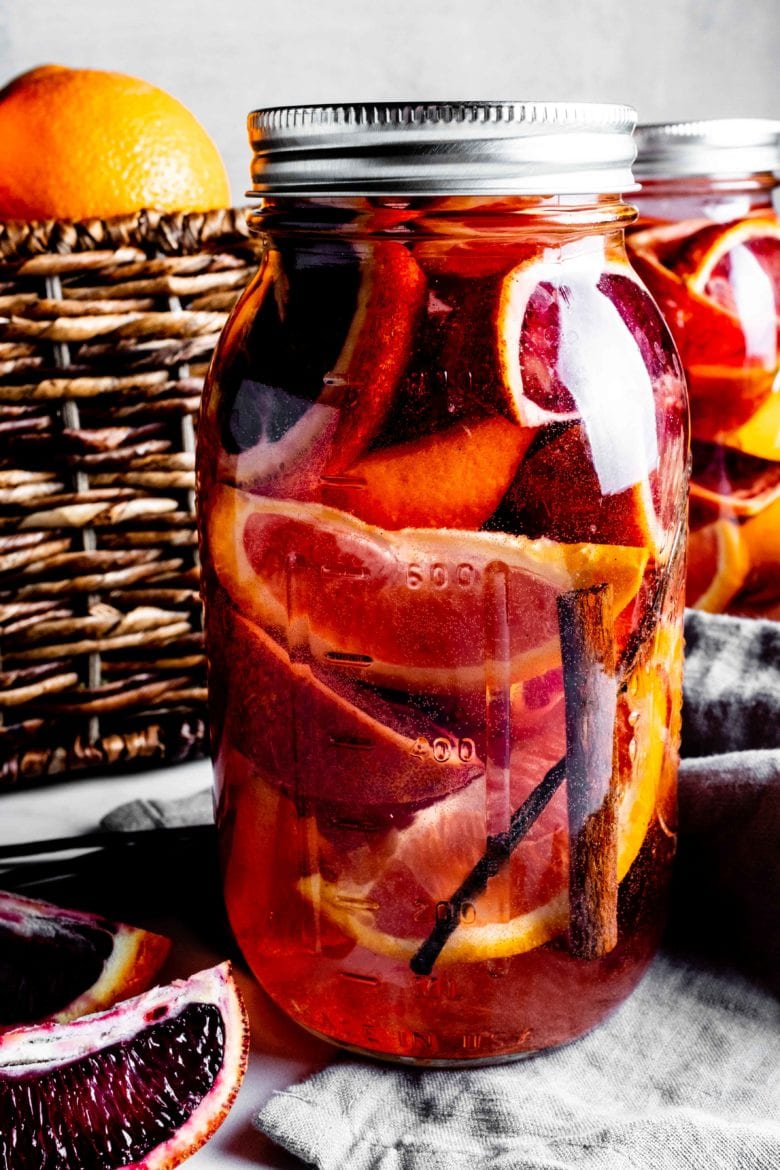 vin d'orange: a sweet aperitif
After infusing for more than a month your vin d'orange is finally ready! Now then, what's the best way to drink it? Our favorite way to enjoy the sweet wine is on the rocks on a warm summer day. I often forget just how strong the wine is (oh hello there vodka) so if you want something a bit less boozy it's also great with a splash of seltzer!
If you're on the other end of the spectrum and would like a super boozy drink, try using your fortified wine instead of aperol for a refreshing spritz! It's actually great in a lot of different cocktails, but would be a particularly excellent substitute in any recipe that calls for lillet.
For more cocktail inspiration, check out these recipes!
Print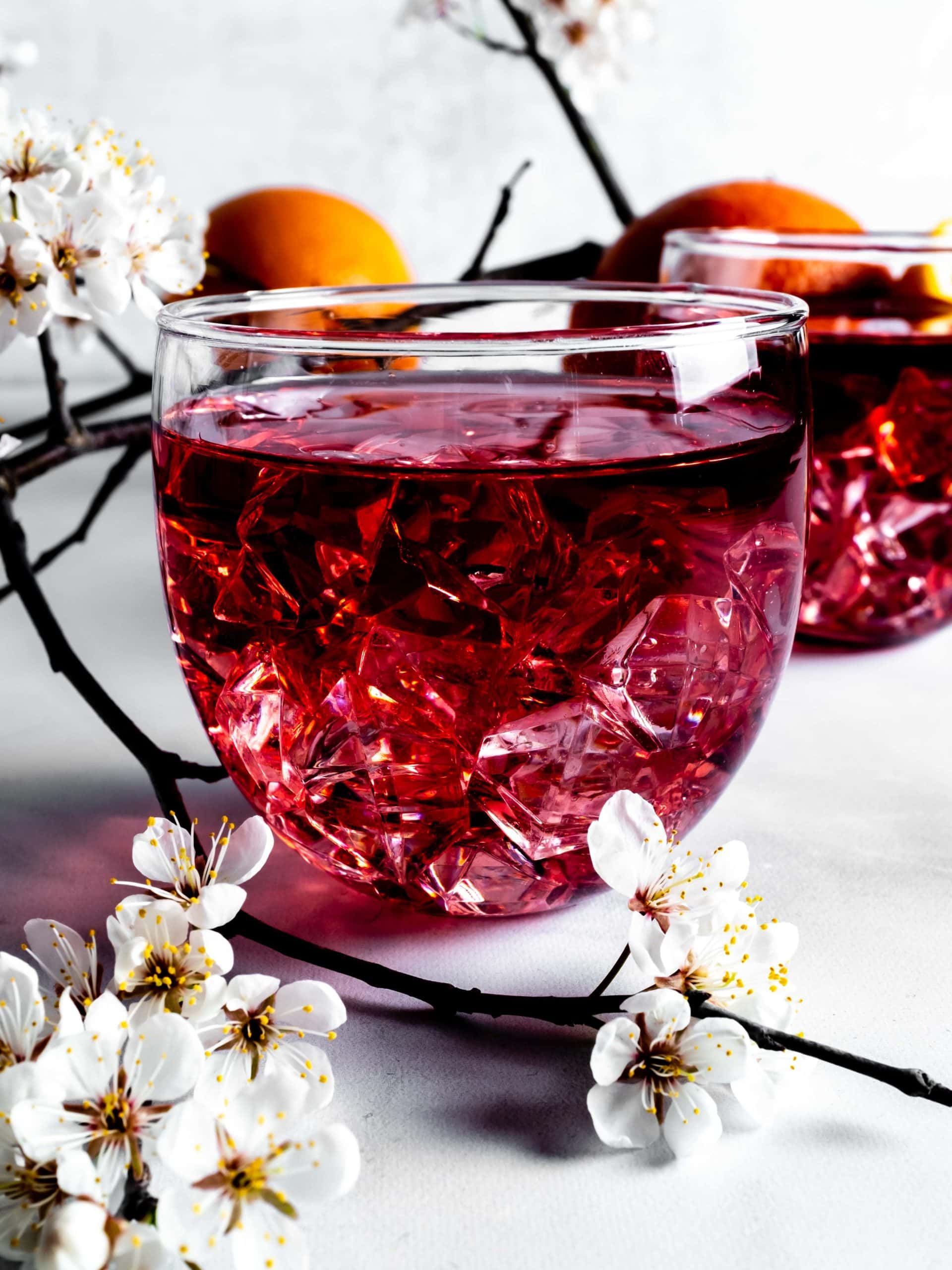 vin d'orange – winter citrus fortified wine
---
Author:

Brit Kapustina

Total Time:

10 minutes

Yield:

1.75 liters

Prep Time:

10 minutes

Category:

Drinks

Method:

Infusion

Cuisine:

French
2

medium blood oranges

2

medium cara cara oranges

1

medium lemon

1

cinnamon

stick

2

(750 ml) bottles rose wine

1.5 cups

(350 ml) vodka

½ cup

(100 grams) granulated sugar
---
Instructions
Wash the oranges and lemons and cut into wedges. Carefully slice the vanilla bean in half lengthwise.
Add all ingredients to a large, clean glass jar (or divide between several jars) and seal. Shake to incorporate the sugar. Store in a dark, cool place for 30-40 days. Every few days (or when you remember) you can give it a light shake.
After 30 days have passed, taste the mixture and let it sit for up to 10 more days if desired.
Discard the citrus and spices and strain the vin d'orange through cheesecloth. Store in a clean glass jar or bottle in the refrigerator.
Keywords: vin d'orange recipe
This post may contain affiliate links through which we may earn a small commission at no additional cost to you. We only recommend products that we genuinely love and would use ourselves.