Our festive zimtsterne feature a light, crispy meringue glaze and deliciously chewy center! Made primarily with almonds, powdered sugar, cinnamon and egg whites, these beloved german christmas cookies may be one of the healthier treats you reach for this holiday season!
While there are several theories about the origins of zimtsterne, many believe they come from Swabia — a historic region in southwestern Germany and also the place I called home for a year! Because of the (possible) Swabian connection, these Christmas cookies were the first on my holiday baking list this year. And even though it's still November, it's never too early to test out cookie recipes!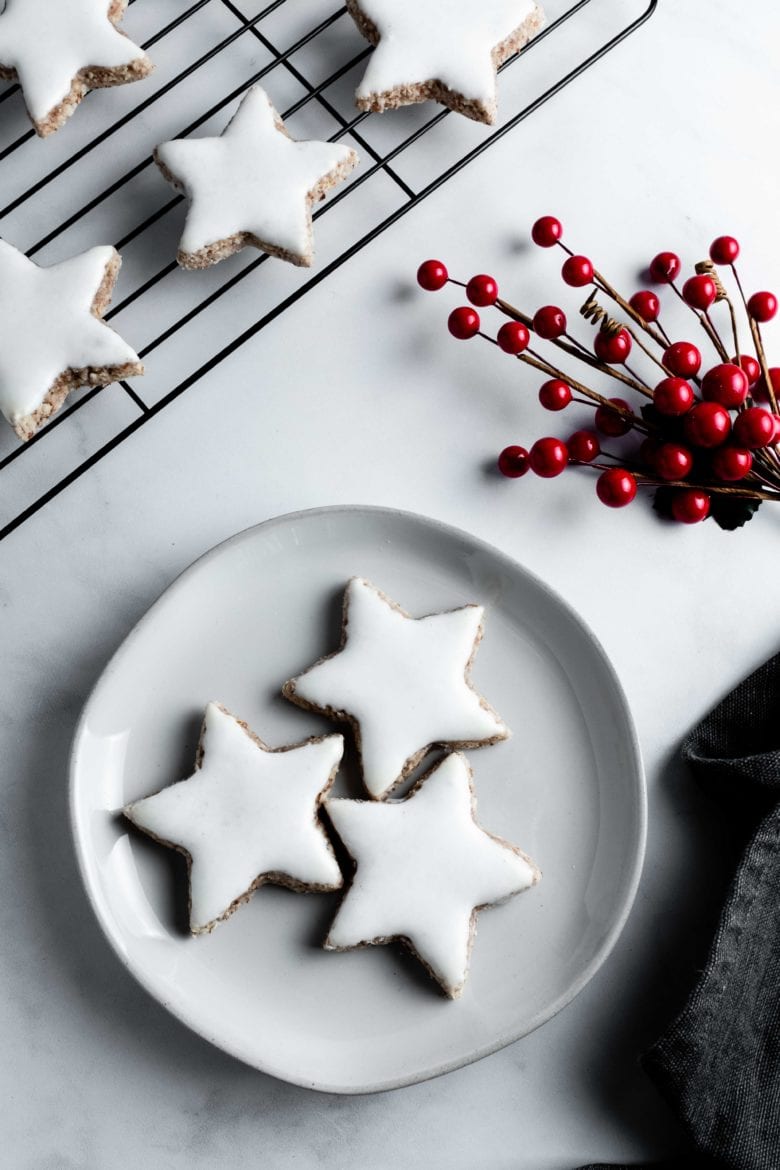 the meringue glaze
The top of these pretty little cookies is an easy meringue that crisps up in the oven! You'll actually be making a big batch of the meringue and then setting aside just a few heaping spoonfuls for the glaze. The rest will be combined with ground almonds to form the cookies.
To make the meringue, you'll need just egg whites and powdered sugar. Use an electric mixer to beat the two ingredients together until peaks form. Just don't forget to reserve a bit of the meringue for the glaze before moving onto the next step! And when it comes time to glaze the cookies, the process is really quite quick. The glaze isn't too finicky and it's easy to spread on with a spoon!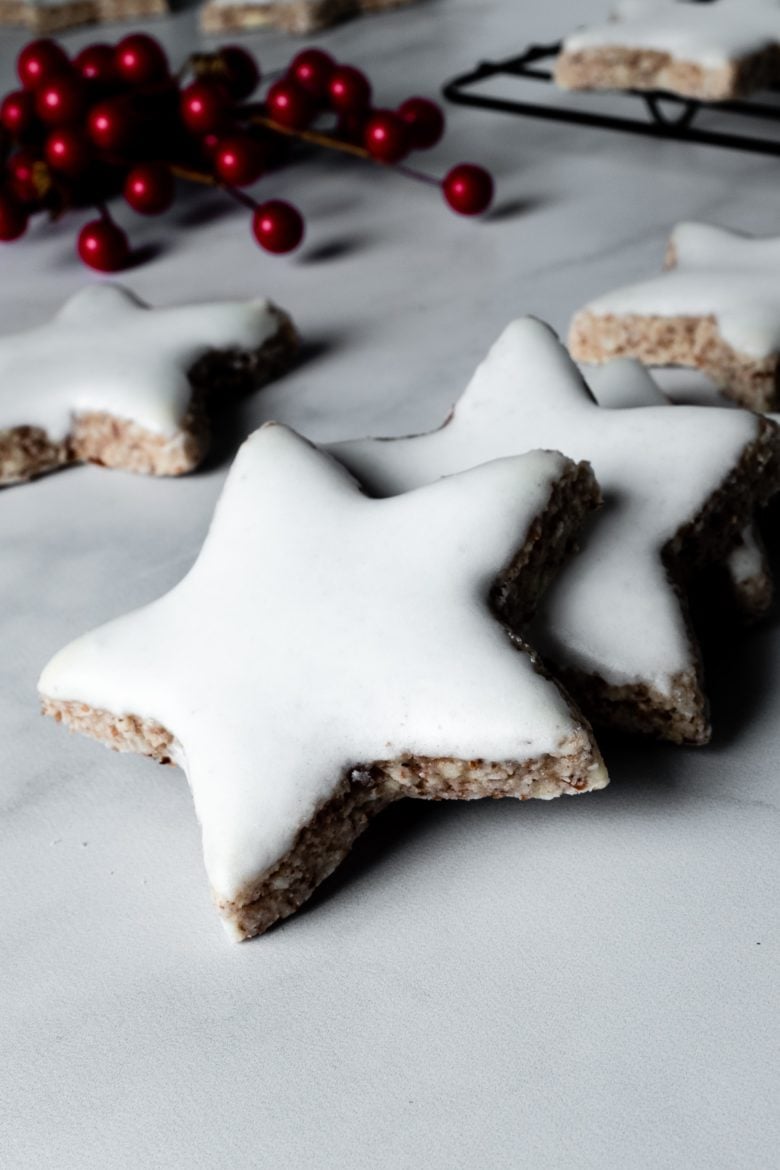 making the zimtsterne
To make the cookie base, you'll need to mix ground almonds, cinnamon, a dash of vanilla and a pinch of salt into the remaining meringue. To get the perfect consistency, I prefer to pulse whole almonds (skin on) in the blender until they're mostly finely ground. Don't worry too much if your mixture isn't completely uniform. As long as there aren't huge chunks in the almond mixture, the dough will meld together nicely and have a lovely texture!
And if you don't feel like grinding your own almonds, you can definitely find almond meal at the store. I would recommend using almond meal as opposed to almond flour, as almond meal is usually made with the skin on and is a bit more coarse than almond flour.
Once your dough comes together, let it chill in the refrigerator for a few hours before rolling it out. When you're ready to cut out your zimtsterne, sprinkle your work surface with powdered sugar and roll out the dough so it's about ½ inch (1 cm) thick. As for the star shape, I used a 3 inch (7.5 cm) star form and got about 36 cookies.
baking tips
To ensure that your zimtsterne keep that snowy white glaze, you'll need to make sure that the meringue doesn't brown in the oven. That's why I like to bake these cookies at a lower temperature (320 F or 160 C) and move the oven rack towards the bottom of the oven.
The cookies only need about 10 minutes in the oven, but don't forget to let them sit on the hot pan for another 10 minutes when they come out of the oven to finish baking without affecting the glaze!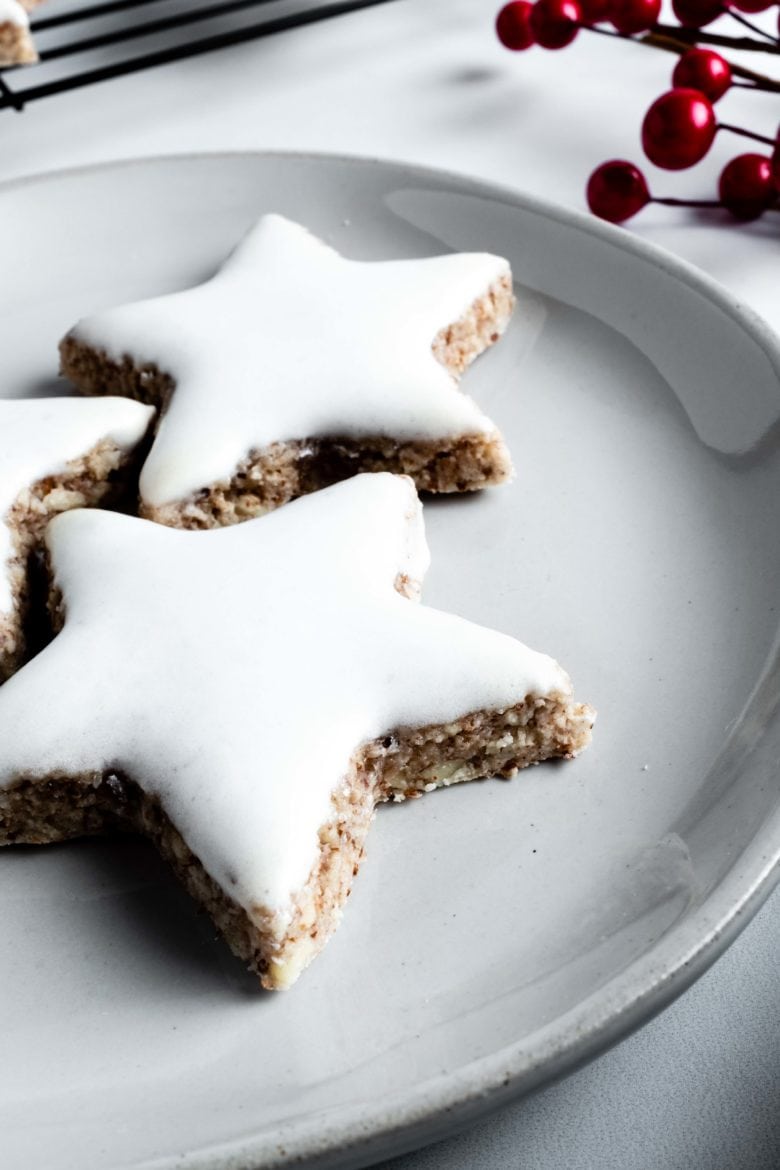 To find more inspiration for your holiday baking list, check out these!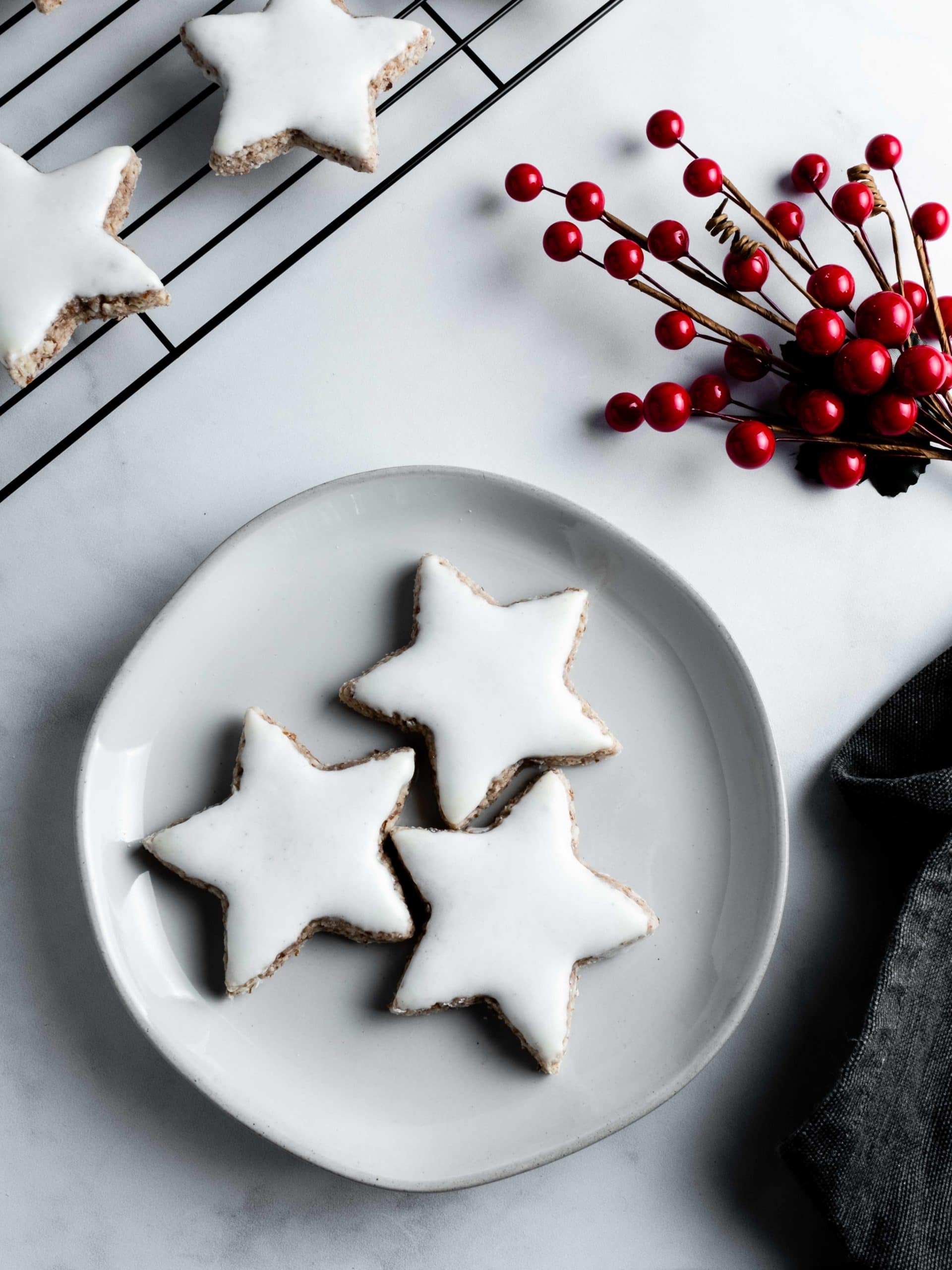 ingredients
eggs

3 egg whites

powdered sugar

2 c (240 g)

ground almonds

4 c (400 g)

cinnamon

1 tsp

vanilla extract

1 tsp

salt

¼ tsp
instructions
Using an electric mixer, beat the egg whites in a large bowl until medium-stiff peaks form.
Stir in the powdered sugar and continue to beat the egg whites until sugar is fully incorporated.
Set aside three heaping tablespoons of the mixture to be used later as the glaze.
Add the ground almonds, cinnamon, vanilla extract and salt. Mix until the dough comes together.
Shape the dough into a disc, cover and chill in the refrigerator for two hours.
Preheat oven to 320 F (160 C) and move the rack to the bottom third of the oven. Line several cookie sheets with parchment paper.
Roll out the dough onto a surface sprinkled with a bit of powdered sugar to about ½ inch (1 cm) thickness. Tip: if you're having trouble working with the dough, you can roll it out between two pieces of parchment paper.
Use a 3 inch (7.5 cm) star-shaped cookie cutter to cut out approximately 36 cookies.
Glaze each star with the egg white mixture that you set aside earlier.
Bake for 10 minutes on the prepared baking sheets. Remove and let sit on the cookie sheet for 10 minutes and then remove to a wire rack to cool.

Did You Make This Recipe?
This post may contain affiliate links through which we may earn a small commission at no additional cost to you. We only recommend products that we genuinely love and would use ourselves.