Our festive Zimtsterne cookies feature a light, crispy meringue glaze and deliciously chewy center! Made with almonds, powdered sugar, cinnamon and egg whites, these beloved German christmas cookies are always the star of our holiday cookie box!
This Zimtsterne recipe comes from Swabia, a historical and cultural region in southwestern Germany and also the place I called home for a year! The German cinnamon star cookies are always one of the first treats I whip up every holiday season. The spiced nutty aroma of the warm cookies reminds me of cozy evenings wandering the Christmas markets in Germany with a steaming mug of Glühwein!
And if you're looking for more Swabian recipe inspiration, make sure to check out our Swabian Potato Salad, Maultaschen (Spinach and Meat Dumplings) and Käsespätzle (Cheese Spaetzle).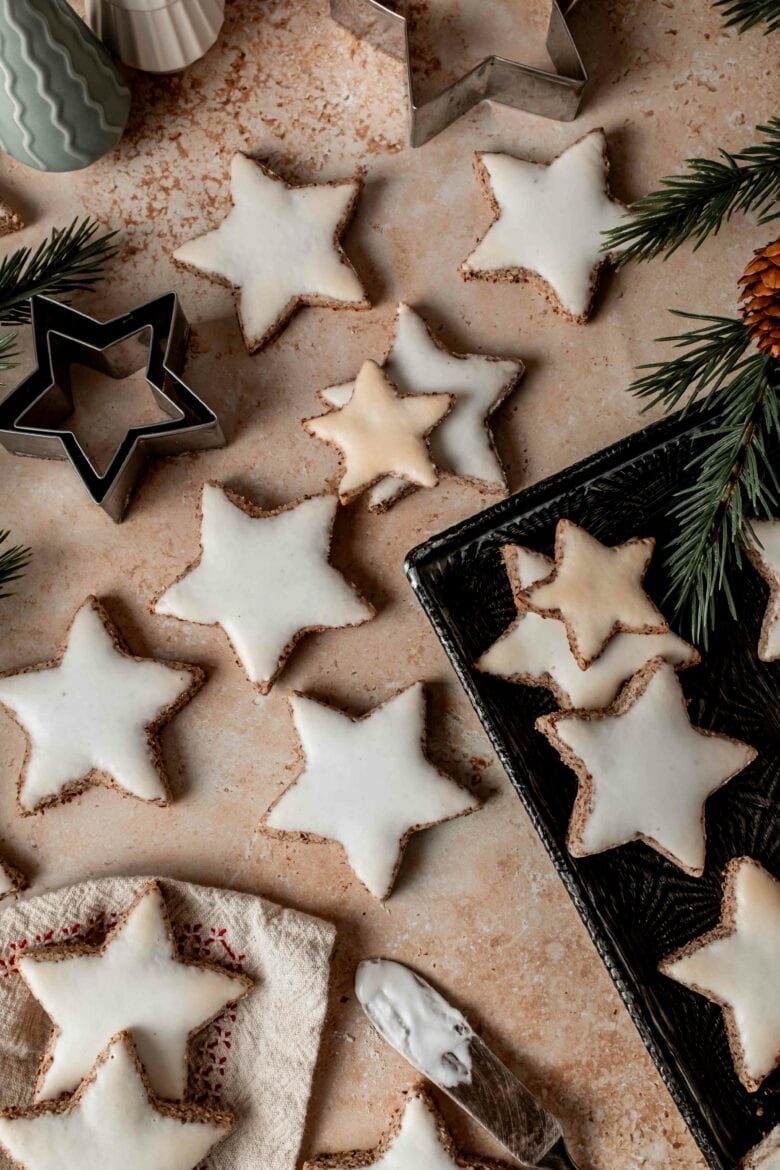 Recipe ingredients
This Zimtsterne recipe is naturally gluten-free and dairy-free, which makes these cookies an excellent treat for those with allergies or sensitivities.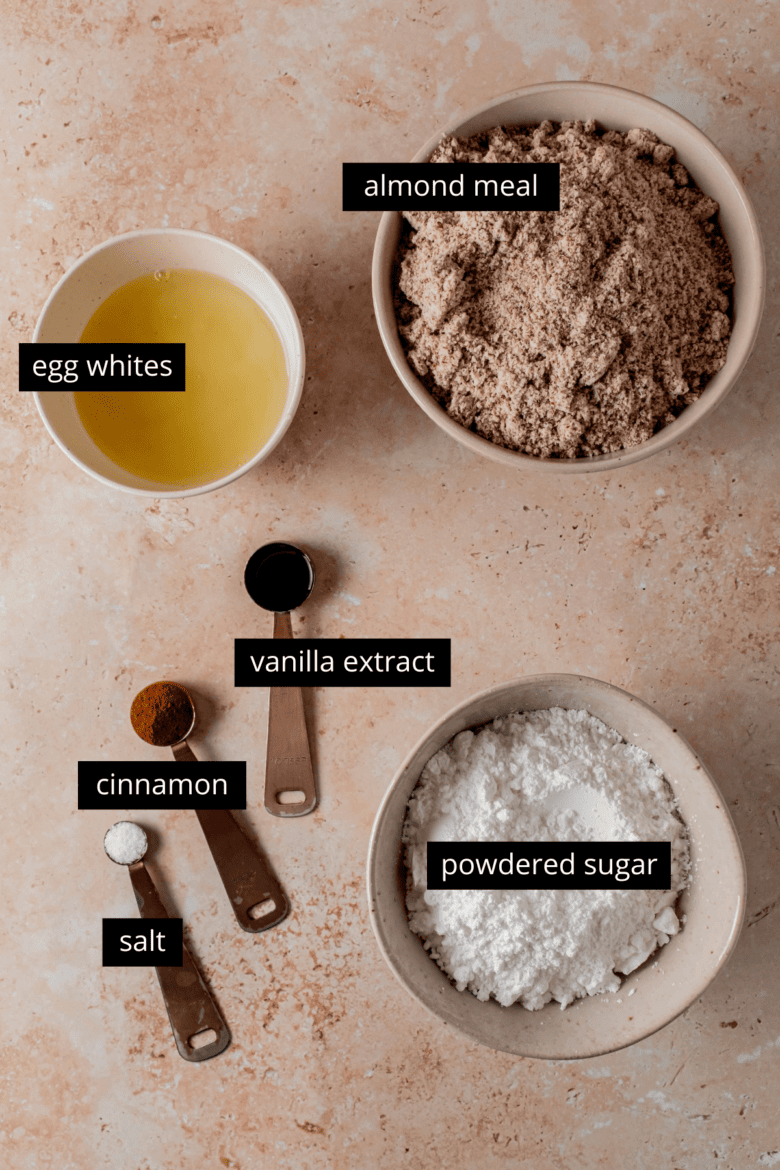 Egg whites: Make sure not to get any traces of yolk in the egg whites, which can make it difficult to whip the whites.
Powdered sugar: Also called confectioners sugar or icing sugar, powdered sugar has a finer texture than granulated sugar and contributes to the more delicate texture of our Zimtsterne.
Almond meal: Make sure you use almond meal or unblanched almond flour. Many almond flours are made with blanched almonds and the lighter texture won't work as well for these cookies. You can also grind your own almonds by pulsing skin-on almonds in your food processor until finely ground.
Ground cinnamon: The zimt in Zimtsterne means cinnamon!
Vanilla extract: Pure vanilla extract enhances the other flavors in the cookies.
Kosher salt: If using regular table salt, use 3/4 of the amount.
Step by step instructions and photos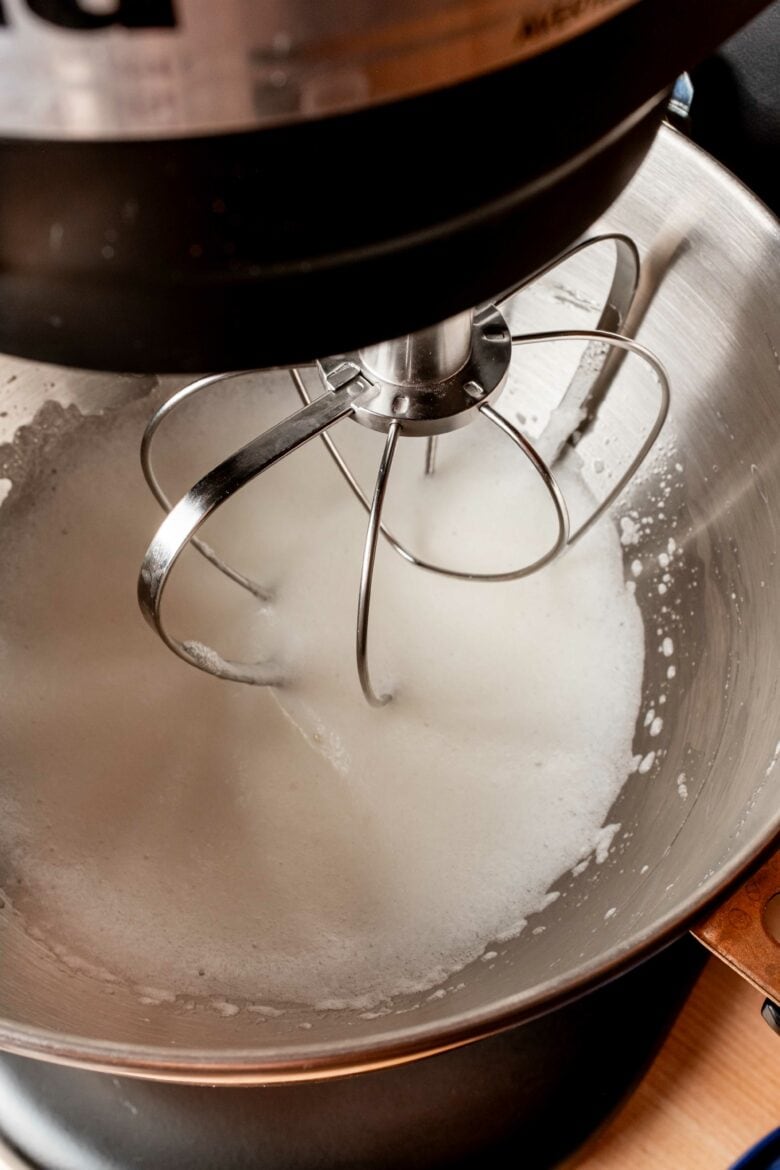 Step 1: Beat the egg whites with an electric mixer until soft peaks form. Add the powdered sugar and continue mixing until fully incorporated.
Step 2: Transfer 1/3 cup of the meringue mixture (about 50 grams) to a small bowl. Cover and set aside. This will be your glaze!
Step 3: Mix together the almond meal, cinnamon, vanilla extract and salt in a separate bowl. Fold it into the egg white mixture until well combined. Cover and chill for two hours.
Step 4: Roll out the cookie dough to about 1/3 inch (8 mm) thickness. Use a star-shaped cookie cutter to cut out the cookies.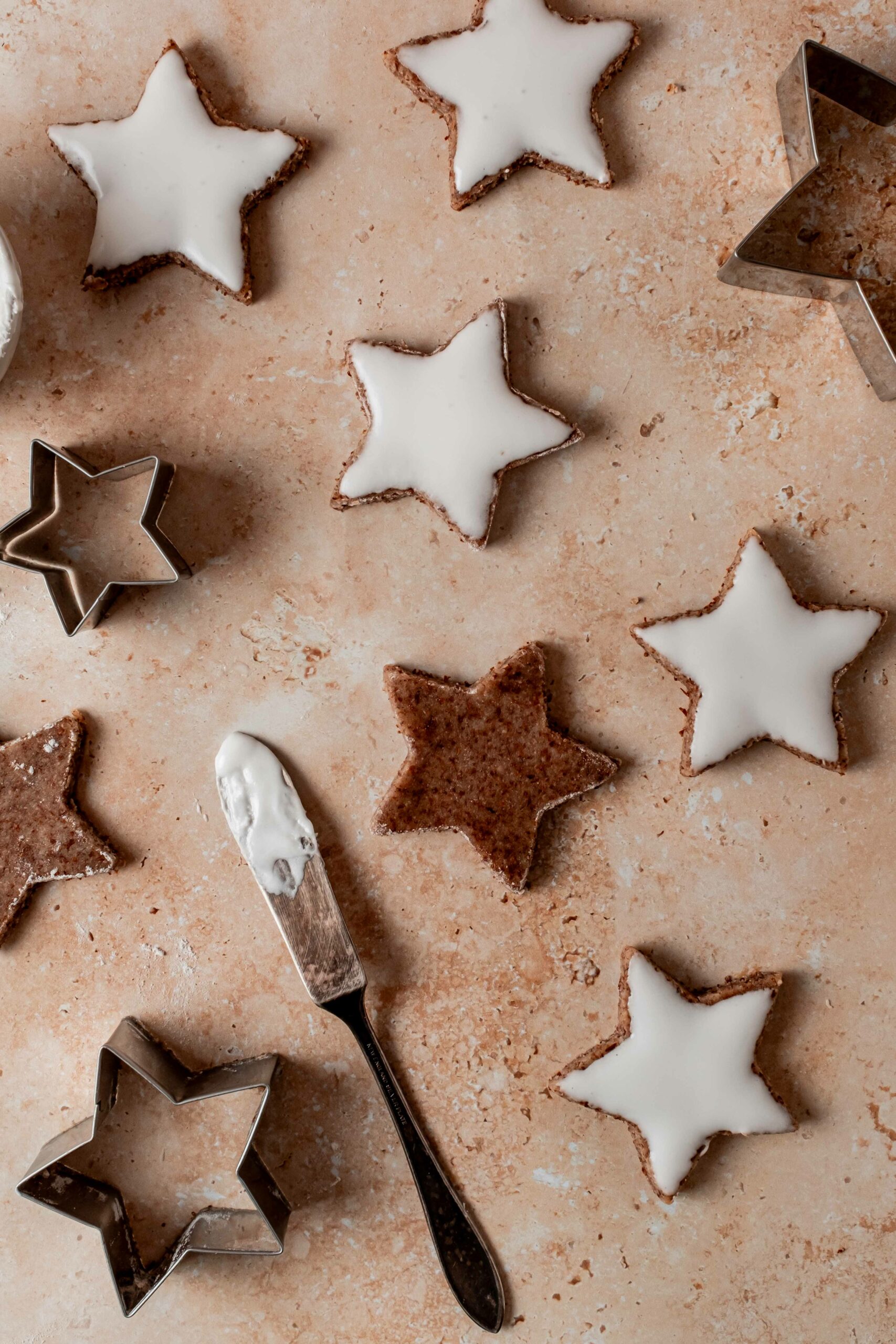 Step 5: Spoon a bit of the reserved meringue onto each cookie and spread it to cover the cookie.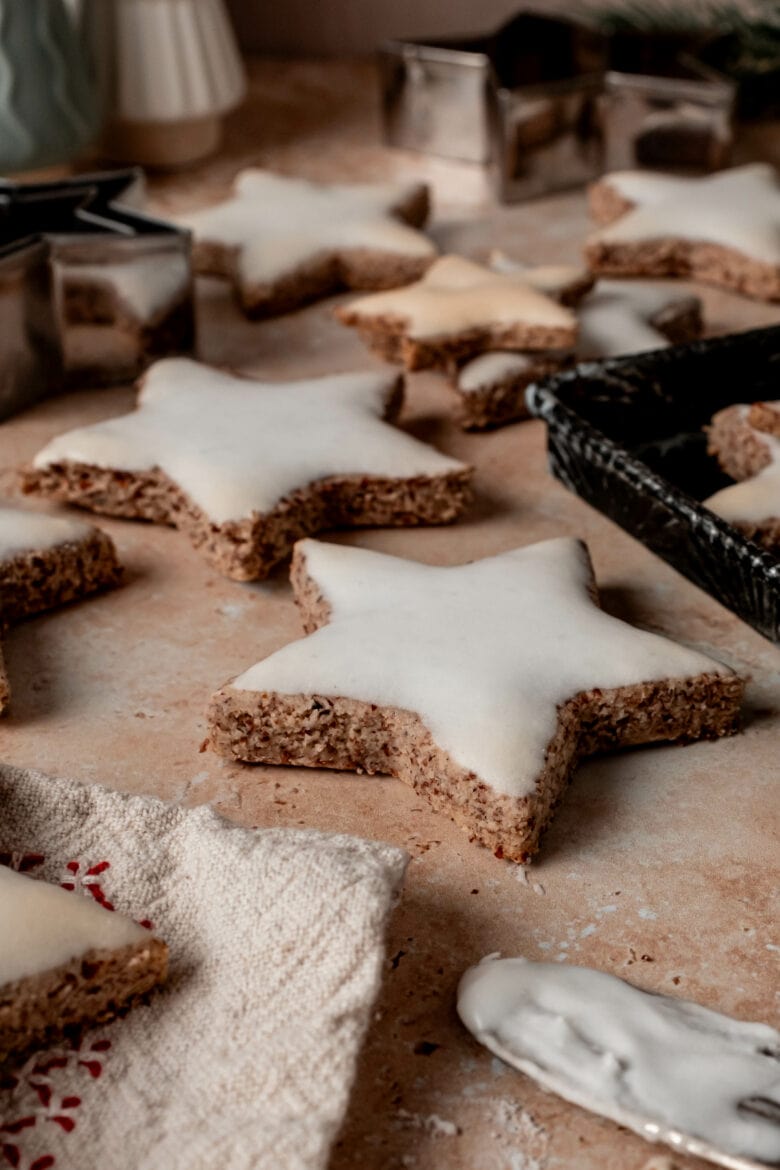 Step 6: Bake the cookies on a rack in the lower third of the oven for 10 minutes. Allow to cool and enjoy!
Storage and freezing
Zimtsterne can be stored in an airtight container in a cool, dry place for up to two weeks.
I also find that Zimtsterne freeze well for up to several months. They're an excellent cookie to make ahead of time and then add to your holiday cookie box later!
Recipe variations
And if you want to take this Zimtsterne recipe to the next level, try these fun twists:
Spice it up. In addition to cinnamon, consider adding ginger, cardamom, cloves, nutmeg or star anise for additional warmth and flavor.
Add some zest. Fresh orange zest gives these little stars a pop of bright freshness!
Make them chocolate-flavored. A spoonful or two of unsweetened cocoa powder will add a rich chocolate taste!
Expert tips and tricks
Roll the dough out between two pieces of parchment paper to keep it from sticking to the rolling pin and work surface.
To ensure that your Zimtsterne keep that snowy white glaze, make sure that the meringue doesn't brown in the oven. Bake the cookies at a low temperature (320°F or 160°C) and move the oven rack towards the bottom of the oven.
The cookies only need about 10 minutes in the oven, but don't forget to let them sit on the hot pan for another 10 minutes when they come out of the oven to finish baking without affecting the glaze!
FAQs
What are Zimtsterne?
Zimtsterne (singular: zimtstern) literally translates to Cinnamon Stars in German. They date back to the 16th century and are now popular in Germany and Switzerland during the holiday season.
Do I need to chill the Zimtsterne dough?
Due to the high almond content, Zimtsterne dough is quite sticky. Chilling the dough firms it up and makes it easier to handle. While you might be able to get away with chilling the dough for just one hour instead of two, I wouldn't recommend skipping this step altogether.
How do I keep the dough from sticking to my rolling pin?
The easiest way to roll out Zimtsterne dough is to place it between two layers of parchment paper. Alternatively, you can sprinkle your work surface with powdered sugar (or flour if you don't need to keep the cookies gluten-free).
Do I have to glaze the Zimtsterne?
Nope, these cookies are excellent even without the glaze! You can leave them plain, dust them with powdered sugar or even get creative with royal icing.
Can I use a different cookie cutter shape?
Definitely! These cookies hold their shape really well in the oven so you can use any cookie cutter you want.
Loving this Zimtsterne recipe? Check out our Holiday Baking List for more cookie inspiration, including these favorites:
Print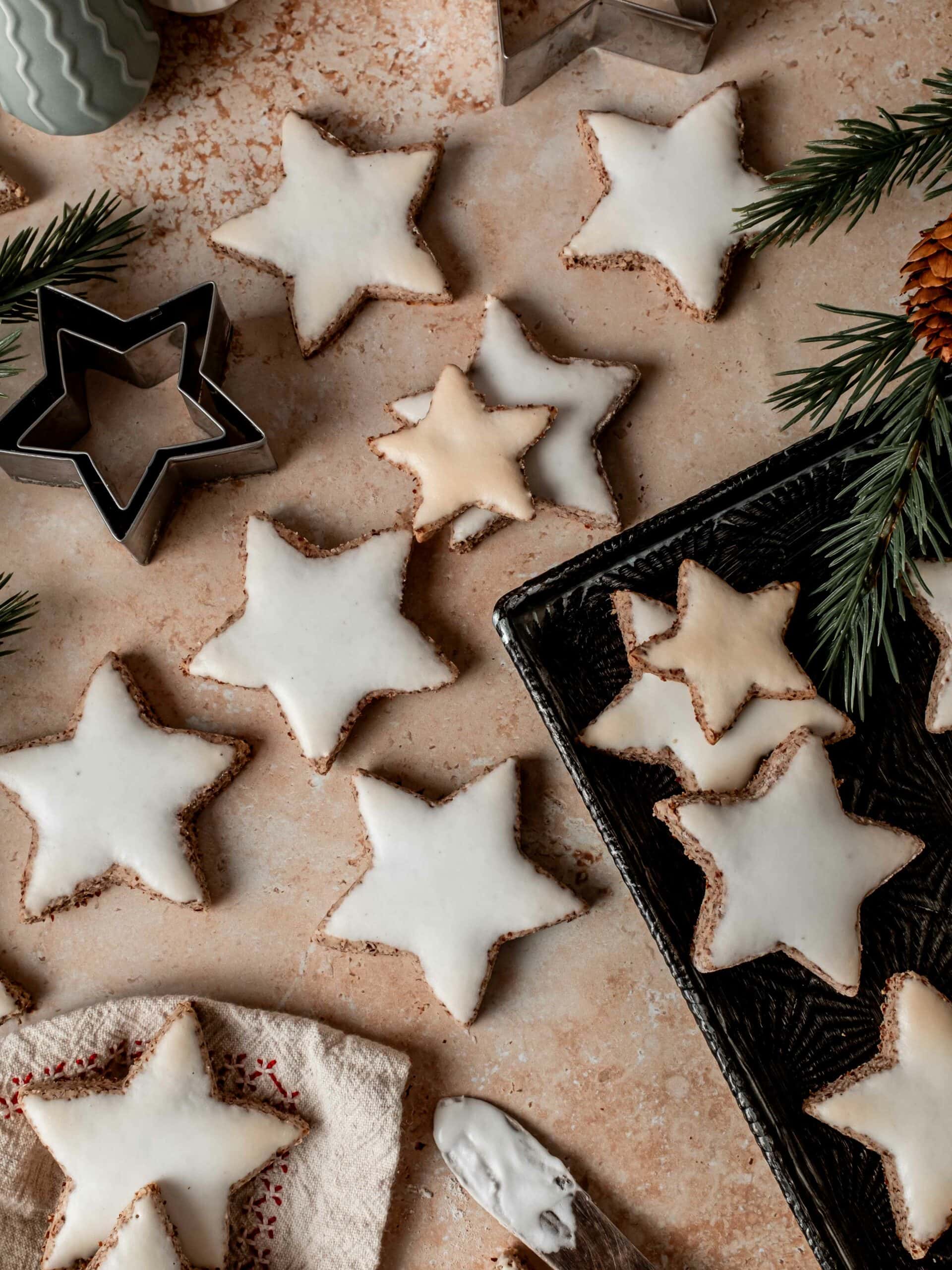 Zimtsterne Recipe
---
Author:

Brit Kapustina

Total Time:

2 hours 40 minutes

Yield:

36 cookies

Prep Time:

30 minutes

Chill Time:

2 hours

Cook Time:

10 minutes

Category:

Dessert

Method:

Baking

Cuisine:

German
3

large egg whites

2 cups

(240 grams) powdered sugar

4 cups

(400 grams) unblanched almond meal*

1 teaspoon

ground cinnamon

1 teaspoon

vanilla extract

¼ teaspoon

kosher salt
---
Instructions
Using an electric mixer, beat the egg whites in a large bowl until soft peaks form.
Sift in the powdered sugar and continue to beat the egg whites until the sugar is fully incorporated and the mixture is smooth and glossy.
Transfer ⅓ cup (about 50 grams) of the meringue mixture to a small bowl. Cover with plastic wrap and set aside. This will be used as the glaze.
In a separate bowl, mix together the almond meal, cinnamon, vanilla extract and salt. Gradually fold into the egg white mixture until well combined.
Shape the dough into a disc, cover and chill in the refrigerator for two hours.
Preheat oven to 320°F (160°C) and move the oven rack to the bottom third of the oven. Line several cookie sheets with parchment paper.
Roll out the dough between two pieces of parchment paper to about ⅓ inch (8 mm thickness). If you don't have parchment paper, you can sprinkle your work surface with powdered sugar or flour.
Use a 3 inch (7.5 cm) star-shaped cookie cutter to cut out cookies. Dip the cookie cutter in powdered sugar to keep it from sticking to the dough. Continue to re-roll the dough and cut out stars until all the dough has been used.
Transfer the cookies to the prepared baking sheets. Spoon a bit of the reserved glaze onto each cookie. Use the back of a small spoon to spread it to the edges of each cookie.
Bake for 10 minutes. Remove and let sit on the cookie sheet for 10 minutes and then transfer to a wire rack to cool completely.
Notes
Almond meal: Make sure to use unblanched almond meal (made from almonds with the skin still intact). Alternatively, you can pulse whole almonds in a food processor until they reach a finely ground consistency.
Storage: Store Zimtsterne in an airtight container at room temperature for up to two weeks.
Keywords: Zimtsterne, Zimtsterne recipe, German Christmas cookies
This post may contain affiliate links through which we may earn a small commission at no additional cost to you. We only recommend products that we genuinely love and would use ourselves.