Filled with smoked salmon, goat cheese and spinach, these delicious little tarts are great served for brunch or as an appetizer that's sure to impress! The tart dough is flaky and tender, yet delightfully easy to make and a perfect accompaniment to the flavorful filling!
Fresh fish is hard to come by in Nebraska, so when we were craving seafood this weekend we picked up something a bit more accessible and just as tasty – smoked salmon! Smoked salmon can also be somewhat expensive here even for a small quantity, but it's definitely worth the cost every once in awhile. Luckily, these tartlets with goat cheese and spinach are a great way to take advantage of smoked salmon's intense and incredible flavor – you can stretch a few ounces into an entire appetizer or even meal.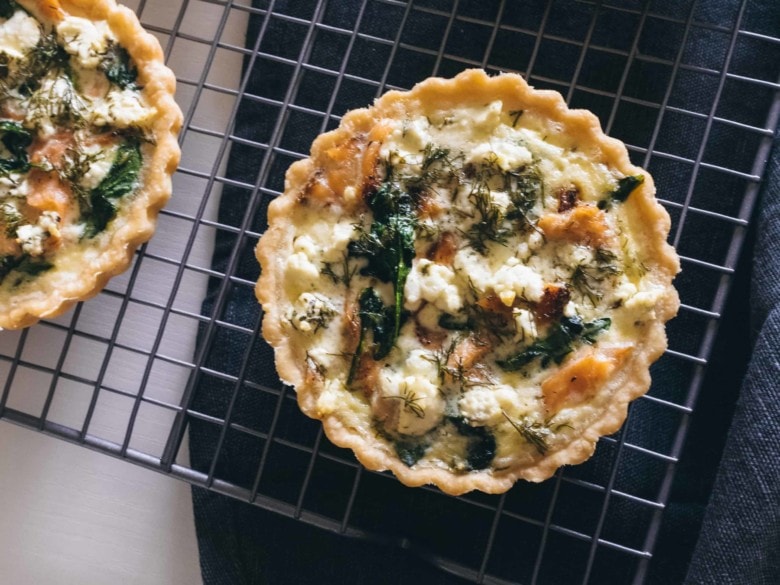 The dough for these tartlets is so easy to make. Really! My only tip – don't overwork it in the food processor or knead it too long. Basically, don't make too much of an effort and it should come together wonderfully. A super low effort dough is a marvelous thing.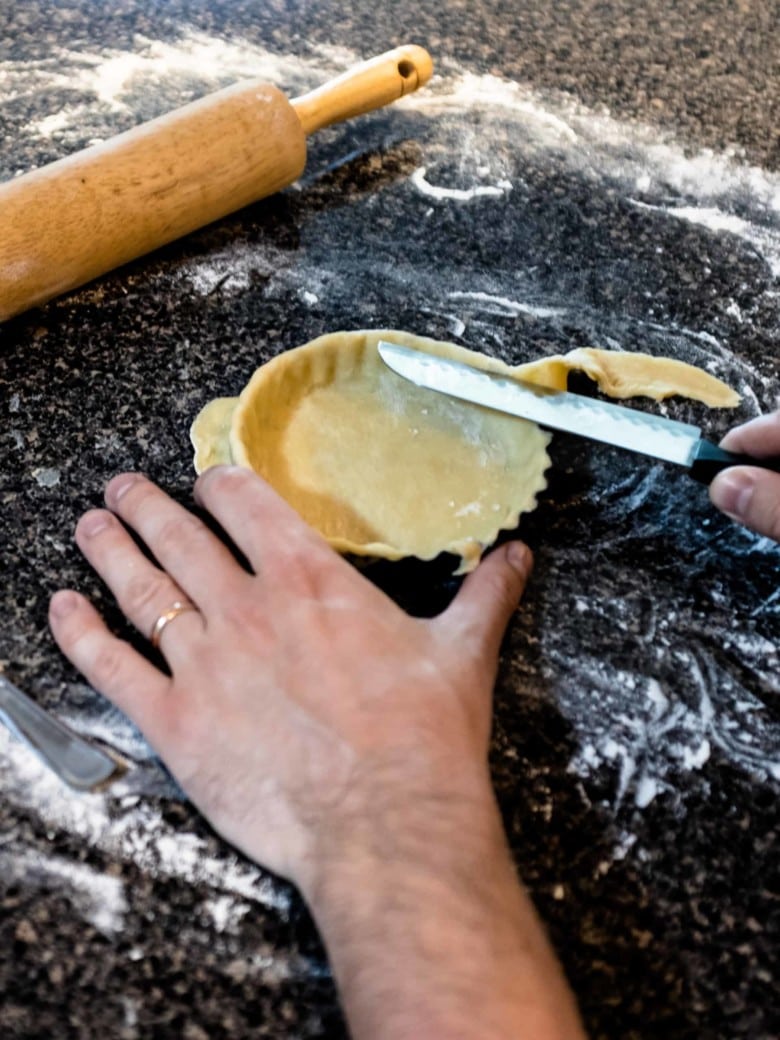 I made mini 4-inch tartlets, but you'll have enough dough to make one large 10 or 11-inch tart if you'd rather. You'll just have to make sure to bake it a few minutes longer. After blind baking (which just means baking the crust before you add the filling), you layer each tartlet with salmon, goat cheese, spinach and dill and then pour a cream/egg mixture over the top. Put them in the oven one more time and you're done! You've got a pretty appetizer that will definitely impress everyone.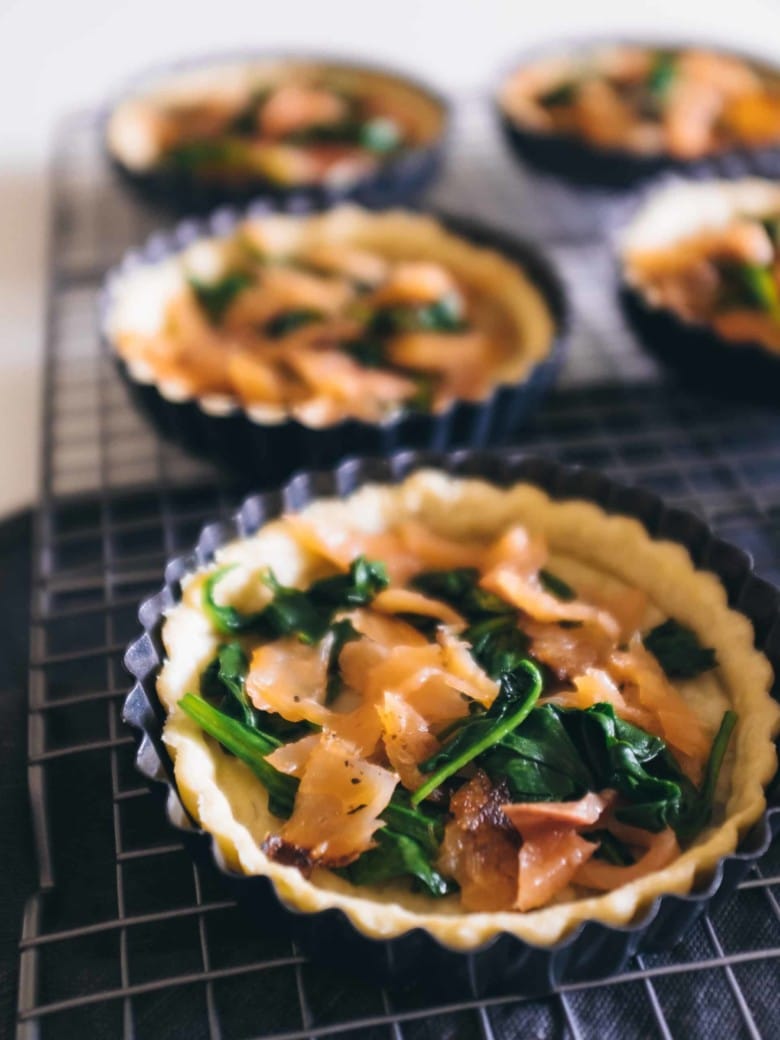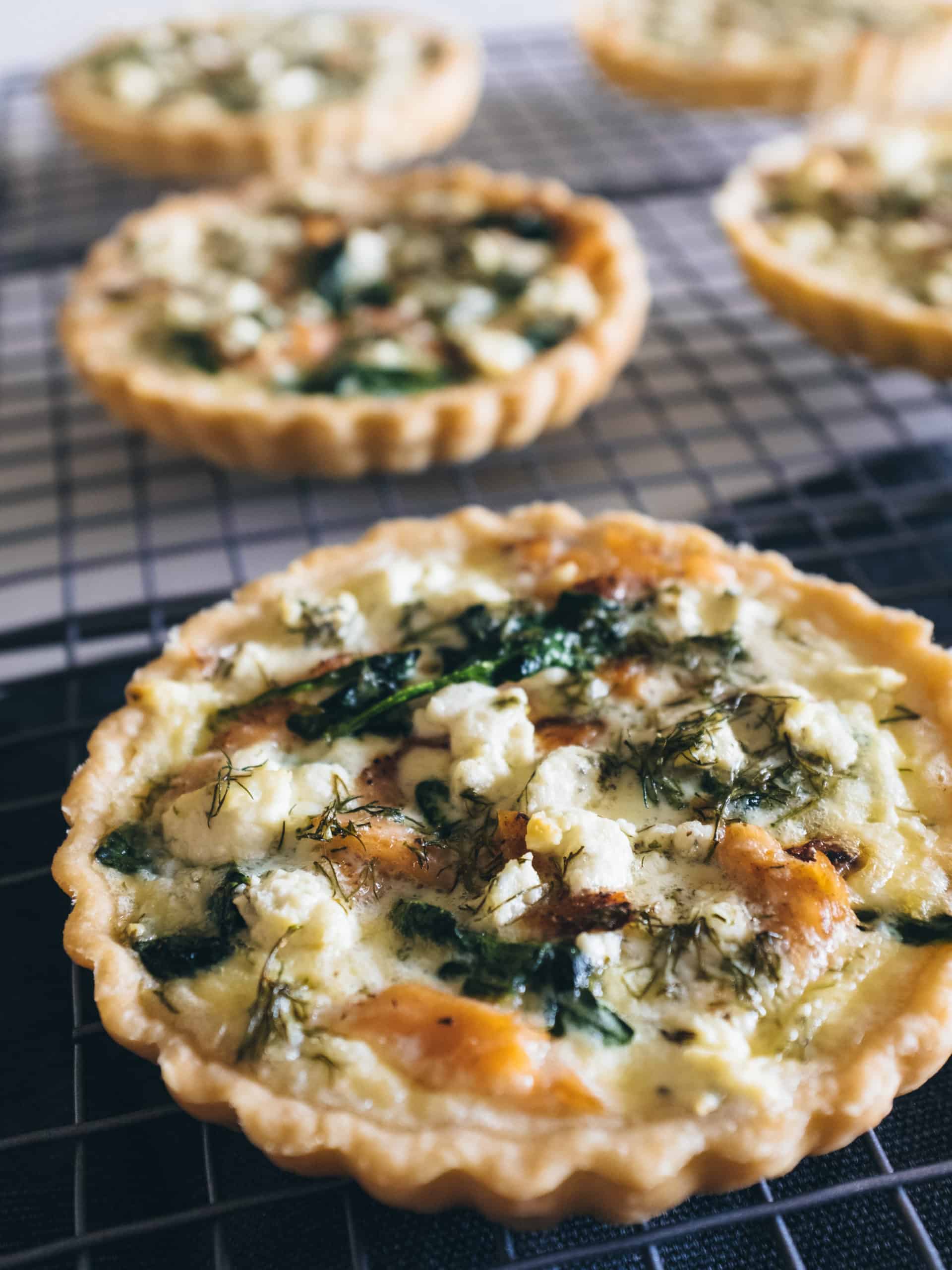 ingredients
makes six to eight 4-inch (10 cm) tartlets or one 10-inch (25 cm) tart
tart crust
cold butter

140 g (10 tbsp)

flour

250 g (2 c)

salt

½ tsp

ice-cold water

3-4 tbsp

egg

1 large
filling
olive oil

2 tsp

minced garlic

1 clove

spinach

100 g (3.5 oz)

smoked salmon

100 g (3.5 oz)

goat cheese

60 g (2 oz)

chopped dill

2 tbsp

heavy cream

230 ml (1 c)

egg

1 large

salt

½ tsp

pepper

½ tsp
instructions
Cut the cold butter into cubes and add to food processor along with flour and salt. Pulse until crumbs just begin to form.*

Add the egg and ice-cold water to the food processor. Pulse until the mixture resembles coarse sand. Start with 3 tbsp of water and add another if dough is too dry. Make sure not to overwork the dough or it will be difficult to roll out later!

Pour crumb mixture into a bowl, form dough with your hands and roll into a disk. Wrap with plastic and chill in the refrigerator for 30 minutes.

Cut the dough into six equal portions. On a lightly floured surface, roll out each portion into a 6-inch (15-cm) circle and lay over each tart pan. Gently press dough into the form. Trim the excess dough with a knife. If you have enough excess dough, you can use it to make an additional 1-2 tarts.

If making one large tart, roll out one large circle. 

Blind bake* the tart crusts at 400 F (200 С) for 20 minutes. Remove from oven and set aside.

To prepare the filling, mince the garlic. Heat olive oil in a small skillet over medium heat and saute the garlic for one minute.

Add spinach to the skillet. Season with a pinch of salt and pepper if you wish. Continue sauteing until the spinach is just wilted. Set aside to cool.

Line each tart crust with sauteed spinach and salmon. Crumble the goat cheese on top and sprinkle with dill.

In a small bowl, whisk together the eggs and heavy cream. Stir in salt and pepper.

Pour the egg mixture over the tarts.

Cook the filled tarts 20-25 minutes or until set.

If making one large tart, the baking time might be a bit longer. Bake until the filling is golden brown.
notes
no food processor?You could also use a pastry blender or even a knife to mix the cubed butter into the flour and salt mixture. Then mix in the egg and water with a fork just until the dough forms. blind bakingBlind baking simply means to bake your crust without the filling. Baking without the filling often causes tart dough to puff up, but there are several steps you can take to prevent this. First, pierce the dough with a fork all over the bottom. Then line each tart with parchment paper or foil and add uncooked rice, dry beans or lentils, or pie weights. Cook the tarts with the weights for the first 15 minutes. Then remove the foil or paper and weights and cook the tart crusts for the last 5 minutes without the weights. This gives the bottom of the crust a chance to cook.

Did You Make This Recipe?
And for more salmon recipes, make sure to give these a try!