Coated in a slightly spicy maple glaze, our prosciutto wrapped dates are stuffed with goat cheese and thyme and ready to eat in just 10 minutes! These little appetizers are incredibly easy to make and sure to impress!
I absolutely love snacking on dried dates, but when you fill them with goat cheese and wrap them in prosciutto they transform into an unforgettable appetizer! To give them a bit of a twist and a little heat, I also like to brush them with a bit of maple syrup mixed with cayenne before they go in the oven. With so many flavors rolled up into one bite of deliciousness, these are always the first to disappear at dinners and parties!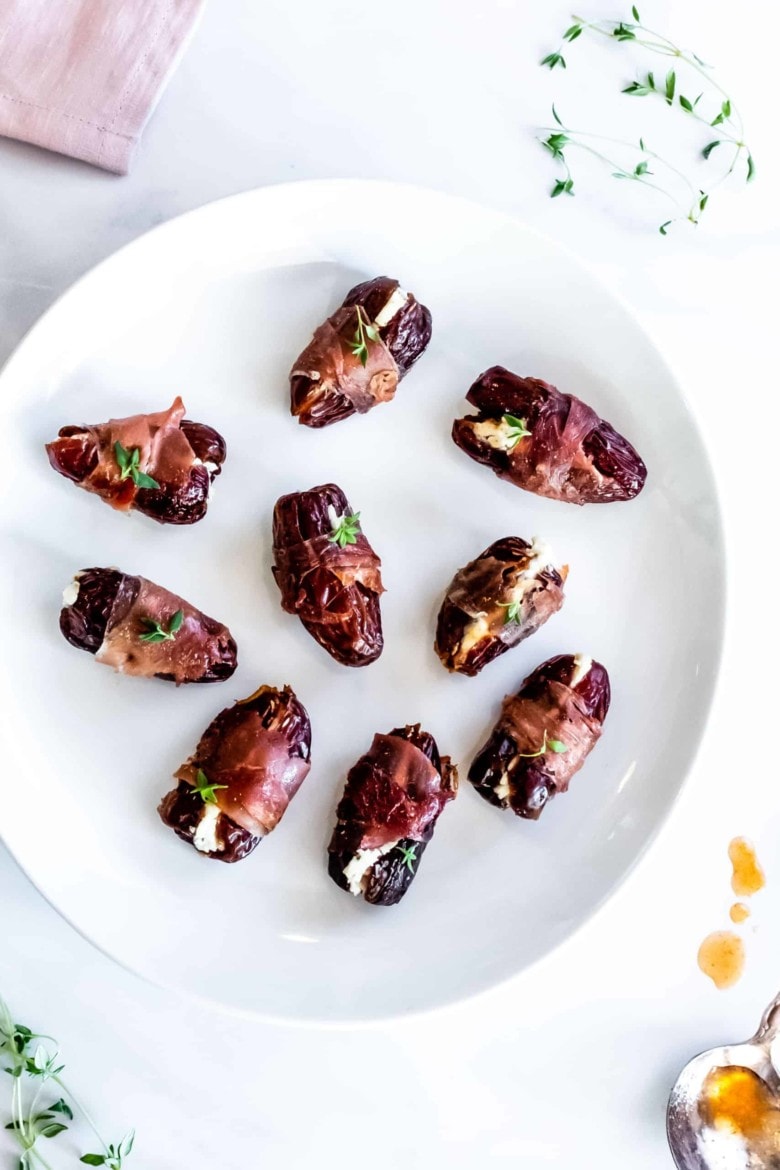 goat cheese stuffed and prosciutto wrapped
To make these little delights, start off with about two dozen dried medjool dates. I like to buy mine already pitted, but you can also remove the pit yourself if you find yourself with whole dates! To prepare them for the goat cheese, you'll just need to make a slit in each date lengthwise (not cutting all the way through) and then open them up a bit like a book. 
When I use plain goat cheese, I like to mix it with a bit of fresh thyme for some added freshness, but you could definitely skip this step if you buy goat cheese already with herbs and spices! To fill the dates, you'll want to add just enough goat cheese so that you can squeeze the date almost fully shut around it. If you get a little goat cheese overflowing that's perfectly fine!
Next, it's time to wrap the stuffed dates with prosciutto! I usually need about one piece of prosciutto for every four or five dates. I'm not incredibly careful with this process and usually just tear off pieces that look about the right size. Don't forget to secure with a toothpick before baking — it helps keep the prosciutto tightly wrapped!
maple glaze with a little heat!
And now the last step! To make the maple glaze, mix together three tablespoons of maple syrup with half a teaspoon each of cayenne and garlic powder. Then simply brush the glaze over the prosciutto and they're ready to bake! Such a quick step, but it adds such an incredible depth of flavor to these treats!
You can use a little less cayenne if you don't want any heat, but the half teaspoon definitely isn't overwhelming and provides just a touch of spiciness!
Looking for more appetizer ideas? Try these!
ingredients
dried medjool dates (pitted)

24 dates

goat cheese

4 oz (110 g)

chopped thyme

½ tsp (optional)

prosciutto

6 slices

maple syrup

3 tbsp

cayenne

½ tsp

garlic powder

½ tsp
instructions
Preheat oven to 400 F (200 C) and line a baking sheet with parchment paper.
Make a slit in each date lengthwise (but don't cut all the way through) and discard the pit.
If using fresh thyme, mix it together with the goat cheese in a small bowl. Stuff the dates with goat cheese.
Cut each prosciutto slice into four pieces (You can cut each slice of prosciutto into two long slices and then cut each of those in half). Wrap a small slice of prosciutto around each date. Secure with a toothpick.
Mix together the maple syrup, cayenne and garlic powder. Brush the prosciutto wrapped date with the mixture.
Bake the dates on the prepared baking sheet for 10 minutes or until the prosciutto is slightly crispy.

Did You Make This Recipe?
This post may contain affiliate links through which we may earn a small commission at no additional cost to you. We only recommend products that we genuinely love and would use ourselves.