Creamy brie cheese, sweet jam and toasted pecans — this simple yet elegant crowd-pleaser always disappears quickly! With just 5 ingredients and 5 minutes of prep, this baked brie with jam recipe is a quick and easy appetizer perfect for the holidays!
Best served fresh out of the oven with crackers or toasted baguette slices, this easy holiday brie appetizer is always a hit! Our favorite version of baked brie includes fig jam, chopped dried figs and toasted pecans. But we've also included tips and tricks to mix it up and make this dish your own.
Recipe Ingredients
This baked brie with jam recipe calls for the following ingredients:
Brie cheese wheel
Fig jam (or your favorite jam)
Dried figs
Pecans (or other nuts)
A pinch of salt
Choosing Your Brie
Brie is a soft cheese with a mild flavor. It becomes melty and incredibly creamy when baked, making it perfect to spread on crackers or crostini.
For this baked brie recipe, we use an 8 oz (230 g) wheel of brie cheese. But if you're serving a larger crowd, you might want to go with a 16 oz (450 g) wheel. Just make sure to increase the baking time as needed!
And if you can't find brie cheese at the grocery store, camembert makes a great substitute. Camembert has a slightly stronger, more earthy flavor, but still pairs well with a variety of jams.
Should I Remove the Rind?
For this recipe, we like to leave the rind on as it provides support for the toppings. The rind of brie cheese is completely safe to eat. And actually, I think the texture and subtle earthy flavor of the rind provides a delicious contrast to the creamy cheese inside!
That being said, if you're making pastry wrapped baked brie (brie en croute with puff pastry), we do recommend removing the top of the rind so that the cheese really oozes out when cutting into it.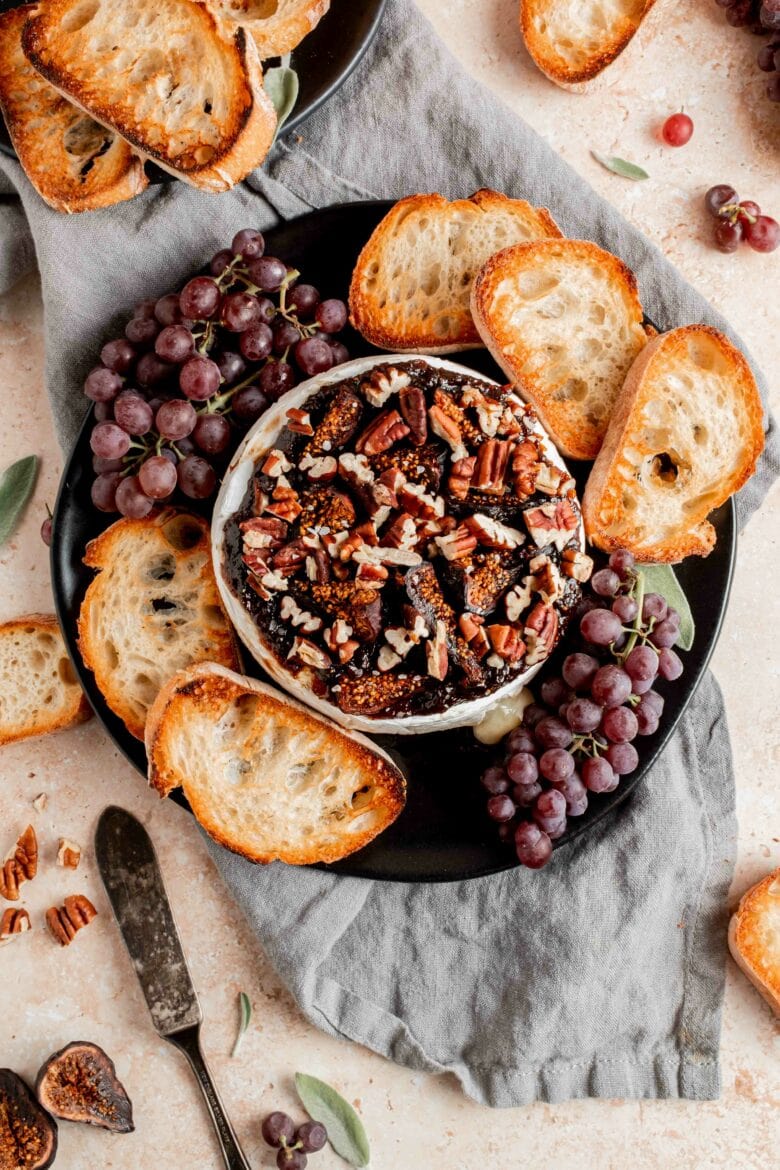 How to Make Baked Brie with Jam
The Toppings
We chose our favorite toppings for this baked brie with jam recipe (fig jam, dried figs and chopped pecans), but really there are so many delicious options! Here are a few ideas to get your creativity flowing:
In place of fig jam, you can substitute any of your favorite jams or preserves. Raspberry, strawberry and apricot jams all pair exceptionally well with creamy brie. Or you could simply go with a drizzle of honey or maple syrup!
I also like to add a little something for texture on my baked brie appetizer. While we used pecans here, you really can't go wrong with any type of nut. Walnuts, hazelnuts, almonds and pistachios would all make great additions. And while you don't really need to use dried fruit, we love the extra bit of texture you get from adding dried figs (dried cranberries or apricots would also work well).
Although we don't include them in this quick recipe, herbs are an excellent way to add flavor and a pop of color to your baked brie. Try a bit of rosemary or thyme for a little flavor boost!
Baking the Brie
Now the final step: bake the brie cheese at 375°F (190°C) for 12-15 minutes. Here are a few tips to get perfectly soft and melty cheese every time:
If you have the time, let the brie sit at room temperature fr an hour before baking.
If the pecans are getting too toasty in the oven but the brie needs a bit longer, just drape a bit of foil over the top.
Make sure you have everything ready to serve the brie immediately. As it cools it will begin to firm back up.
Recipe Variations
This recipe is super customizable and the topping ideas are endless! Here are a few baked brie variations that we really love:
Cranberry sauce with orange zest and chopped pecans
Apricot jam and walnuts
Honey and sliced almonds
Caramelized onions, hazelnuts and thyme
Mango chutney and cashews with a green onion garnish
How to Store and Reheat Leftovers
Leftover baked brie can be stored in an airtight container in the refrigerator for up to 5 days.
To reheat this baked brie recipe, wrap the brie in foil and reheat at 350°F (180°C) until warmed through.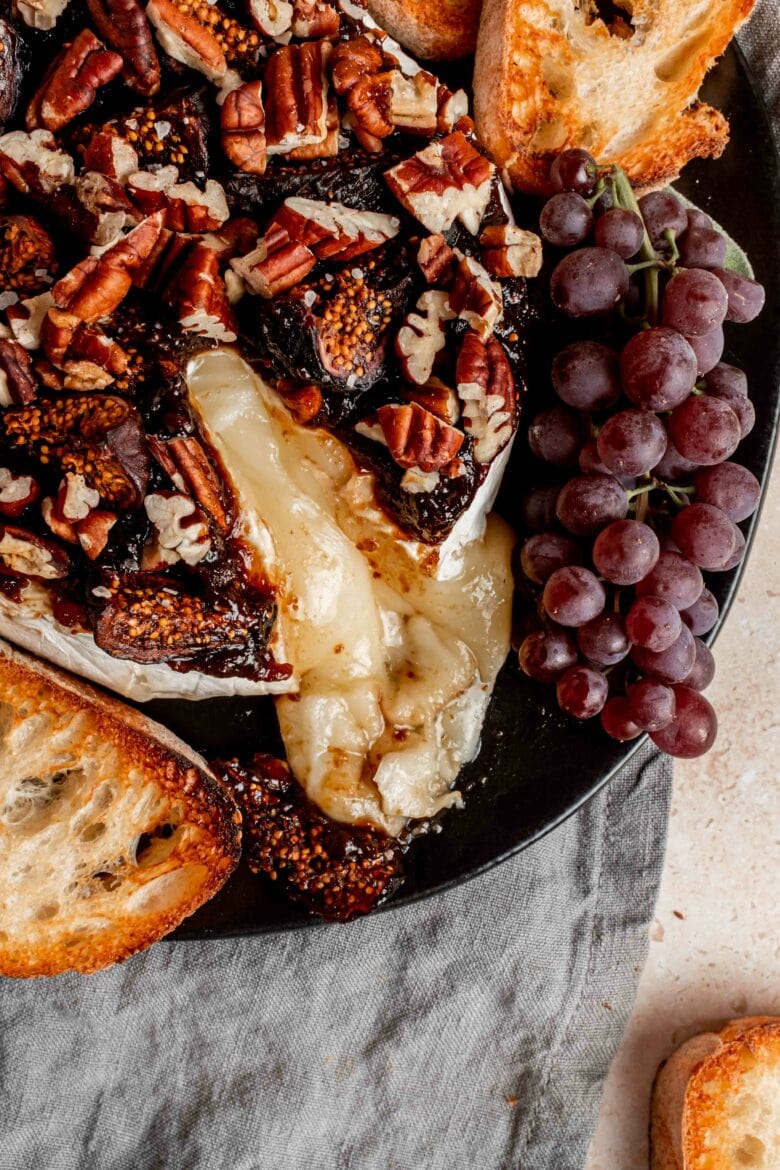 FAQs
What type of jam goes well with baked brie?
While we use fig jam here, other great options include raspberry, apricot and peach jams!
What is the best temperature to bake brie?
The best temperature to bake brie is 375°F (190°C). This temperature allows the brie to heat through and become warm and gooey without overcooking or melting too quickly.
How long does it take to soften brie cheese in the oven?
It typically takes about 12-15 minutes to soften brie cheese in the oven at 375°F (190°C). But keep an eye on your brie appetizer and cover with foil if the topping cooks too quickly.
How long will baked brie stay melted?
Once baked, brie cheese will stay melted for a relatively short period, typically 15-20 minutes. As it cools, it will begin to firm up again (but still be delicious)!
What should I serve with baked brie?
Our favorite way to serve baked brie is with toasted baguette slices. You could also serve it alongside crackers or even as part of a larger cheese board with fresh fruits, nuts and other spreads!
Can I prepare this recipe ahead of time?
Yes! You can add the toppings a day in advance and just keep the brie in the fridge until you're ready to bake. If placing in the oven directly from the fridge, you may need to add an additional few minutes of baking.
How do you store leftovers?
Leftover baked brie can be stored in an airtight container in the refrigerator for up to 5 days and can be reheated in the oven or microwave.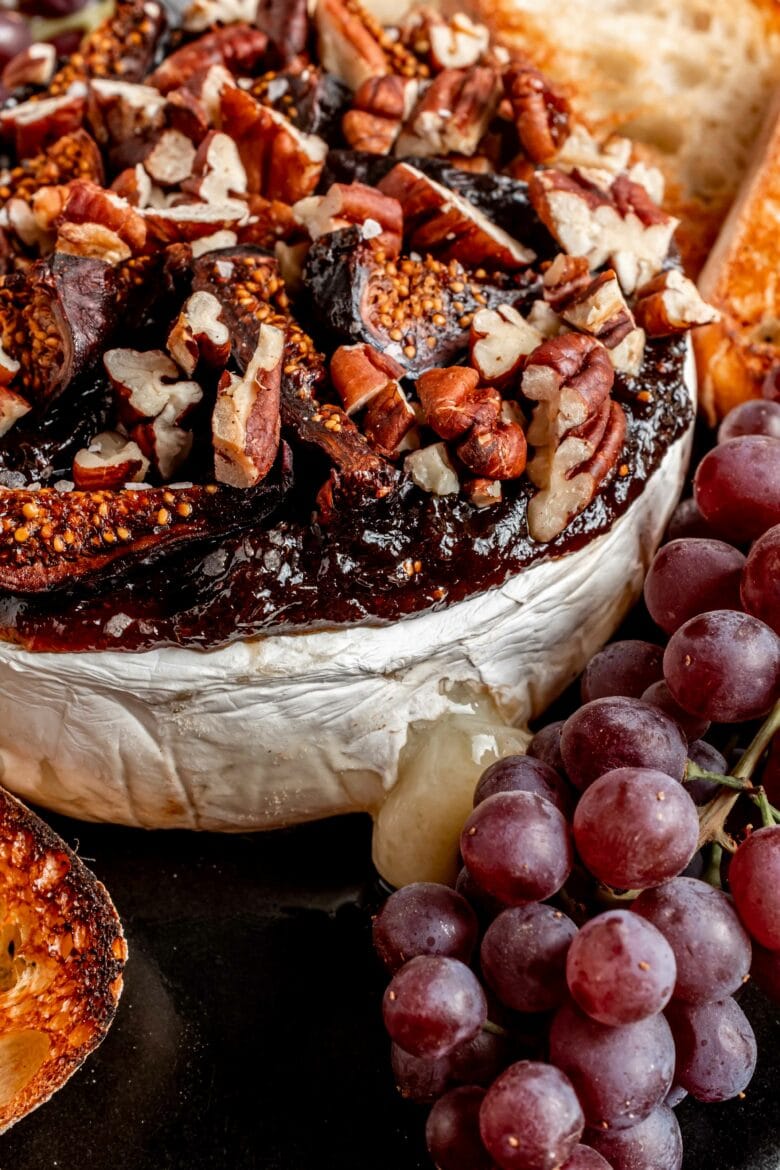 If you loved this baked brie recipe, make sure to check out more of our favorite cheesy appetizers!
Print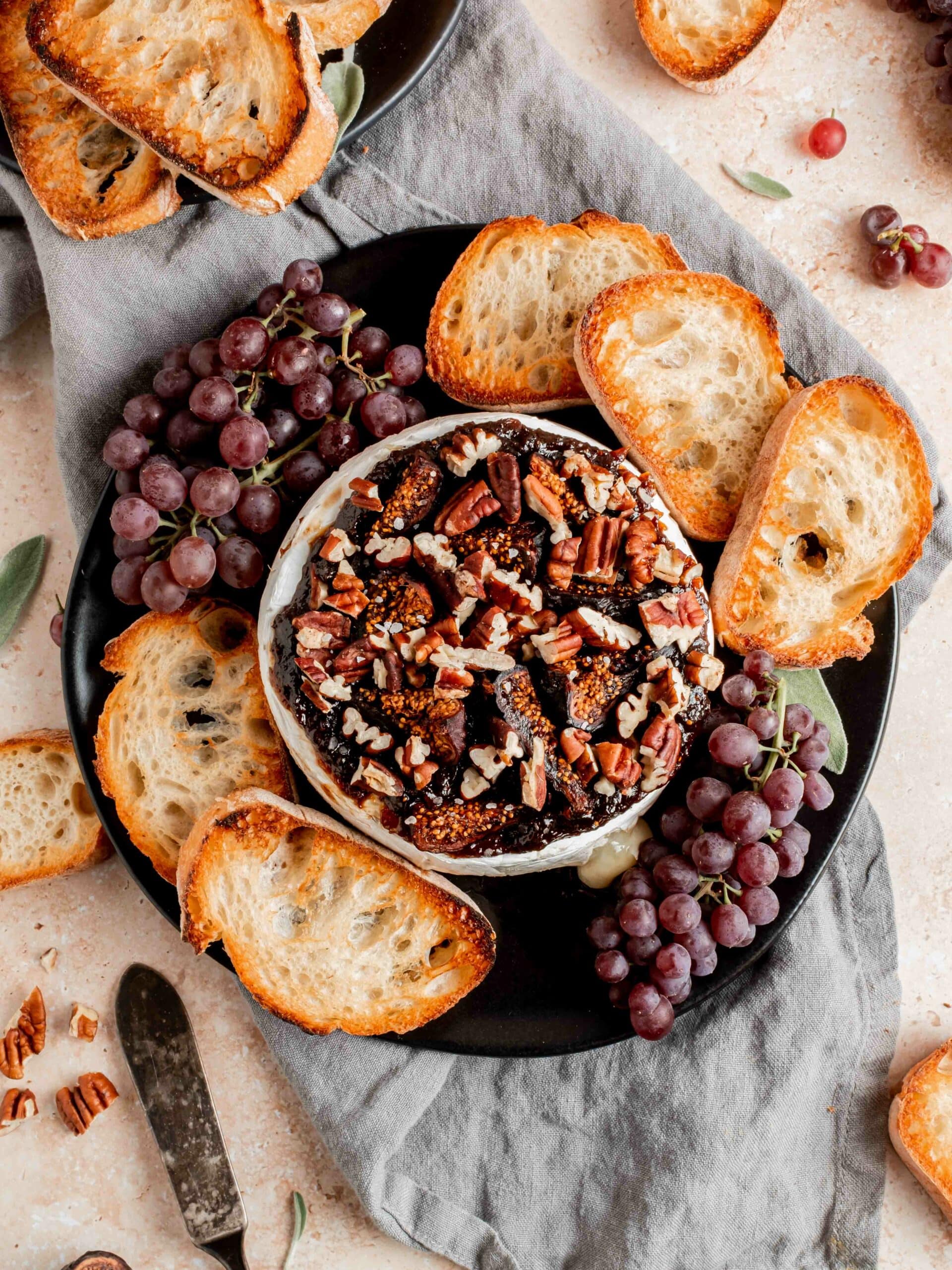 Baked Brie with Jam Recipe
---
Author:

Brittney

Total Time:

20 minutes

Yield:

8

Prep Time:

5 minutes

Cook Time:

15 minutes

Category:

appetizer

Method:

baking

Cuisine:

global
8 ounces (230 grams) brie cheese wheel

4 dried figs, chopped (optional)

2 tablespoons (15 grams) pecans, chopped*

pinch of kosher salt

crackers or toasted baguette slices for serving
---
Instructions
Preheat oven to 375°F (190°C).

Place the brie in an oven safe dish or small cast iron skillet. 

Spread the jam evenly over the brie and top with dried figs if using. Sprinkle with chopped pecans and a pinch of salt.

Bake for 12-15 minutes or until the cheese is soft. If the topping is starting to overcook, place a piece of foil over the baked brie to prevent browning while the brie cheese continues to melt.

Serve immediately with crackers or toasted baguette slices.
Notes
Jam: Raspberry, apricot and peach jams also work well here.
Nuts: Instead of pecans, feel free to substitute, almonds, walnuts, pistachios or your favorite nut.
Keywords: baked brie with jam, brie with fig jam, baked brie
This post may contain affiliate links through which we may earn a small commission at no additional cost to you. We only recommend products that we genuinely love and would use ourselves.