Blini are popular Russian style crepes that can be served for any meal of the day! While I've included a recipe for homemade whipped cream below, these blini are also great with sour cream or other savory fillings!
Blini (or "blin" if singular) are Russian crepes. They are light and buttery and can be both sweet and savory. In Russia, blini can be found virtually everywhere: fancy versions in restaurants come with caviar or smoked salmon, street vendors sell them filled with ham and cheese, or your grandmother might serve them up with sour cream and homemade jam. Along with this version for blini, I've included the recipe for a delicious homemade cream. Top it with your choice of berries for an even tastier dessert!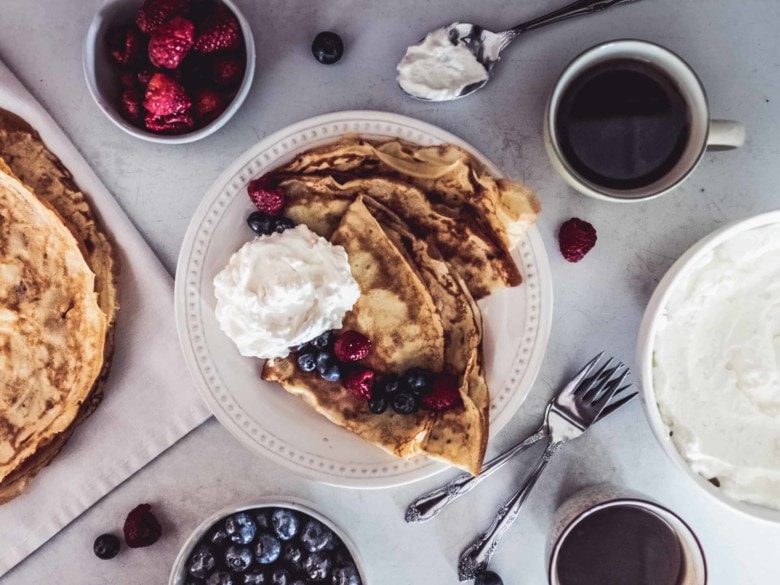 Love for blini in Russia culminates during Maslenitsa or "butter" festival, which is basically the Russian take on Mardi Gras. It involves eating mountains of crepes for a whole week of celebrating! A lot of restaurants even have special menus with just crepes during this period. This year we celebrated Maslenitsa with friends and we had a make-your-own crepe bar with a large variety of sweet and savory fillings!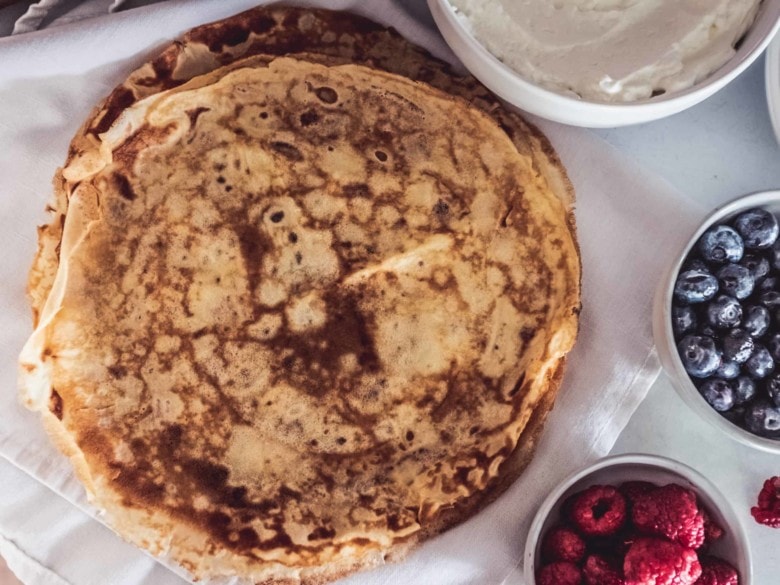 The batter for these blini comes together quickly. It should be quite runny, making it very easy to mix. I generally use milk for the crepe batter, but you could substitute water instead. If you do, add a little lemon juice or vinegar to the batter so the baking soda has some acid to react with. You can also make the batter without eggs, but I find that you get a better consistency when you include them.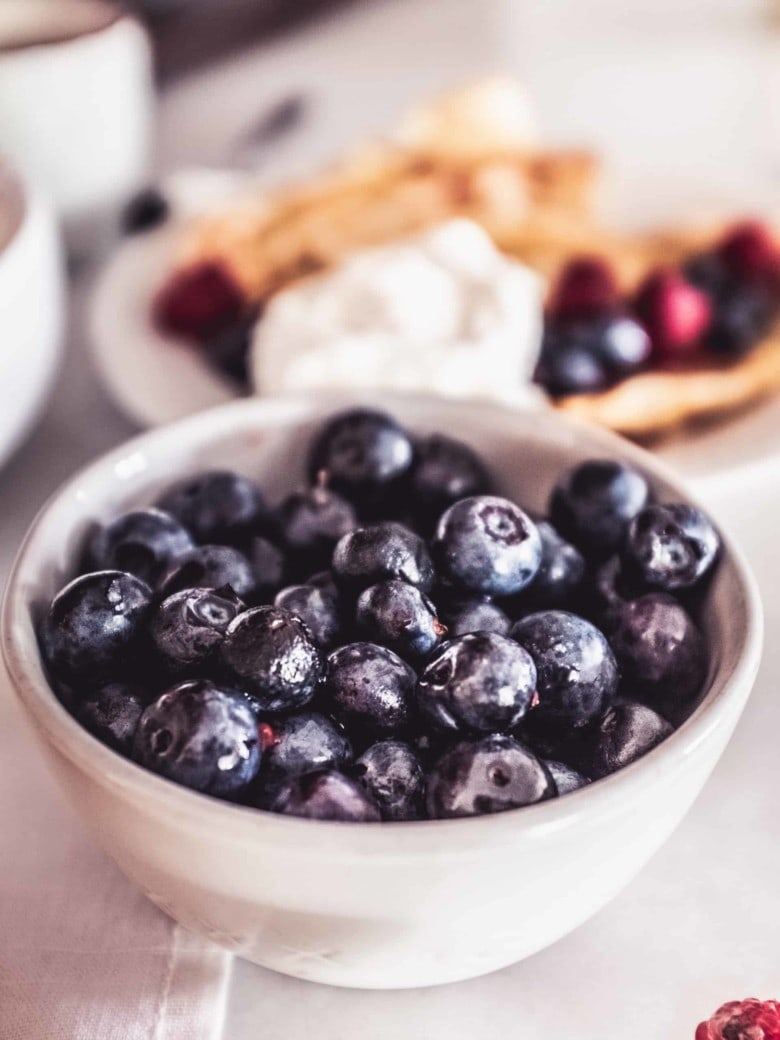 For cooking, use a flat-bottomed pan to make sure the blini are of even thickness throughout. I add a tiny slice of butter to the pan before every blin I make. That way the crepes come out buttery and I can also check if the pan is hot enough – I want the butter to immediately start bubbling. I try to keep the pan right below the smoke point for butter (if it starts smoking, reduce the heat by a little or take it off the burner for a minute). On all the stoves I've tried, using medium heat or just above works best.
To make the blini, add a ladle of batter right in the middle of the pan and then swirl it to cover the surface. Try to get just enough batter to cover the entire pan, but not more – that way the crepes come out light and thin. Use the first of your blini for practice: to check the temperature of the pan and amount of batter needed to make one crepe. In Russian there is even a saying: "the first blin comes out wrong".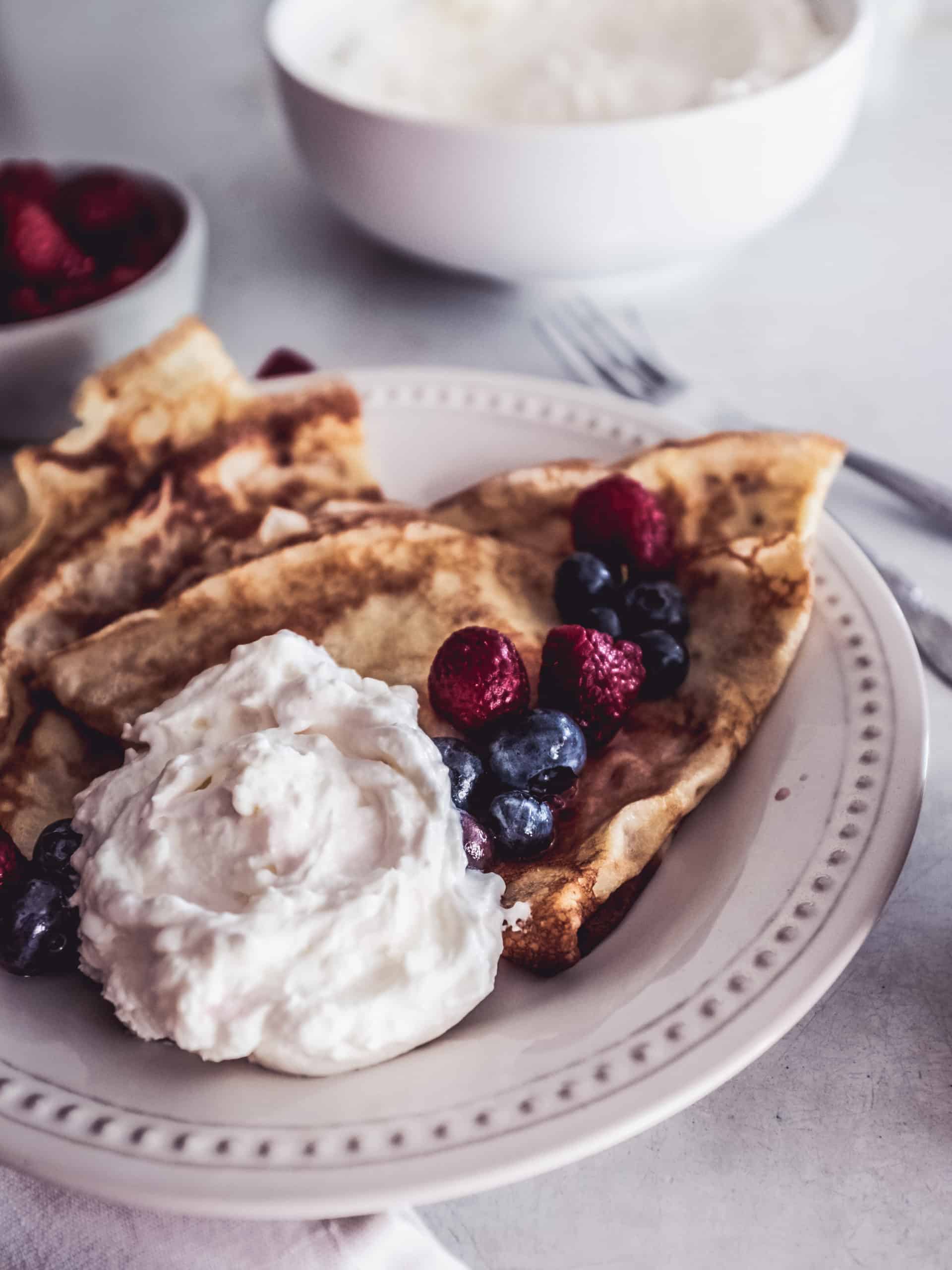 ingredients
blini (makes about 12)
flour

150 g (1⅓ c)

sugar

2 tbsp

salt

½ tsp

baking soda

¼ tsp

milk*

500 ml (2 c)

egg

1 large

butter

for frying
homemade cream
heavy cream (cold)

240 ml (1 c)

powdered sugar

40 g (5 tbsp)

vanilla extract

1 tsp

cream cheese

110 g (4 oz)

(softened)

sour cream

60 g (¼ c)
toppings (optional)
instructions
Start by preparing the whipped cream. Whip the heavy cream, powdered sugar and vanilla with an electric mixer until stiff peaks form.* This can take up to ten minutes!

In a separate bowl, use a mixer to beat together the softened cream cheese and sour cream until smooth.

Gently fold the cream cheese mixture into the whipped cream mixture until combined. Store in the refrigerator.

To make the batter, combine flour, salt, sugar and baking soda* in a bowl. Add milk and stir until mixed. Add an egg and continue stirring until combined.
Warm a flat-bottomed pan over medium heat. Brush a tiny amount of butter on the pan (about ¼ tsp). You have the right temperature when the butter immediately bubbles up on the pan but does not produce smoke.
Pour a ladle of batter in the middle of the pan and swirl it around to cover the entire bottom of the pan. Fry for 1-2 minutes or until the bottom is golden and there is no wet batter on the top.
Flip over and fry for another 30-60 seconds or until golden brown on both sides.*
Repeat with the rest of the batter.
Serve warm with a dollop of cream and fresh berries.
notes
milk: you can substitute milk with water and a dash of lemon juice or vinegar cream: to speed up the whipping process, place the mixing bowl and beaters in the fridge before using baking soda: if you are making the batter ahead of time, add baking soda a few minutes before frying and mix the batter well first crepe: use the first crepe to practice and adjust the temperature, amount of batter and taste as needed; if it tears too easily try adding a little more flour or an extra egg

Did You Make This Recipe?