Made with yogurt, walnuts and caramelized onions, this healthier dip is bursting with flavor! Serve your caramelized onion yogurt dip with crackers, chips or a variety of fresh veggies for a light and easy appetizer!
I'll be honest. I've never really been a huge fan of yogurt dips. There generally just seems to be some element missing that makes them less flavorful than creamy dips made with sour cream or cream cheese. But after working my way through several Georgian cookbooks I think I've found a solution that gives yogurt dips the flavor boost needed to be just as satisfying: walnuts!
Walnuts are a key ingredient in Georgian cuisine and after falling in love with savory walnut soups and sauces, I decided to try adding them to yogurt to make one of my favorite appetizers: caramelized onion dip. Adding finely ground walnuts actually added that rich, almost buttery flavor that is usually missing for me in yogurt dips. The resulting healthier caramelized onion dip is now my go-to recipe when I want a lighter snack without compromising on taste!
caramelizing onions
The first step in making this dip is to caramelize your onions. The process does take a bit of time, but the dip or even just the caramelized onion portion can be made a day in advance. I would even argue that the dip tastes better the second day after the flavors have had a chance to blend together!
To begin, thinly slice your onions into half circles. Melt a bit of butter in a large skillet and then cook your onions over medium heat for about 45 minutes. Make sure to stir the onions occasionally to ensure they cook evenly and reduce the heat as necessary if they're browning too quickly. Be patient and don't try to rush the process. We're looking for a deep golden-brown color — give the onions a little extra time if needed!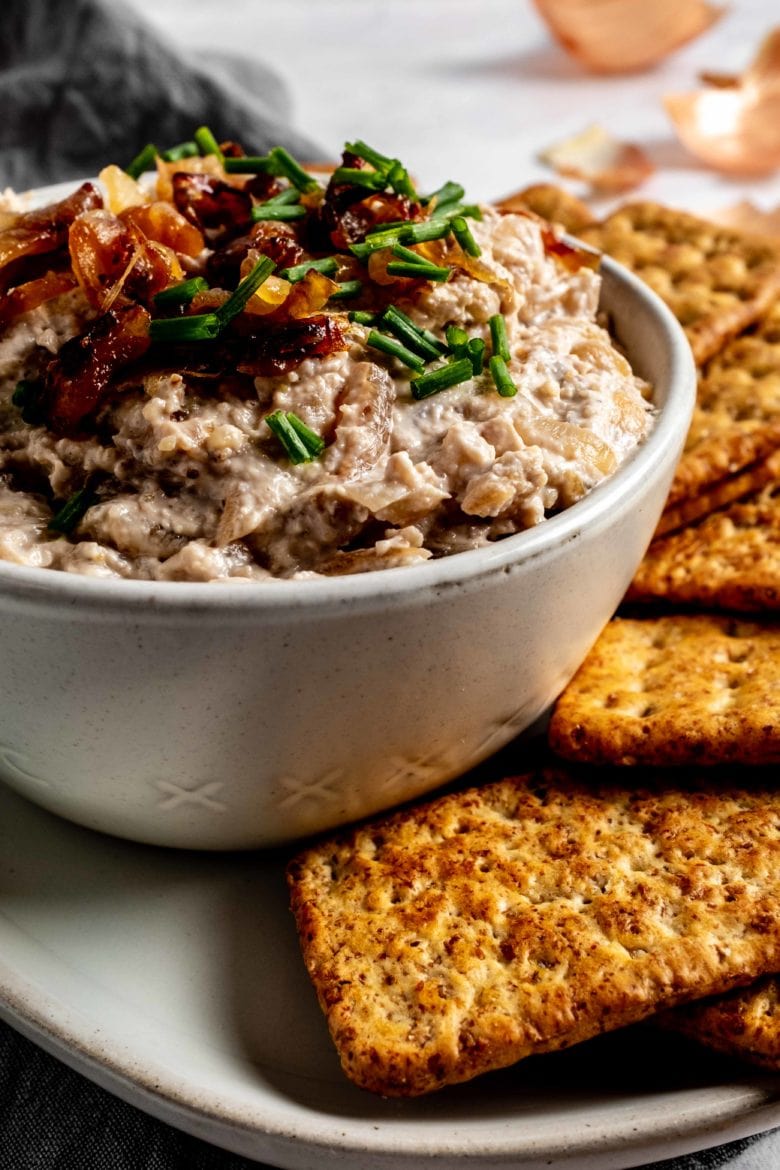 walnut and caramelized onion yogurt dip
Now that the onions are caramelized, let's put our dip together! Finish off the onions by cutting them into smaller pieces. I prefer a chunkier dip so I tend to only very roughly chop the onions, but that's totally up to you. Next add the walnuts into a food processor and pulse until finely ground. This takes about a minute in my food processor and the resulting consistency is almost paste-like. Then just combine your walnuts, caramelized onions and yogurt and season to taste!
For the seasonings, I always add a little bit of salt and sometimes opt for a bit of fenugreek as well. The fenugreek is optional, but it has an almost nutty flavor that really deepens the savory notes in the dip. You could also add a little worcestershire sauce or even soy sauce for a little umami boost.
For more appetizer inspiration, take a look at these recipes: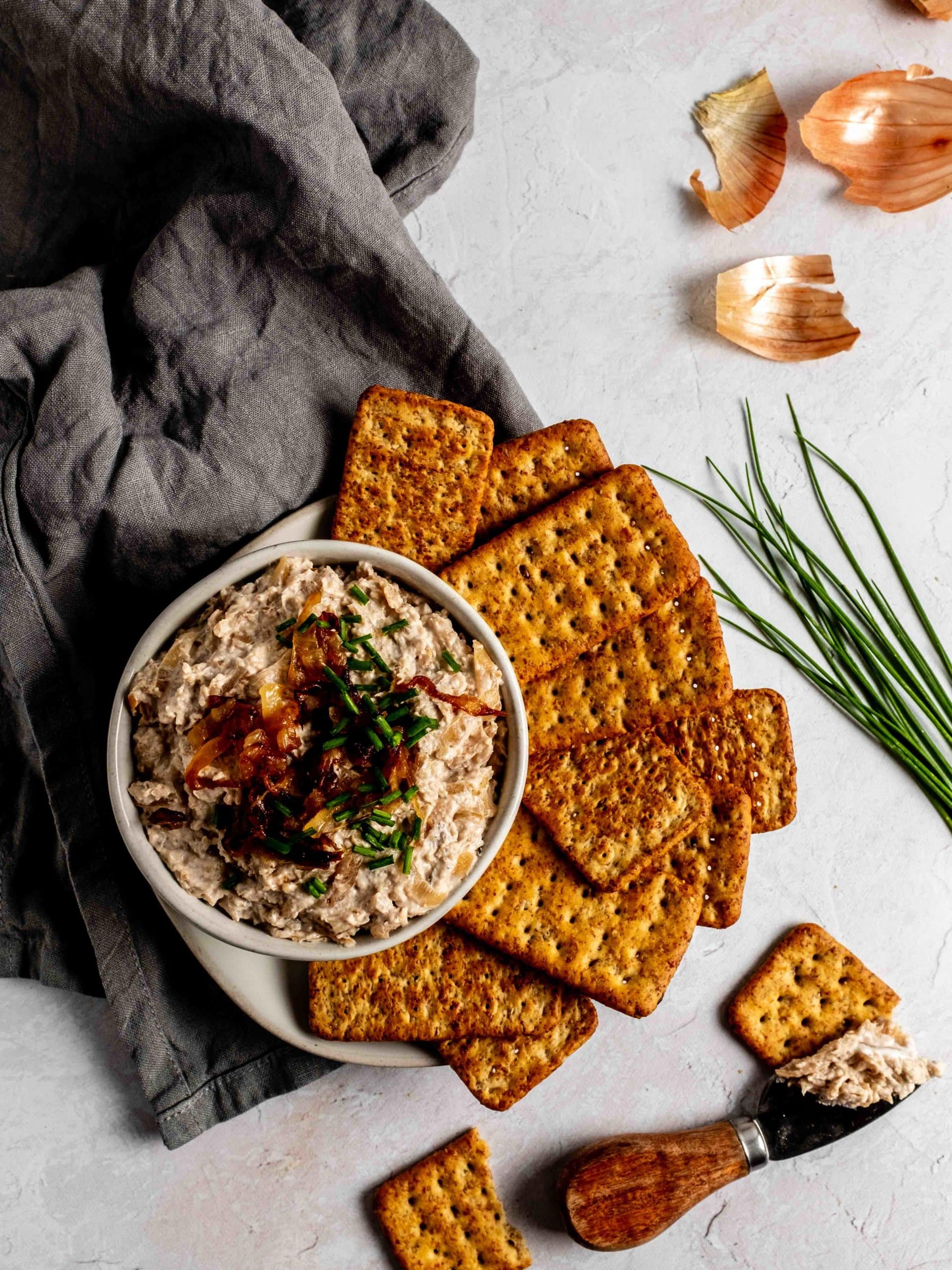 ingredients
yellow onions

3 medium

butter

2 tbsp (30 g)

chopped walnuts

1 c (100 g)

greek yogurt

1 c (240 g)

fenugreek (optional)

½ tsp

salt

to taste

chives

to garnish
instructions
Peel the onions and thinly slice into half circles.
Melt the butter in a large skillet over medium heat. Add the onions and a pinch of salt. Cook until dark golden brown and caramelized (about 45-50 minutes), stirring often. Remove the onions to a cutting board and roughly chop.
Pulse the walnuts in a food processor until finely ground and almost paste-like in consistency.
Mix together the caramelized onions, ground walnuts, yogurt, fenugreek and salt. Top with chopped chives if desired.

Did You Make This Recipe?
This post may contain affiliate links through which we may earn a small commission at no additional cost to you. We only recommend products that we genuinely love and would use ourselves.