Beer battered fried sage leaves are crispy, flavorful and the perfect accompaniment to a cold glass of beer! This easy appetizer recipe makes for a delicious game day snack and is an impressive addition to any charcuterie board! 
I recently came across fried sage leaves when the recipe developer behind Cucina Botanica posted a video of the unique appetizer. Having never heard of fried sage (but always up for a new snack), I couldn't wait to try it! We deviated a bit from the Italian batter recipes I've seen for salvia fritta (fried sage) and decided to go with a delicious beer batter that gives these little treats a pub food vibe. Crispy, flavorful and incredibly addictive, we couldn't stop snacking on them!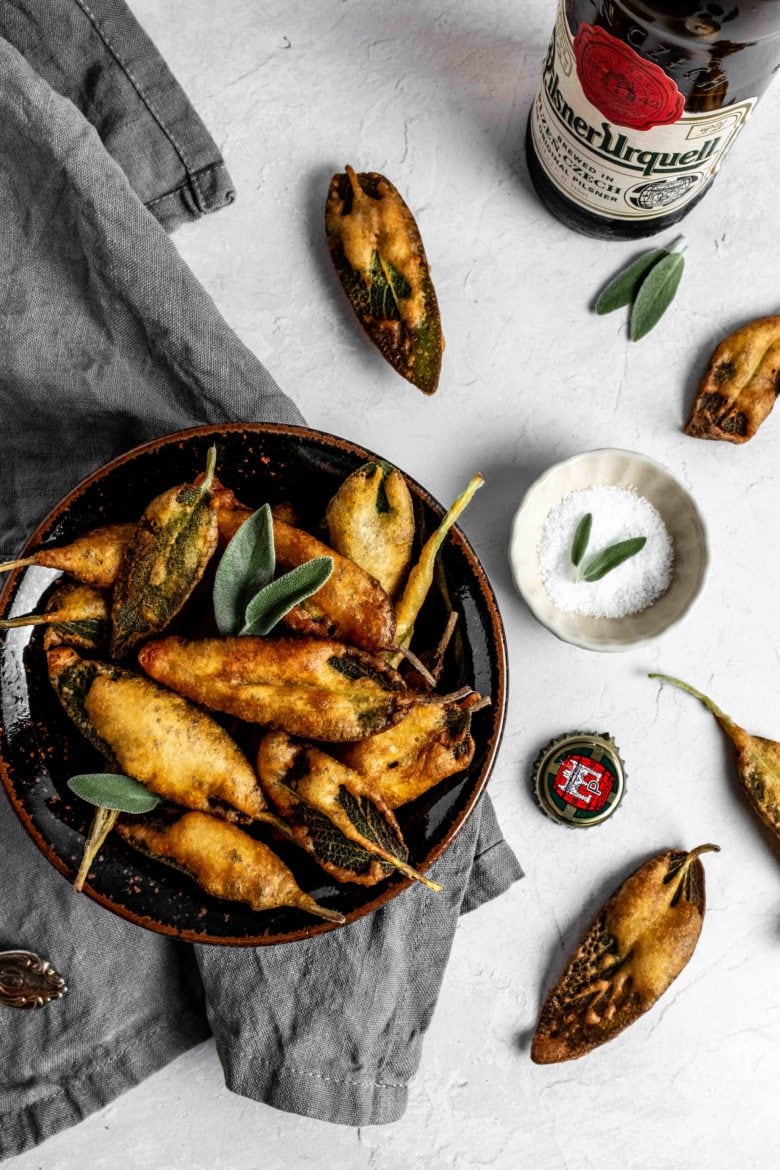 beer batter
The beer batter is made with just five ingredients: flour, cornstarch, baking powder, salt and beer! To read more about why we use this combination of ingredients in our beer batter you can check out our recipe for beer battered catfish. And if you're just here for the recipe I have only one ingredient note: we find that pale lagers tend to taste the best when making beer batters. In this version we used one of our favorite Czech beers, Pilsner Urquell, which has a beautifully crisp flavor, but really almost any lager will do!
To make the batter, just whisk all ingredients together until the mixture is smooth. The consistency will be almost like pancake batter, but shouldn't be too runny. Add a splash of beer or an extra few teaspoons of flour to adjust.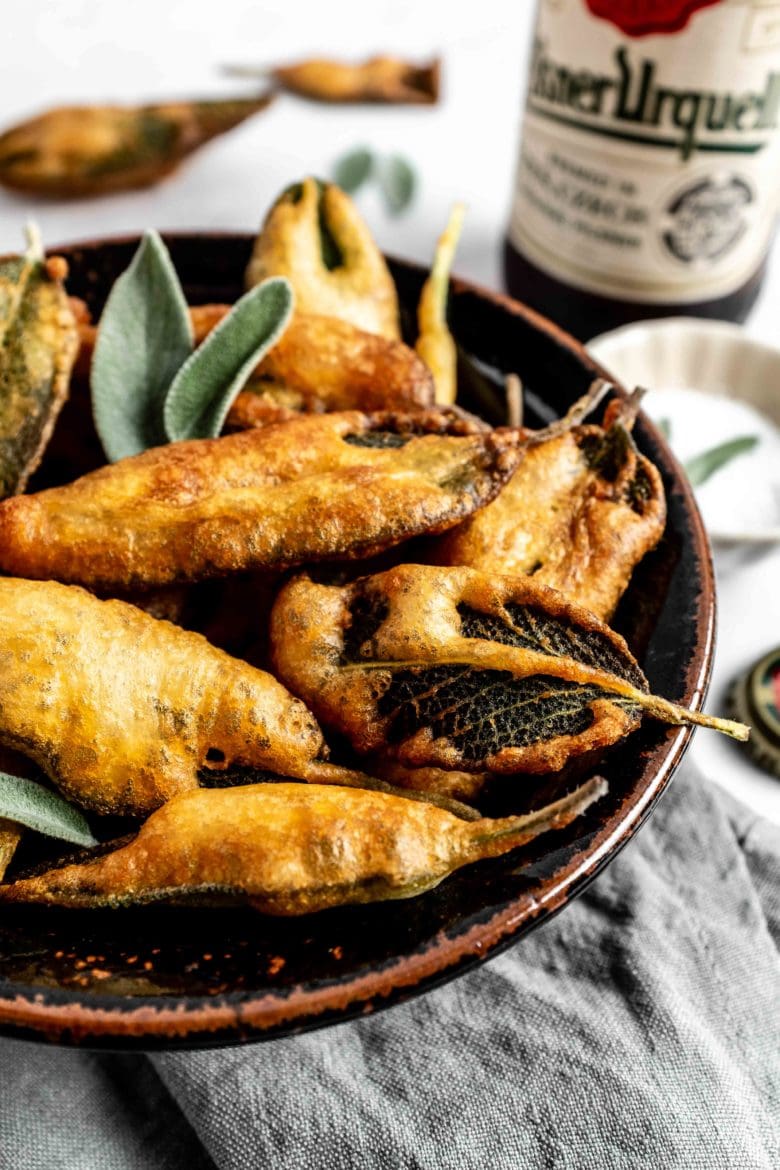 fried sage
To fry the beer battered sage, set up your workstation. You'll need sage leaves (if you need to wash them first make sure they're dry before using), your bowl of beer batter and a paper towel lined plate.
Now heat one inch (2.5 cm) of oil (we used canola) in a small pot over medium-high heat. Start by dredging one leaf in the beer batter and letting the excess run off — make sure to do this step right before adding the leaves to the oil. Add the sage to the pot and fry for about two minutes on each side until golden brown and crispy. Remove with a slotted spoon to the paper towel lined plate to absorb any excess oil.
Use the first sage leaf as a test to make sure your oil is the right temperature and adjust as necessary. At this point you can also adjust the beer batter if you're finding it's too thick or too runny. Then continue frying the sage, making sure not to overcrowd the pan — we generally only fry 2-3 leaves at a time.
how to serve fried sage leaves
Now that your beer battered sage leaves are ready, what's the best way to serve them? Our favorite way to enjoy them is sprinkled with sea salt and served warm alongside a nice cold glass of beer, but here are a few more options:
Use them as a crispy topping for burgers and sandwiches (I added a few to a cheeseburger and it tasted like I was at an upscale restaurant!)
Add a few leaves to your favorite soups or salads as a substitute for croutons
Serve them as part of a charcuterie platter with various dips, dried fruits, crackers, etc.
Looking for more delicious appetizers to impress your guests? Make sure to check out these recipes!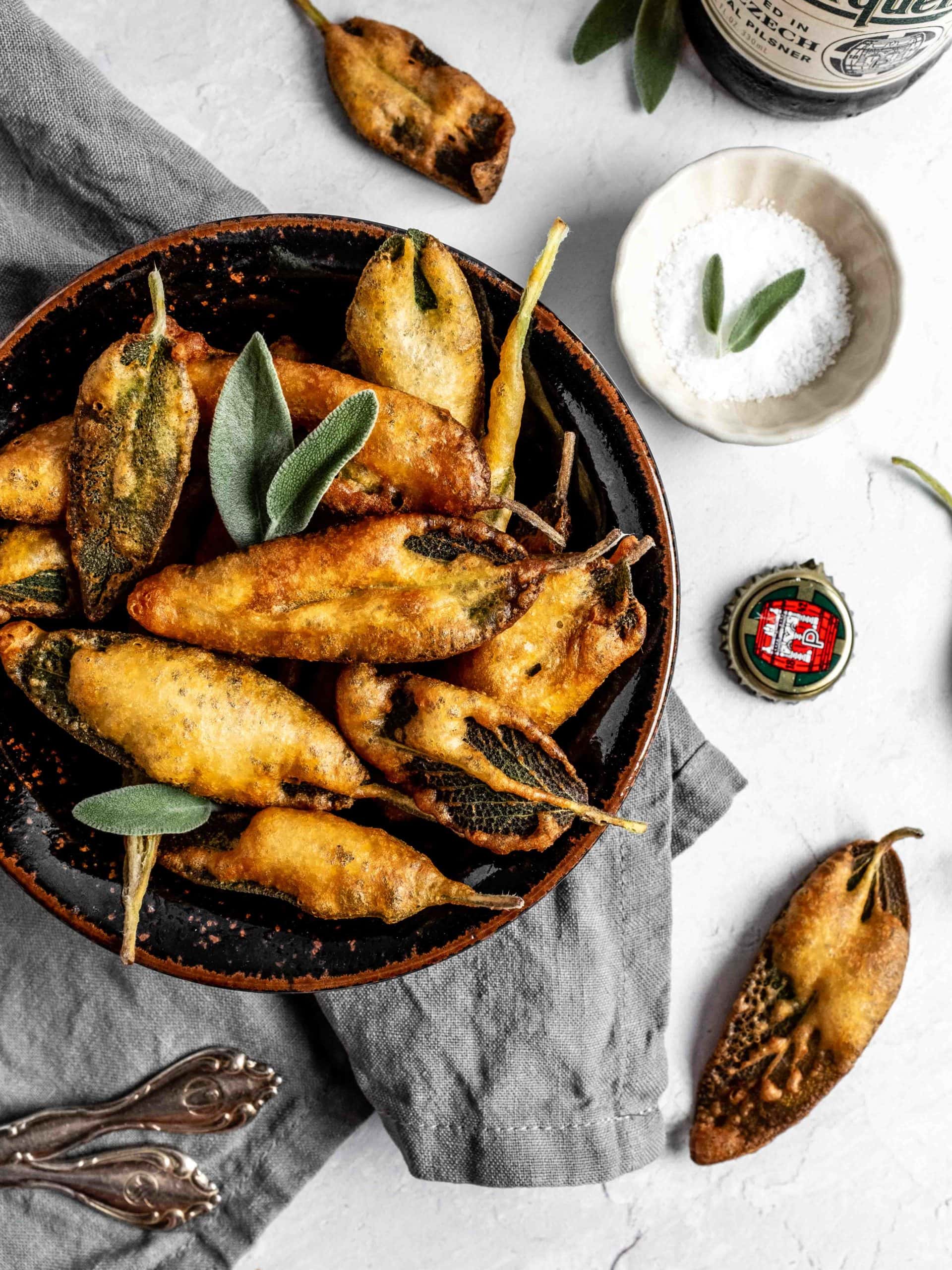 ingredients
sage

20 leaves

flour

½ c (60 g)

cornstarch

2.5 tbsp (18 g)

baking powder

½ tsp

salt

½ tsp

light beer

½ c (120 ml)

canola oil

for frying
instructions
Mix together the flour, cornstarch, baking powder and salt in a bowl. Add the beer and mix until smooth.
Heat approximately one inch (2.5 cm) of oil in a small pot over medium to medium-high heat. If using a thermometer, the oil should be at about 380 F (190 C). Alternatively drop a pinch of flour into the oil - it's ready for frying if it starts to bubble.
When the oil is hot, dip each sage leaf into the batter and let the excess drip off.
Working in batches, fry each leaf for 2 minutes on each side or until golden brown.
Remove to a paper towel lined plate to absorb any excess oil. Sprinkle with salt and serve warm.

Did You Make This Recipe?
This post may contain affiliate links through which we may earn a small commission at no additional cost to you. We only recommend products that we genuinely love and would use ourselves.