Beer battered fish is a classic found in pubs and restaurants all around the world! While the beer batter recipe ensures an incredibly crispy coating, the fresh homemade tartar sauce lightens up this pub-style fare! Use catfish like we did or substitute it with your favorite white fish!
The lakes of the Ozark mountains, our home for the summer, are a popular spot for fishing — especially for catfish! And I decided the abundant supply of local catfish provided the perfect opportunity to try making pub-style beer battered fish at home! Although the catfish in this recipe can be replaced with any type of white fish, I highly recommend using this beer batter recipe — it produces an exceptionally light and crunchy exterior!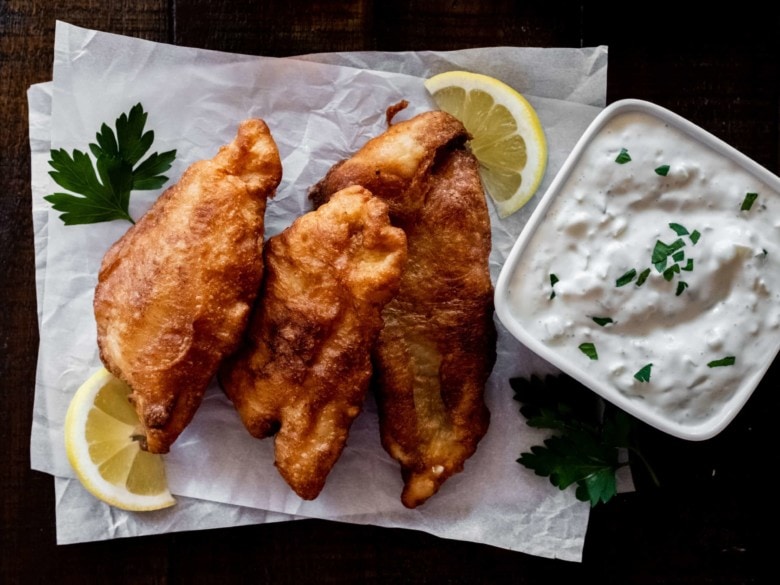 beer batter
I love crispy textures in my food, which is why I wanted to get as much crunch out of the batter as I could! Beer batter is one of the most popular types of batter specifically for that reason! There are a few different theories about why beer improves the texture. Some claim that carbonation plays a hand. Others point to the foaming agents contained in the beer. Sometimes an argument is made that alcohol evaporates faster than water and that gives the beer batter more bubbles. Although I cannot say I was convinced by one particular theory, I do agree that batter with the addition of beer results in the ultimate crunch!
But I don't rely solely on beer to provide the effect I'm looking for. In my search for a combination that would give me the desired crunch I tried a few different ingredients. While some use eggs in their batter, I found that it produces a heavier and doughier texture. I get the best results when using a mixture of cornstarch and baking powder. Cornstarch is known to make food crunchier, although it also produces a harder crust. This is where the baking powder comes in — when it hits hot oil it produces a lot of bubbles that expand the crust, making it light and airy!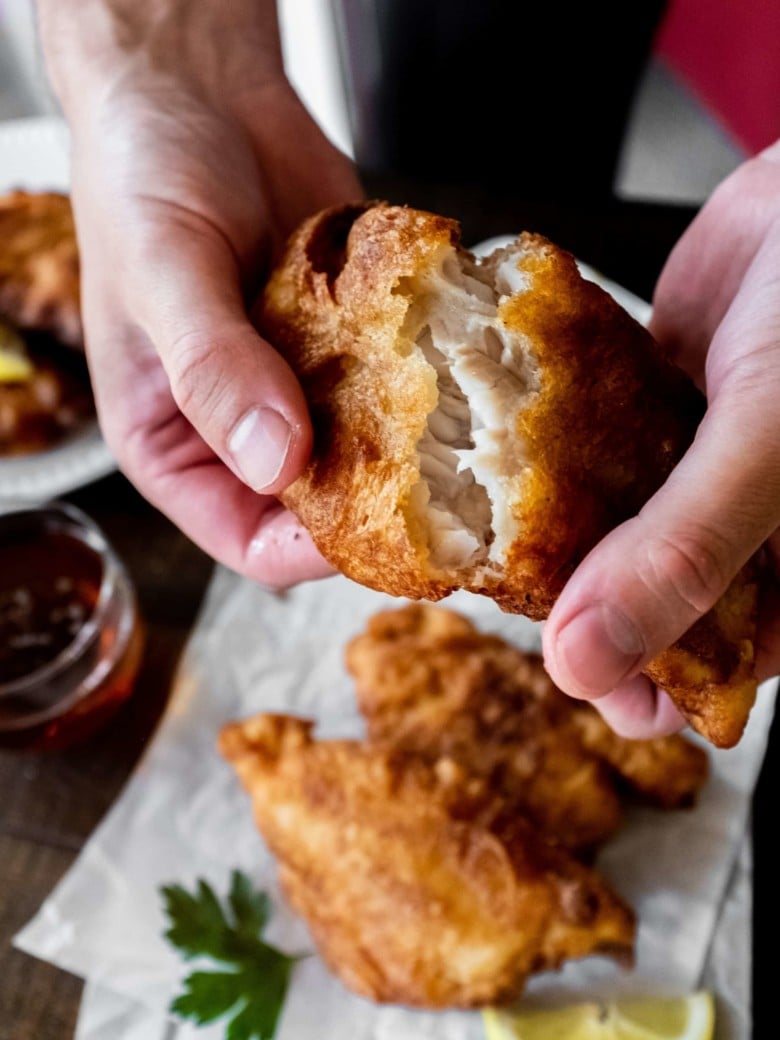 frying battered fish
Deep frying battered fish is easy! I start by cutting the fish fillets into long pieces about 4 x 1.5 inches (10 x 4 cm). Then I pick a saucepan that's just large enough to fry several pieces at once — frying more than that can lower the temperature of the oil too much. I usually pour about an inch (2.5 cm) of oil, which is usually enough for the fish to float — although the crust will increase considerably with baking powder in the batter! Finally, after frying the fish I place it on a wire rack to drip off any excess oil without getting soggy.
tartar sauce
Beer battered fish and tartar sauce are one of the most popular pairings here in the US. Tartar sauce, with its light and fresh flavor, contrasts nicely with the salty and savory fish. Below I've shared one of my favorite Czech-style tartar sauces, which includes just mayo, onion and pickles!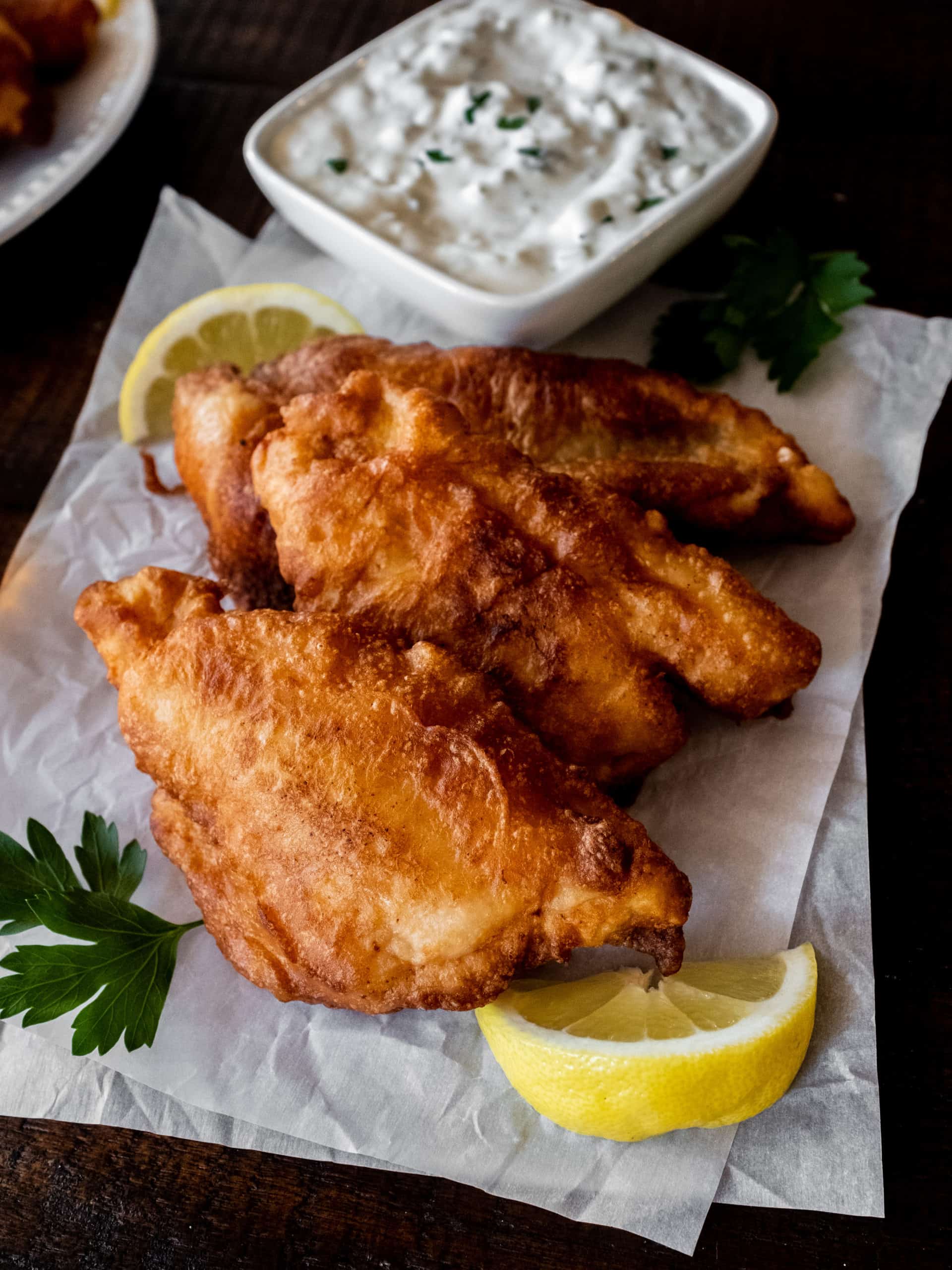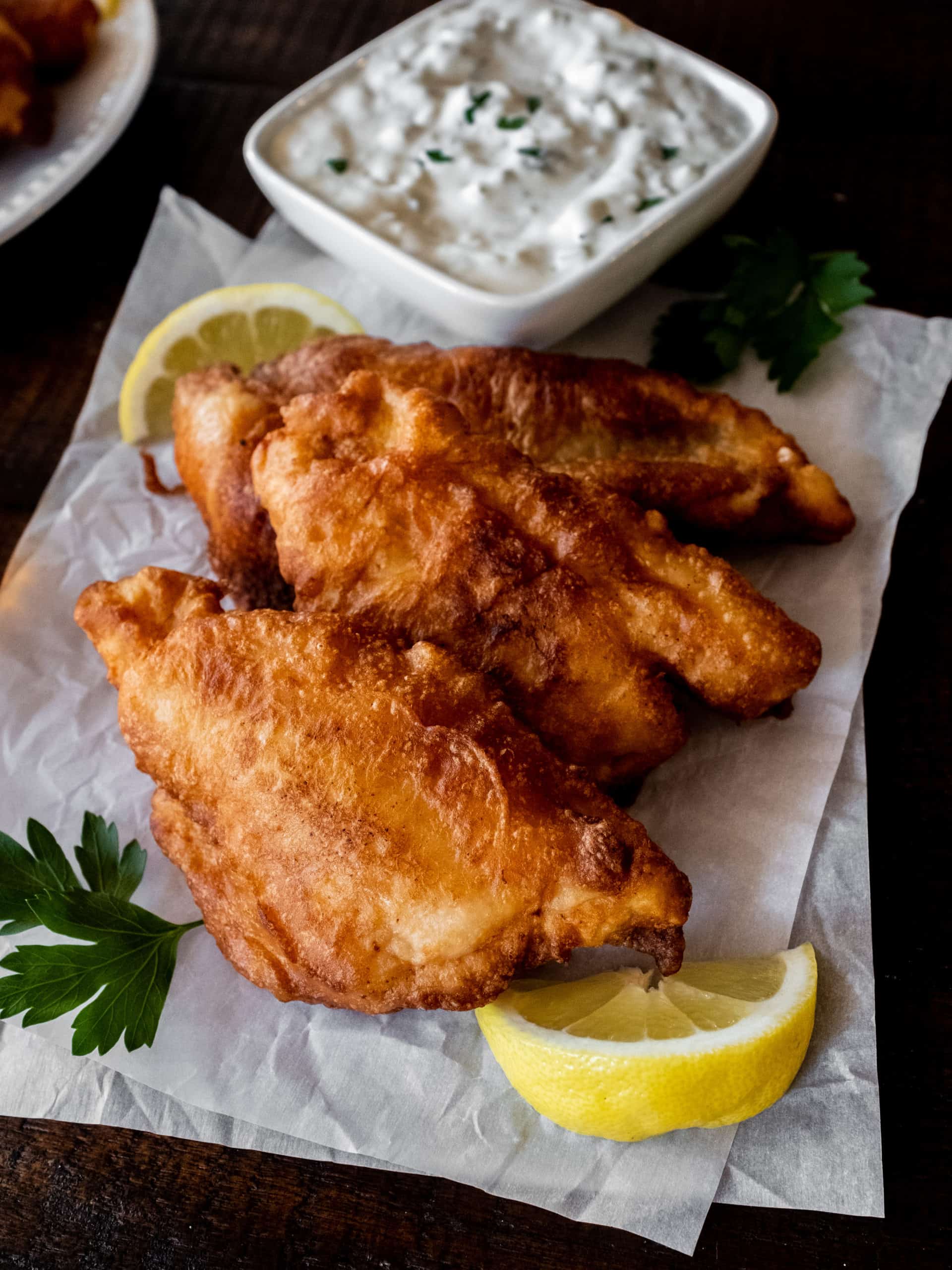 ingredients
beer battered catfish
catfish

1 lb (500 g)

(or any other white fish)

flour

⅓ c (40 g)

baking powder

½ tsp

cornstarch

2½ tbsp

salt

½ tsp

garlic powder

 

½ tsp

light beer

½ c (125 ml)
cooking
flour

¼ c (30 g)

vegetable oil

for frying
tartar sauce
mayonnaise

½ c (120 g)

pickle

1 medium (40 g)

yellow onion

½ medium (60 g)

pickle juice

3 tsp

pepper

to taste

chopped parsley

optional
instructions
First make the sauce. Finely chop the onion and pickle and mix with mayo. Add pickle juice one spoon at a time until you reach your desired saltiness. Season with pepper and sprinkle with chopped parsley (optional). Store in the refrigerator.
Prepare the fish. Cut it into pieces of approximately 4 x 1.5 inches (10 x 4 cm).
Mix together flour, baking powder, cornstarch, garlic powder and salt in a bowl. Add the beer and mix thoroughly.
Prepare a baking pan with a wire rack on top to cool the fish and catch any excess oil. Prepare a plate with ¼ cup of flour.
Heat up about an inch (2.5 cm) of oil in a small pan. If using a thermometer, the oil should be at about 350-370 F (180 C). Alternatively drop a pinch of flour into the oil - it is ready for frying if it starts to bubble.
When the oil is hot, dredge one piece of fish at a time in flour, dip it in batter and place in oil. Fry for 2-3 minutes on each side or until golden. When done, allow the fish to cool on the prepared wire rack. Fry no more than 2-3 pieces at once or the temperature of the oil will drop.

Did You Make This Recipe?
For more seafood recipe inspiration, make sure to check out these posts!