This grilled salmon recipe is a quick and healthy summertime dinner option! With a step-by-step guide and expert tips, we'll help you get perfectly cooked salmon every time!
Grilled salmon is one of our go-to summer dinners. It's quick, easy and great on days when you don't want to spend too much time in the kitchen! Cooking salmon can be tricky, so we've included lots of tips and tricks to make sure you're able to master the art of perfectly grilled salmon!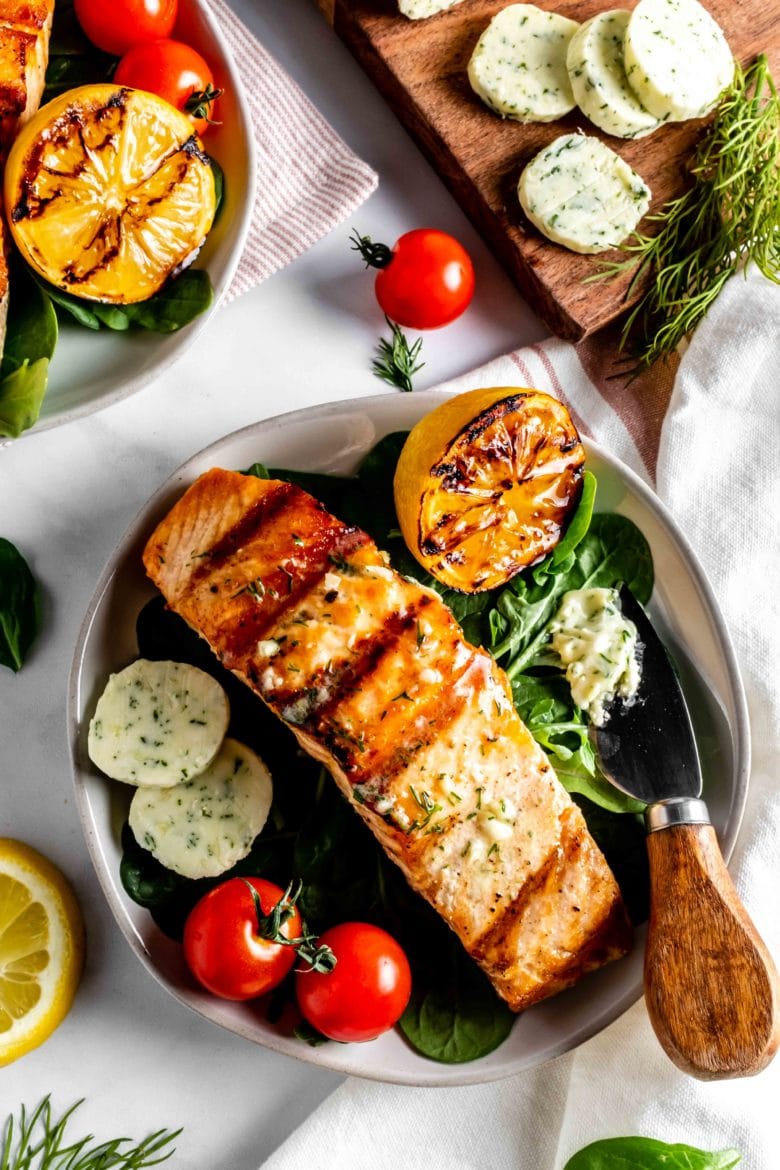 Recipe Ingredients
This grilling recipe requires just three simple ingredients:
Skin-on salmon fillets
Olive oil
Kosher salt
I really love these simple flavors, but you could also make a glaze with flavors like soy sauce and brown sugar and baste the salmon as it cooks!
Optional: Herby Compound Butter
If you really want to level up your salmon game, try making an easy homemade compound butter. Start with room temperature butter and then simply mash it together with your favorite mix-ins. Plop the mixture onto the middle of a piece of plastic wrap and then roll it into a small log. Pop it into the refrigerator for 30 minutes and then you're done!
My favorite compound butter for grilled salmon fillets includes a few teaspoons of prepared horseradish, chopped dill, minced garlic and salt!
To serve, slice the butter and place on top of the salmon while it's still warm — it'll melt right into the salmon!
Step By Step Instructions
Grilled salmon is so flavorful that we generally don't even add any seasoning other than olive oil and salt. To get grilled salmon that is perfectly seared and doesn't stick to your grill just follow these easy tips!
Season the salmon. Make sure you're using salmon with the skin still attached — this will help keep it together while grilling. Then pat the salmon dry with paper towels and generously brush the flesh side of the salmon with olive oil and season with salt. And that's it!
Prepare the grill. Preheat the grill to high, scrape the grill grates clean and brush them with oil. Because the salmon is also coated in olive oil, brushing the grates with additional oil is optional. That being said, I would definitely recommend it if you're new to grilling fish — it's just an extra measure to ensure the salmon doesn't stick to the grates, because you definitely don't want to lose the delicious seared crust!
Cook to perfection. Start by grilling the salmon to really develop the flavor on the skinless side. Cover and don't touch for about five minutes, after which the salmon should easily release from the cooking grates. Flip, cover and then cook until your desired internal temperature — we usually cook it until about 130 F (55 C) which takes about 3-4 minutes more.
FAQs
Should I flip the salmon while grilling?
Yes, you should flip the salmon once during grilling to ensure even cooking.
Is it better to grill salmon with the skin on or off?
Grilling salmon with the skin on helps the salmon retain moisture and assists with keeping the fillets intact.
Which side of salmon do you grill first?
Grill the salmon flesh-side down first to get maximum flavor and help prevent sticking to the grates.
How do I keep salmon from sticking to the grates?
Start with a clean, well-oiled and hot grill. Don't try flipping the salmon before it's ready. It should release easily from the grates when gently moved with tongs.
What temperature is salmon done?
Salmon is considered safe to eat when it reaches an internal temperature of 145°F (63°C) as recommended by the USDA. However, many (including myself) prefer it at something more like 130°F (54°C) for a more tender texture. Use an instant read thermometer to check the internal temperature of the thickest part of the salmon fillet.
When is the best time to buy salmon?
Generally, wild-caught salmon is in season during the summer months and farm-raised salmon is available year-round. We try to buy our salmon only one day before cooking for maximum freshness.
Should I grill my salmon in foil?
We prefer grilling salmon without foil for a better sear and more smoky flavor.
What to Serve with Grilled Salmon
Our favorite way to serve grilled salmon is with a quick side salad and grilled corn on the cob — the corn is especially good with a bit of the horseradish dill butter! Some of our other favorite vegetable side dishes to serve are crispy brussels sprouts or roasted radishes and potatoes.
If you're looking for a heartier meal, this salmon is also great served over a bed of rice or alongside a plate of pasta.
Storage and Reheating Instructions
Leftover salmon can be stored in an airtight container in the refrigerator for 2-3 days.
Reheating can make your salmon dry and slightly rubbery, which is why I really recommend eating leftover salmon cold. Cold salmon can be great in salads, wraps and sandwiches!
And if you really want to reheat your salmon try this: Wrap it in aluminum foil, add a splash of liquid like white wine or broth, and bake at 275°F (135°C) for 10-15 minutes until heated through and flaky. 
Loving this grilled salmon recipe? Check out these posts for more grilling inspiration:
Print
Grilled Salmon Recipe
---
Author:

Brit Kapustina

Total Time:

25 minutes

Yield:

4

Prep Time:

15 minutes

Cook Time:

10 minutes

Category:

dinner

Method:

grill

Cuisine:

global
4

skin-on salmon fillets, approximately 6-7 oz (

200 grams

) each

1

–

2

tablespoons olive oil
kosher salt to taste
lemon for serving
---
Instructions
Heat your grill to high and brush the cooking grates clean.
Pat the salmon dry with paper towels and brush the flesh side with olive oil. Season with salt to taste.
Brush the cooking grates with olive oil. Place the salmon on the grill flesh-side down, cover and cook for approximately 5 minutes or until the fillets release easily from the cooking grates.
Flip the salmon, cover and cook for approximately 3-4 minutes or until it reaches your desired internal temperature (130°F or 54°C for medium*).
Serve the grilled salmon with lemon slices.
Notes
Internal Temperature: The USDA considers salmon safe to eat when it reaches an internal temperature of 145°F (63°C). However, many (including myself) prefer it at something more like 130°F (54°C) for a more tender texture. 
Storage: Leftover salmon can be stored in an airtight container in the refrigerator for 2-3 days.
Keywords: grilled salmon, grilled salmon recipe
This post may contain affiliate links through which we may earn a small commission at no additional cost to you. We only recommend products that we genuinely love and would use ourselves.