Topped with horseradish dill compound butter and a squeeze of lemon, this grilled salmon recipe is a quick and healthy summertime dinner option! These tips and tricks will help you to get the perfect grilled salmon every time!
Grilled salmon is one of our go-to summer dinners. It's quick, easy and perfect on days when you don't want to spend too much time in the kitchen! And while it's great with just a drizzle of charred lemon, one of our favorite ways to serve it is with a pat of horseradish dill butter. The compound butter also only takes a few minutes to whip up and adds a little extra flair to the grilled salmon!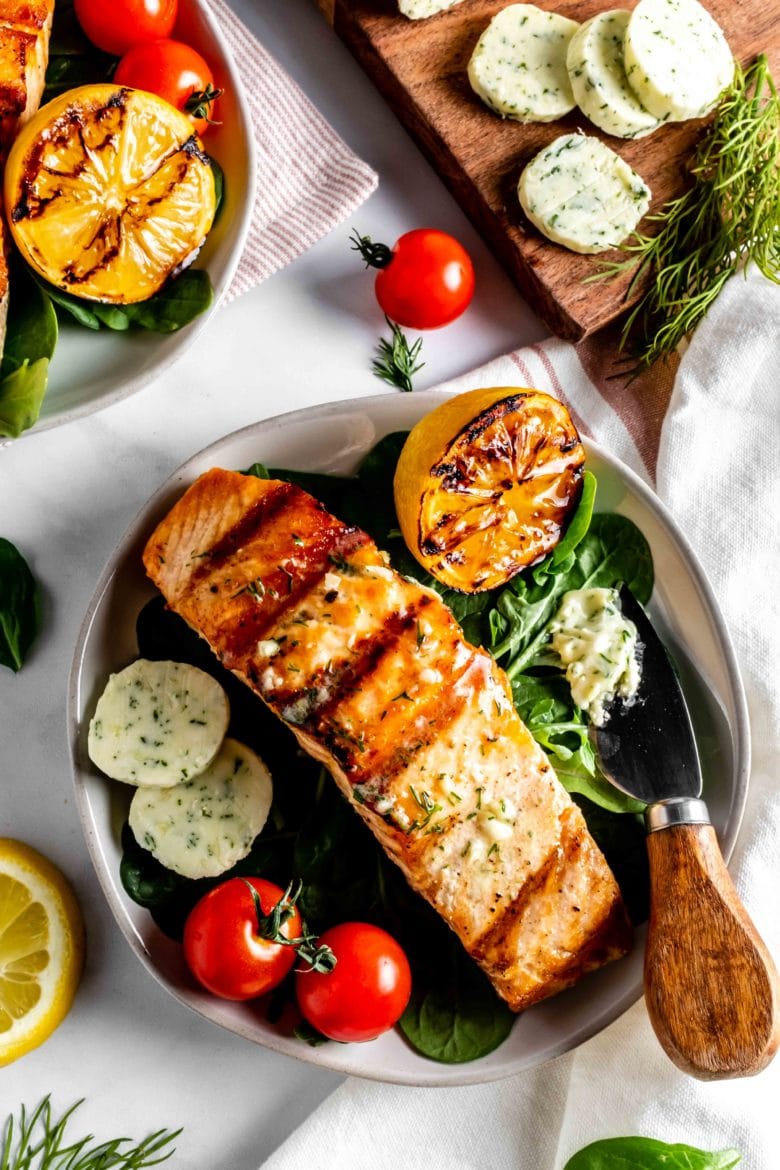 how to make perfectly grilled salmon
Grilled salmon is so flavorful that we generally don't even add any seasoning other than olive oil, salt and pepper. To get grilled salmon that is perfectly seared and doesn't stick to your grill just follow these easy tips!
Season the salmon. Make sure you're using salmon with the skin still attached — this will help keep it together while grilling. Then generously brush the flesh side of the salmon with olive oil and season with salt and pepper. And that's it!
Prepare the grill. Preheat the grill to high, scrape the grill grates clean and brush them with oil. Because the salmon is also coated in olive oil, brushing the grates with additional oil is optional. That being said, I would definitely recommend it if you're new to grilling fish — it's just an extra measure to ensure the salmon doesn't stick to the grates, because you definitely don't want to lose the delicious seared crust!
Cook to perfection. Start by grilling the salmon skin-side up to really develop the flavor on the skinless side. Cover and don't touch for about five minutes, after which the salmon should easily release from the cooking grates. Flip, cover and then cook until your desired internal temperature — we usually cook it until about 130 F (55 C) which takes about 3-4 minutes more.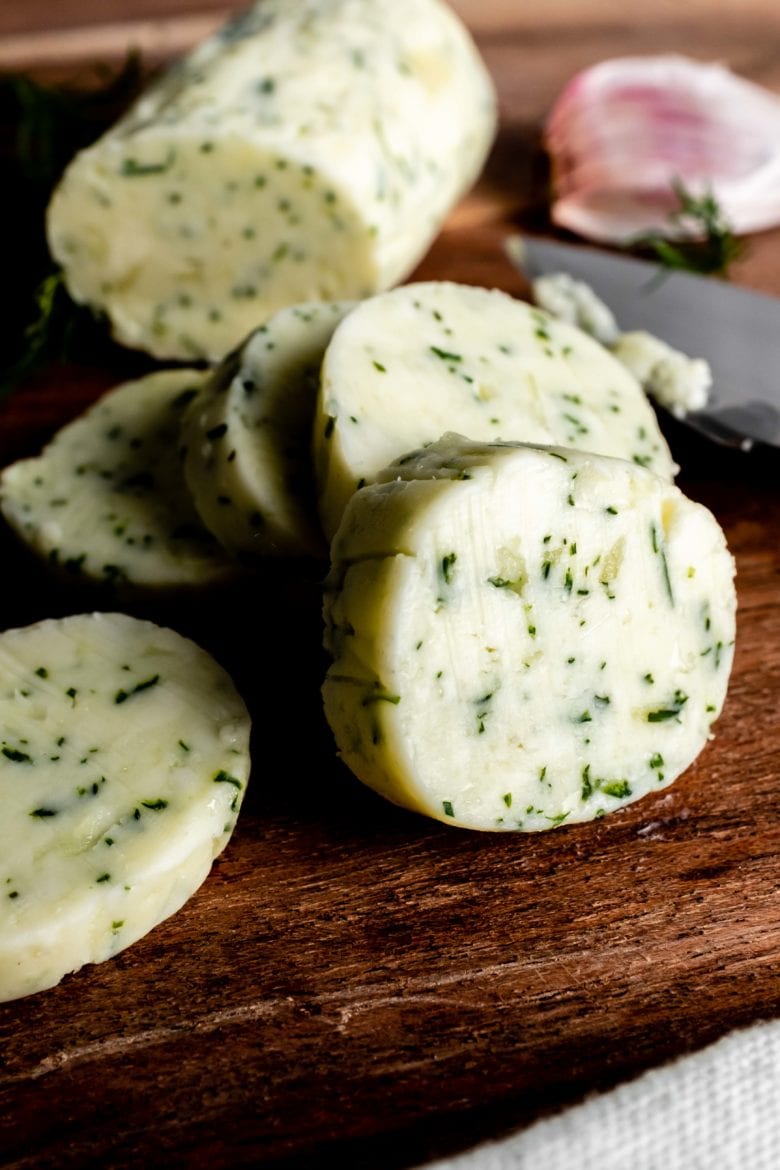 horseradish dill compound butter
If you really want to level up your salmon game, try making this easy homemade compound butter. It's made with just five ingredients: unsalted butter, prepared horseradish, chopped dill, minced garlic and salt. One note: prepared horseradish and horseradish sauces vary drastically from mild to extra hot so make sure to adjust to taste — you might not need very much at all!
Start with room temperature butter and then simply mash it together with the rest of the ingredients. Plop the mixture onto the middle of a piece of plastic wrap and then roll it into a small log. Pop it into the refrigerator for 30 minutes and then you're done!
To serve, slice the butter and place on top of the salmon while it's still warm — it'll melt right into the salmon! Try using the leftovers in place of regular butter for toast, roasted veggies or even on other grilled meats like steak or chicken!
what to serve with grilled salmon
Our favorite way to serve grilled salmon is with a quick side salad and grilled corn on the cob — the corn is especially good with a bit of the horseradish dill butter! Some of our other favorite vegetable side dishes to serve are roasted asparagus, crispy brussels sprouts or roasted radishes and potatoes.
If you're looking for a heartier meal, this salmon is also great served over a bed of rice or alongside a plate of pasta.
For more quick summer dinner options, give these a try!
ingredients
grilled salmon
skin-on salmon

4 filets

(approximately 6-7 oz or 200 grams each)

olive oil

1-2 tbsp

salt and pepper

to taste

lemon

for serving
horseradish dill butter
butter

½ c (113 g)

prepared horseradish

1-2 tsp

chopped dill

1.5 tbsp

minced garlic

1 clove

salt

¼ tsp
instructions
Allow the butter to come to room temperature. Use a fork to mash it together with the remaining ingredients. Horseradish sauces can vary quite a bit in intensity so make sure to adjust to taste. Use plastic wrap to form the butter into a log. Refrigerate until set (approximately 30 minutes).
Heat your grill to high and brush the cooking grates clean.
Pat the salmon dry and brush the flesh side with olive oil. Season with salt and pepper to taste.
Brush the cooking grates with olive oil. Place the salmon on the grill flesh-side down, cover and cook for approximately 5 minutes or until the filets release easily from the cooking grates.
Flip the salmon, cover and cook for approximately 3-4 minutes or until it reaches your desired internal temperature (130 F or 55 C for medium).
Serve the grilled salmon with lemon slices and a pat of horseradish dill butter.

Did You Make This Recipe?
This post may contain affiliate links through which we may earn a small commission at no additional cost to you. We only recommend products that we genuinely love and would use ourselves.