Made with a sweet yeast dough and filled with cream cheese and blueberries, this Czech kolache recipe is always a favorite for breakfast! Top these soft, pillowy delights with a crumbly streusel topping, bake and enjoy!
Home to small towns with names such as Prague and Bruno, you may not be surprised to learn that the prairies of Nebraska were once settled by Bohemian (or Czech) immigrants, including my own ancestors. That heritage lives on today through our love for polka, beer and, of course, these Czech kolaches.
When I moved to Prague (the one in Czechia) a few years ago, I learned that kolache was actually more of a general term for a certain type of pastry! Despite the difference in translation, I was happy to find that the kolaches that Nebraskans know and love were readily available at every little bakery. In fact, some of my favorite memories from Prague involved Saturday mornings at the riverside farmers market with Viktor — grabbing a coffee along with a freshly baked kolaček.
kolache dough
This sweet yeast dough is pretty straightforward, but you do need to allow time for it to rise. The first rise, right after you form the dough, can take from about an hour and a half to two hours. After that, you roll out the dough and use cookie cutters (or a glass) to cut out small circles. This dough is a dream to work with so this step usually goes quickly! Then you just leave the kolaches to rise for another 45 minutes, during which you can whip up the easy fillings and crumble topping!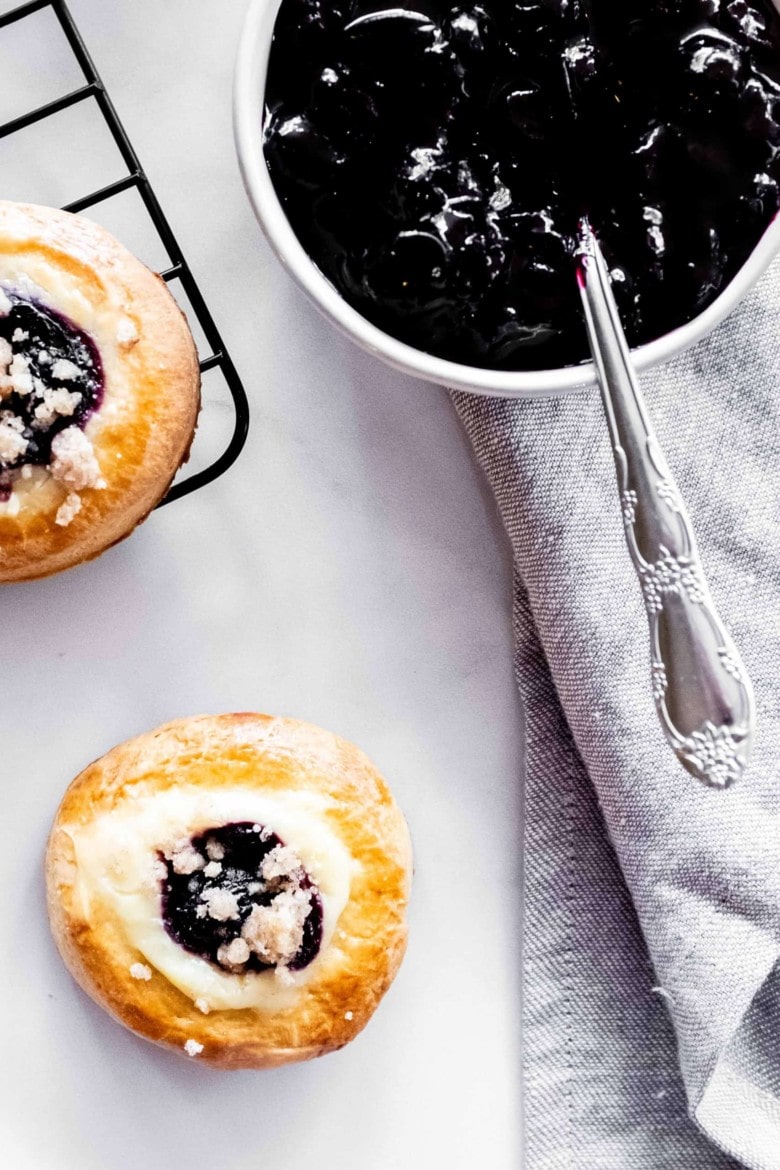 blueberry and cream cheese filling
My all-time favorite kolache filling is poppy seed — a controversial opinion, I know. But since poppy seeds are difficult to come by at our local market, I'm sharing with you Viktor's favorite fillings: blueberry and cream cheese!
I like to fill each kolache with a bit of cream cheese and then add a small spoonful of blueberry compote in the middle. You could also swirl the two mixtures together or use them separately! And if you decide you only want to make one of the fillings, you can just double that recipe.
The blueberry filling is especially adaptable and you could substitute the blueberries for cherries, raspberries or even strawberries! Just make sure to adjust the sugar accordingly depending on the tartness of your berries. And while you're at it, I suggest doubling the batch — the leftover berry compote is great on waffles and pancakes!
posypka (crumble topping)
The posypka, which in Czech really just means "something that is sprinkled on top," is made by mixing together melted butter, flour, sugar and a pinch of cinnamon. This streusel topping is completely optional, but it does add a nice texture to the finished kolaches!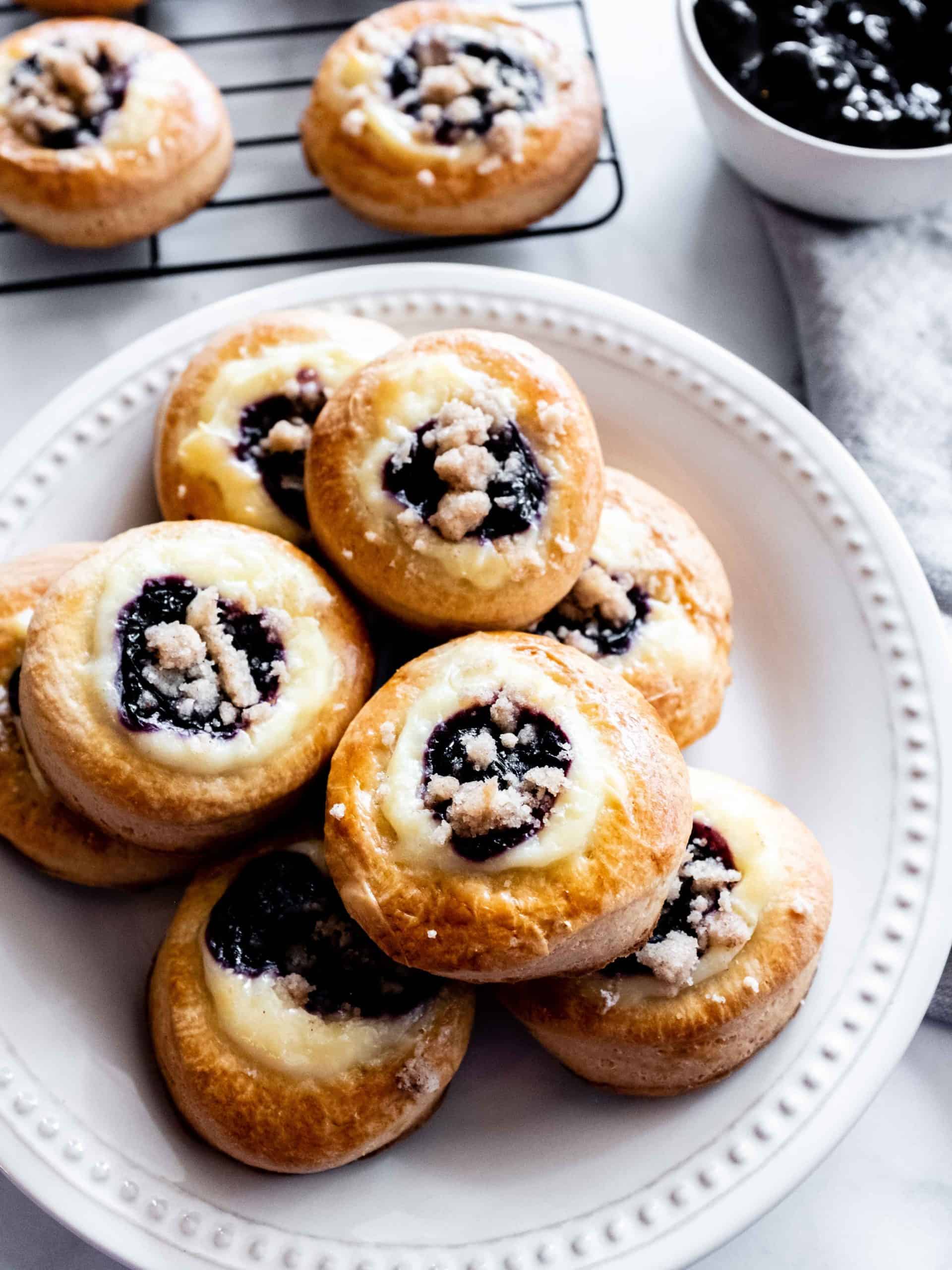 ingredients
dough
warm milk

1 c (240 ml)

active dry yeast

1 packet (2¼ tsp)

sugar

⅓ c (70 g) + 1 tbsp

flour

4 c (480 g)

salt

1 tsp

butter (softened)

1 stick (110 g)

egg

1 large
egg wash
blueberry filling
blueberries

1 c (150 g)

orange juice

1 tbsp

sugar

½ tbsp

cornstarch

1 tsp
cream cheese filling
cream cheese

8 oz (230 g)

sugar

3 tbsp

egg

1 yolk

vanilla extract

½ tsp
posypka | crumble topping (optional)
melted butter

1 tbsp

flour

3 tbsp

sugar

2 tbsp

cinnamon

¼ tsp
instructions
Add the active dry yeast and one tablespoon of sugar to the warm milk. Let the mixture sit for 10 minutes or until foamy.
In a large bowl, add the rest of the sugar, flour and salt.
Mix in the softened butter and egg. Pour in the milk mixture.
Once the dough begins to come together, knead with your hands until smooth and elastic (about 10 minutes).
Form the dough into a ball and place in a greased bowl. Cover and set aside in a warm space for about 90 minutes or until the dough doubles in size.
Make the blueberry filling. In a small saucepan, combine the blueberries, orange juice, sugar and cornstarch. Cook over medium-low heat, stirring and mashing occasionally, until the sauce has thickened (about 15 minutes). Allow to cool.
Make the cream cheese filling. Beat the cream cheese, sugar, egg yolk and vanilla extract with an electric mixture until smooth and fluffy.
Make the crumble topping if using. Combine the melted butter, sugar, flour and cinnamon in a small bowl and mix together until crumbly.
Roll out the dough on a floured surface to approximately ½ inch (1.5 cm) thickness. Cut out circles with cookie cutters or a glass (approximately 2.5 inches / 6 cm in diameter). Place on a baking sheet lined with parchment paper. Make sure to leave about an inch between the kolaches as they will expand.
Lightly cover the kolaches with a damp towel and let them sit for 45 minutes or until almost doubled in size.
Preheat the oven to 350 F (180 C).
Make a large indent in the center of the kolaches using your thumb or the back of a tablespoon.
Beat one egg with one tablespoon of water in a small bowl. Brush the top of each kolache with the egg wash.
Add a spoonful of cream cheese filling and a spoonful of blueberry filling to each kolache. Sprinkle the posypka on top if using.
Bake for 20-23 minutes or until golden brown. Transfer to a wire rack to cool.

Did You Make This Recipe?