Plums roasted in deliciously spiced red wine is a fruit-forward dessert that's ready and on the table in just 30 minutes! Serve your roasted plums with an easy mascarpone whipped cream for the perfect balance of tart and sweet!
I am definitely a fruit-for-dessert kind of person. Chocolate covered strawberries, grilled pineapple or even just fresh cherries — fruit forward desserts are bursting with natural flavors and tend to be pretty no-fuss. So with plums now in season it should come as no surprise that my favorite recipe for the sweet, juicy stone fruit calls for just a handful of ingredients and minimal effort! The easy showstopper features sweet plums roasted in a red wine sauce spiced with cinnamon, cloves and star anise. And if that's not enough for you, I've included a quick recipe for mascarpone whipped cream to make sure your roasted plums have that decadent dessert feel!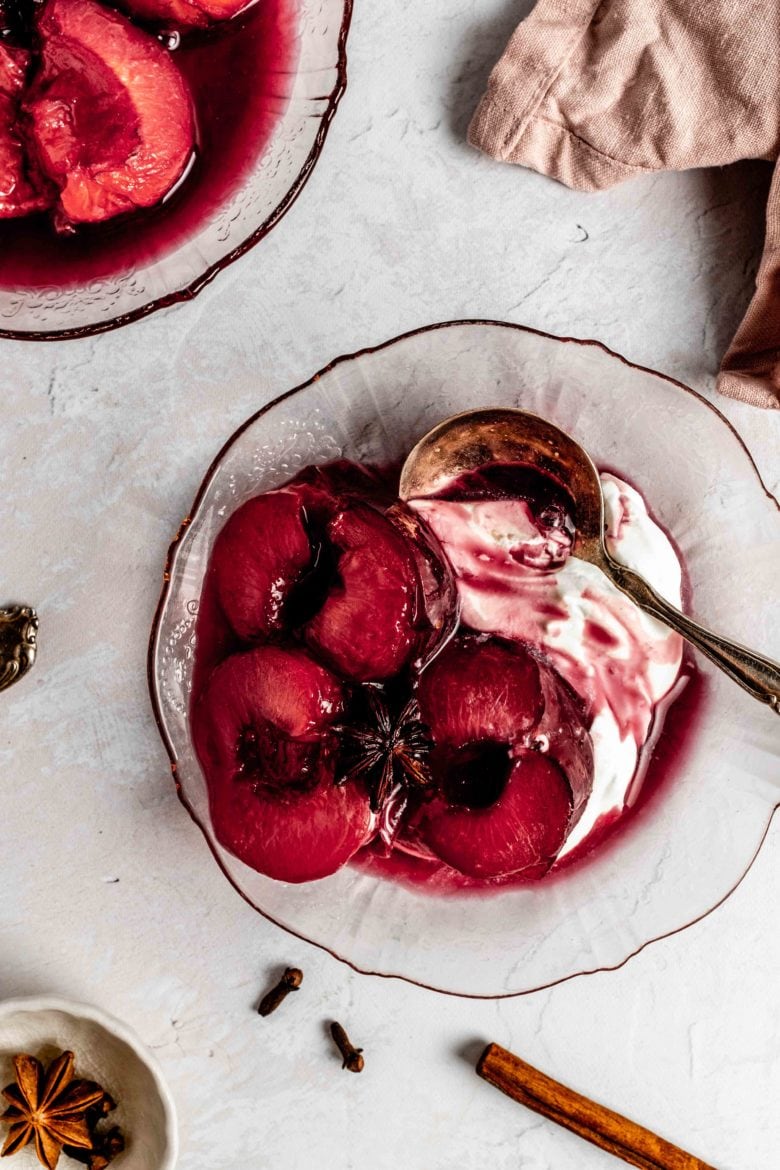 making red wine roasted plums
To make this easy dessert, start by pitting and halving the plums. Place them in a baking dish (cut-side up) and pour a cup of red wine over them. Sprinkle a little brown sugar on top, add a few whole spices and your plums are ready to pop in the oven!
I like to use cinnamon sticks, cloves and star anise for the spices, but you can definitely adjust according to taste. Feel free to leave out the star anise if you're not a fan or even add a few cardamom pods. And while I prefer whole spices to really infuse the red wine, ground spices would also work if that's what you have on hand. Just sprinkle a bit of cinnamon (or a combination of your favorite ground spices) over the plums right before baking!
When it comes to bake time, you'll want to keep a close eye on your plums. I generally bake them for about 20 minutes or until they're just tender. But you can also let them go a little longer and they take on an almost jammy consistency. It's really up to you here. I actually sometimes prefer the more jammy consistency depending on how I'm serving them, but the plums do fall apart a bit so if you're going for presentation I would take them out of the oven a bit earlier.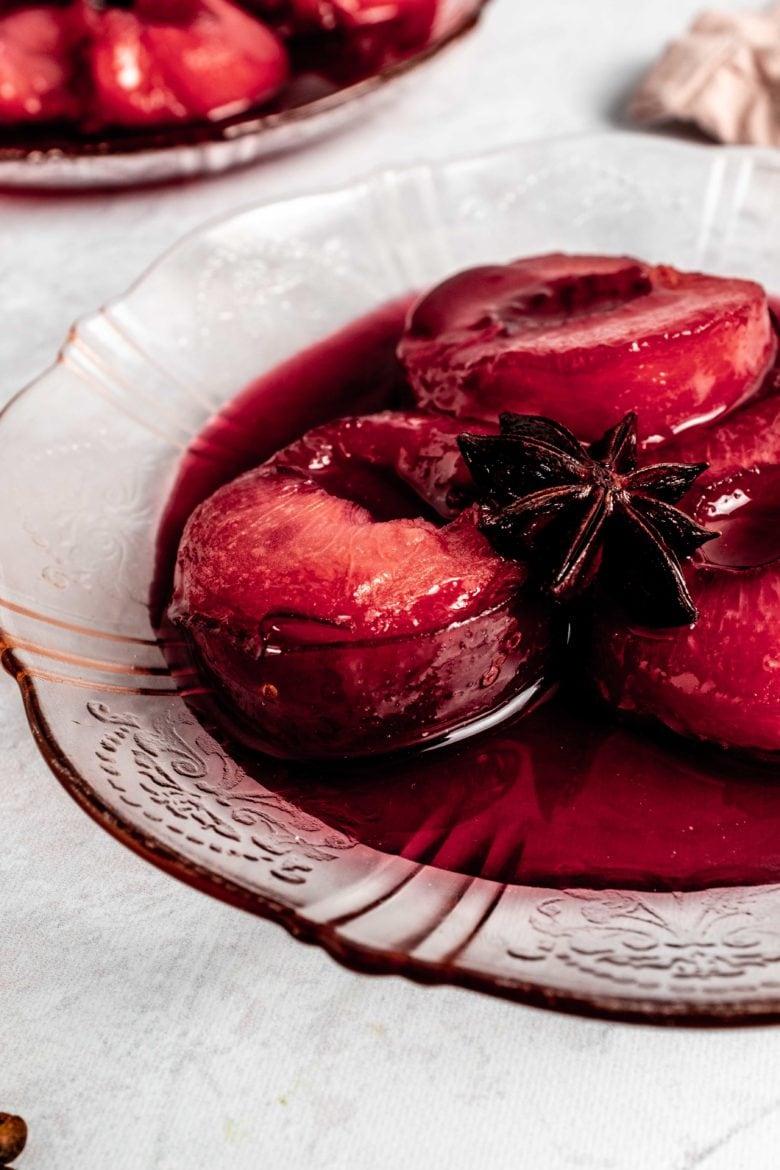 what to serve with roasted plums
These plums make a wonderful dessert all on their own, but I love to serve them as a topping to something creamy. For a lighter dessert, try serving them over some yogurt with a bit of crunchy granola on top. And for a summer treat, I highly recommend adding a few roasted plums to a bowl of vanilla ice cream. Don't forget to spoon some extra red wine sauce on top!
And if you're in the mood for something extra special, my favorite way to serve these roasted plums is with a bit of homemade mascarpone whipped cream — you'll find the recipe below!
mascarpone whipped cream
This mascarpone whipped cream is so good that I could (and do) eat it by the spoonful. Plus, it only takes four ingredients and five minutes to make so it's perfect if you need a last minute treat!
Start by whisking together the mascarpone, a few tablespoons of sugar and a bit of vanilla extract. Then beat your heavy cream to stiff peaks — if you turn your whisk or beaters upside down the peaks should remain standing up. Now just fold in the heavy cream to the mascarpone mixture and place in the fridge until you're ready to serve!
For more desserts bursting with fresh fruit flavor, make sure to check out these recipes!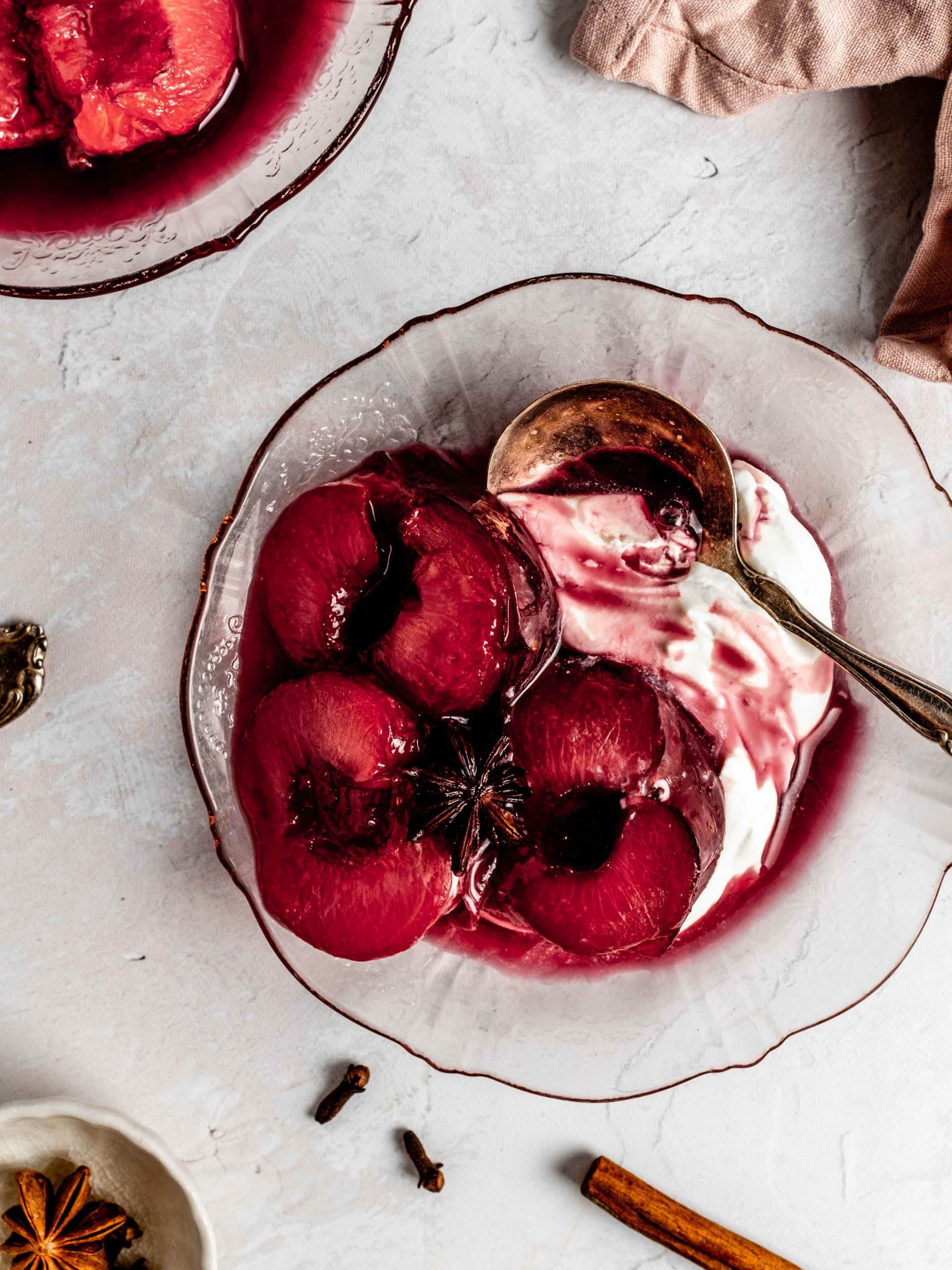 ingredients
red wine roasted plums
black plums

4 medium

red wine

1 c (240 ml)

brown sugar

1 tbsp

star anise

2 whole

cinnamon

1 stick

cloves

4 whole
mascarpone whipped cream
mascarpone

4 oz (110 g)

sugar

2 tbsp

vanilla extract

½ tsp

heavy cream

¾ c (180 ml)
instructions
Preheat oven to 425 F (220 C).
Cut the plums in half and remove the pits.
Place the plums in a baking dish in a single layer (cut-side up).
Pour the wine over the plums and sprinkle with brown sugar. Add the spices to the dish.
Bake the plums for 20 minutes or until tender. Remove the plums from the oven once halfway through and spoon the wine over the plums.
While the plums are baking make the mascarpone whipped cream. Beat the mascarpone, sugar and vanilla extract together until light and fluffy. In a separate bowl, beat the heavy cream until stiff peaks form. Fold the cream into the mascarpone mixture and store in the refrigerator.
Serve the plums warm with mascarpone whipped cream.

Did You Make This Recipe?
This post may contain affiliate links through which we may earn a small commission at no additional cost to you. We only recommend products that we genuinely love and would use ourselves.