This refreshing cucumber tomato salad is the perfect side dish for your picnics, potlucks and grill-outs! It's bursting with summer flavors, yet incredibly simple and you can whip it up in just 10 minutes!
This cucumber tomato salad is so simple that it's barely even a recipe — just a few veggies, a handful of fresh herbs and a drizzle of olive oil and vinegar! Despite its simplicity, this salad is so full of bright and crisp flavors that we find ourselves making it almost weekly in the summer. So today we're sharing a very rough recipe for the easy little salad with lots of tips for making it your own!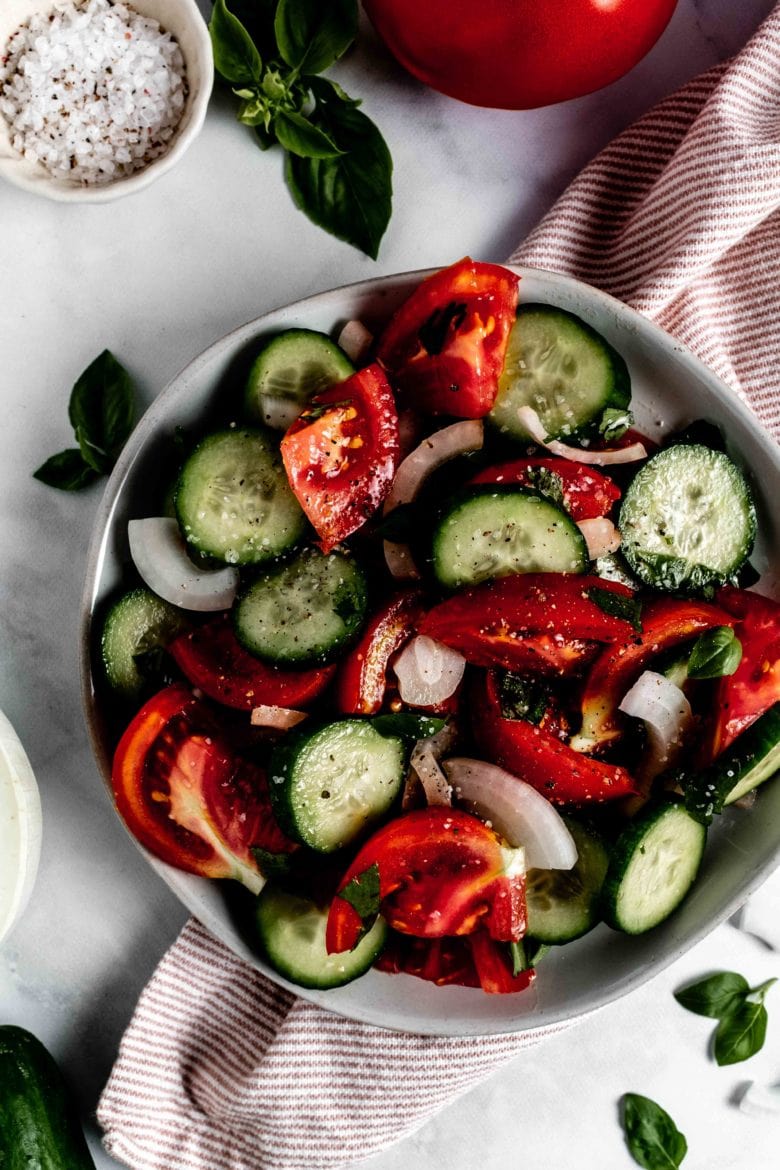 making the salad
The base of this salad is cucumbers, tomatoes and onions. I prefer english cucumbers, but really any variety will do. And the same goes for tomatoes. The best tomato is whatever you can find ripe from your own garden, but tomatoes on the vine, heirloom or even cherry tomatoes from the store will work just as well in this recipe. And although white onions are my favorite for this salad, you could also use red onions or even add a few sliced green onions.
As with the vegetables, there's also a lot of flexibility when it comes to the herbs. I would recommend choosing one or two of your favorite fresh herbs to keep the salad simple. Here are some of our favorite additions:
basil + cilantro: This is our go-to combination of fresh herbs. That's partly because they're the most common herbs you'll find in our kitchen in the summertime, but also because they add a deliciously fresh flavor to the salad!
parsley + mint: Mint and cucumber is a super refreshing combination that makes this variation perfect for hot days!
dill: A bit of fresh dill from the garden gives this salad a more savory flavor that we absolutely love alongside grilled meat or fish.
And lastly, the dressing. A spoonful of olive oil and a drizzle of red wine vinegar and your salad is complete! Always feel free to add a little extra oil and vinegar before serving — the recipe includes the amounts that I start with, but I almost always add a bit more to taste. And if you don't have red wine vinegar on hand, you have a few options. Freshly squeezed lemon juice is my favorite substitute, but white wine vinegar and apple cider vinegar would also work well!
what to serve with cucumber tomato salad
One of our favorite ways to enjoy this cucumber tomato salad is alongside pita bread with either chicken shawarma or falafel. But it also makes a great side salad for cookouts and is the perfect fresh accompaniment to grilled salmon or steak!
Really this salad is so versatile that it can be tweaked to complement almost any meal. And while I've written the recipe for four servings, it can easily be doubled and tripled to serve a crowd on a budget.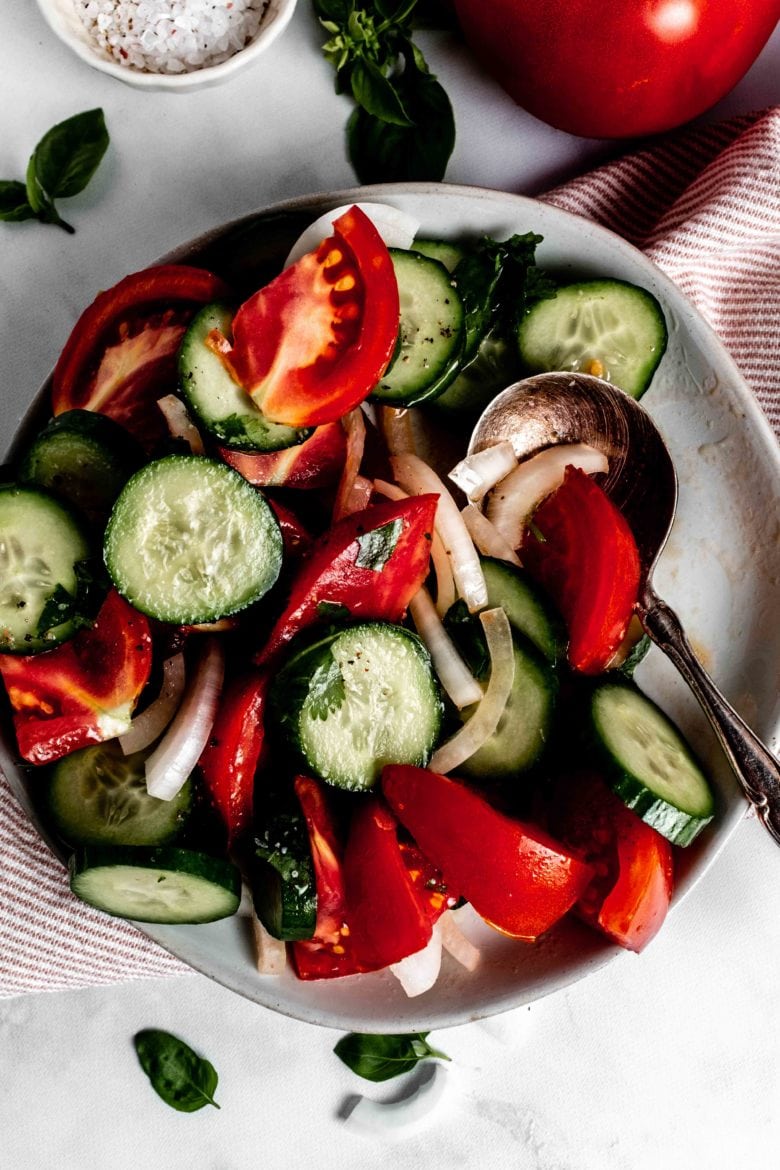 For more easy side dishes perfect for picnics and grill-outs, make sure to check out these recipes: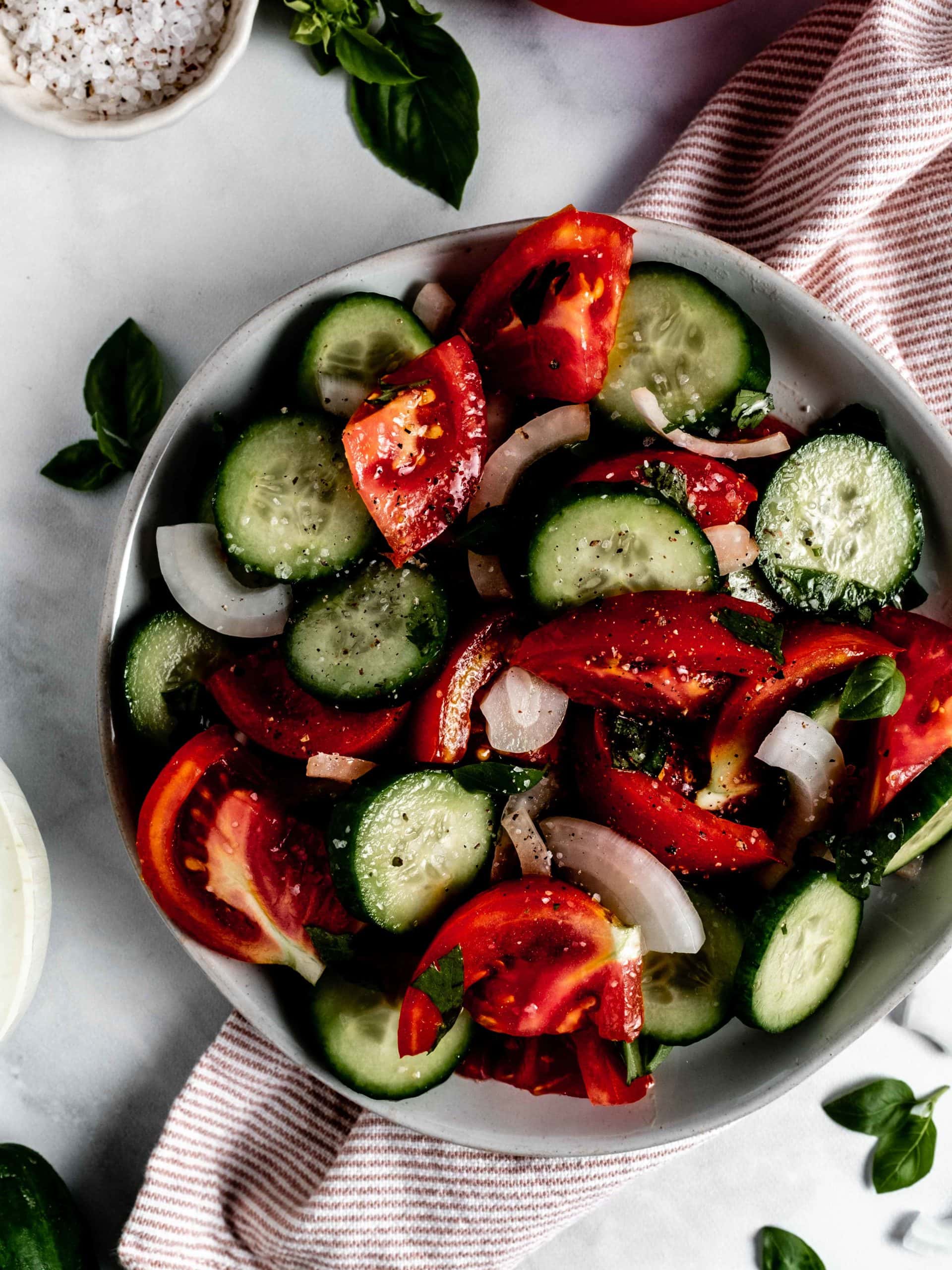 ingredients
tomato

1 large (180 g)

english cucumber

1 large (200 g)

white onion

½ medium

chopped basil

handful

chopped cilantro

handful

olive oil

1 tbsp

red wine vinegar

½ tbsp

salt and pepper

to taste
instructions
Chop the tomato into bite-sized pieces and slice the cucumber. Slice the onion into thin quarter circles.
Combine all ingredients in a large bowl and toss.

Did You Make This Recipe?
This post may contain affiliate links through which we may earn a small commission at no additional cost to you. We only recommend products that we genuinely love and would use ourselves.