This creamy salmon soup is nourishing, wonderfully comforting and will warm you up and lift your spirits on a chilly day! It takes less than an hour to prepare and the garnishes can be easily adapted to make this soup your own!
I never thought of myself as a fan of seafood, at least not until I moved to Nebraska. Growing up in a port city in northwestern Russia, we always had plenty of seafood and an ample supply of salmon thanks to numerous nearby rivers and streams. But in moving to Nebraska I found that getting fresh seafood can be a bit of a challenge — it is, after all, a triple landlocked state, which is to say it is very far from the sea. Fortunately, you can always get salmon, frozen or fresh, so to get my seafood fix I've been relying on one of my childhood favorites: creamy salmon soup!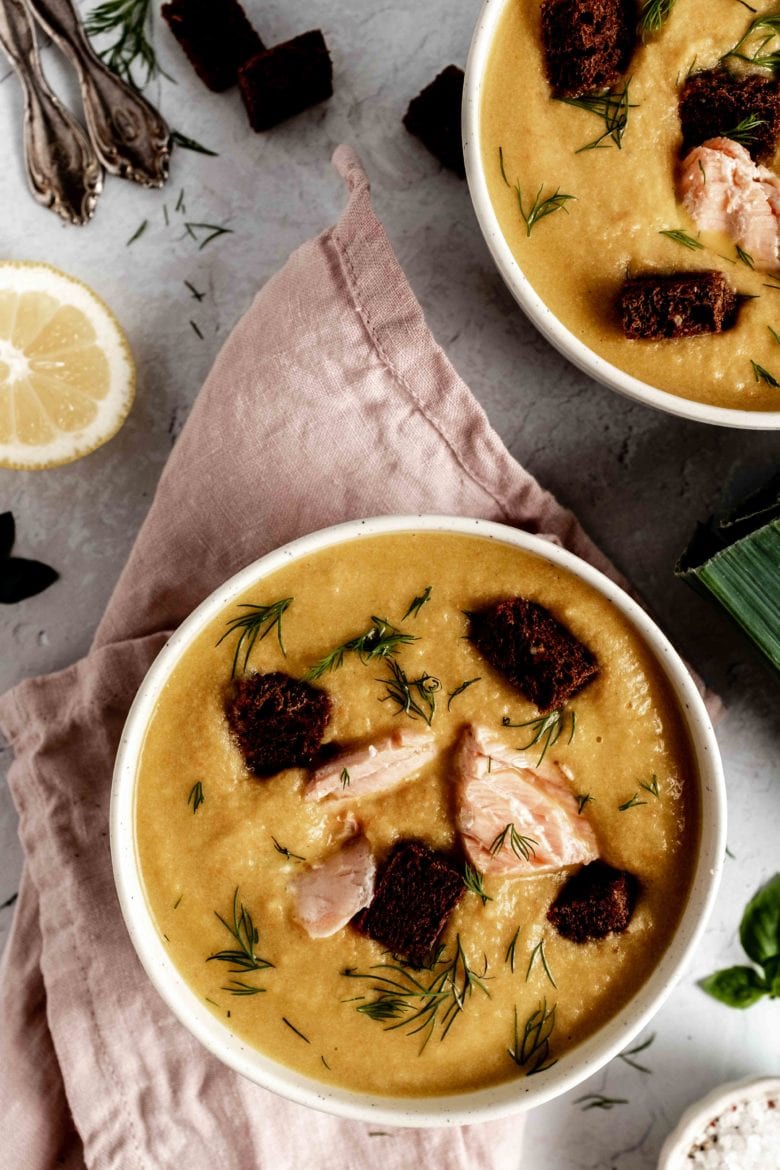 creamy salmon soup
You can find this soup on the menu of many different restaurants in my hometown regardless of cuisine. Nourishing and with a beautifully silky consistency, this salmon soup is a decidedly comforting dish for me. I am certain you could find similar dishes in many regions, especially those rich in salmon, and the soup easily lends itself to regional interpretations — this version, with subtle flavors and garnished with dill and rye croutons, feels to me markedly Russian. But swap leeks for shallots and use parsley and a parmesan crisp for garnish and this soup takes on a Mediterranean feel!
To prepare the stock for this soup I use leeks — I prefer them over onions here for their subtler and slightly sweeter taste. I also add a few carrots and a potato to give this salmon soup more body as well as add a little color from the carrots. As for the salmon — both fresh and frozen works. And to get a creamier consistency I use butter, but it is entirely possible to achieve the same effect without any dairy — simply replace butter with olive oil!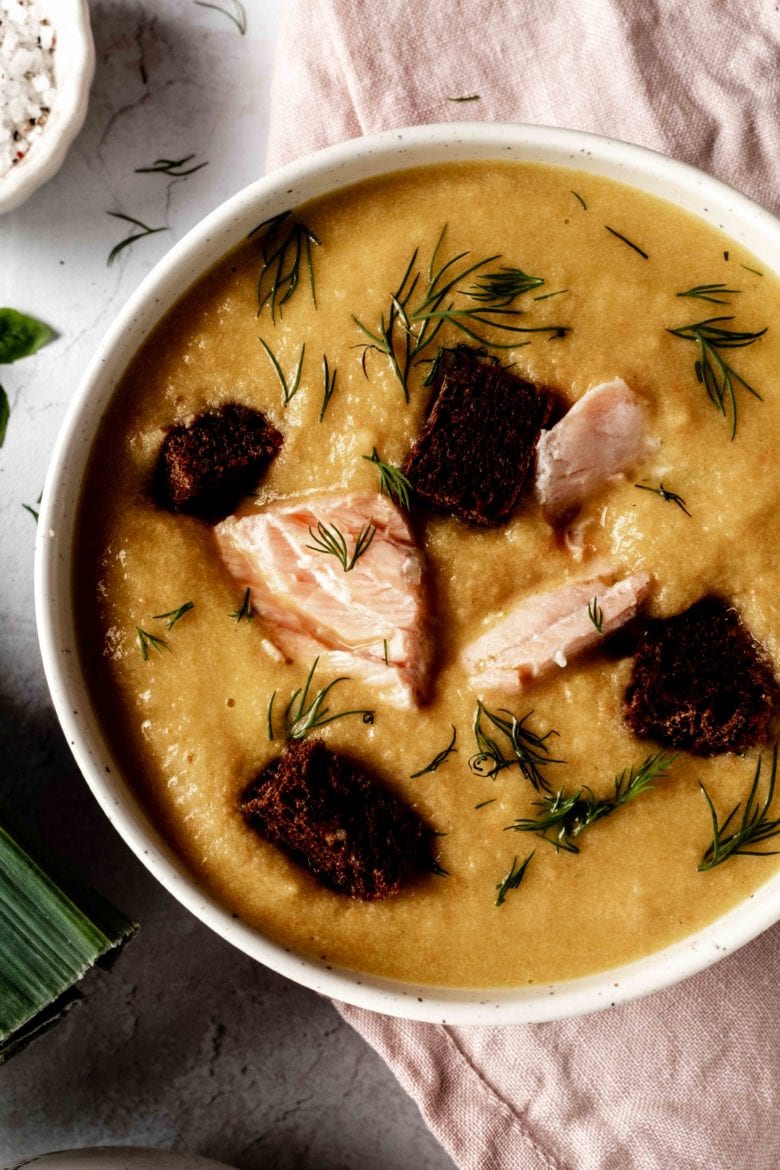 preparing leek and salmon soup
Preparing this salmon soup is really easy. Start by sweating the leeks and carrots in a pot until fragrant. Then add the potato, salmon and spices and cover with water. After 15 minutes, puree the soup in a blender, add salt and lemon juice and it's ready to be served! Don't forget to garnish it with rye croutons and dill or your favorite alternatives!
Here are a few tips for this recipe:
I normally use salmon fillets with skin on. Before pureeing the soup I remove the skin from the fillets and also reserve a few chunks of salmon to garnish the soup.
Make this recipe dairy-free by substituting butter with olive oil.
Use just enough water to cover all of the ingredients. If the soup is too thick after blending you can add additional water to your preference.
I prefer using a blender for a smoother consistency, but an immersion blender produces a decent result as well!
Be safe when blending hot soup! Cover the blender lid with a towel and hold it down. Start the blender at the lowest speed, gradually increasing the speed as necessary.
To get a creamier texture for this soup add a little extra butter or olive oil when blending. Straining the soup through a mesh strainer after blending also helps with the texture. Finally, right before serving you can add a splash of cream to make the texture even silkier, but that's optional.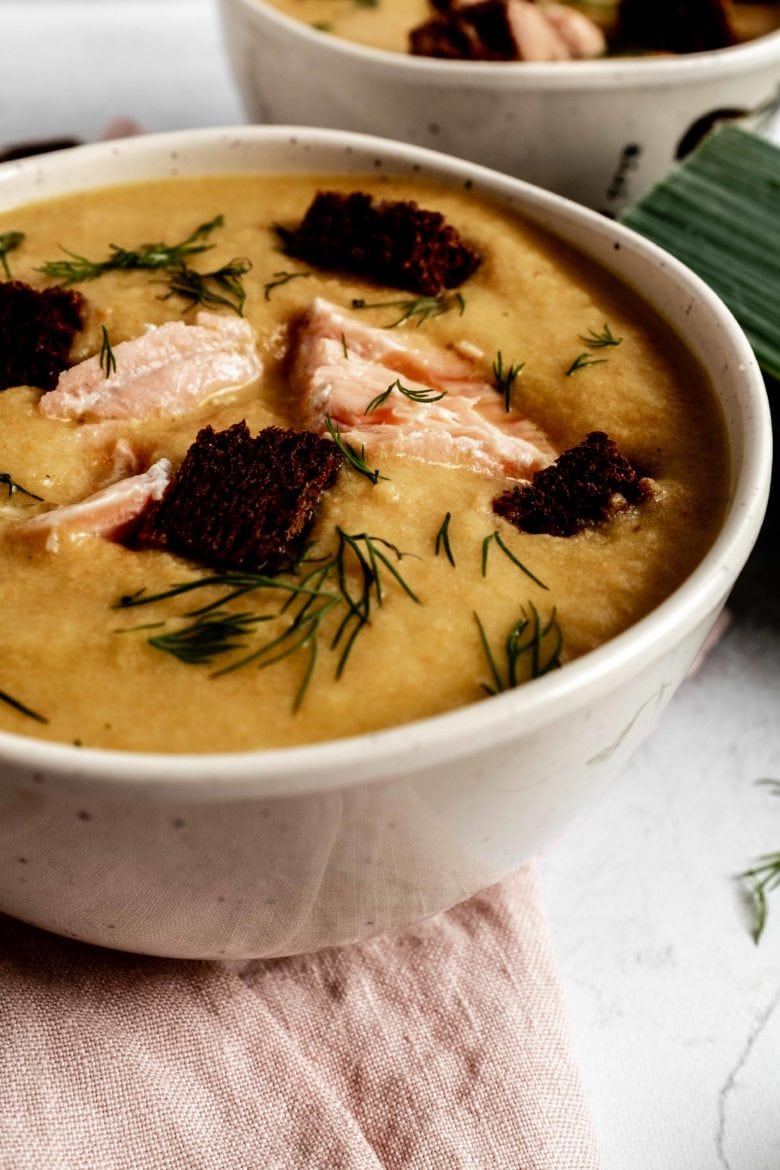 Looking for more amazing seafood soups? Be sure to try these!
Print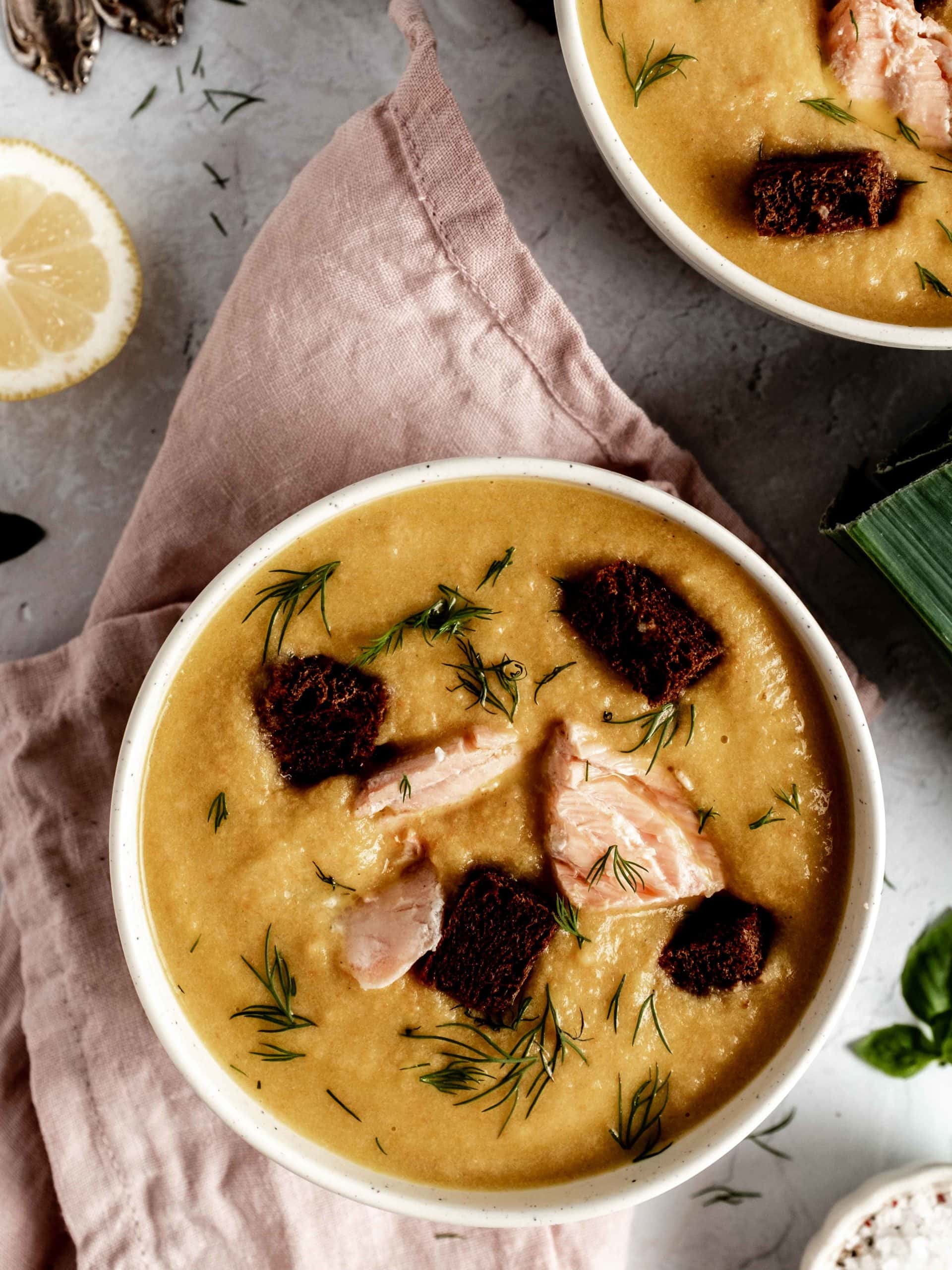 Leek and Salmon Soup
---
Author:

Viktor Kapustin

Total Time:

40 minutes

Yield:

4

Prep Time:

10 minutes

Cook Time:

30 minutes

Category:

Dinner

Method:

Stovetop

Cuisine:

Global
Leek and Salmon Soup
2

medium leeks

1

medium (100 grams) carrot

1

large (200 grams) russet potato

1

pound (450 grams) salmon

4 tablespoons

(60 grams) unsalted butter

¼ teaspoon

ground allspice

2

–

3

bay leaves

3 cups

(700 ml) water

2 tablespoons

lemon juice

1.5 teaspoons

kosher salt
Garnish
---
Instructions
Prepare the veggies. Cut off the leek tops, leaving the white and light green parts, and cut into thin rounds. Cut the carrot into rounds. Peel and cut the potato into small cubes.
Cut the salmon fillet crosswise into 2-inch (5 cm) wide pieces. You can leave the skin on.
Melt the butter in a pot over medium-low heat. Add the leeks and carrots and cook for about 5 minutes or until the leeks are fragrant.
Add allspice, mix and cook for an additional minute.
Add the potato, bay leaves and salmon to the pot. Add enough water to just cover all ingredients (2-3 cups or 500-700 ml).
Bring to a light boil and cook for 15 minutes or until the carrots and potatoes are tender.
Remove the salmon to a plate and remove the skin if present. Discard the skin and bay leaves.
Reserve a few chunks of salmon for garnish. Return the rest of the salmon to the soup and transfer to a blender. Safely* pulse the mixture on a low setting and gradually increase the speed until combined.
Thin the soup to your desired consistency by adding water (up to 1 extra cup or 240 ml). Optionally, add extra butter or olive oil for a creamier consistency (1-2 tbsp). Blend until smooth.
Transfer the soup back to the pot (optional: strain through a fine mesh strainer).
Bring the soup back to a simmer and remove from heat. Add salt to taste (I generally use about 1.5 teaspoons).
Before serving, stir in the lemon juice and garnish with fresh dill, rye croutons and the reserved salmon chunks.
Notes
Blending hot soup safely: Put a towel over the blender lid and hold it down with your hand. Start blending at the lowest speed and gradually increase speed as necessary. Make sure not to fill the blender too full and work in batches if necessary.
Keywords: salmon soup, leek and salmon soup
This post may contain affiliate links through which we may earn a small commission at no additional cost to you. We only recommend products that we genuinely love and would use ourselves.