In need of a date night dinner sure to impress? We've got you covered with this squid ink barley risotto! Topped with easy pan-seared chilean sea bass, this delicious risotto is wonderfully creamy and bursting with seafood flavor!
We've been on a bit of a squid ink kick lately with our most recent obsession being this squid ink barley risotto. Creamy barley risotto with deep notes of umami and served with super quick seared chilean sea bass — this stunning meal will have you feeling like you're dining at a charming little restaurant in a small seaside town!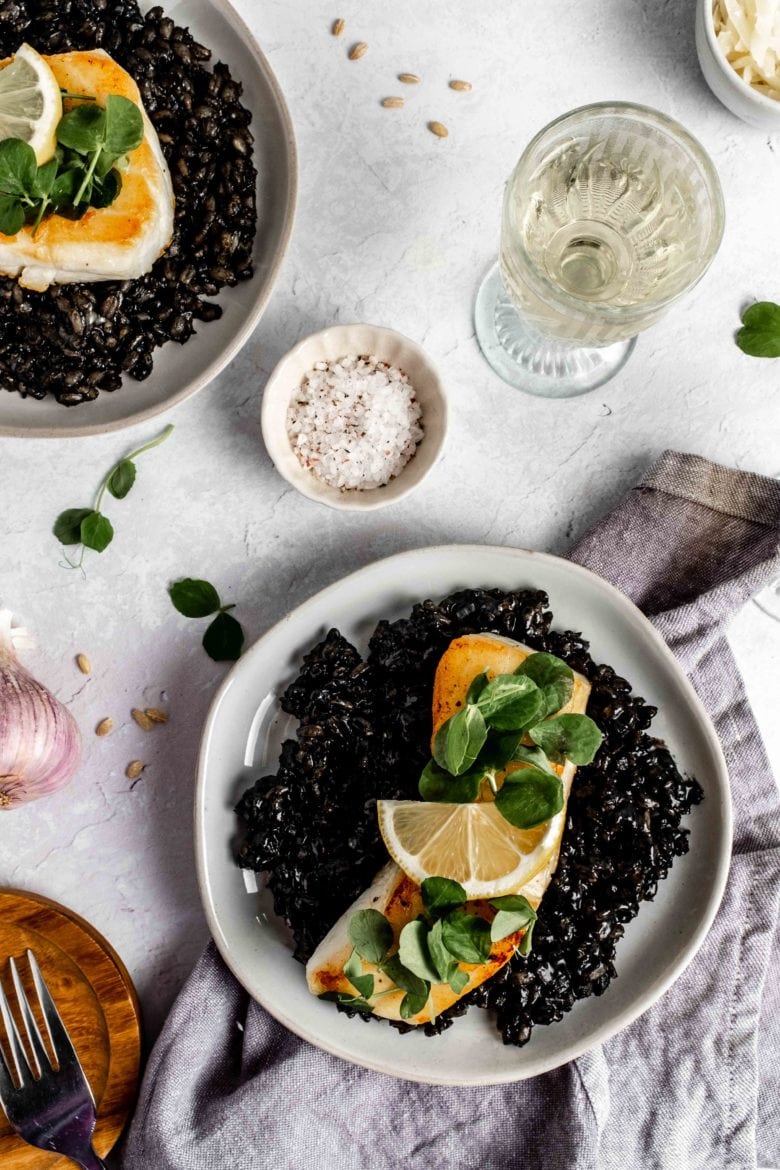 using squid ink
Squid ink can sound like an intimidating ingredient only used at fancy restaurants, but it's actually not difficult to track down and it's easy to use at home. And while it can be a bit expensive, you just need a few teaspoons to give your dish incredible flavor and that deep black color. We used Marky's squid ink and after making numerous dishes with it we still have quite a bit left — one little jar will go a long way!
Have I convinced you to give it a try? If not then let me try to explain the flavor. It might best be described as briney. It's salty and tastes like the sea, but it's not at all overpowering. Even those who don't generally love seafood have been known to fall in love with squid ink risottos and pastas! It adds a wonderful complexity to anything it touches and deep notes of umami.
Just one quick note before you go forth and purchase your squid ink — the majority of squid inks on the market are actually cuttlefish ink. Either will work for almost all recipes that call for squid ink.
squid ink barley risotto
Now that I've professed my love for squid ink, let's move onto the barley risotto. For this recipe, make sure you're using pearl barley, which is the form of barley that has been removed of its outer husk and bran layer. Pearl barley cooks quicker than hulled barley, is starchy and expands considerably when cooking. This makes it an excellent choice for risotto-style dishes!
To make sure your risotto is a success, here are a few quick tips:
The amount of broth or stock you'll need is just an estimate. If your risotto is tender and cooked before you've used all the broth you don't need to add the full amount. On the other hand, if you find your barley needs just a bit more time, you may need to add a few more ladles of stock.
Keep the barley risotto at a simmer throughout cooking (we don't want a full boil) and adjust the heat as necessary.
Make sure not to add the squid ink until the last few minutes of cooking. Start with one teaspoon, then taste and add an additional teaspoon if needed.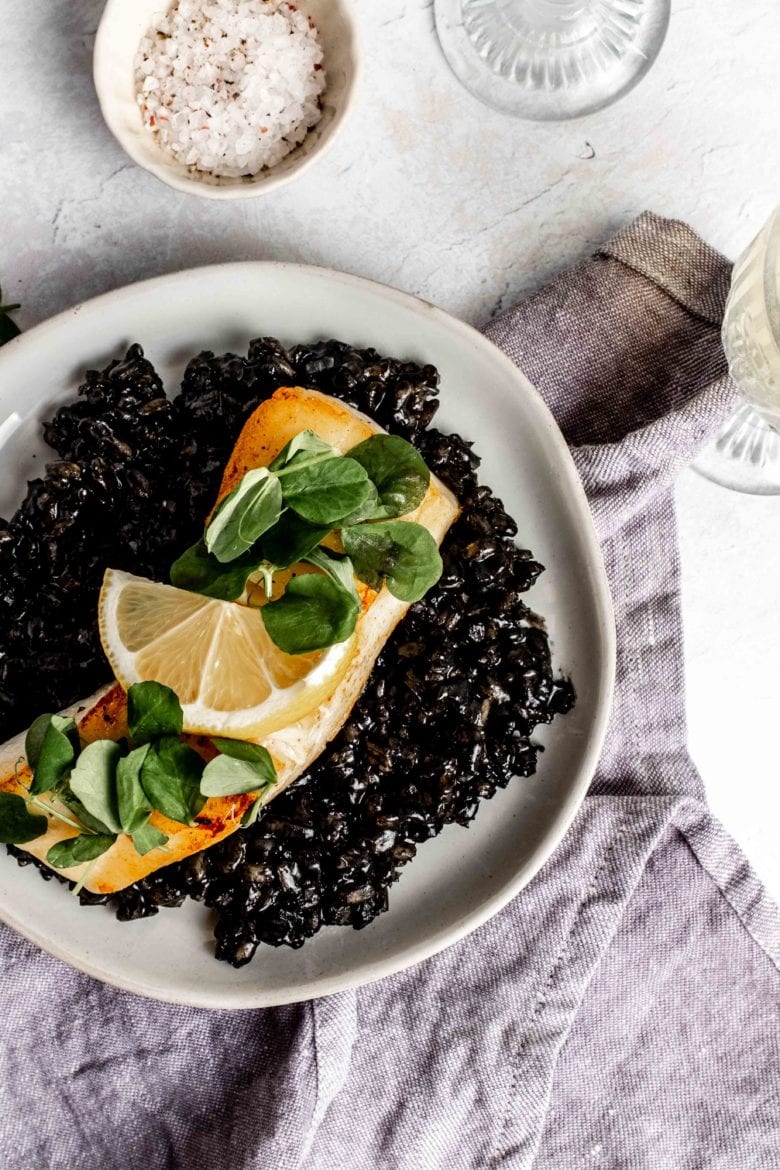 seared chilean sea bass
And what should you serve with your squid ink barley risotto? Our favorite option is pan-seared fish. While we used chilean sea bass for this version, any thick fillet of white fish, such as halibut or sablefish, would work well.
When cooking with such a quality fillet, we like to keep the recipe simple to really let the fish shine. Start with a few tablespoons of oil that has a higher smoke point (such as canola or vegetable oil). Make sure to pat your fish dry and season generously with salt and pepper. Heat the oil in a skillet over medium-high heat and add the fish. You'll want to let the fish cook undisturbed for about five minutes or until it releases easily from the pan. Then just flip and cook on the other side until heated through!
Serve your fillet over the squid ink barley risotto with a squeeze of fresh lemon juice and enjoy!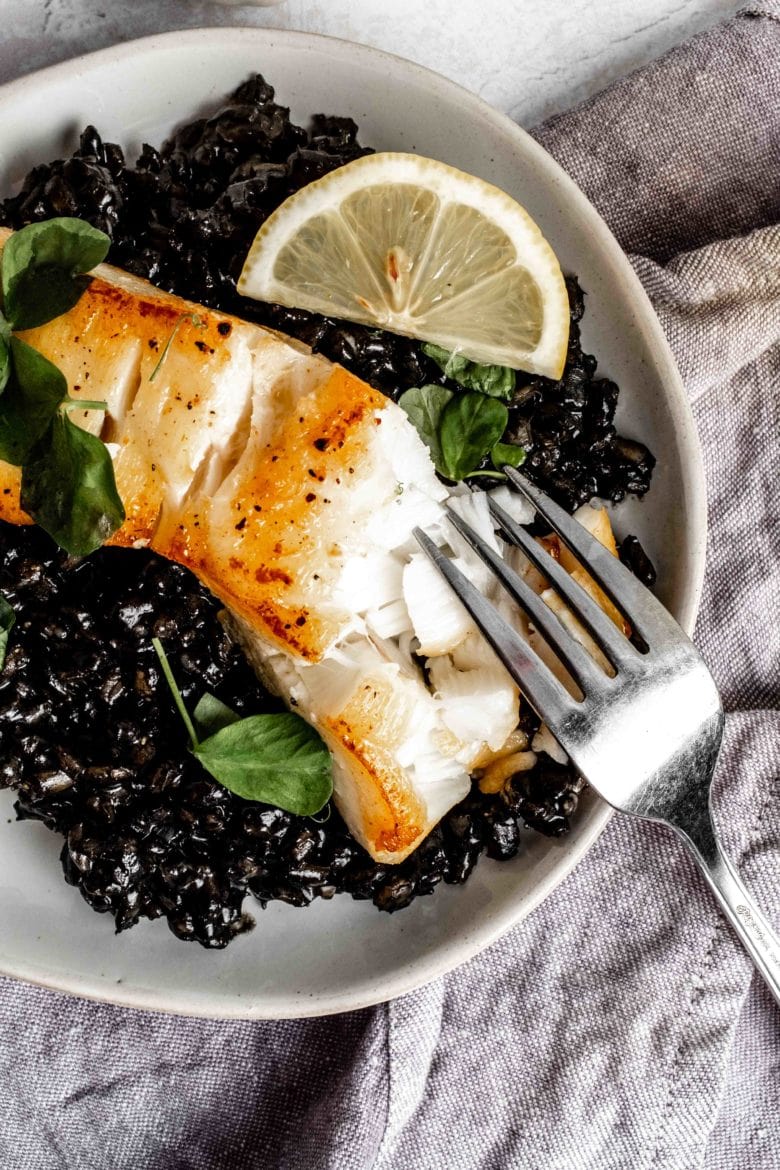 For more of our favorite seafood dishes perfect for date night, check out these recipes!
ingredients
squid ink barley risotto
vegetable broth

4 c (1 l)

butter

1 tbsp (15 g)

diced shallot

1 small

minced garlic

1 clove

pearl barley

¾ c (150 g)

white wine

½ c (120 ml)

squid ink

2 tsp

(also marketed as cuttlefish ink)

grated parmesan

⅓ c (30 g)

salt

to taste
seared chilean sea bass
chilean sea bass

2-3 fillets

(approximately 5 oz or 140 g each)

salt and pepper

to taste

canola oil

2 tbsp

lemon

for serving
instructions
squid ink barley risotto
Heat the vegetable broth in a small saucepan over medium-low heat. Keep warm.
Add the butter to a saute pan over medium heat. Add the diced shallot and cook until translucent (but not browned).
Add the garlic and cook an additional minute.
Add the pearl barley to the pan and toast for 1-2 minutes.
Pour in the white wine and scrape up any brown bits from the bottom. Cook until absorbed.
Add a ladle of broth (about ½ cup or 120 ml) to the pan and stir. When the broth has been absorbed (about every 5 minutes), add another ladle. Repeat until the barley is tender (approximately 40-50 minutes). The barley should remain at a simmer (reduce heat if necessary) and you'll want to give the barley a stir every few minutes.
Stir in the squid ink in the last few minutes.
Remove the pan from heat and stir in the parmesan. Season with salt to taste.
seared chilean sea bass
Add the oil to a large heavy-bottomed skillet over medium-high heat.
Pat the sea bass dry and season with salt and pepper. Add to the pan.
Cook until the fish just turns opaque in the center (about 5 minutes) and releases easily from the pan. Flip and cook an additional 4 minutes or until the internal temperature just reaches 135 F (57 C).
Serve the sea bass over squid ink barley risotto and squeeze a bit of fresh lemon juice over the top.

Did You Make This Recipe?
This post may contain affiliate links through which we may earn a small commission at no additional cost to you. We only recommend products that we genuinely love and would use ourselves.