This Swabian potato salad is bursting with fresh and tangy flavors! Served warm with a vinegar and broth-based dressing, this easy potato salad is the perfect side dish for picnics, cookouts and all of your favorite German fare!
After spending a year in a small German town nestled in the heart of the Swabian Forest, I came to love a lot of wonderful regional dishes, including this delicious Swabian Potato Salad (Schwäbischer Kartoffelsalat)! Perfect for feeding a crowd, this German potato salad is made with a vinegar-based dressing and topped with chopped chives!
And if you're looking for more Swabian specialites, make sure to check out our Maultaschen (Spinach and Meat Dumplings) and Käsespätzle (Cheese Spaetzle).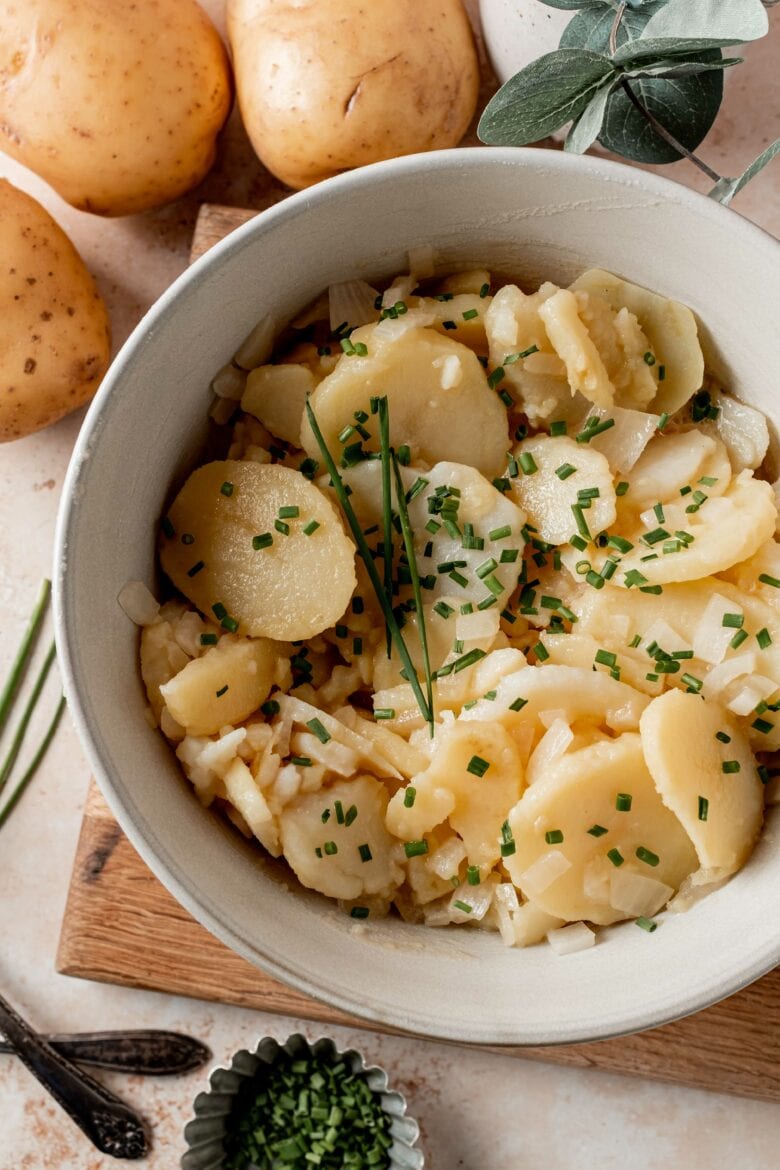 Recipe Ingredients
This Swabian potato salad recipe is an excellent alternative to the mayo-based potato salads that are more common in the States. It's lighter, super refreshing and can be made with mostly pantry ingredients!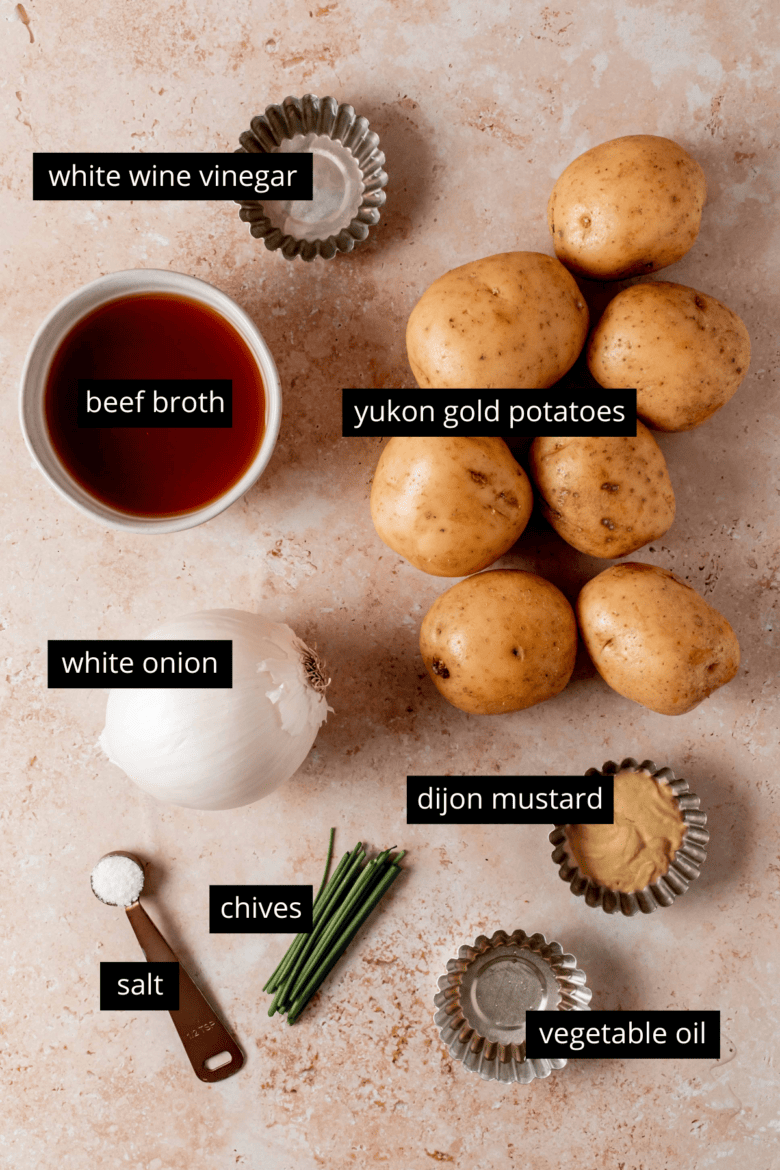 Yukon Gold potatoes: To make this Swabian potato salad recipe, you'll need waxy potatoes, such as Yukon Gold. Stay away from starchier varieties, such as Russet, as they tend to fall apart too easily.
White onion: White onion adds a slight sharpness and subtle sweetness to the potato salad.
Beef broth: While I almost always prefer chicken broth for cooking, this is one recipe where the depth of beef broth really shines!
White wine vinegar: The vinegar adds tangy notes and a bit of freshness to the potato salad. Apple cider vinegar and red wine vinegar can be used as substitutes in equal proportions.
Dijon mustard: I've tested this recipe with various types of mustard and prefer Dijon. That being said, stone-ground mustards and spicy brown mustard also work well in this recipe.
Salt: If your potato salad tastes a little flat, chances are you just need a bit more salt. Be generous in this recipe!
Vegetable oil: Vegetable oil helps to distribute and enhance the flavors of the other ingredients.
Chives: Chopped chives add a pop of color and fresh flavor to this Swabian potato salad. Green onions can be used as a substitute. 
Step By Step Instructions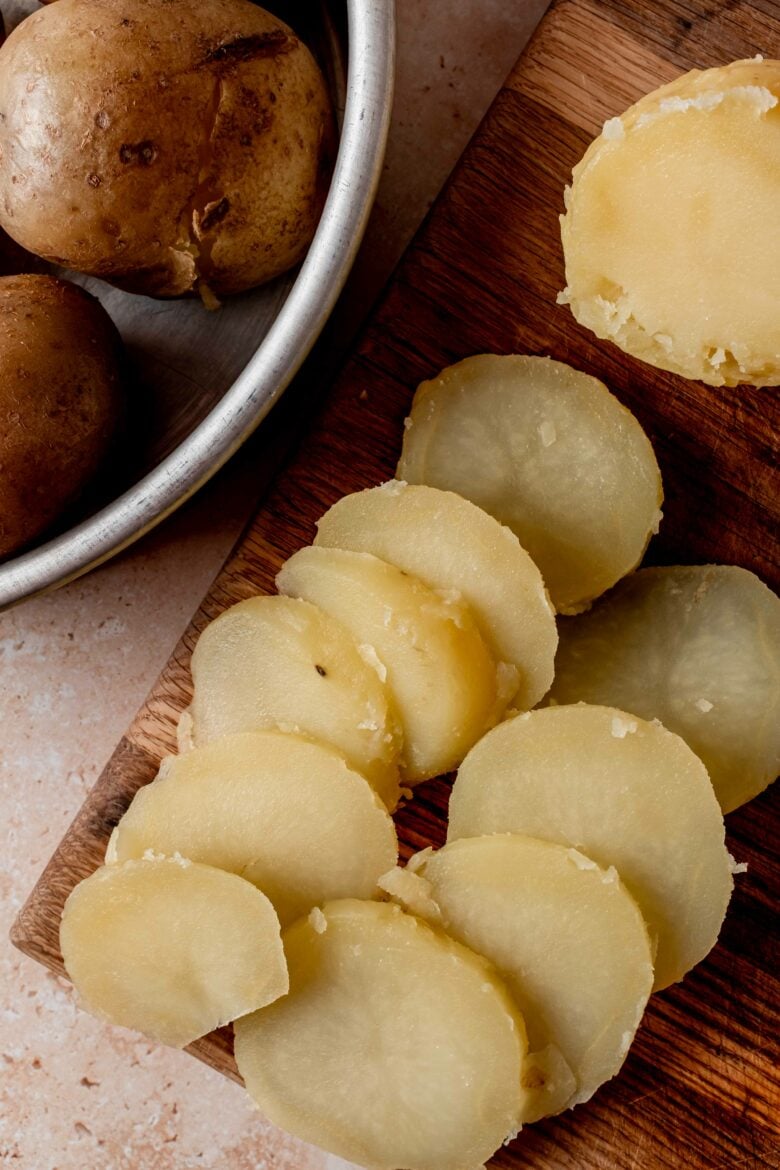 Step 1: Start by boiling the potatoes in salted water until tender. Allow the potatoes to cool slightly, then peel with your hands (the skin should come off quite easily) and slice into thin rounds.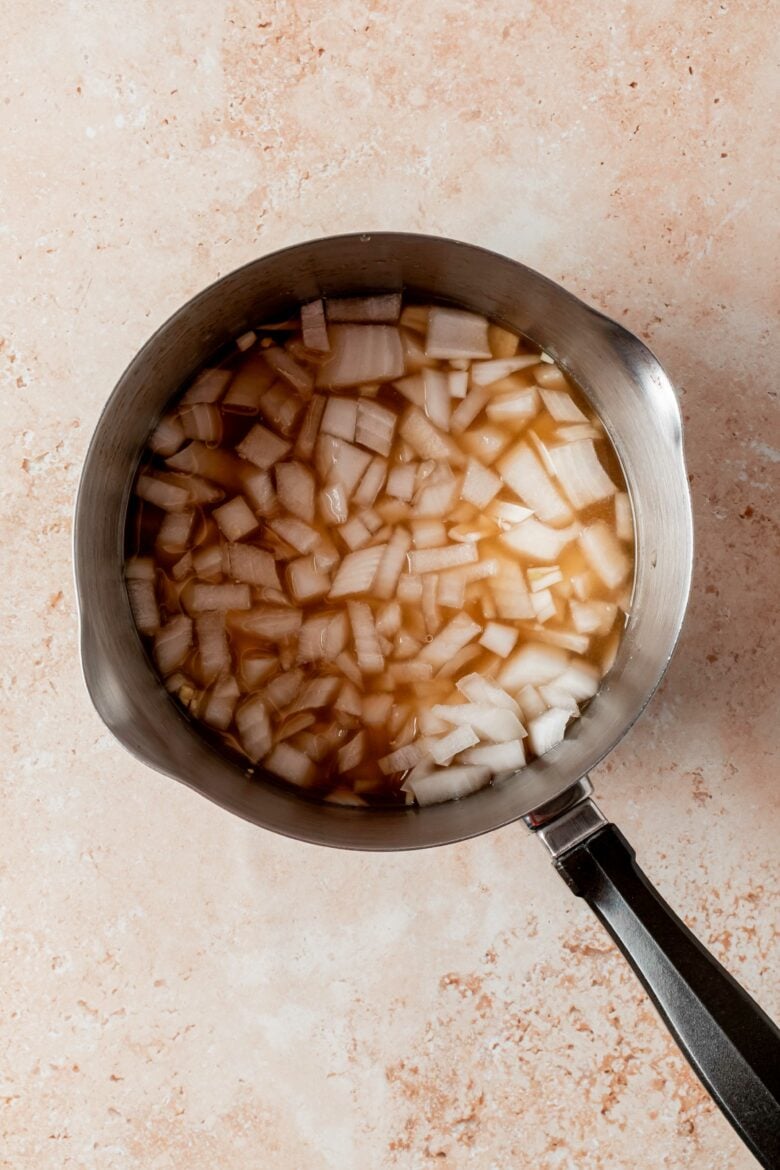 Step 2: Now it's time to make the Swabian potato salad dressing! Combine the finely diced onion, beef broth, white wine vinegar and dijon mustard in a small saucepan. Season generously with salt and bring to a slight boil. As soon as the mixture begins to boil, pour it over the sliced potatoes.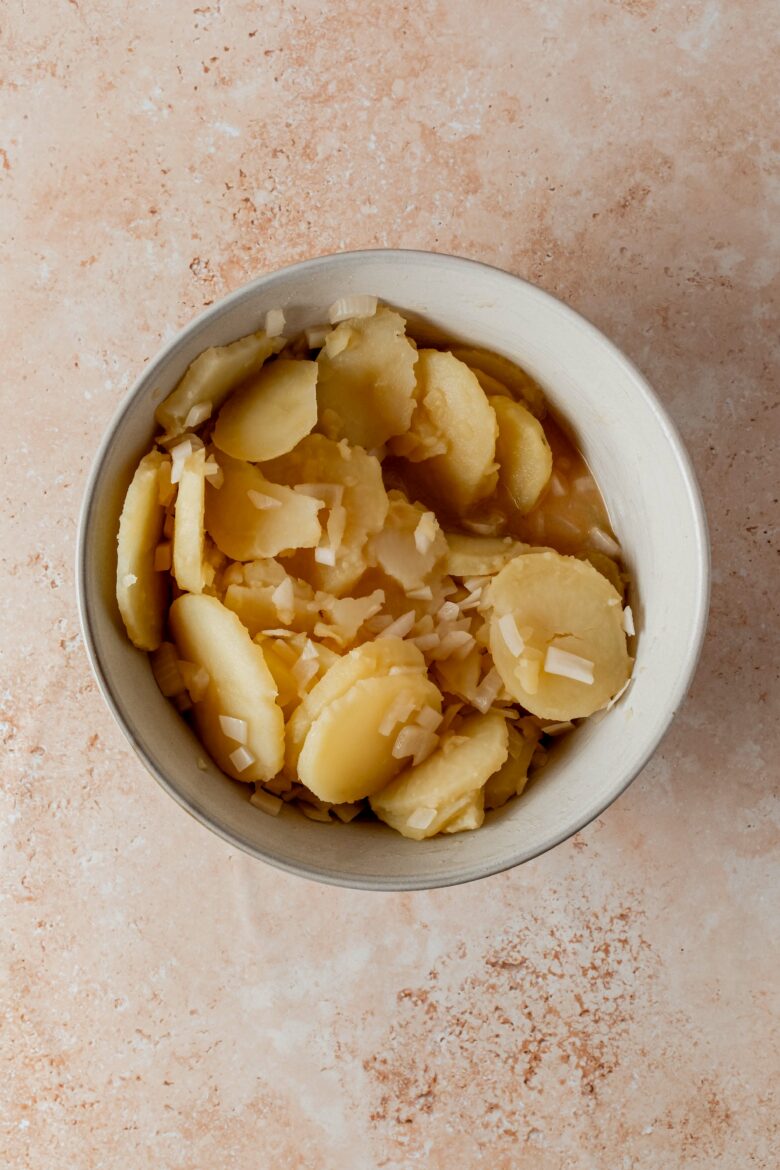 Step 3: Cover the potatoes and let them marinate in the dressing for at least half an hour to absorb the flavors.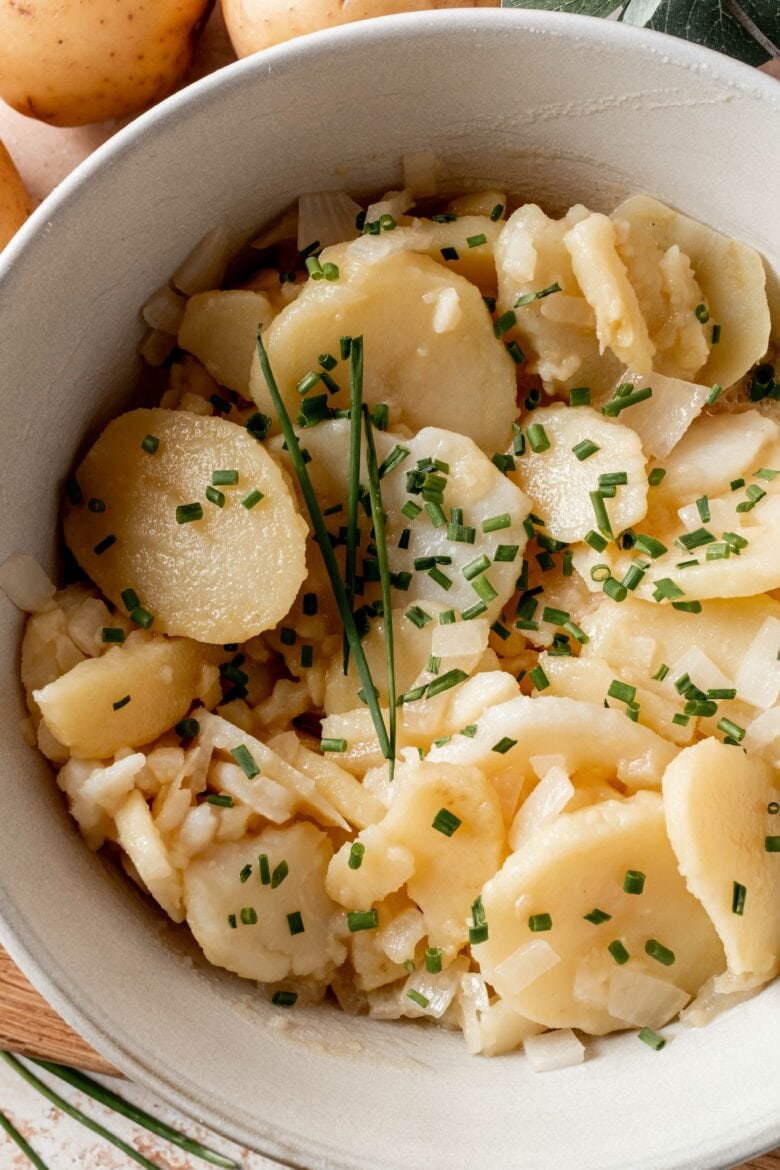 Step 4: Right before serving, stir in the vegetable oil and chopped chives. Adjust the vinegar and salt to taste. Make sure not to add the vegetable oil any earlier as it will prevent the potatoes from absorbing the delicious dressing.
How To Store Leftovers
Leftover Swabian potato salad can be stored in an airtight container in the fridge for 3-4 days. You can enjoy the leftover potato salad cold or allow it to sit at room temperature for 5-10 minutes before serving.
If you'd like to reheat the leftovers, you can microwave it in short bursts. I recommend heating it just enough to take the chill off, but not any longer as this can alter the texture of the potato salad.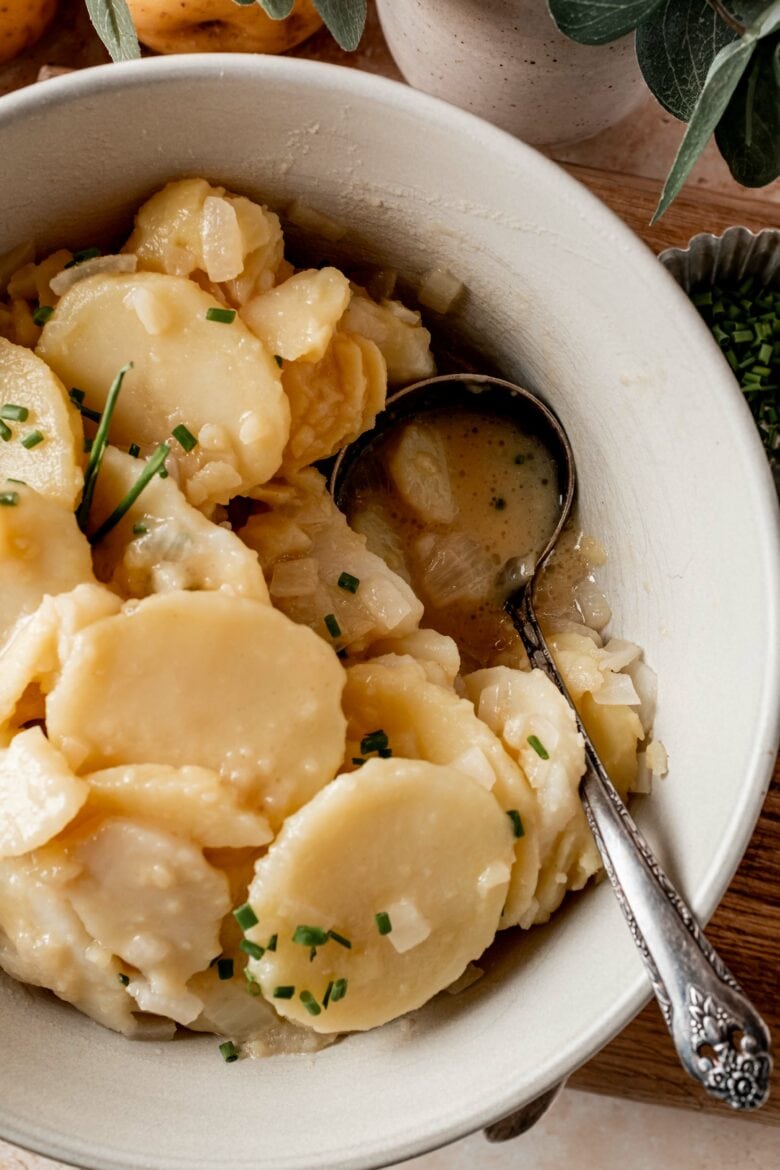 Recipe Variations
Looking to mix it up? Here are some of our favorite additions and substitutions to this Swabian potato salad recipe:
Bacon or speck: Adding a bit of crispy crumbled bacon or speck is one of our favorite ways to add a flavor boost to this recipe.
Use your favorite mustard: If you can find a German-style mustard, you can definitely use it in place of the Dijon! Other great options are spicy brown mustard or a coarse stone-ground mustard.
Switch up the vinegar: I prefer white wine vinegar for its mild flavor, but apple cider vinegar, red wine vinegar or even a good white vinegar would work just as well.
Frequently Asked Questions
What should I serve with Swabian potato salad?
If you want to serve your schwäbischer kartoffelsalat as part of a German meal, I highly recommend jägerschnitzel – crispy pork cutlets smothered in a creamy mushroom sauce! But it's also one of our go-to side dishes any time we grill out. Swabian potato salad is the perfect accompaniment to grilled sausages, pork chops or even steak!
Do you serve Swabian potato salad warm or cold?
This potato salad is excellent both warm and cold! I tend to serve the potato salad at room temperature the day I make it, and then enjoy leftovers cold.
How do I know when the potatoes are done boiling?
The boiling time will heavily depend on the size of your potatoes. Insert a fork or knife into a potato. If it slides in easily and releases with little resistance, the potatoes are ready. If not, continue boiling.
How do you peel boiled potatoes?
Once the potatoes have been boiled, allow them to cool just enough so that they're comfortable to handle. Then you can easily remove the peel with your hands.
Print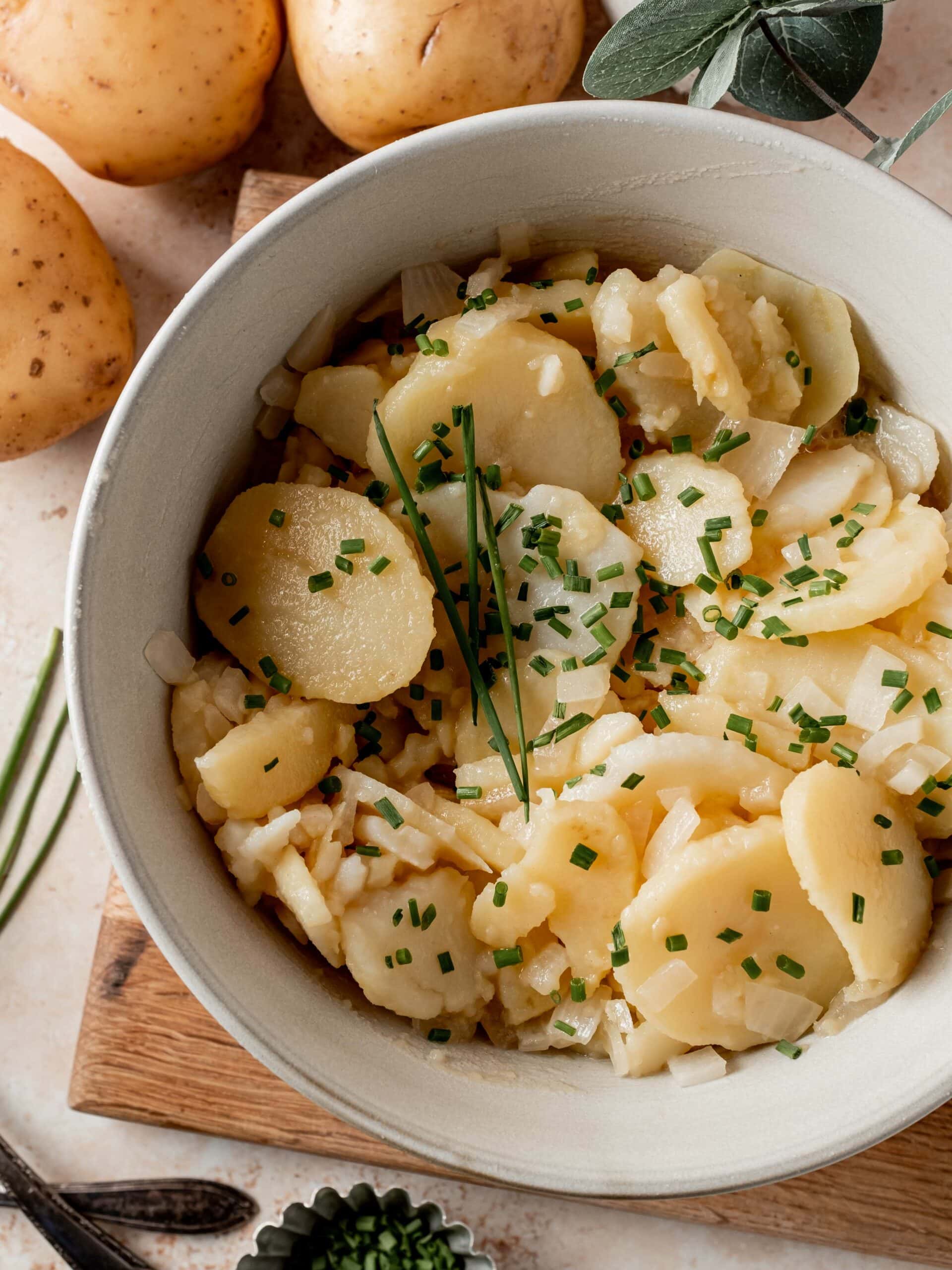 Swabian Potato Salad Recipe
---
Author:

Brit Kapustina

Total Time:

45 minutes

Yield:

6

Prep Time:

20 minutes

Cook Time:

25 minutes

Category:

side dish

Method:

stovetop

Cuisine:

german
2

pounds (900 grams) yukon gold potatoes

1

small white onion

¾ cups

(180 ml) beef broth

3 tablespoons

(40 ml) white wine vinegar

1.5 tablespoons

dijon mustard*
kosher salt to taste

1

–

2

tablespoons vegetable oil

2 tablespoons

fresh chives, chopped
---
Instructions
Bring a salted pot of water to boil. Add the potatoes and cook until tender, about 20-25 minutes. The potatoes are ready when a fork can be easily inserted into a potato and released with little resistance. Drain and let cool slightly.
Peel the potatoes while they're still warm and cut into thin slices approximately ¼ inch (½ cm) thick. Place in a large bowl and set aside.
Finely dice the onion and place in a small saucepan along with the beef broth, white wine vinegar and dijon mustard. Season generously with salt. Bring to a boil and then immediately remove from heat.
Pour the broth mixture over the potatoes and gently mix. Cover and let the potatoes sit for at least 30 minutes at room temperature.
Before serving, stir in the vegetable oil and add more salt if needed. Sprinkle chopped chives over the top.
Notes
Mustard: You can also use a coarse mustard or spicy brown mustard.
Keywords: swabian potato salad, schwäbischer kartoffelsalat
Loving this Swabian potato salad? For more delicious side dish ideas, make sure to check out these recipes:
This post may contain affiliate links through which we may earn a small commission at no additional cost to you. We only recommend products that we genuinely love and would use ourselves.