This Swabian-style potato salad is bursting with fresh and tangy flavors! Served warm with a vinegar and broth-based dressing, this easy potato salad is the perfect side dish for picnics, cookouts and all of your favorite German fare!
After spending a year in a small German town nestled in the heart of the Swabian Forest, I came to love a lot of wonderful regional dishes, including maultaschen (stuffed pasta), spätzle and this delicious potato salad! Perfect for summer gatherings, this Swabian potato salad is made with a vinegar-based dressing and topped with chopped chives!
how to make schwäbischer kartoffelsalat
Swabian potato salad is an excellent alternative to the mayo-based potato salads that are more common in the States. It's lighter, super refreshing and can be made with mostly pantry ingredients! For a visual tutorial, make sure to check out our recipe video for this swabian potato salad!
To make this recipe, you'll want to use waxy potatoes like yukon gold or yellow potatoes. Definitely stay away from russet potatoes as they'll fall apart too easily. Start by boiling the potatoes in salted water until they're tender. It generally takes about 25 minutes, but it will definitely depend on their size. You'll know they're ready if you can pierce them with a fork without much resistance.
Once the potatoes are cool enough to handle you can peel them with your hands — the skin should come off quite easily if they're still warm. Then slice them into thin rounds (about ¼ inch or 6 mm) and place them in a large bowl.
Now it's time to make the dressing! Combine finely diced onion, beef broth, white wine vinegar and spicy brown mustard in a small saucepan. Season generously with salt and pepper and bring to a slight boil. As soon as the mixture begins to boil, pour it over the sliced potatoes. Now cover the potatoes and give them at least half an hour (and up to two hours) to absorb the warm mixture!
Right before serving, stir in the final ingredients (vegetable oil and chopped chives) and adjust the vinegar and salt to taste. Make sure not to add the vegetable oil any earlier as it will prevent the potatoes from absorbing the delicious broth. Now you're ready to eat! While this dish is generally served warm or at room temperature, it's honestly just as good cold (which is usually how I eat the leftovers)!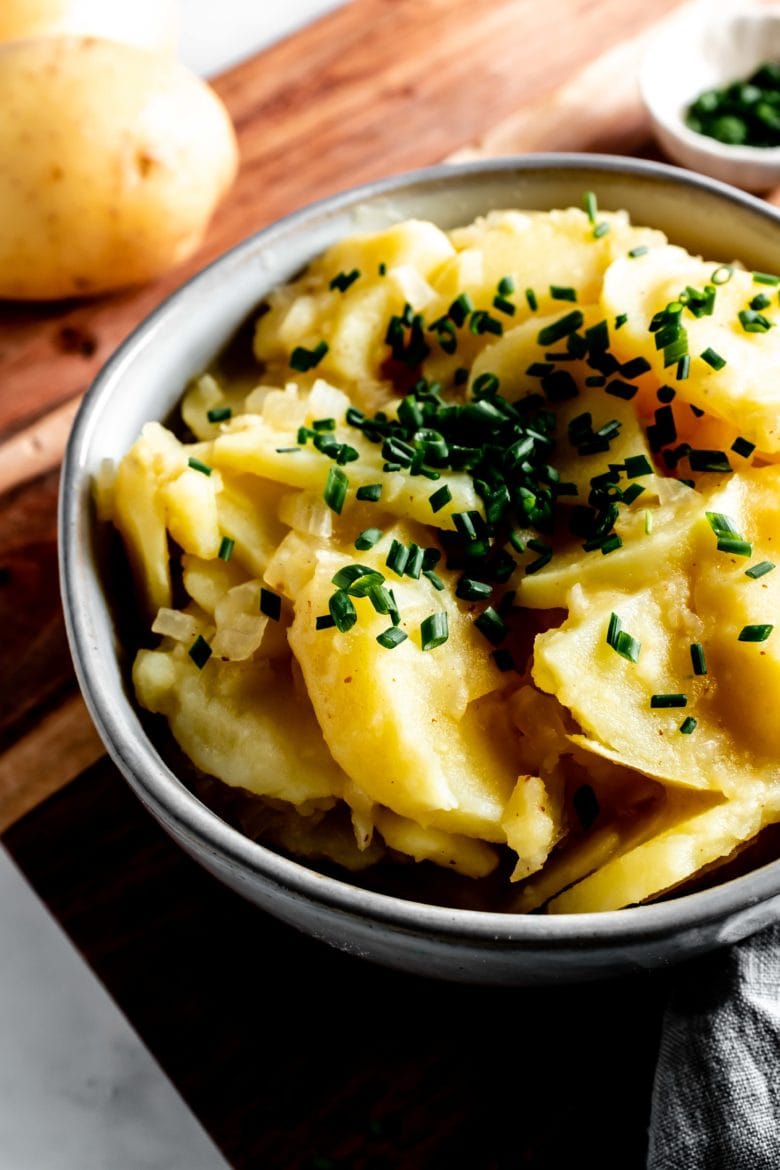 what to serve with swabian potato salad
If you want to serve your schwäbischer kartoffelsalat as part of a German meal, I highly recommend jägerschnitzel — crispy pork cutlets smothered in a creamy mushroom sauce! But it's also one of our go-to side dishes any time we grill out. Swabian potato salad is the perfect accompaniment to grilled sausages, pork chops or even steak!
For more delicious side dish ideas, make sure to check out these recipes!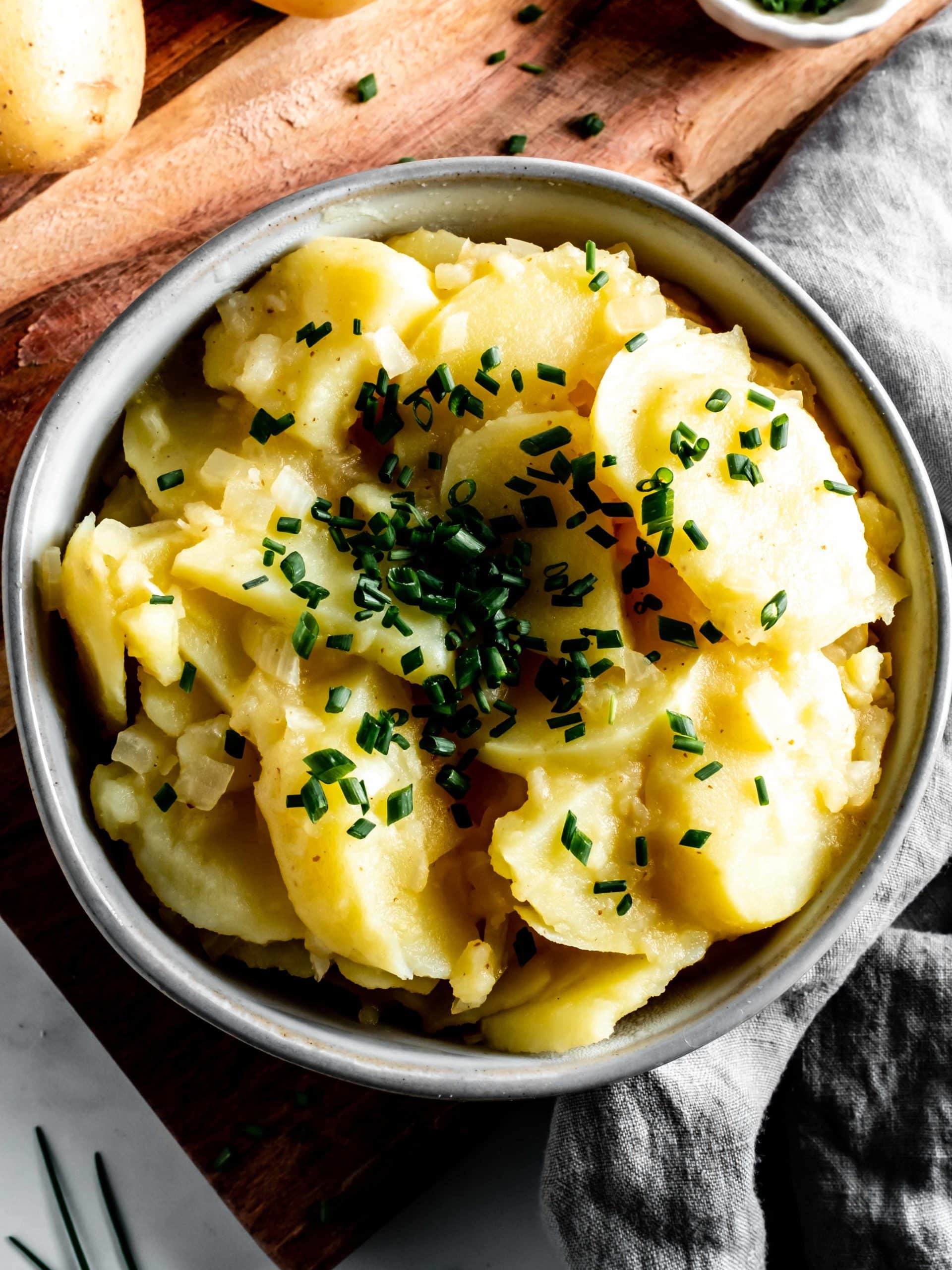 ingredients
yellow potatoes

2 lb (1 kg)

white onion

1 small

beef broth

¾ c (180 ml)

white wine vinegar

3 tbsp (40 ml)

spicy brown mustard

2 tsp

salt and pepper

to taste

vegetable oil

1-2 tbsp

chopped chives

2 tbsp
instructions
Bring a salted pot of water to boil. Add the potatoes and cook until tender (about 20-25 minutes). Drain and let cool slightly.
Peel the potatoes while they're still warm and cut into very thin slices. Place in a large bowl and set aside.
Finely dice the onion and place in a small saucepan along with the beef broth, white wine vinegar and spicy brown mustard. Season with salt and pepper. Bring to a boil and then immediately remove from heat.
Pour the broth mixture over the potatoes and gently mix. Cover and let the potatoes sit for at least 30 minutes at room temperature.
Before serving, stir in the vegetable oil and add more salt if needed. Sprinkle chopped chives over the top.

Did You Make This Recipe?
This post may contain affiliate links through which we may earn a small commission at no additional cost to you. We only recommend products that we genuinely love and would use ourselves.