This traditional German maultaschen recipe comes from the Swabian region! The savory meat and spinach filled dumplings can be made ahead of time, frozen and then cooked for a quick and satisfying meal any day of the week!
You can think of maultaschen essentially as German ravioli. They're hearty homemade pasta pockets filled with a mouthwatering ground meat and spinach mixture! They're bigger than your typical ravioli and often served in broth or pan-fried with sauteed onions.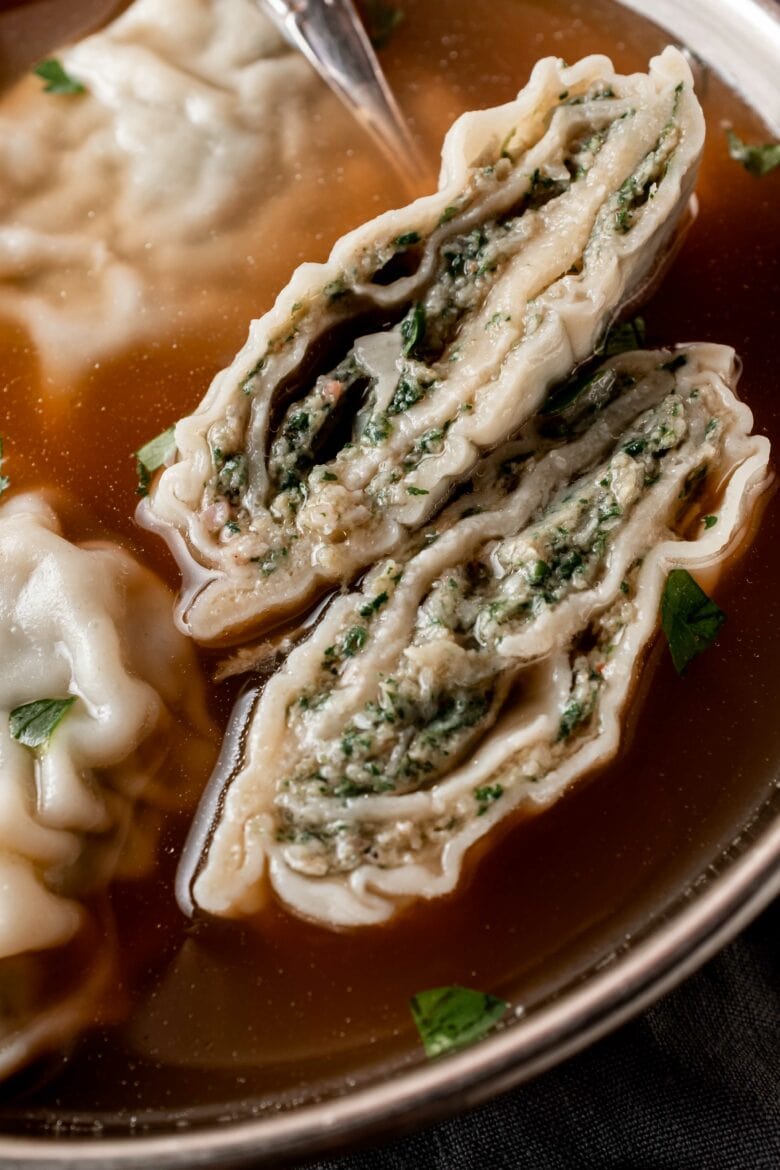 Swabian Maultaschen
I first came across maultaschen when I lived in Swabia, a historical and cultural region nestled in southwestern Germany. With cobblestone streets and captivating forests, every town seems to be plucked from the pages of a storybook.
And one of the best parts of living in Schwabenland? The cuisine! Dishes like käsespätzle and these maultaschen are two of my favorite dishes and examples of how Swabians transform humble ingredients into hearty comfort foods!
In fact, maultaschen are so deeply intertwined with Swabia, that in 2009 the EU recognized them as a Protected Geographical Indication (PGI). This means that authentic maultaschen can only be made with certain ingredients and part of the production process must take place in Swabia.
What are maultaschen?
In German, "maul" translates to mouth and "taschen" translates to pocket and mouth pockets are the perfect description for these dumplings!
Maultaschen are basically pasta pockets that encase a delicious filling. The traditional filling for maultaschen often includes ground meat (such as pork or beef), spinach, onions, breadcrumbs, and various spices. But of course every Oma has her own recipe and variation!
One legend (more likely myth than fact) suggests that a monk invented maultaschen during lent, a period where meat consumption is prohibited by the church. The monk covered the meat with pasta to hide it from god. This is why maultaschen are sometimes called "Herrgottsbscheißerle," which roughly translates to "little god deceivers."
Maultaschen Dough
The dough for this maultaschen recipe is made from five simple ingredients: flour, eggs, vegetable oil, salt and water. It's slightly thicker and less delicate than ravioli dough, which makes it easier to work with and roll out!
Here are a few tips and tricks to make sure your maultaschen dough comes out perfectly the first time:
Measure the flour with a kitchen scale for best results. Because using measuring cups is less accurate, you may need to adjust the amount of water in your dough if you don't use a scale.
Don't skip the rest period. Letting the dough rest 30 minutes before working with it relaxes the gluten. This helps ensure the dough won't spring back when you roll it out.
Lightly dust your work surface with flour. Make sure not to go overboard, though! This can affect the texture of your dough, making it difficult to work with.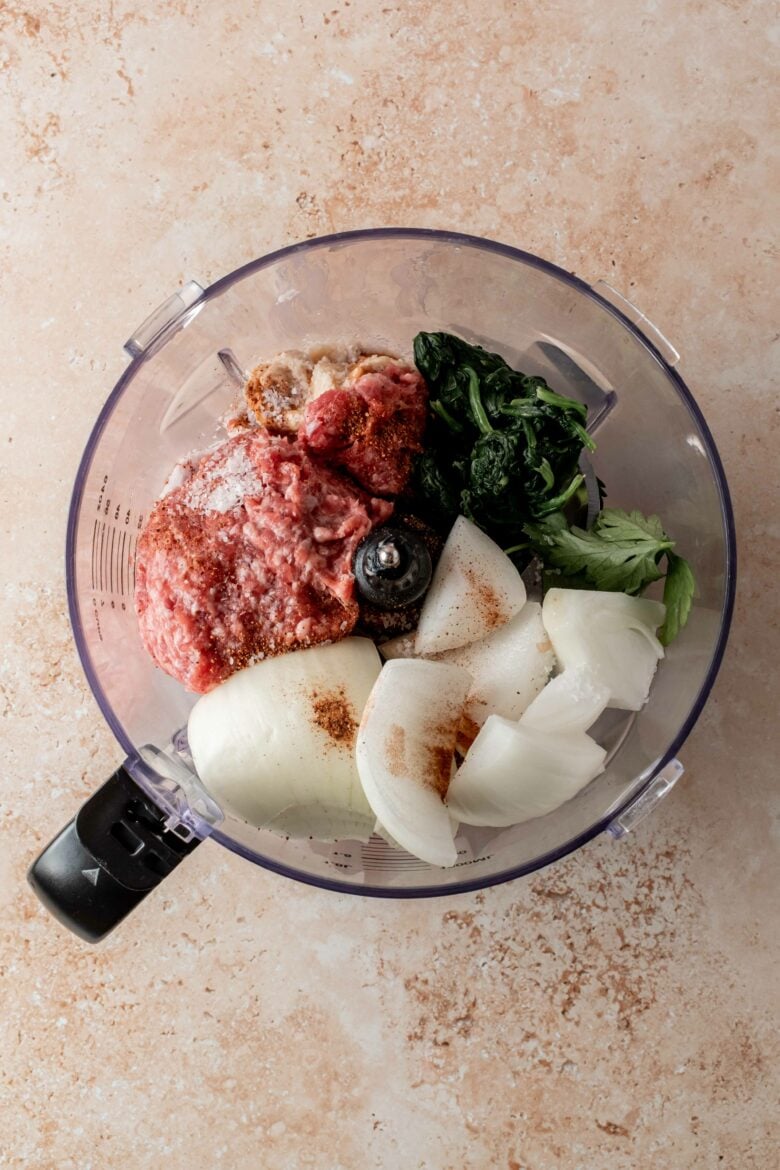 Recipe Ingredients
For this maultaschen recipe, we use the traditional meat and spinach filling with a few tweaks based on which products are typically available in the US.
To emulsify the meat with the other filling ingredients, you'll pulse all ingredients in the food processor until the mixture is smooth and spreadable. Here's what you'll need:
Baby spinach: The spinach is first immersed in boiling water for one minute, then rinsed with cold water. This partially cooks the spinach and helps it retain its vibrant color. Make sure to thoroughly drain any excess water before adding to the filling.
Yellow onion: No need to cook first, you can roughly chop the onion and add it directly to the food processor.
Ground pork: German recipes often call for bratswurstbrät, which is the filling used to make bratwursts. If you're located in the States, you could buy bratwursts and remove the casing, but I generally find that the seasoning isn't exactly what I want for maultaschen. Instead, I prefer ground pork or a mixture of ground beef and pork.
Bacon: While bacon isn't a component of every maultaschen recipe, I really think it's a necessary flavor boost that takes this dish from "interesting" to "wow!" Before adding the bacon to the food processor, cook it until just barely crispy to render excess fat and bring out the smoky flavor.
Breadcrumbs: Here we're not talking about those dried breadcrumbs you'll find in a container. We mean a piece of bread (generally a bit stale), softened with a few spoonfuls of milk or water. This helps to bind the ingredients and keep them juicy and flavorful!
Parsley: Fresh parsley balances the richness of the meat and adds a lighter herbal note to the maultaschen.
Nutmeg: A pinch of ground nutmeg adds both warmth and depth to the filling.
Salt: The bacon already adds a bit of salt and you'll want to add a bit more just to round out the dish and enhance the flavors of the other ingredients.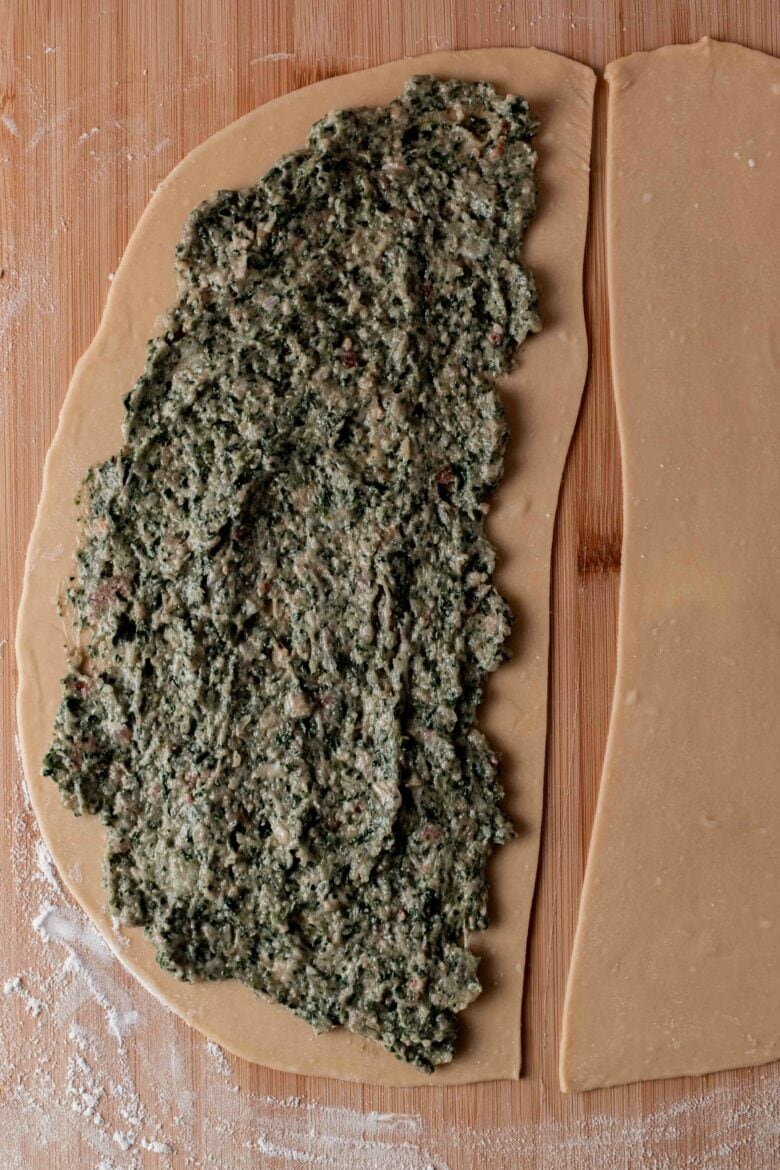 Step By Step Instructions
Step 1: Divide the dough in half and roll out into a circle. The circle should be about ⅛ inch (3 mm) thick or 16 inches (40 cm) in diameter.
Step 2: Cut the circle in half and spread the filling onto each semi-circle. Spread ¼ of the filling onto each semi-circle, leaving about ¾ inch (2 cm) around the edges without filling.
Step 3: Roll up the dough. Start from the round end and begin rolling up the dough. And really, you can fold the dough over more than roll it tightly. Gently flatten the maultaschen log after rolling. The maultaschen should be about 2.5 inches (6 cm) wide.
Step 4: Cut into individual pockets. Use something like the handle of a wooden spoon (I actually used a chopstick) to form indentations and seal the individual maultaschen pockets. Press down until your indentation is about ½ inch (1 cm) wide. Use a sharp knife to cut through the indentation. You should get 5 maultaschen (4 indentations) out of each roll for a total of 20 maultaschen.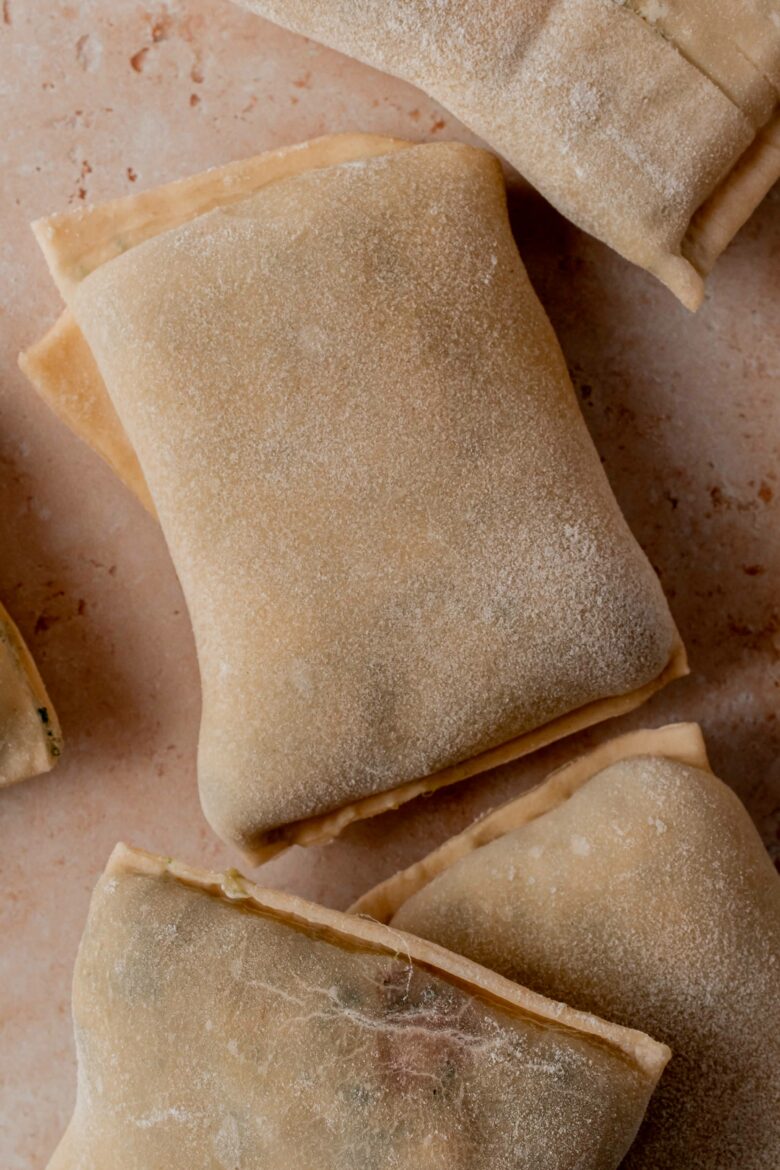 Cooking and Storing Maultaschen
You can cook your maultaschen as soon as they're formed or you can freeze them for later. To cook, bring a pot of salted water to boil, add the maultaschen and cook for 10 minutes. Remove with a slotted spoon and serve.
One quick tip: Even if you'll be cooking them in a few hours, I don't recommend storing maultaschen in the fridge. They can get soggy quickly, so I recommend placing them on a parchment-paper lined sheet pan in the freezer until ready to use.
Freezing Maultaschen
We love to freeze a big batch of maultaschen and then pull them out when we need a quick and easy dinner! Here's how to freeze maultaschen:
Arrange the maultaschen on a baking sheet lined with parchment paper so that they are not touching.
Freeze until firm (about two hours).
Transfer the frozen maultaschen to a ziplock bag or airtight container.
And don't forget to add an extra few minutes to the cook time of frozen maultaschen!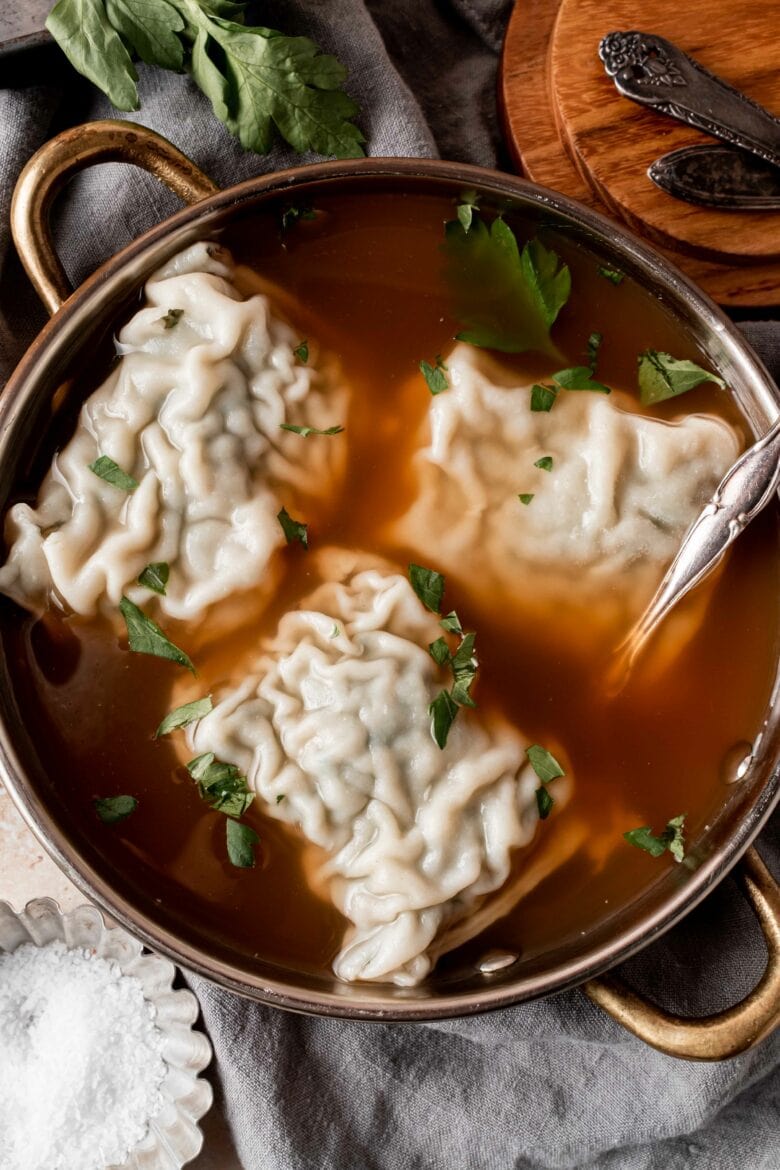 How to Serve Maultaschen
Now that your maultaschen have been formed and cooked, let's talk about the best ways to enjoy them:
In der Brühe: This is my favorite way! Simply transfer cooked maultaschen to your favorite broth and enjoy as a soup. If I have leftover cooked maultaschen, I almost always use broth to warm them the next day!
Geschmälzt: Saute your maultaschen in butter with onions. When using homemade maultaschen, I like to parboil them before making this dish. Serve with potato salad for a delicious meal!
Geröstet: Slice your maultaschen, pan-fry in butter and then add a few lightly beaten eggs to the pan (kind of like scrambled eggs). As with geschmälzte Maultaschen, I like to parboil them before frying.
Making Maultaschen: FAQs
How do you cook maultaschen?
Cook maultaschen in salted boiling water for 10 minutes. The internal temperature should be at least 160°F (71°C).
How are maultaschen traditionally eaten?
Maultaschen are often eaten as a soup in broth or sauteed in butter with onions.
Can I make maultaschen without making the pasta dough from scratch?
If you want to try this delicious filling without making the dough, try using wonton wrappers! Simply place your filling on one wrapper, brush the edges with a bit of water, and seal it with another wrapper.
For more of our favorite German-inspired recipes, make sure to check out these posts:
Print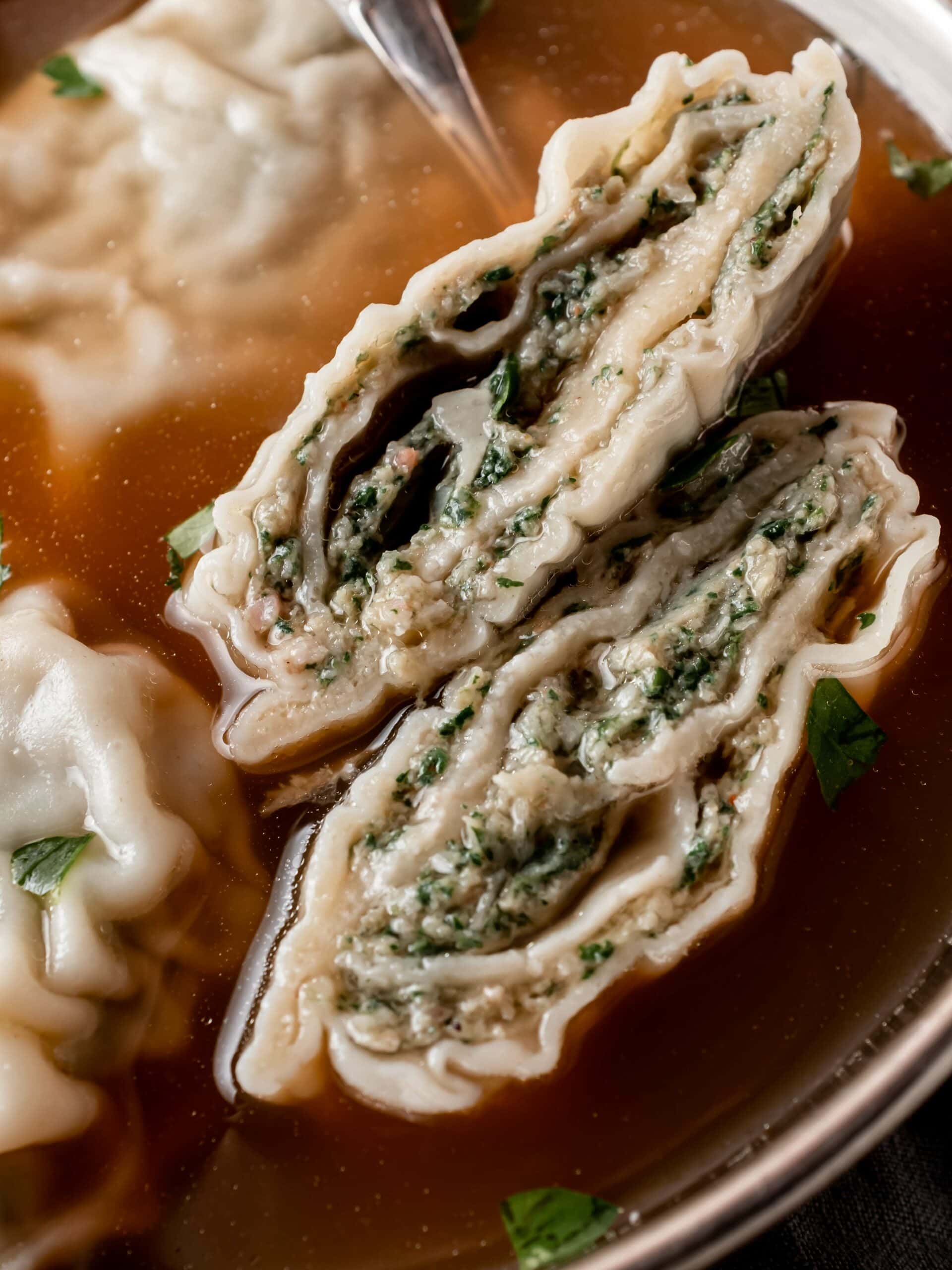 German Maultaschen Recipe
---
Author:

Prep Time:

1 hour

Cook Time:

10 minutes

Total Time:

1 hour 10 minutes

Yield:

20
Description
This German maultaschen recipe features hearty homemade pasta pockets stuffed with a mouthwatering filling of ground meat and spinach!
---
Maultaschen Dough
all purpose flour

2 c (250 g)

(spooned and leveled*)

kosher salt

½ tsp

eggs, lightly beaten

2 large

vegetable oil

1 tbsp

water

¼ c (60 ml)
Meat and Spinach Filling
baby spinach

3.5 oz (100 g)

thick-cut bacon

3 strips (110 g)

white bread

1 slice (30 g)

(preferably somewhat stale)

yellow onion

½ medium

ground pork

½ lb (225 g)

parsley leaves, loosely packed

½ c (8 g)

ground nutmeg

¼ tsp

salt

½ tsp
---
Instructions
Maultaschen Dough
Mix together the flour and salt in a large bowl.

Add the lightly beaten eggs, vegetable oil and water. Mix until the dough begins to form.

Turn the dough out onto your counter and knead until smooth and elastic (about 5 minutes).

Cover the dough and let rest at room temperature for 30 minutes.
Meat and Spinach Filling
Blanch the spinach. Bring a pot of water to boil. Add the spinach, cook for one minute. Drain and immediately rinse under cold water. Squeeze out as much liquid as possible.

Cook the bacon. Fry the bacon until it just begins to get crispy. Transfer to a paper towel lined plate to soak up any excess fat.

Soften the bread. Tear the bread into small chunks and spoon a few tablespoons of milk or water over the top to soften. Let sit for several minutes then squeeze out any excess liquid.

Place the blanched spinach, cooked bacon, softened bread and remaining filling ingredients into a food processor. Pulse until the mixture is mostly smooth and easily spreadable.
Assembly
Divide the dough in half. Roll out half of the dough into a 16-inch (40 cm) circle. You can dust your working surface with flour if needed, but don't overdo it – just a sprinkle should be enough.
Use a sharp knife to cut the dough in half to get 2 semi-circles.

Spread ¼ of the filling on each semi-circle, leaving a ¾ inch (2 cm) border untouched around the edges.

Starting at the round end, roll or fold the maultaschen dough around the filling. Gently flatten the log.

Use the handle of a wooden spoon or something like a chopstick to make 4 grooves resulting in 5 maultaschen. Press down to seal the maultaschen.

Use a sharp knife to cut through the indentations.

Repeat this process with the remaining dough.

Bring a pot of salted water to boil. Reduce heat slightly, add the maultaschen and lightly boil 10 minutes.
Notes
Measuring Flour: We highly recommend using a kitchen scale to measure flour. If measuring by volume, use the spoon and level method to avoid over-measuring the flour. Lightly spoon flour into the measuring cup until it's completely full. Then run the back of a knife over the cup to gently scrape off any excess.
Freezing Maultaschen: Arrange the maultaschen on a parchment paper-lined baking sheet so they're not touching. Place in the freezer until solid (about two hours) then transfer to a freezer safe bag or container.
Category:

dinner

Method:

stovetop

Cuisine:

german
Keywords: maultaschen, german maultaschen, swabian maultaschen
This post may contain affiliate links through which we may earn a small commission at no additional cost to you. We only recommend products that we genuinely love and would use ourselves.