This Toblerone cheesecake recipe features a buttery graham cracker crust and creamy filling bursting with pieces of Swiss chocolate!
Studded with morsels of Swiss chocolate and topped with a decadent chocolate ganache, this Toblerone cheesecake is a chocolate lover's dream! No special ingredients or water bath required to get a rich and ultra creamy cheesecake in this recipe. The Toblerone does all the work to turn this simple cheesecake into a mouthwatering masterpiece!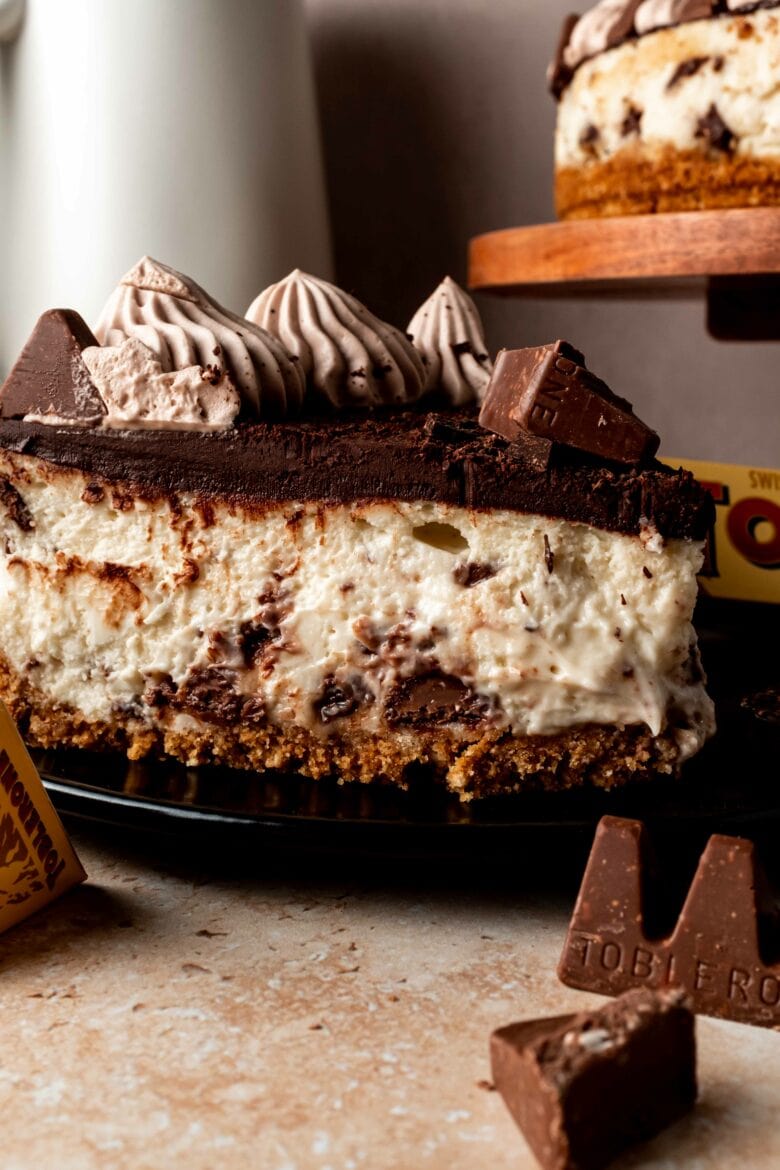 What is Toblerone?
The magic of this Toblerone cheesecake recipe is, unsurprisingly, in the Toblerone! If you're not familiar with Toblerone, it's a Swiss chocolate brand known for its distinctive pyramid-shaped chocolate bars.
Classic Toblerone bars are made with milk chocolate and filled with a honey and almond nougat that makes them deliciously chewy and crunchy. Fun fact? The word Toblerone is actually a play on words combining the founder's name (Tobler) with the Italian word for nougat (Torrone)!
Mixing crunchy chocolate Toblerone pieces into our creamy vanilla cheesecake filling results in the perfect contrast of flavor and texture and makes this dessert irresistible!
Finding Toblerone: You can find toblerone online or at most large grocery stores in the US. I used the classic honey and almond nougat variety, but you could also opt for the dark chocolate version or the milk chocolate variety with salted caramelized almonds.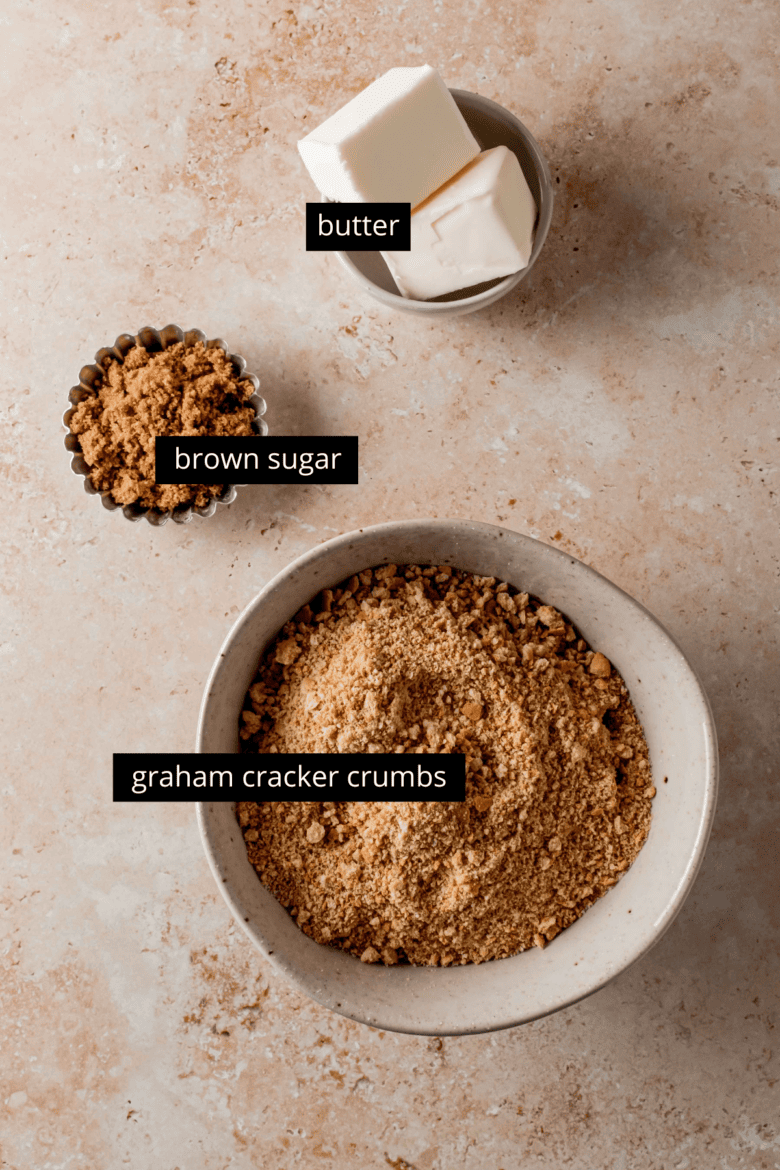 Recipe Ingredients
Graham Cracker Crust
The graham cracker crust for our Toblerone cheesecake is made up of three simple ingredients: crushed graham crackers, brown sugar and melted butter. To get graham cracker crumbs, you can either pulse the graham crackers in a food processor or place them in a resealable bag and crush them using a rolling pin.
What can I use in place of graham crackers? Some good substitutes for graham crackers in this crust are digestive biscuits, vanilla wafers, biscoff cookies or shortbread cookies.
Toblerone Cheesecake Filling
Our Toblerone cheesecake recipe calls for the following ingredients:
Cream cheese: The rich and creamy base of Toblerone cheesecake is made with full-fat cream cheese. Make sure the cream cheese is at room temperature to ensure the filling is lump-free!
Granulated sugar: One cup (200g) of sugar adds the perfect amount of sweetness to balance the tanginess of the cream cheese, but not overwhelm the cheesecake.
All purpose flour: A few tablespoons of flour helps to stabilize the filling and adds a pleasant mouthfeel to the cheesecake.
Salt: Just a pinch enhances the flavor of the other ingredients.
Sour cream: Sour cream adds extra tanginess to the filling and ensures the texture of the cooked cheesecake isn't overly heavy.
Vanilla extract: A few teaspoons of vanilla extract adds a warming flavor and subtle complexity to the cheesecake.
Eggs: Eggs help bind the cheesecake and contribute to the smooth and creamy consistency.
Toblerone: You'll need two 3.5 oz bars of Toblerone for the filling, but I recommend buying an extra bar or a package of mini Toblerones to decorate the finished cheesecake.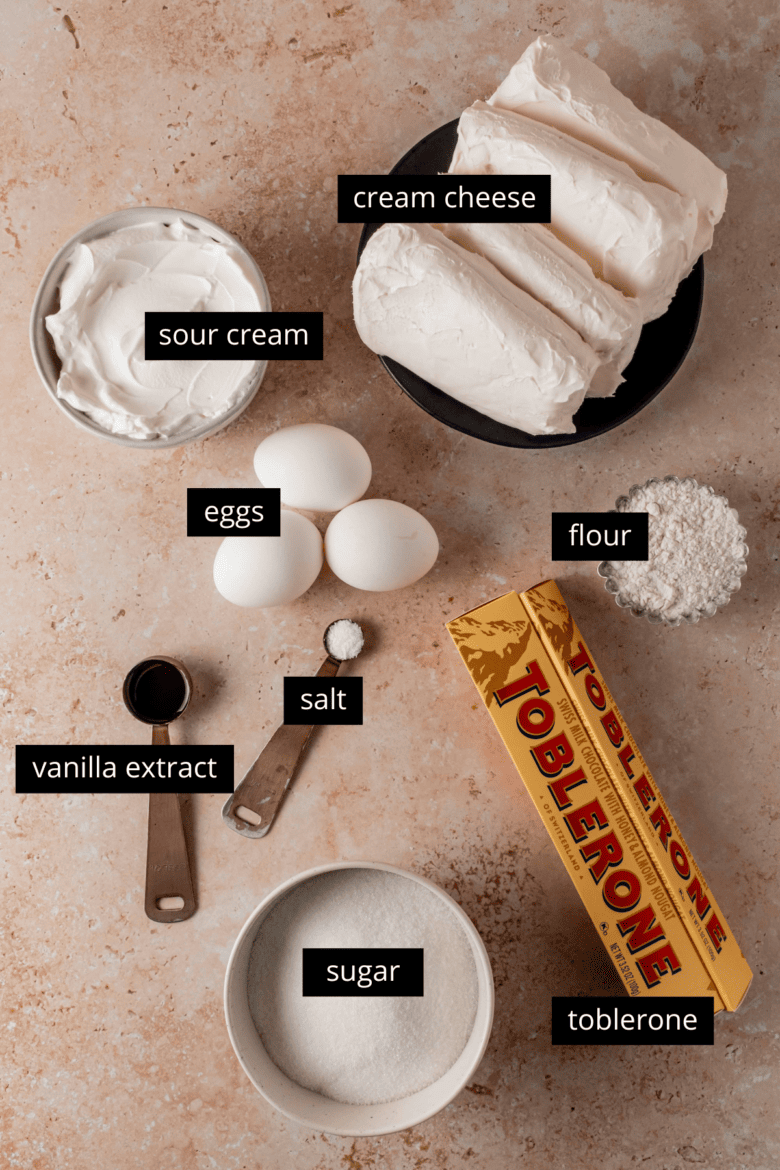 Step by Step Instructions
This Toblerone cheesecake recipe can be made in five easy steps:
Make the crust. Mix the crust ingredients together, press into a springform pan and bake for 10 minutes.
Make the filling. Start with room temperature cream cheese and beat until smooth with no lumps.
Mix in the sugar, flour and salt, followed by the sour cream and vanilla extract.
Add the eggs, one at a time, beating after each addition.
Gently fold in the Toblerone pieces and bake.
Make sure not to overbeat the eggs. This can add too much air to the batter, which can cause the cheesecake to rise too much and then fall, resulting in cracks.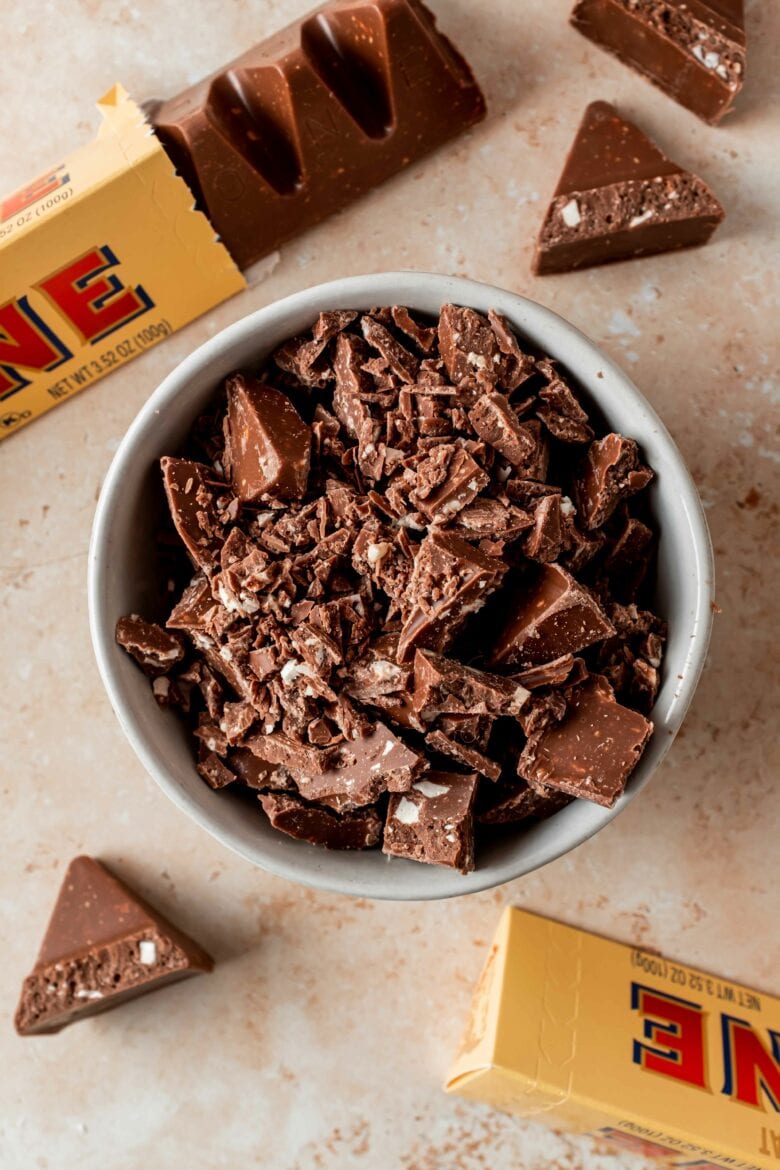 Expert Tips and Tricks
To get that perfect velvety texture without using a water bath, we bake the cheesecake at 325°F (160°C), reduce the heat to 250°F (120°C) and then turn off the oven, letting the cheesecake cool inside. This also helps to avoid any drastic changes in temperature, which can cause cracks in your cheesecake.
Here are a few of our favorite tips for baking Toblerone cheesecake:
Line the bottom of the springform pan. Adding a layer of parchment paper prevents sticking and enables easy removal.
Place the springform pan on a rimmed baking sheet. This helps safeguard against any leaking.
Baking times are approximate. Your cheesecake might be ready earlier. When the edges appear mostly set, switch off the oven to prevent overbaking. If you're unsure, you can use an instant read thermometer to check. We're aiming for an internal temperature of 145-150°F (63-66°C).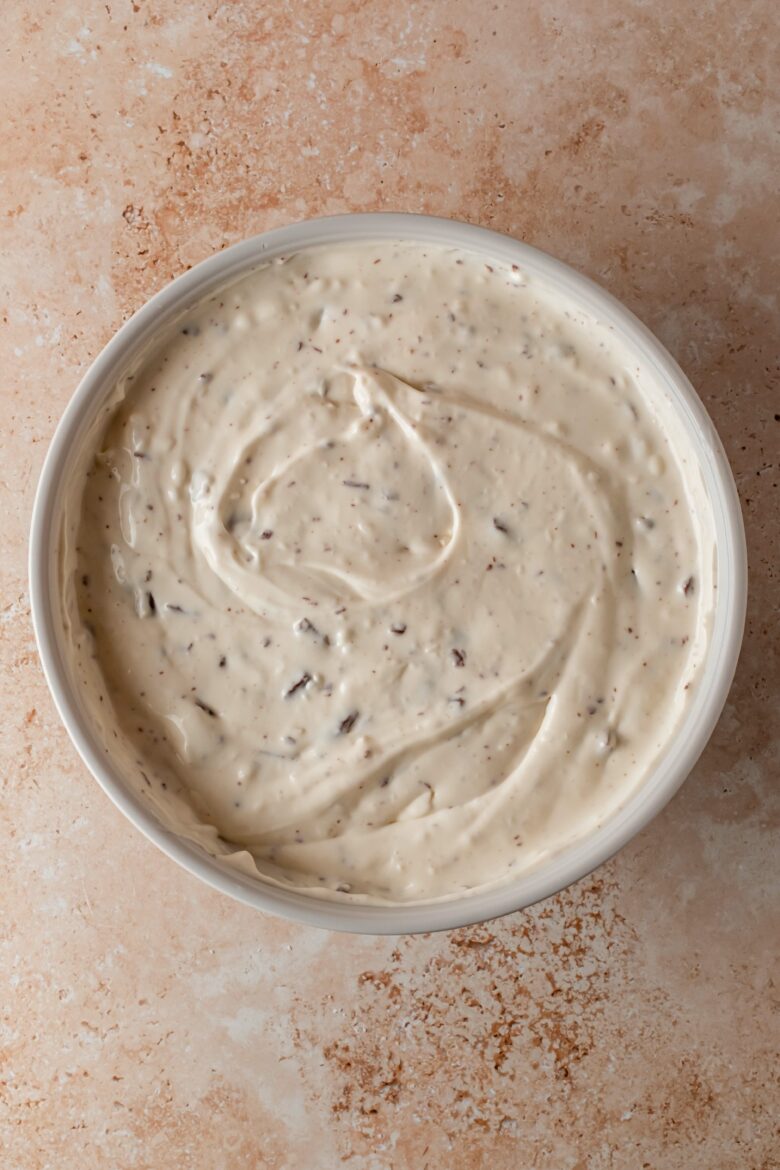 The Finishing Touches
While you can definitely serve your Toblerone cheesecake just as it is, I like to add a little extra decadence with a layer of chocolate ganache, a border of whipped cream and mini Toblerone pieces!
To make the chocolate ganache, gently heat the heavy cream and then pour it over the chopped chocolate. Cover and let the mixture sit for three minutes and then whisk until smooth. Pour the ganache onto the cooled cheesecake. Use the back of a spoon or offset spatula to spread the ganache evenly over the cheesecake.
Once the ganache has slightly cooled, you can garnish the cheesecake with whipped cream and mini Toblerone pieces!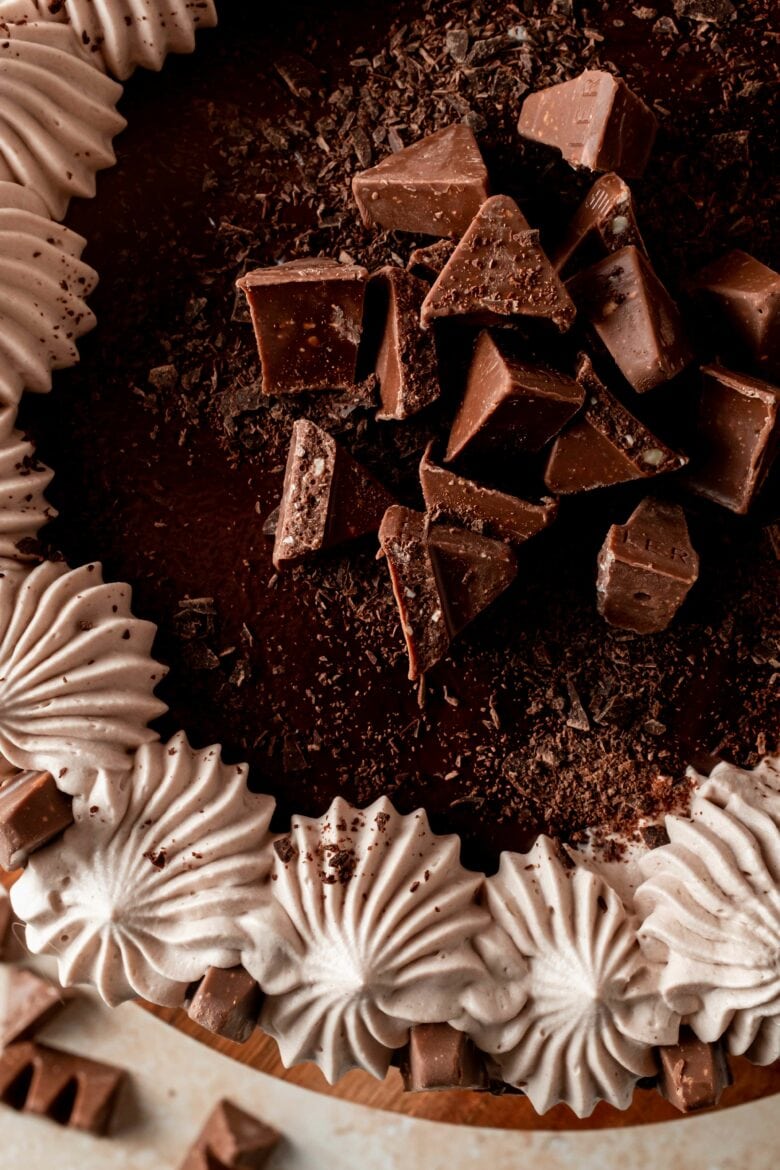 Toblerone Cheesecake: FAQs
Where can I buy Toblerone?
You can find Toblerone online or at most major grocery stores in the US.
Do I need to use a water bath for this cheesecake?
Nope! Water baths for a creamy cheesecake aren't really necessary as long as you bake the cheesecake at a low temperature and don't overcook it.
How do I prevent my cheesecake from cracking?
To prevent your cheesecake from cracking, avoid overmixing the batter after incorporating the eggs and cool the cheesecake gradually by turning off the oven and letting it sit inside for a while.
Storage and Freezing Instructions
Toblerone cheesecake will keep covered in the refrigerator for up to 5 days.
Freezing slices (or even the entire cheesecake) is also easy – just wrap them snugly with multiple layers of plastic wrap and then add a layer of aluminum foil. This method will keep your cheesecake fresh in the freezer for approximately 3 months. When you're ready to enjoy it, simply thaw it in the refrigerator overnight before serving.
Recipe Variations
This Toblerone cheesecake can also be made with almost any of your favorite candy bars! Here are some of our favorite candy bar cheesecakes:
Snickers
Heath
KitKat
Twix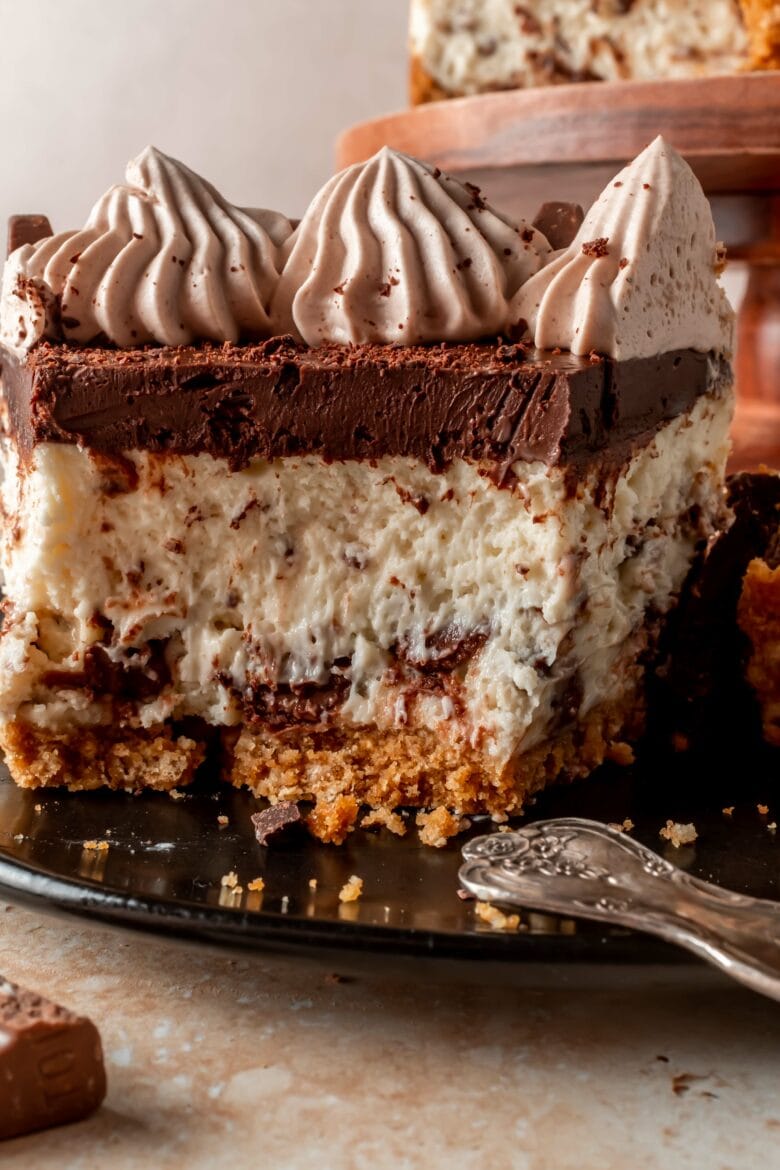 If you loved this Toblerone cheesecake recipe, make sure to give these other favorites a try!
Print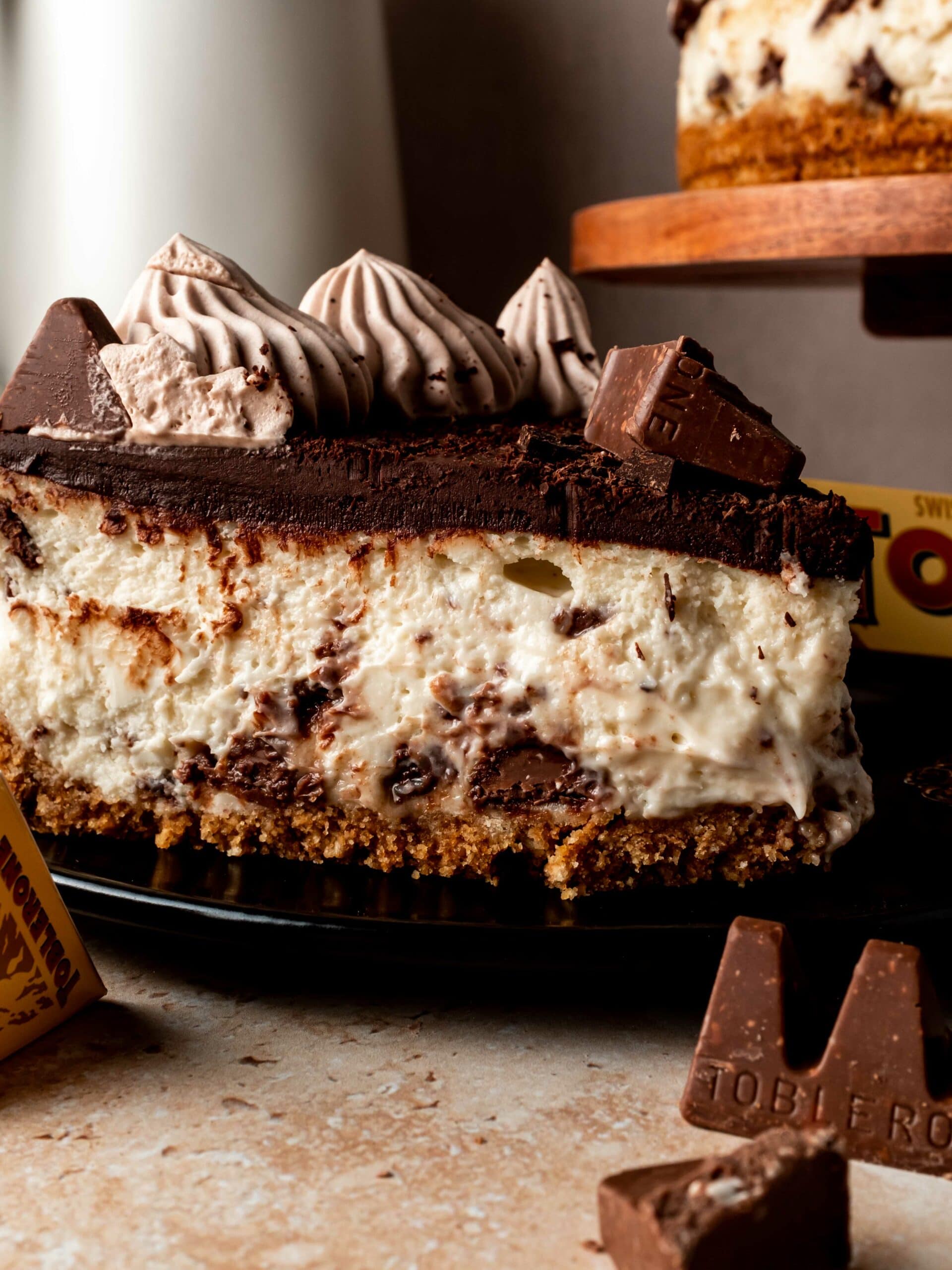 Toblerone Cheesecake Recipe
---
Author:

Prep Time:

40 minutes

Cook Time:

1 hour 10 minutes

Total Time:

1 hour 50 minutes

Yield:

12
Description
This Toblerone cheesecake recipe features a buttery graham cracker crust, creamy filling bursting with pieces of Swiss chocolate and a decadent chocolate ganache!
---
Graham Cracker Crust
graham cracker crumbs

2 c (210 g)

brown sugar

2 tbsp (25 g)

melted butter

6 tbsp (85 g)
Toblerone Cheesecake Filling
cream cheese, room temperature

32 oz (900 g)

granulated sugar

1 c (200 g)

all purpose flour

3 tbsp (22 g)

salt

¼ tsp

sour cream

1 c (240 g)

vanilla extract

2 tsp

eggs

3 large

toblerone, chopped

7 oz (200 g)
Chocolate Ganache
heavy cream

¾ c (180 ml)

semi-sweet chocolate, finely chopped

6 oz (170 g)
Assembly
---
Instructions
Graham Cracker Crust
In a small bowl combine the finely crushed graham crackers, brown sugar and melted butter and mix until completely coated. Firmly press the mixture into the bottom of the pan to form the crust.

Bake for 10 minutes.
Toblerone Cheesecake Filling
Beat the room temperature cream cheese in a mixing bowl until completely smooth.

Add the sugar, flour and salt. Continue beating until smooth.

Mix in the sour cream and vanilla extract until fully incorporated.

Add the eggs one at a time, beating after each addition until just combined. Don't overmix here!

Gently fold in the chopped Toblerone pieces.

Pour the cheesecake batter into the cooled crust.

With the oven still at 325°F (160°C), place the cheesecake on the center rack. To safeguard against any leakage, you can also place the cheesecake on a foil-lined pan. Bake for 30 minutes.

Reduce heat to 250°F (120°C). Bake for 40 minutes or until the edges are mostly set but the center is still quite wobbly if you gently move the pan.

Turn off the oven and crack the oven door 2 inches (5 cm). Let the cheesecake sit in the warm oven for another 30 minutes.

Remove the cheesecake from the oven and allow to cool at room temperature for 2 hours. Transfer to the refrigerator for at least 6 hours before releasing from the springform pan and adding the ganache.
Place the chocolate pieces in a heatproof bowl.

Heat the heavy cream in a small saucepan over medium-low heat until it begins to simmer. Immediately pour the heavy cream over the chocolate, cover and let sit for 3 minutes.

Whisk the mixture until smooth.

Pour the ganache onto the cheesecake and spread the mixture evenly over the top.
Assembly
Once the ganache is set, decorate with whipped cream and mini Toblerone pieces.
Notes
Storage: Toblerone cheesecake will keep in an airtight container in the refrigerator for up to 5 days. The cheesecake can also be frozen for up to 3 months.
Category:

dessert

Method:

baking

Cuisine:

global
Keywords: toblerone cheesecake, toblerone cake
This post may contain affiliate links through which we may earn a small commission at no additional cost to you. We only recommend products that we genuinely love and would use ourselves.